For years i've spoken about my collection, but i've never been able to show it off as I lacked the room to display it.
But I have the room now and have begun unpacking! So here we go, the first pics as I slowly set up my collection!
Oh and i'm VERY open to tips on taking photos.
That shelving system where the G1 were pictured? It's about 6 foot tall, very big.
Top Shelf - G1 Autobots (mostly pre-movie)
Second Shelf - G1 Decepticons (mostly pre-movie)
Third Shelf - G1 Autobots (mostly post-movie)
Fourth Shelf - G1 Decepticons (mostly post-movie)
Under that I could have added another shelf but it would haven't been very high, so I left it out opting instead for a big gap between the bottom and the fourth shelf. Initially I had Scorponok, Trypticon, Predaking, and a couple of Micromaster bases there with all the Micromasters in a different shelving system.
Didn't like that plan as Micromasters don't need a lot of room and it didn't matter where I put them, they were going to be taking up space that could be used for larger figures.
So I decided to build a tier system to go into the bottom shelf. Scorponok, Trypticon, and Predaking will move to the bottom shelf of the Beast shelves.
So here's some pics of the tier system in development. Would probably have finished the build this afternoon ... except I ran out of timber and the store is closed.
The brown slab of timber underneath is actually the spare shelf, used it for measuring up purposes.
So now onto the fun part of putting all the Micromasters in place!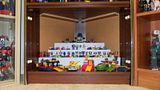 Micromasters
The whole cabinet has had more added to it.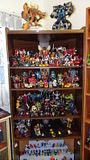 And because bionic_radical demanded it ...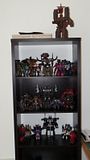 House of Freak
January 1 2012 Update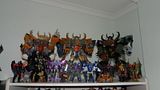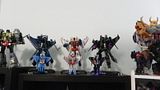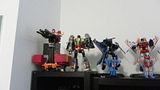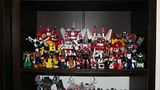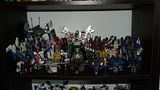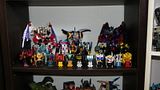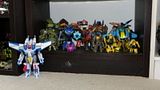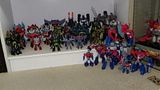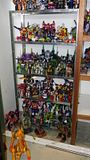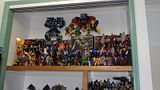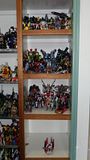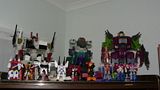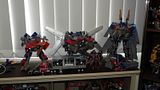 April 14 2013 Update
MINI-CONS!
This was a project i've had in my head for a long time, display stands for the little buggers. Took me all Easter Long Weekend to cut, assemble and paint. And since then, off an on each weekend to put them all into place.
Google Sketch-Up Concept
Marking out what to cut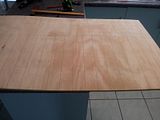 Pile of pieces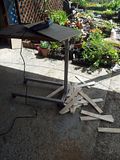 All assembled
Painted up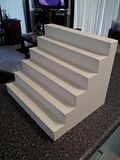 And here they are!
Two levels of Mini-cons!
Top Shelf
Bottom Shelf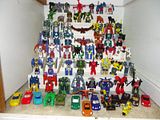 April 21 2013 Update
Fortress Maximus has taken up residence with the other City Bots and the Kabaya's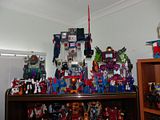 December 29 2013 Update
Started re-arranging the room by consolidating as much of the Cybertron collection as I could. This freed up space for me to move (and subsequently expand) the Masterpiece display (pics will come when Streak and Smokescreen arrive).
By moving the Masterpieces I was also able to make room for the "modern" Titans)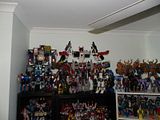 Now that I made room for the Masterpieces, I decided I needed to make room for TF:Prime figures. I have a large shelving system that houses G2, RiD and Animated and has a lot of unused space. Animated also takes up a second shelf. So I decided to use a tiered step to bring them all onto one shelf.
Old Shelf #1
(Ignore the homeless Prime Decepticons)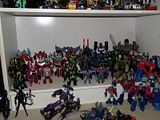 Old Shelf #2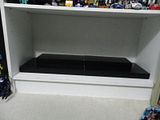 Tiered Step
(The shelves started off as two 90cm floating shelves. The first one I cut 4cm out of the middle so it would fit, the second I cut out 20cm from the length and 10cm from the width)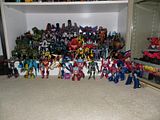 They still all don't fit but they're more consolidated.
Oh and one last thing ... the Prime/Convoy collection continues to grow, and there was only one way for it to go. UP!