"What," you ask, "are you doing coming to a Transformers forum and posting Star Trek stuff?"
Well... this is one of the few forums I'm already an active member of... and, the "General Discussion" section exists for a reason!
Anyway, one thing I like to do sometimes for fun is to make my own starship designs. I typically limit myself to TOS-movie era designs, as that is my favorite aesthetic.
Now, I didn't draw all of these things from scratch, mind you! I'm not that talented. But a nice thing about Federation starships is that it is easy enough to take different parts of pre-existing designs and cut & paste them together in new ways. And that is mostly what I've done, with a bit of drawing in new bits occasionally to tie everything all together.
When I was a kid, this would be done by taking books of schematics I had, and either using paper & pencil and tracing the parts I needed, or by photocopying and doing cut & paste in the most literal sense. These days, when I decided to try my hand at this old hobby again, I had digital tools at my fingertips.
To get parts, I've used two main sources. One was a PDF file containing a work entitled, "
Star Fleet -- Ships of the Starfleet Printing Office, by Neale Davidson based on the works of Aridas Sofia and Todd Guenther.
" The other source, a more recent and most excellent find, is
Vance's Schematics
.
Anyway, on with my designs!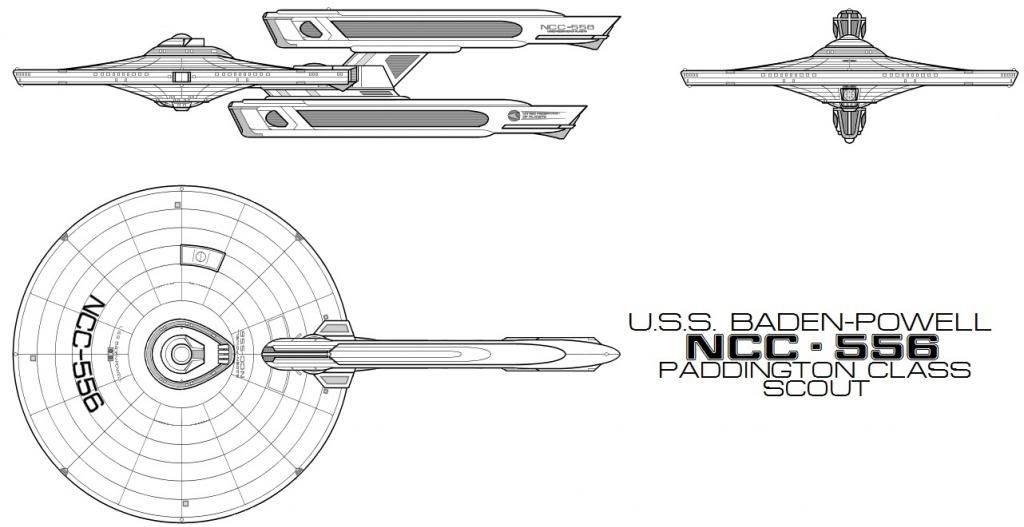 My first design of the digital age. My take on a fairly standard Scout design...
...which was then easy enough to modify into a Destroyer design. This ship has one of those few parts that was designed by myself, when I made torpedo launchers that went directly under the bridge.
My most recent design, done last night. (But I'm putting them up in order of registry number, hence why it is appearing third in this post.) I may have gone a bit overboard with the windows on the dorsal, but I suppose it is a good ship to be on if you like to look outside.
Another earlier design. This time, I thought I'd see what it looked like if I made a
really
thick saucer. Then, since this ship obviously had a
lot
of internal volume, I decided to give it a designation as a "Colony Transport," i.e. a ship that takes settlers and supplies to new planets to set up new colonies.
Not my most radical design. Basically just the
Enterprise
with no torpedoes, less phasers, and different nacelle struts.
It is fun to take a Miranda-style (a.k.a. the
Reliant
) hull and extend it in different ways. You'll see this in a few of my other designs, as well. This is one of my few designs that feature elements wider then the primary hull, which means when the ship is in dock, the dock better have a nice long gangway to reach the main airlock!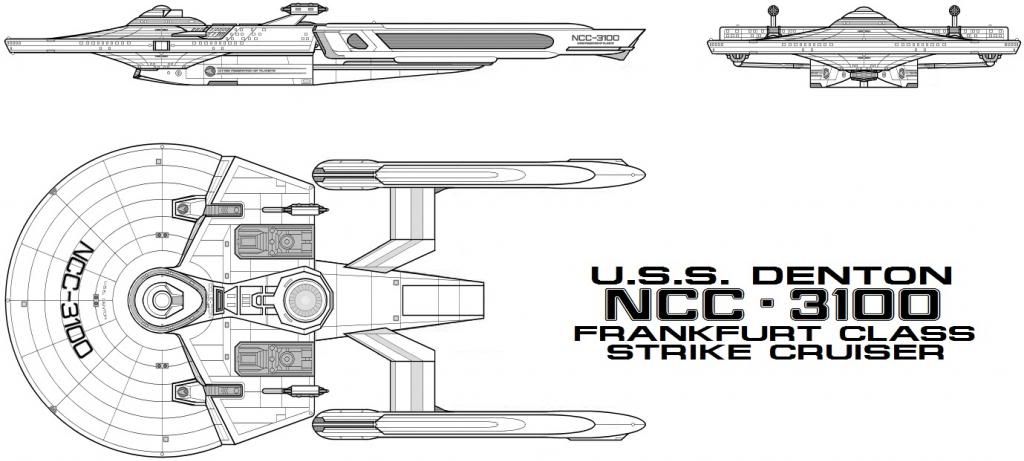 For some reason, I quite liked the flat profile that this one ended up having from the front or side. Feeling that this might give the ship a bit of a tactical advantage (offering less of a target) I ended up designating it as a "Strike Cruiser."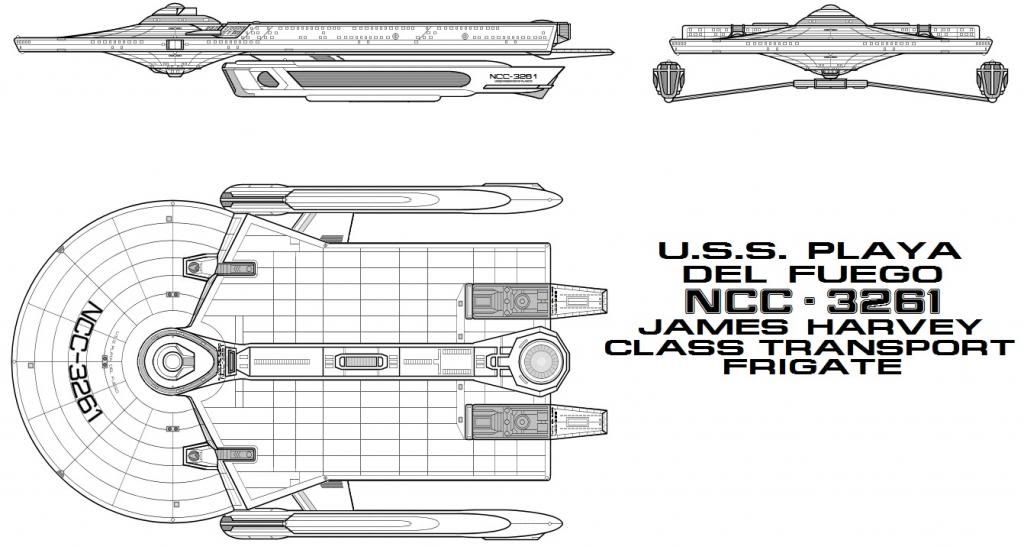 When I was done with this one, I figured it basically looked like a cargo ship.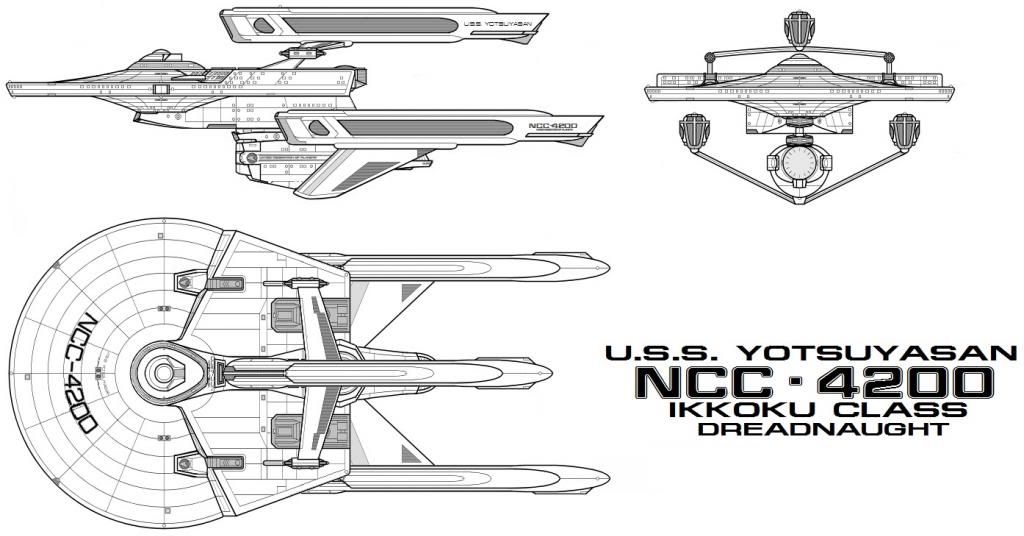 Another of my earlier designs. Basically, this was, "Let's take all of the most impressive looking bits (that I had at the time) and throw them together! Then name it after myself! Yeah!" In retrospect, I feel the design may be a bit overkill, and I've soured on it a bit. Some parts that are awesome separately might just not work quite as well when thrown together. Probably it would be better if it didn't have two different secondary hulls. Perhaps one of these days, I'll do a redesign and get rid of the upper secondary hull and replace it with a dorsal.
No profound comments on this one. It is a starship. Enjoy irresponsibly.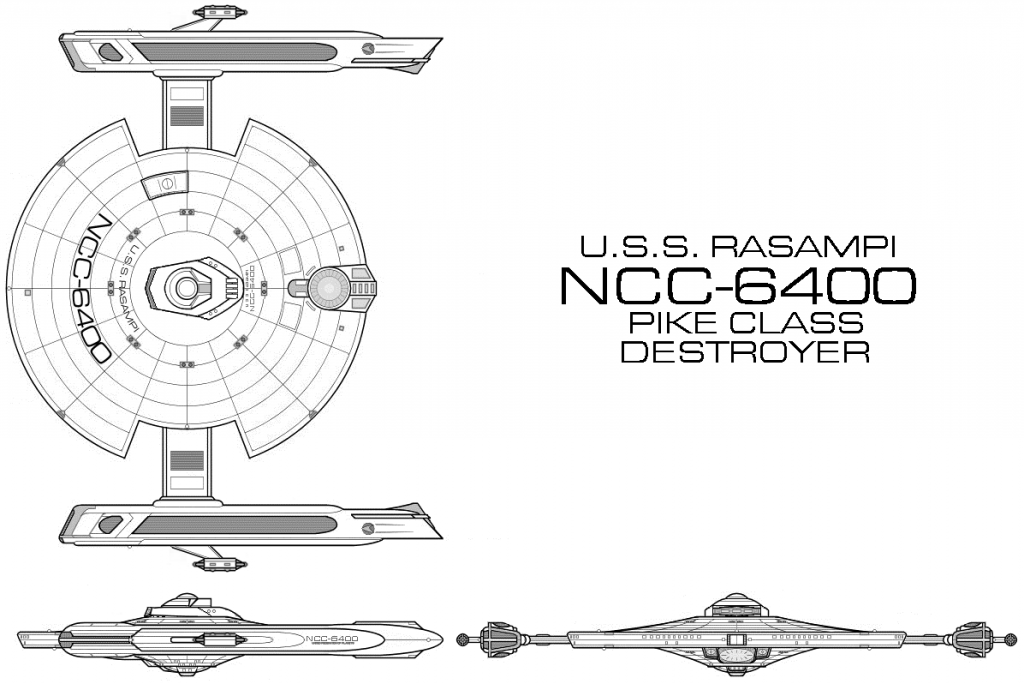 A more recent Destroyer design I did, giving me another chance to use the under-bridge torpedo launcher I designed. Because of where I placed the warp engines on this one I had to move the main airlock to the front edge of the saucer, meaning that this ship must have an interesting time maneuvering itself into a dock. I named this one after my girlfriend, as "Rasampi" is one of the pseudonyms she uses online. (And since she shares a surname with a famous Starfleet captain, that gave this ship's class name a double meaning.)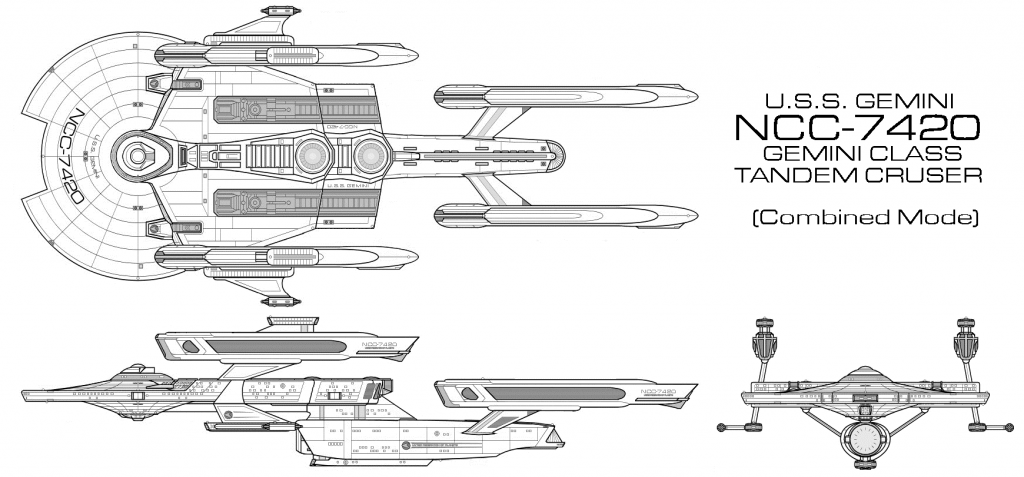 Another design I'm not
entirely
sure about... At first glance, the above may seem another overkill design with too many elements thrown at it. However...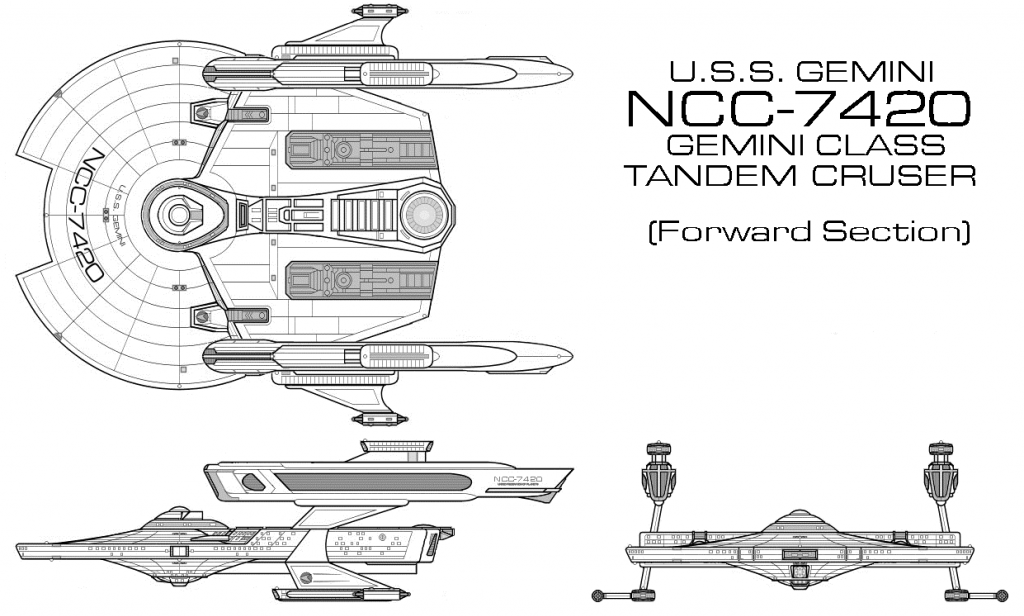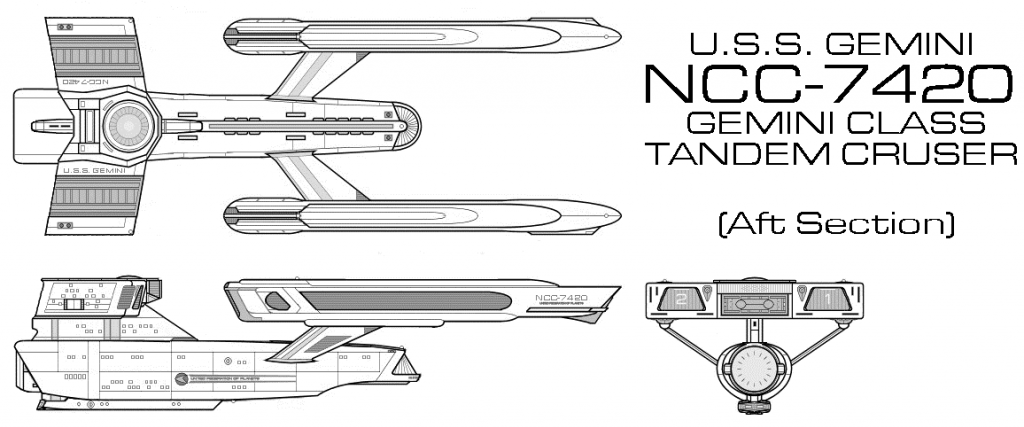 ...I designed it as a ship that could separate into two separate pieces, each of which would in and of itself be a fully operational vessel. The forward section becomes a frigate similar in capability to a ship such as the
Reliant
, while the aft becomes a second ship that can act in a support function to the forward section. When separated, the shuttle bays on the upper hull of the "aft" ship become thru-deck bays for fast refueling and relaunch.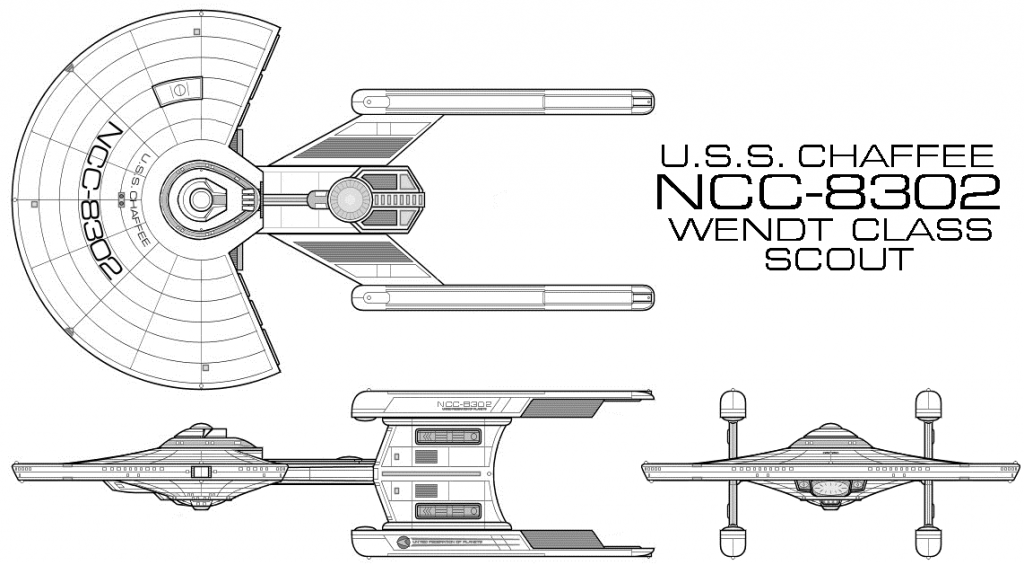 Like the
Grissom
in
Star Trek III
, this ship was named in honor of one of the astronauts lost on Apollo I. It also has similar warp nacelles as the
Grissom
, although I made them longer to fit on this ship's design.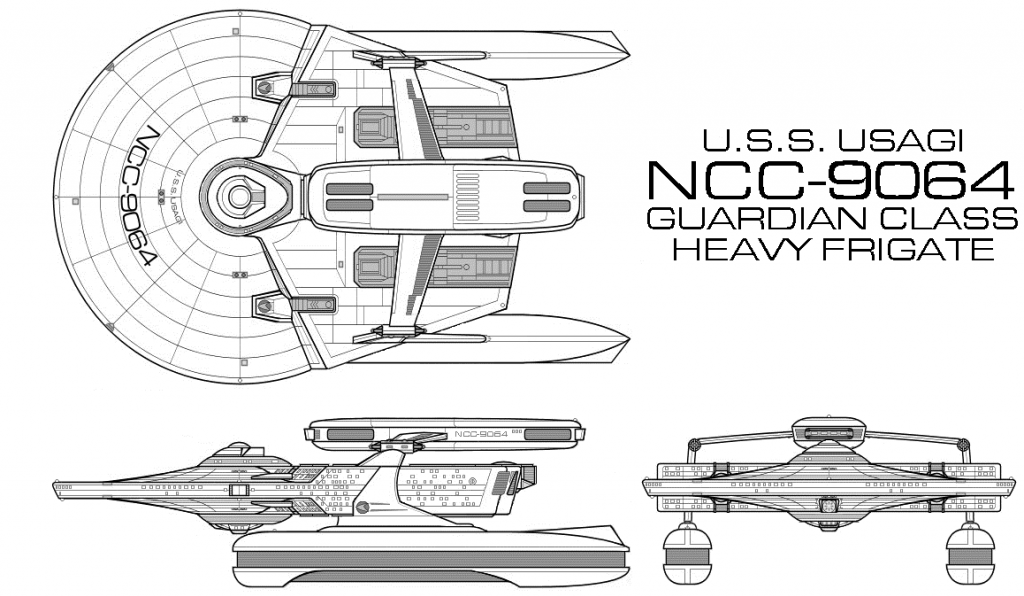 My design philosophy with this one was basically, "the
Reliant
on steroids," with the rear portion of the hull thickened, a larger torpedo pod with twice as many launch tubes, and
Excelsior
-style warp nacelles.
The final design of mine that I am presenting in this post. I basically took my
Usagi
design, stretched the hull, and added four thru-deck shuttle bays to make a Shuttle Carrier design. I also added a few additional torpedo tubes on the front, and some under-slung mega-phaser canons, in order to allow for greater ability for firing arks on targets below the ship.
Bonus time! One time I was with my niece and nephew, I let them each design a ship. I had them pick pieces and tell me how to assemble them. My niece's came out quite nice, I think.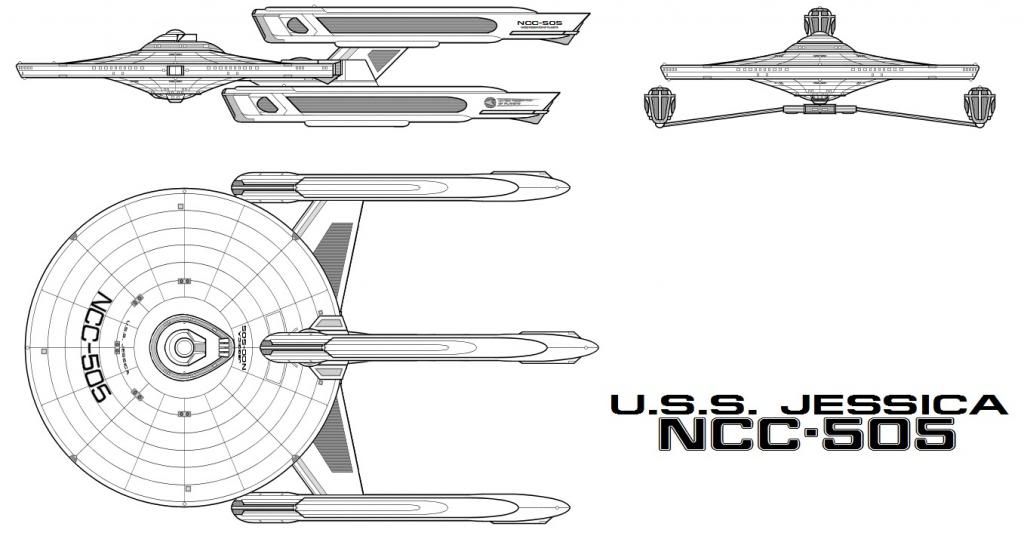 My nephew's... Well...
I tried to warn him, "If they fire torpedoes, they're going to shoot off their own bridge!" But that's how he wanted it, so that's how he got it.
Anyway, hope these designs are of some interest to people! I look forward to comments. Or better still, if people want to make their own designs and share them, awesome!