Part of the second wave of Kre-O Combiners is Abominus, who incidentally also appears in the "Prime" toyline. The Terrorcons are getting quite a bit of attention all of the sudden. I approve!
The Terrorcons here draw from both the Prime and G1 versions.
First, some general notes.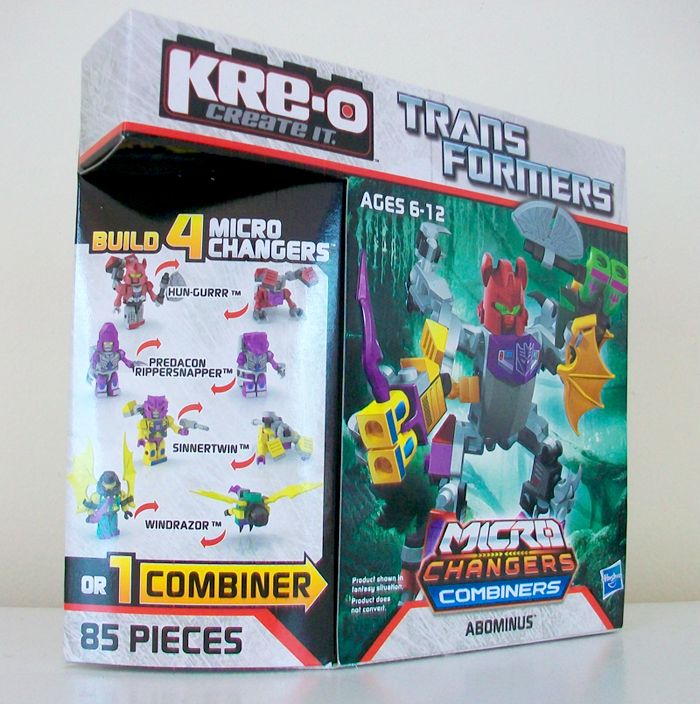 The box shows Hun-Gurrr/Abominus with a burgundy helmet, but it's actually gray, same as Bruticus'. The box also omits a sticker on the gray belly.
You'd be forgiven for expecting these guys to be Predacons, given their Prime counterparts and Rippersnapper's trademark name, but they proudly wear the Decepticon insignia.
SINNERTWIN! Not Twinstrike, SINNERTWIN! It raises a number of trademark questions…
*Blot/Blight sold separately.*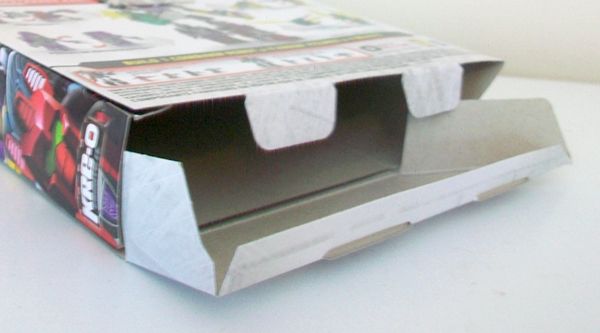 Worryingly, the bottom flap is not sealed in any way, no tape or nothing. That's just asking for trouble.

Something I think is neat, the instructions have a kind of loading bar on the bottom. It starts off empty and fills up little by little every page.
Also, for some reason the individual robot modes and beast modes are separated; i.e. it goes from Hun-Gurr's bot form to Sinnertwin's to Windrazor's to Rippersnapper's, THEN goes to Hun-Gurrrr's beast form then Sinnertwin's, etc.
The stickers used for the set are, annoyingly, semi-transparent. That is, a white sticker on a black part will instead appear gray. How disappointing.
Also, the Kre-O logo has it's own sticker, if for whatever bizarre reason you want "Kre-O" slapped on something.
Standard Kreon fare: decent articulation for minifigures (swivel waist/hands, ball-jointed shoulders/legs), prone to stressmarks. Why they still aren't addressing the wrist issue is beyond me.
Each mode has a lot of leftover parts (including a full extra gestalt limb that has no use!). Save the box and/or grab a sandwich bag.
Hun-Gurrr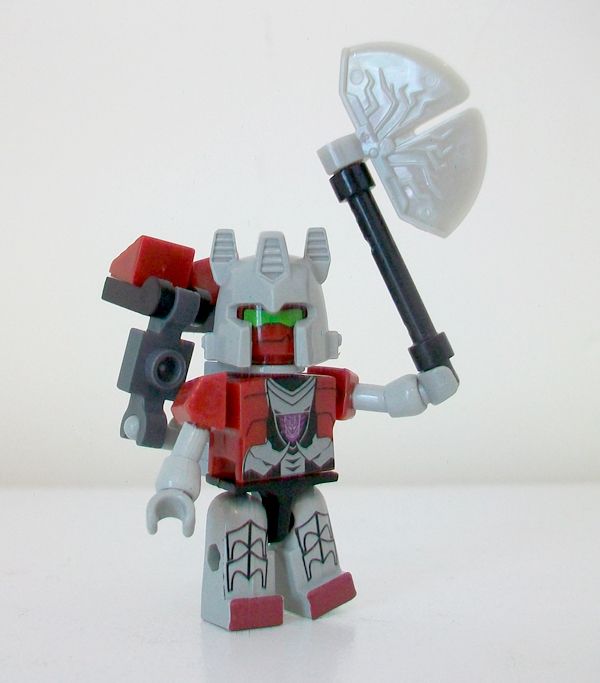 Does... does his belly have TEETH? Goodness, he's not called "Hun-Gurrr" for nothing.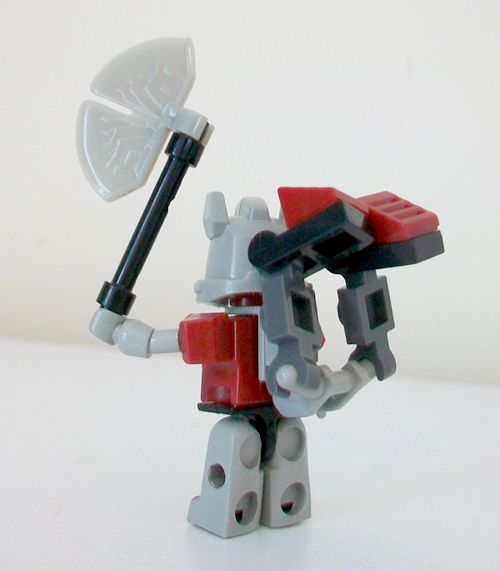 Unlike other Hun-Gurrrs, this one puts his dragon heads on his back. Besides giving him a stylish bit of kibble, it also serves as a counterbalance for the axe. Practical! However, due to how the weird bar-coated piece is, the heads end up bumping into each other. Not so practical…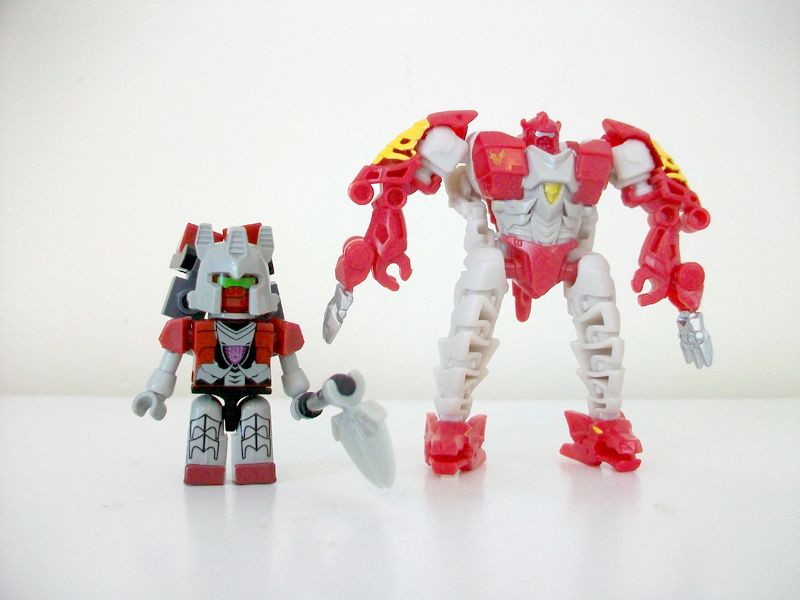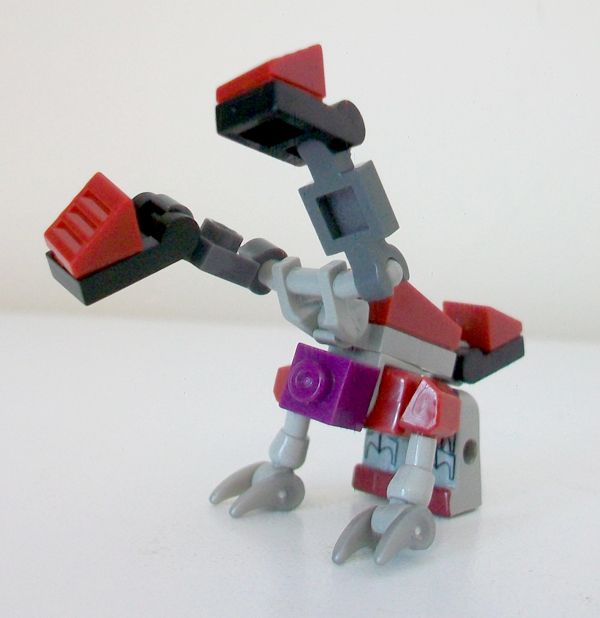 Hun-Gurrr's beast mode is pretty decent, for what it is. Like most Kreon alts you have to use a bit of **imaginaaaaaation**, but since it's an imaginary monster it works.
The purple block is hard to ignore.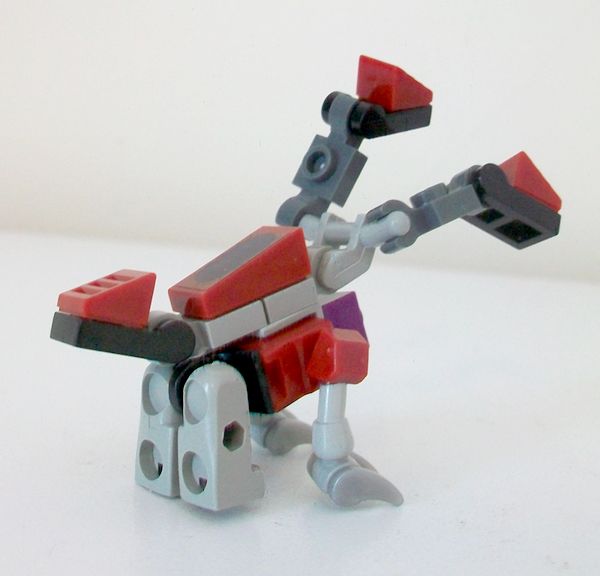 I'd like to think the tail is actually a third dragon head, 'cause why not?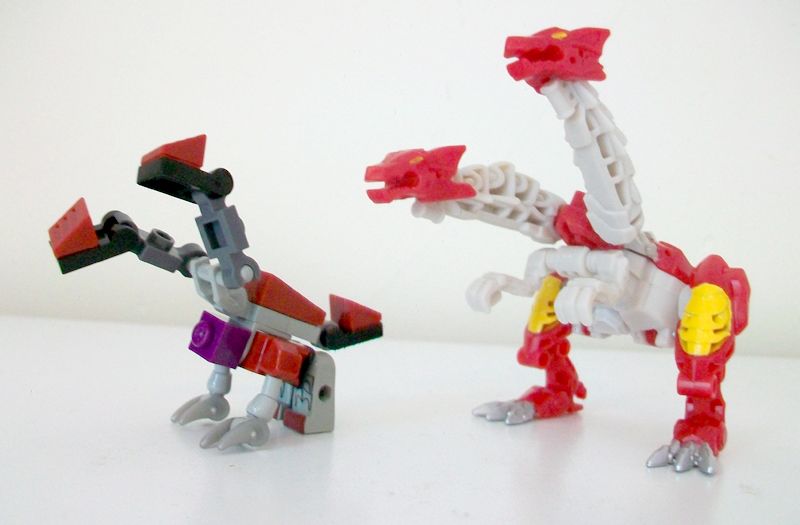 TFWiki jokingly mentions G1 Hun-Gurrr had an ice cream dispenser mode. Wonder if I can work one out for the Kreon...
Rippersnapper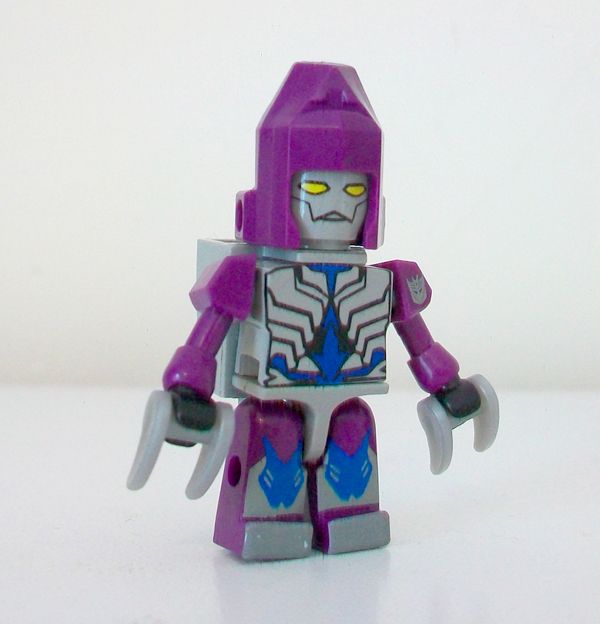 He kinda has MtMtE Cyclonus' face. That skull-like quality, I mean.
And the purple.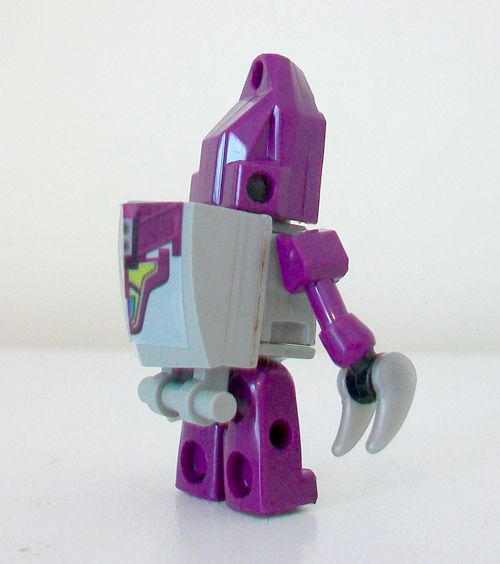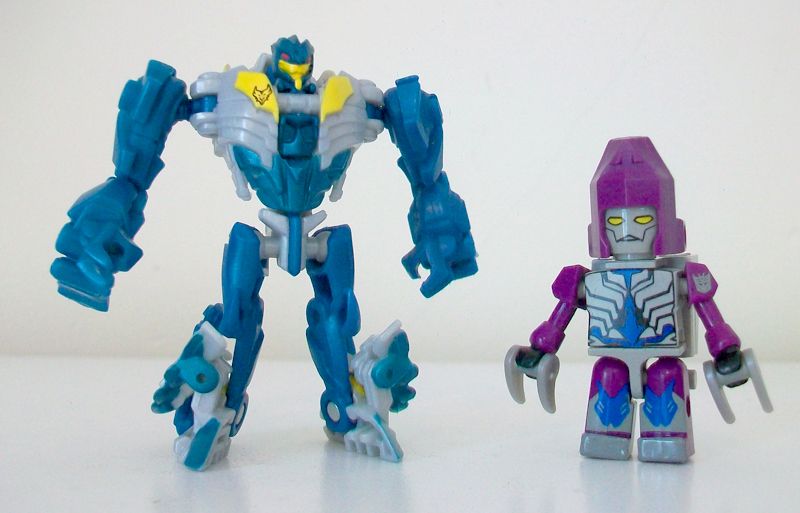 For some reason, he's purple instead of blue, making him look like the Cindersaur repaint of Legion Rippersnapper. And his face isn't yellow.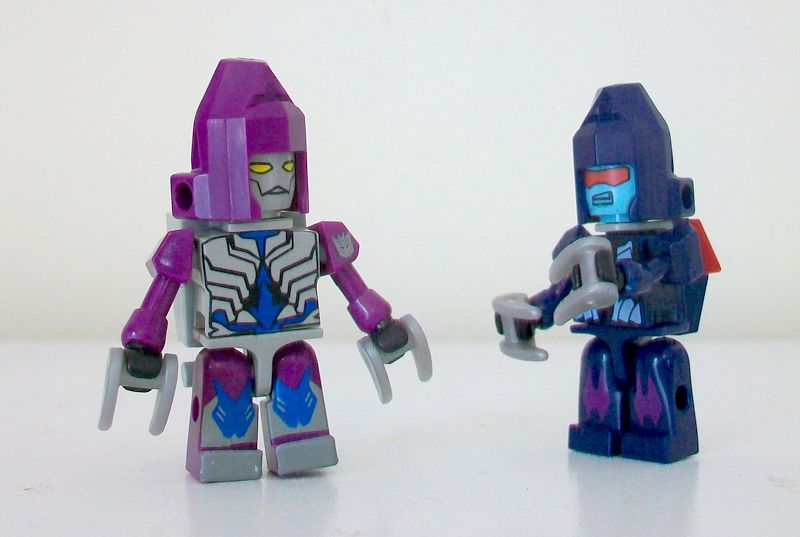 The claws/helmet combo makes him look kinda like a Blight clone. Could've given Rippersnapper the shark helmet or something. Ah well. The monster helmet does look nice in purple.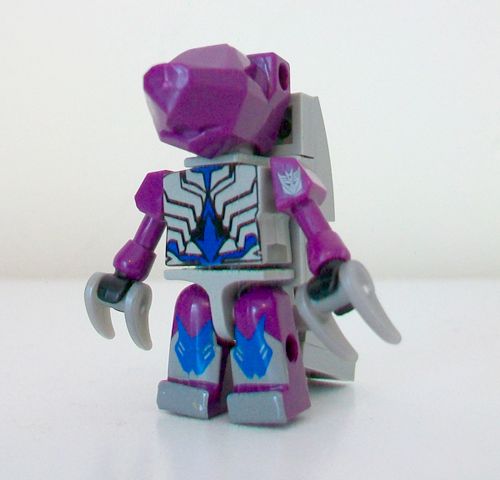 At first, it looks like all you did was flip his helmet down.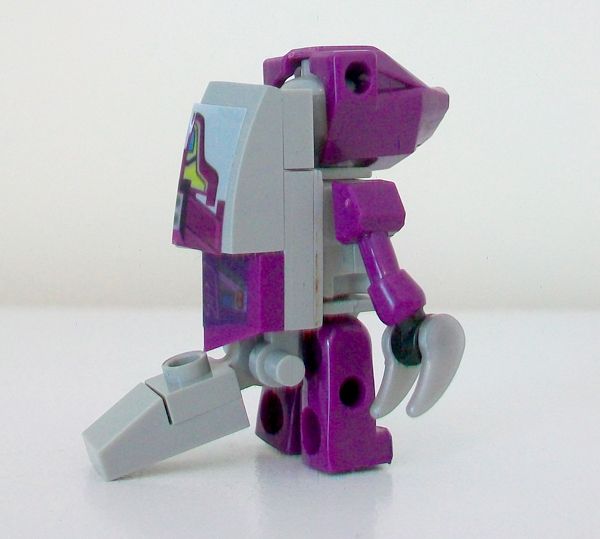 But you do actually change the back parts around a lot. The now-bigger hunch limits his helmet rotation, i.e. he's pretty much stuck looking forward.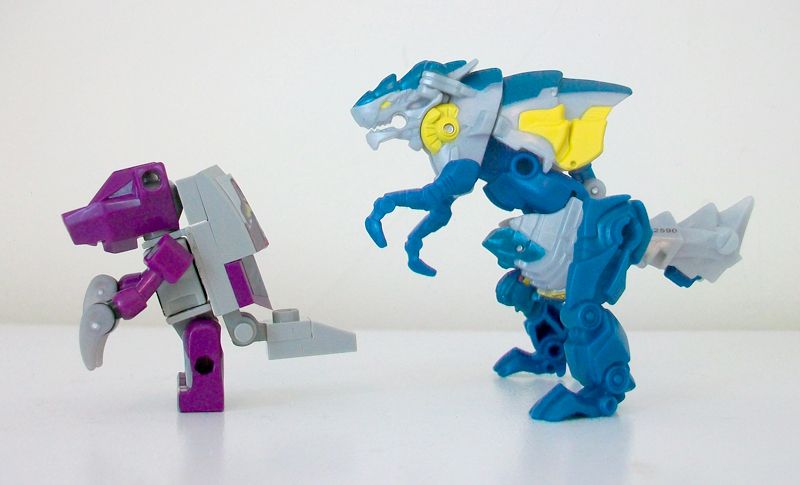 I think he does this better than the Legion…
Sinnertwin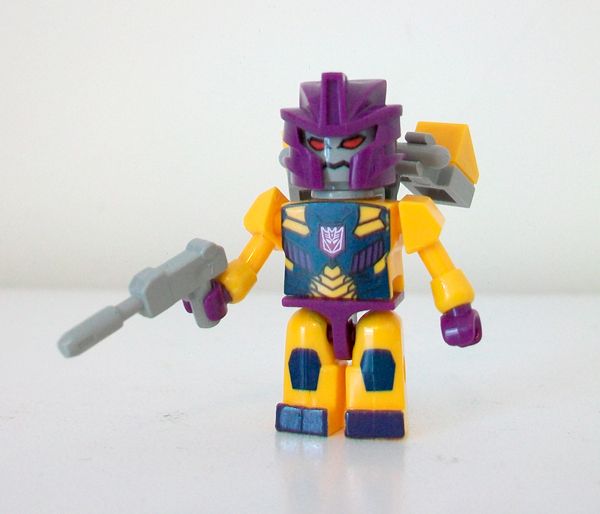 Don't let the box fool you, he's a yellow-yellow-orange.
Unlike the other Terrorcons, who all use some sort of bladed close-combat weapon, Sinnertwin uses a gun! It's kinda jarring, actually. Everyone's going to be charging ahead, hacking and slashing, while Sinnertwin hangs back and shoots.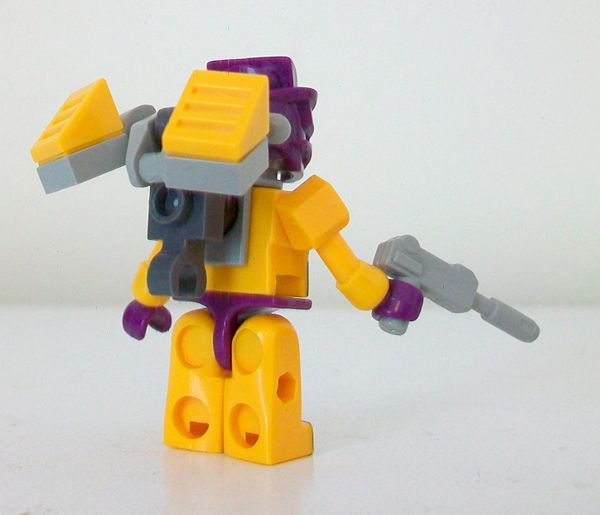 Dragon heads on the back, like Hun-Gurrr. But since they have no necks to speak of they don't collide.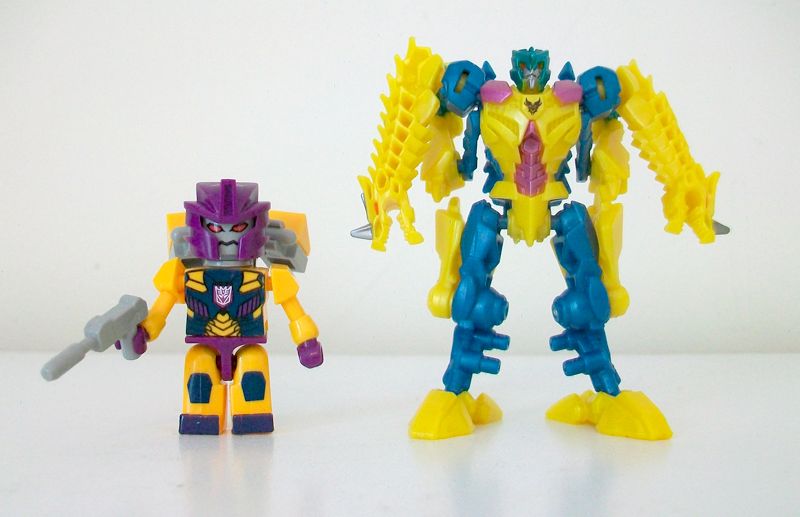 He looses a bit of appeal since there's no way to duplicate the dragon head-hands. On the other, er, hand, the Kreon doesn't have to worry about annoying shin armor.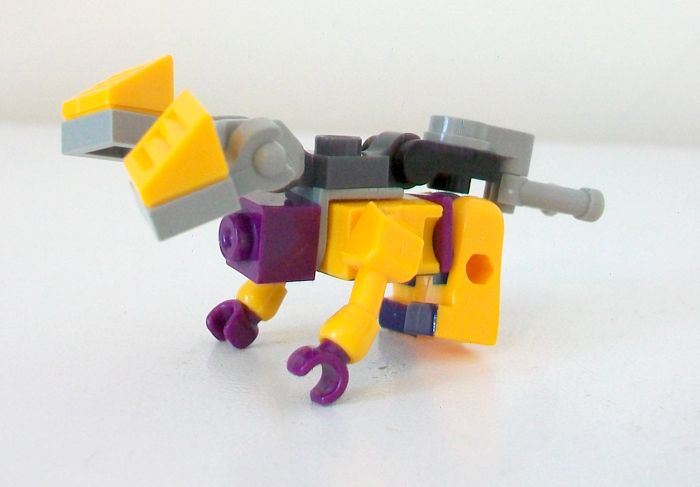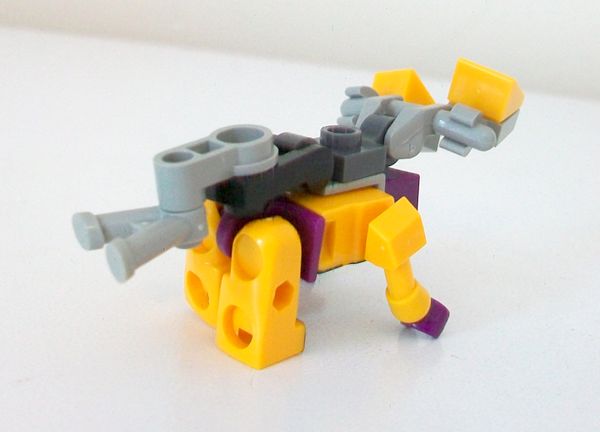 A decent enough two-headed beast (I like how they included the double-tail). Like Hun-Gurrr, he's got that odd purple block keeping it all together, but since Sinnertwin's got purple in other parts it doesn't look so strange.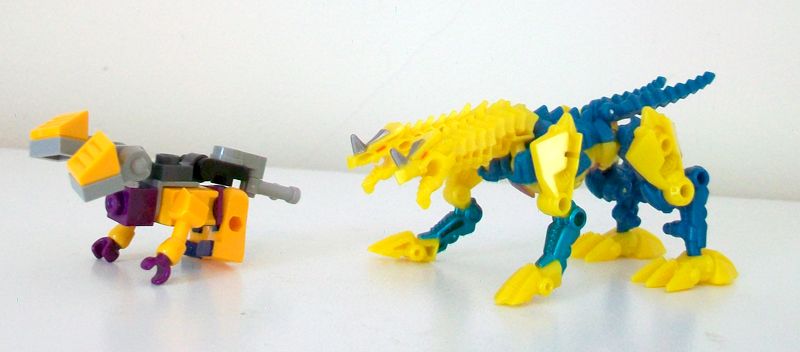 Windrazor
(Note: I cut off the chinstrap)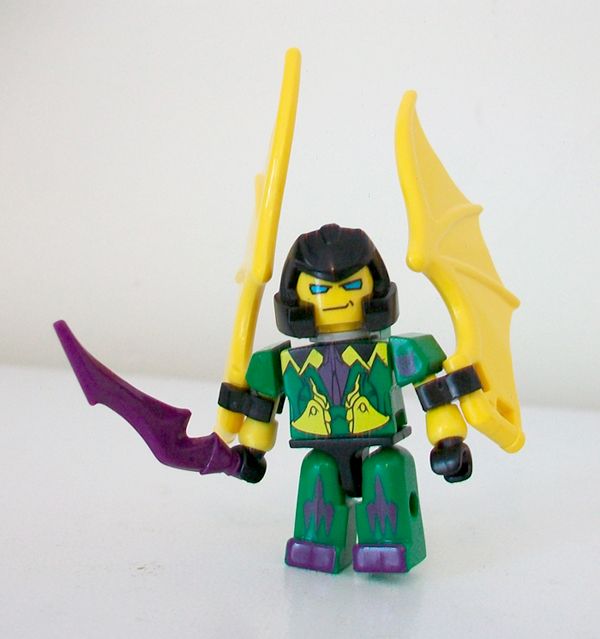 Again with the damn black Megatron helmet. The Vehicons had it, the Insecticons had it, Divebomb had it... yeesh, at least cast it in yellow or something.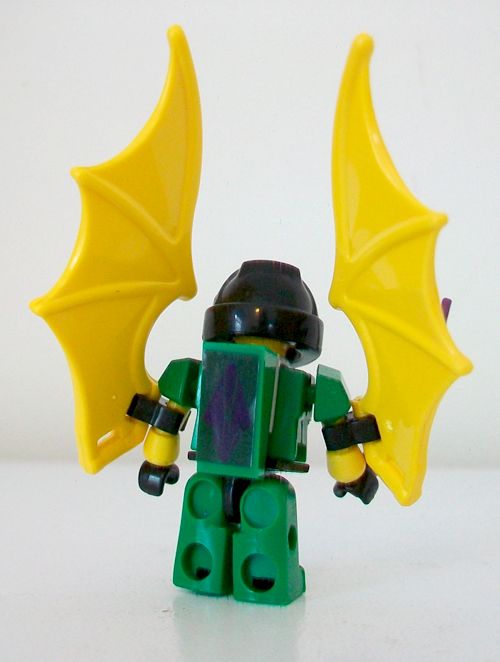 Near impossible to see here, but the purple markings kinda bring the BW Predacon insignia to mind.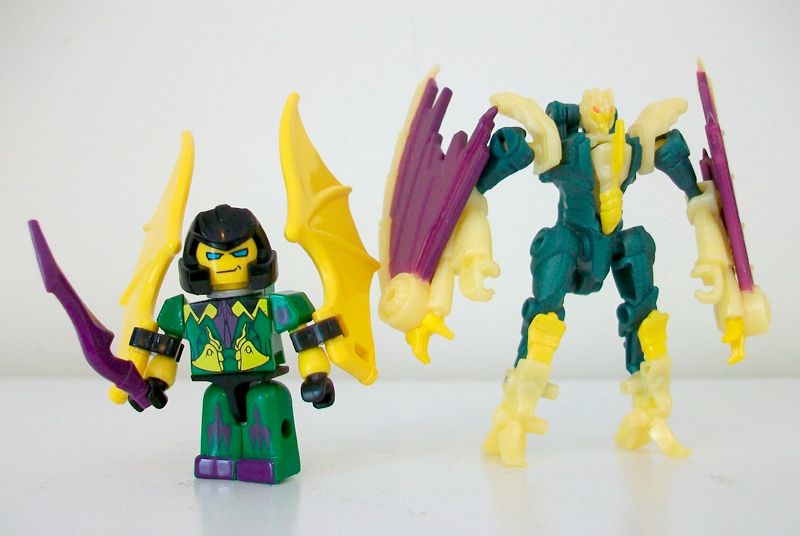 Smirkalicious!
As you might expect, the wings on the arms cause balance issues. But they include a new part!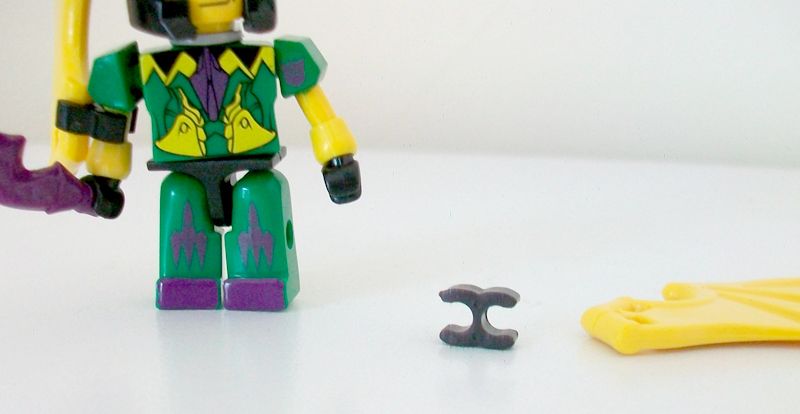 ... Which should be incredibly useful.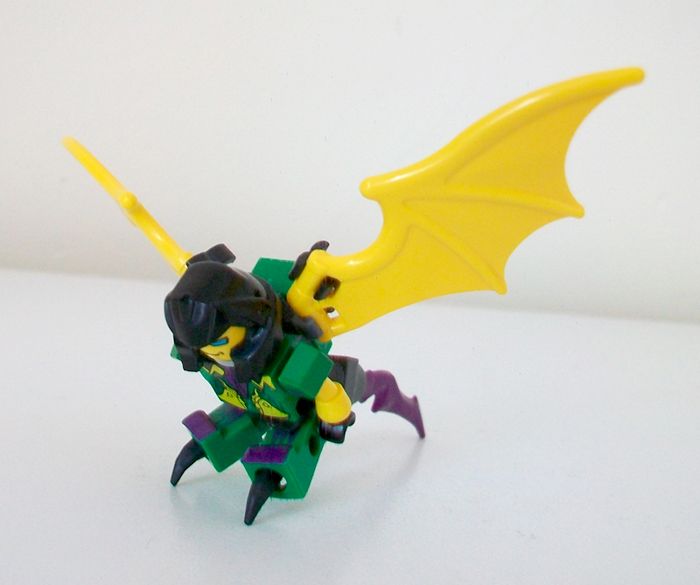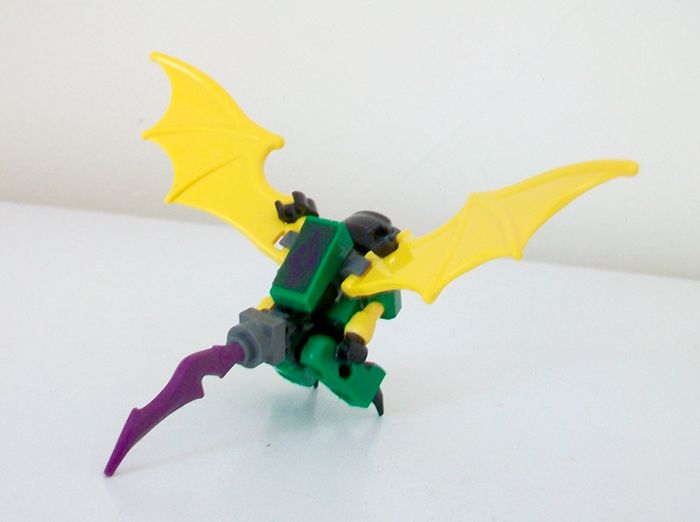 Unlike the others, Windrazor's beast mode is lackluster. Still, if you were actually to play with him, you could easily imagine him swooping down on Autobots and slashing them to pieces with his talons and tail-blade.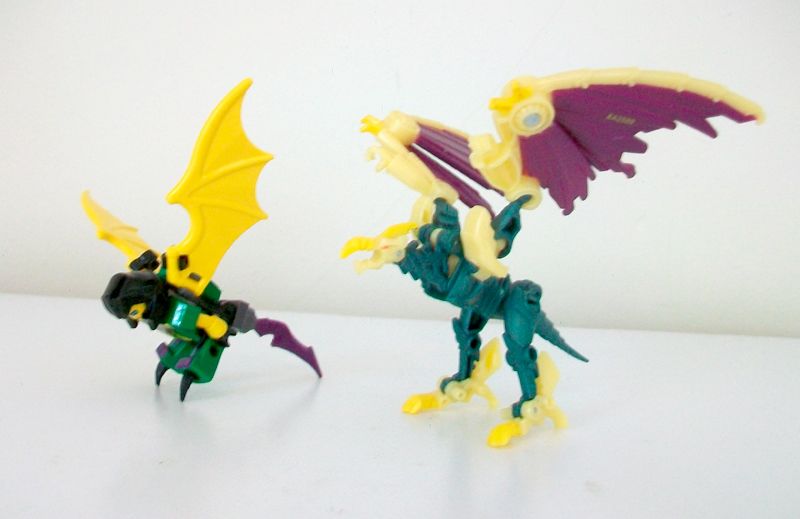 All in all, a pretty nice quartet. Everyone's distinct from each other and from the rest of the Kreons, and the alternate modes are actually decent for once.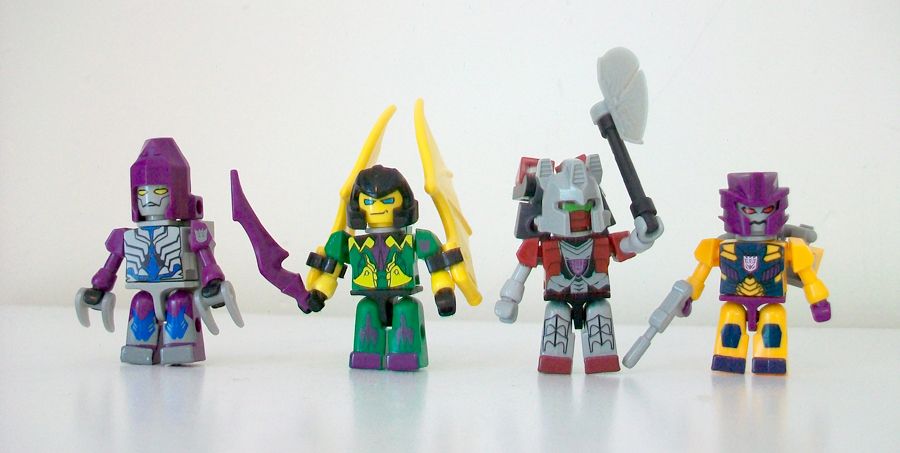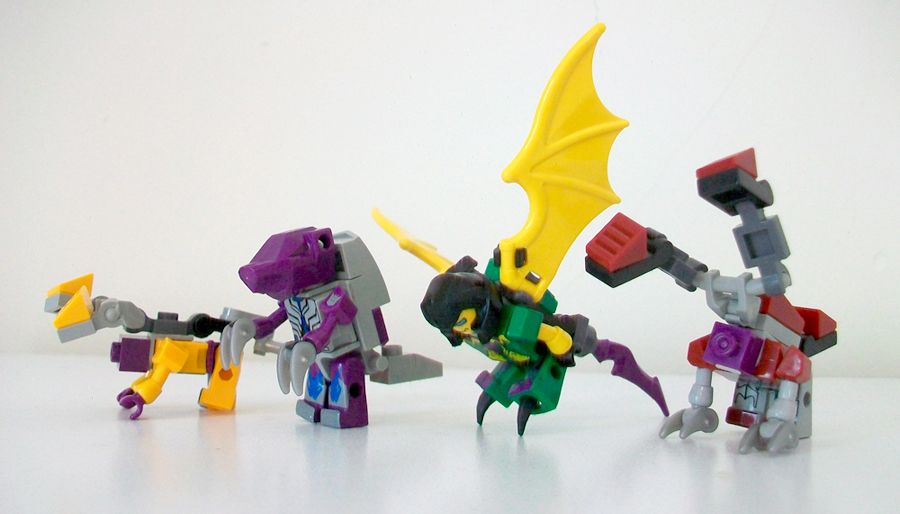 But that's not all, of course!
Abominus
(Note: I used a gray human chest in place of Windrazor's green one)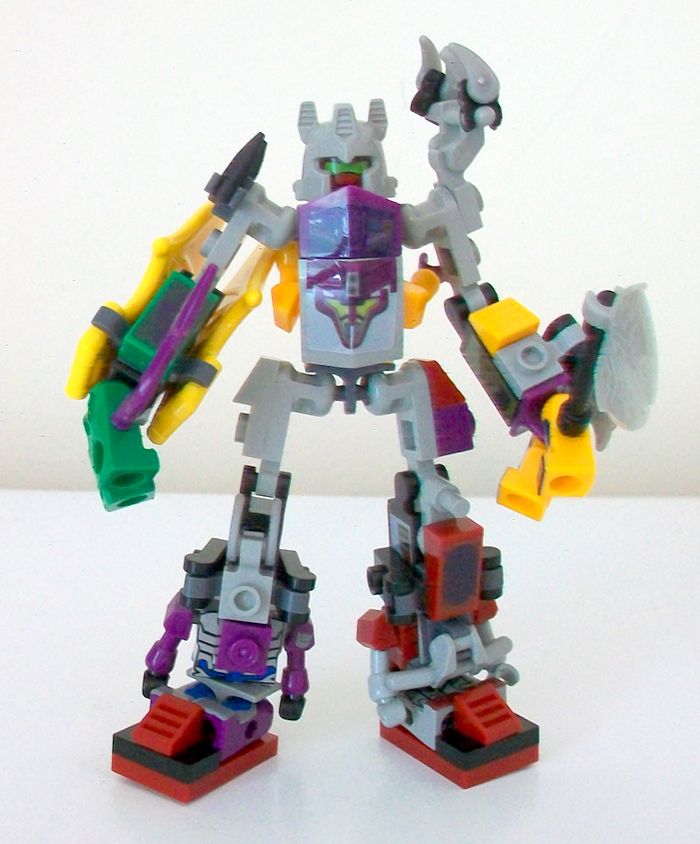 Since Blot's not here, Hun-Gurr's been relegated to a mere foot!
Quick run-down of articulation:
- Swivel waist, ankles, wrists, shins
- Ball-jointed shoulders, hips, fingers
- Hinge elbows, knees
Kind of a weird set up, actually, which combined with the inability to balance on just one leg neuters a lot of poses. Not terrible, but not amazing either.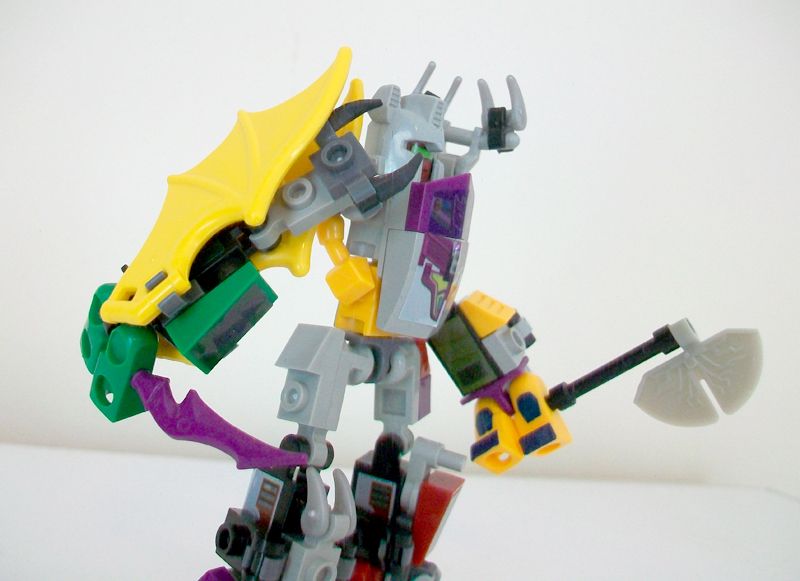 The wings don't impede as much as one might fear. They do get in the way a little, but since arm articulation is already kinda bad you aren't losing anything major.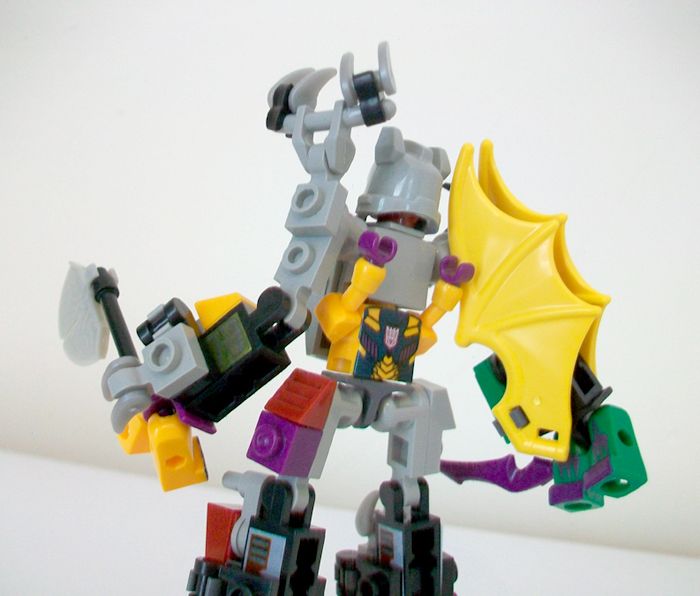 His upper arms and back are rather bare. The wings and shoulder-claws try to give the illusion of size, but Abominus' upper body is basically the bare skeleton.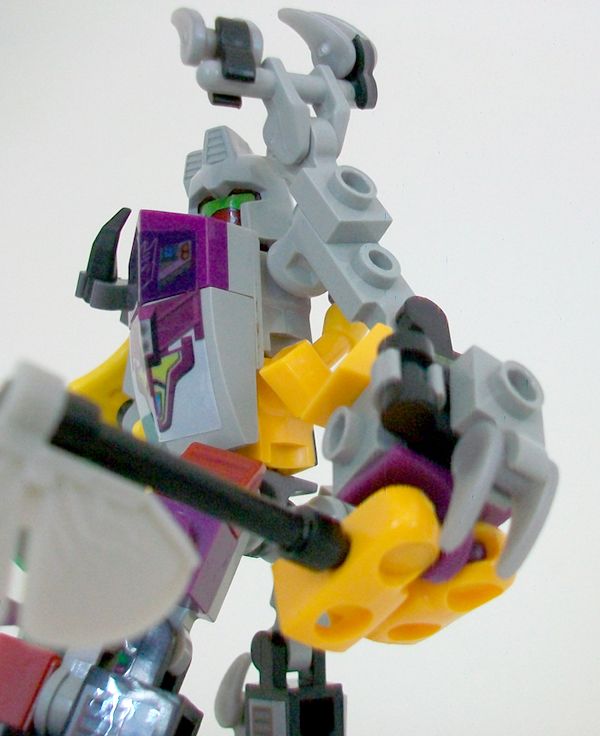 Nice knuckle-spikes, though.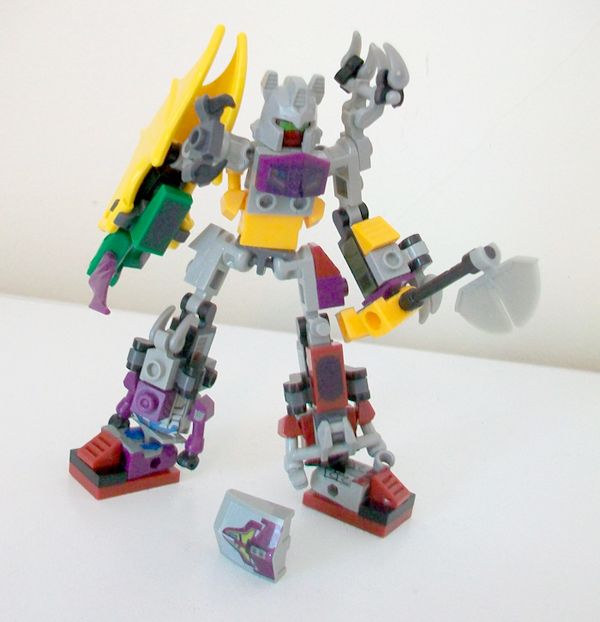 This wants to fall off any time you touch it; i.e. if you want to twist his waist.
A lot more G1 than Prime in this mode.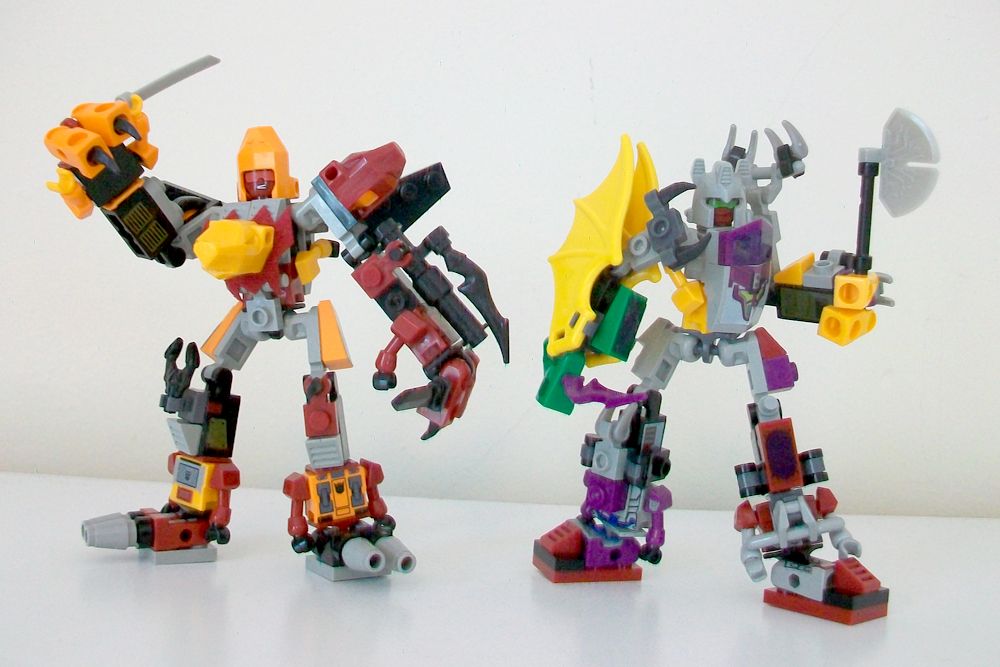 Abominus is… OK out of the box. Not as inspiring as inspiring as Predaking or Superion, and I prefer the Individual bots. You'll probably be wanting to change the build. That's the beauty of Kre-O, if you don't like something you can easily rebuild it.
Verdict
: Well, kinda hard to rate something you can rebuild, and which is virtually identical to… the rest of the entire line. And if you like Kreons, you'll probably be getting these regardless.
Still, if you like the Terrorcons, combiners, monsters, minifigures, and/or Lego-type products, these are worth checking out.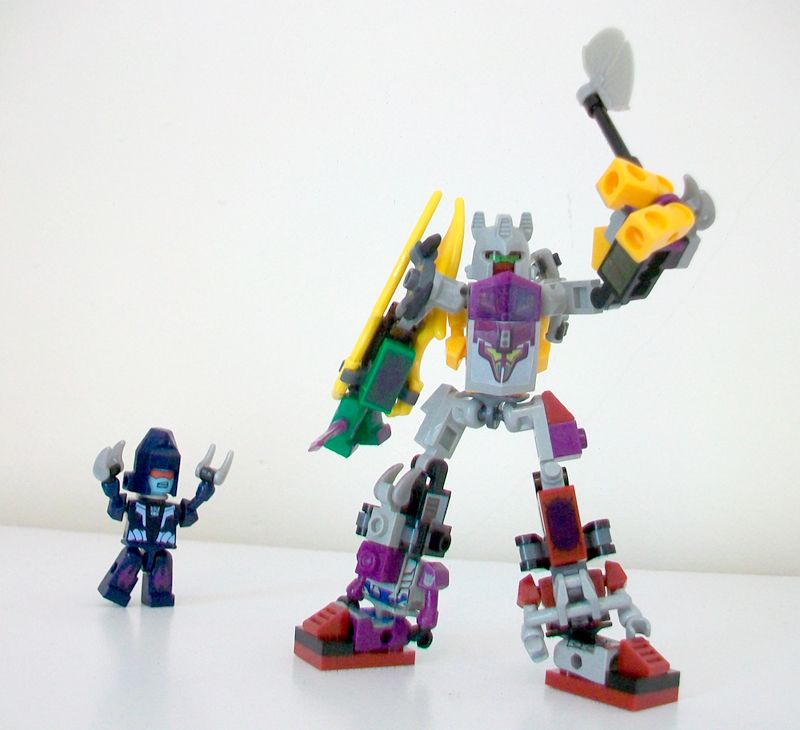 You forgot me!
No we didn't, we left you out 'cause you STINK!