Tired of paying too much for a whole Transformers action figure or a figure for a specific part or tow to replace the ones that went missing or lost and/or became defective or broken for your personal collection and/or custom figures?...
Need a specific part or two to complete your incomplete figure and/or custom figure?
Need instructions to help you transform a figure you have or for one that did not come with your figure originally?
THEN YOU HAVE COME TO THE RIGHT PLACE!!!
WELCOME TO OMARJT82'S TRANSFORMERS GARAGE, INC.!!!
Your one-of-a-kind stop for:
Hard to find parts to replace ones that went missing or lost and broken or defective for you collection figures and/or custom jobs!

Transformation instructions that went missing or lost and not originally included!

Incomplete and complete figures for your personal collections and/or custom jobs!
All merchandise is sold at low and affordable prices!
PayPal is the only payment method for all merchandise here!
If interested, please PM and/or e-mail me at
omarjt82@hotmail.com
first to arrange purchase(s)
COME GET THEM BEFORE IT IS TOO LATE!!!
A)

SMALL PARTS/OTHER
Beast Wars Transmetal 2 Ultra class Tigerhawk
004:
Beast Mode Upper Chest Compartment:
$00.50
006:
Beast Mode Lower Chest Armor:
$00.50
007:
Beast Mode Right Foot:
$00.50
008:
Beast Mode Tongue:
$00.50
010:
Robot Mode Right Heel:
$00.50
ROTF Leader class Megatron
018:
Vehicle Mode Wheels (
x8
):
$00.50 (each)
020:
Vehicle Mode Face Armor:
$00.50
021:
Right & Left Red Shoulder Pieces:
$00.50
ROTF Voyager class Starscream
027:
Vehicle Mode Wheels (
x4
):
$00.50 (each)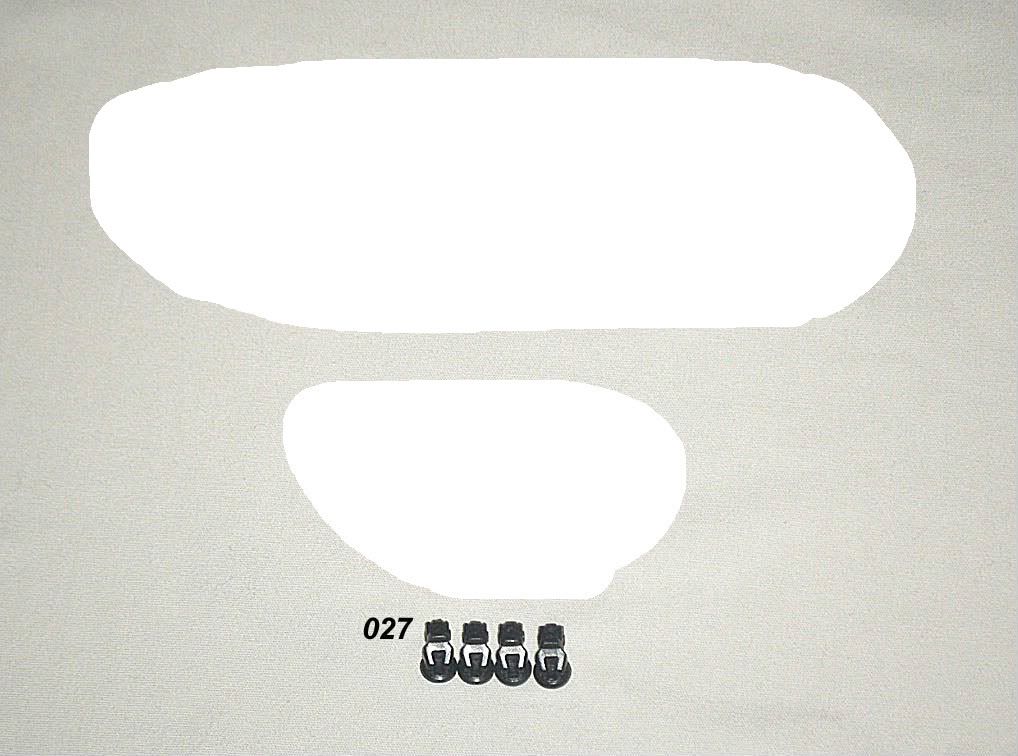 2007 Movie Deluxe class Bumblebee
028:
Right & Left Vehicle Mode Rear Roof Parts/Robot Mode Arm Panels:
$00.50
029:
Right & Left Vehicle Mode Front Doors:
$00.50
030:
Robot Mode Left Hand:
$00.50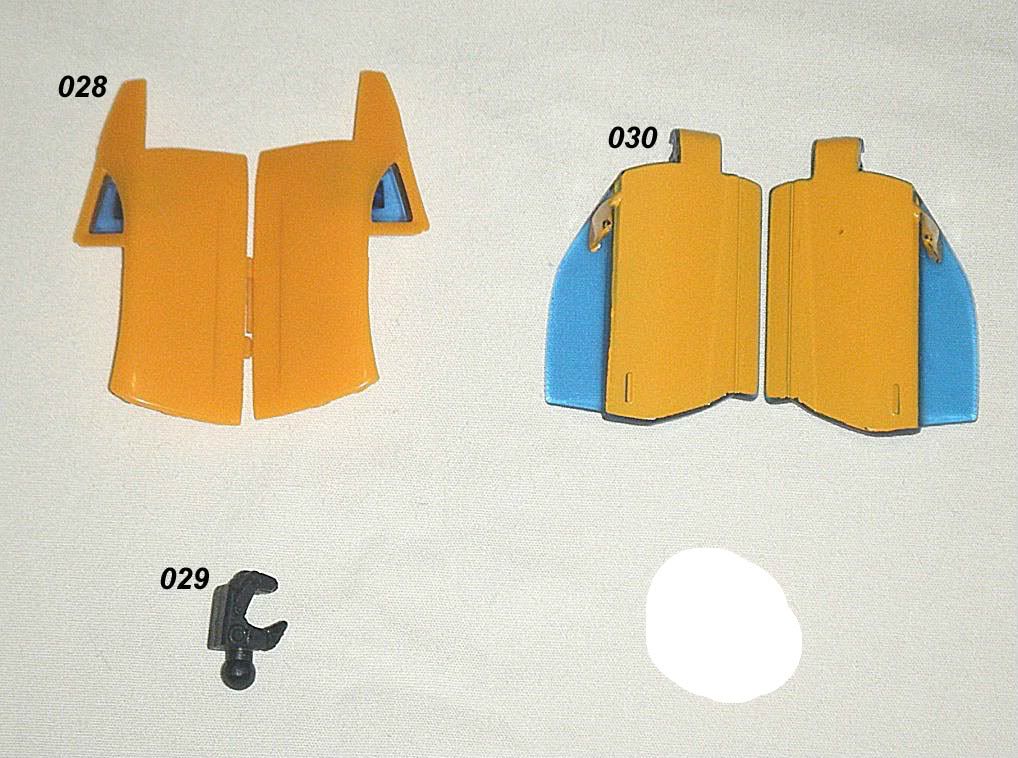 2007 Movie Deluxe class Cliffjumper
032:
Right & Left Vehicle Mode Rear Roof Parts/Robot Mode Arm Panels:
$00.50
033:
Robot Mode Left Hand:
$00.50
034:
Right & Left Vehicle Mode Front Doors:
$00.50
035:
Upper Arm Armor Pad:
$00.50
Other Small Parts
036:
ROTF
Voyager class Recon Ironhide Rooftop:
$00.50
045:
2007 Movie
Leader class Megatron Vehicle Mode Wheels (
x2
):
$00.50
046:
Beast Wars
Deluxe class Grimlock Right Robot Mode Thigh:
$00.50
047:
2007 Movie
Voyager class Ironhide Left Vehicle Mode Smokestack:
$00.50
050:
Energon
Supreme class Omega Supreme "Headmaster" Robot Left Leg:
$00.50
051:
2007 Movie
Deluxe class Payload Right Hand:
$00.50
Instructions
053:
2007 Movie
Deluxe class Movie Payload:
$01.00
054:
ROTF
Voyager class Starscream (
x2
):
$01.00 (each)
055:
2007 Movie
Leader class Megatron (
x2
):
$01.00 (each)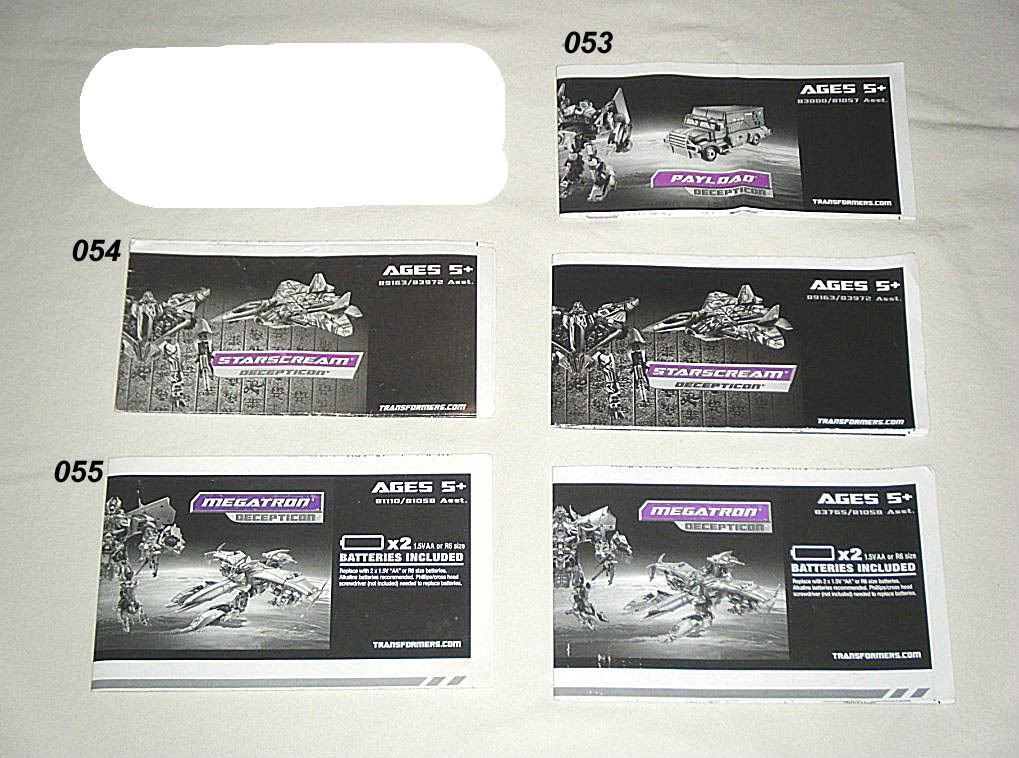 142:
2007 Movie
Deluxe class Barricade instruction booklet:
$01.00
143:
ROTF
Voyager class Ramjet instruction booklet:
$01.00
144:
ROTF
Voyager class Skywarp instruction booklet:
$01.00
145:
2007 Movie
Deluxe class Bumblebee (2009 Camaro Concept) instruction booklet:
$01.00
146:
ROTF
Deluxe class Cannon Bumblebee instruction booklet:
$01.00
147:
Classics
Voyager class Jetfire instruction booklet:
$01.00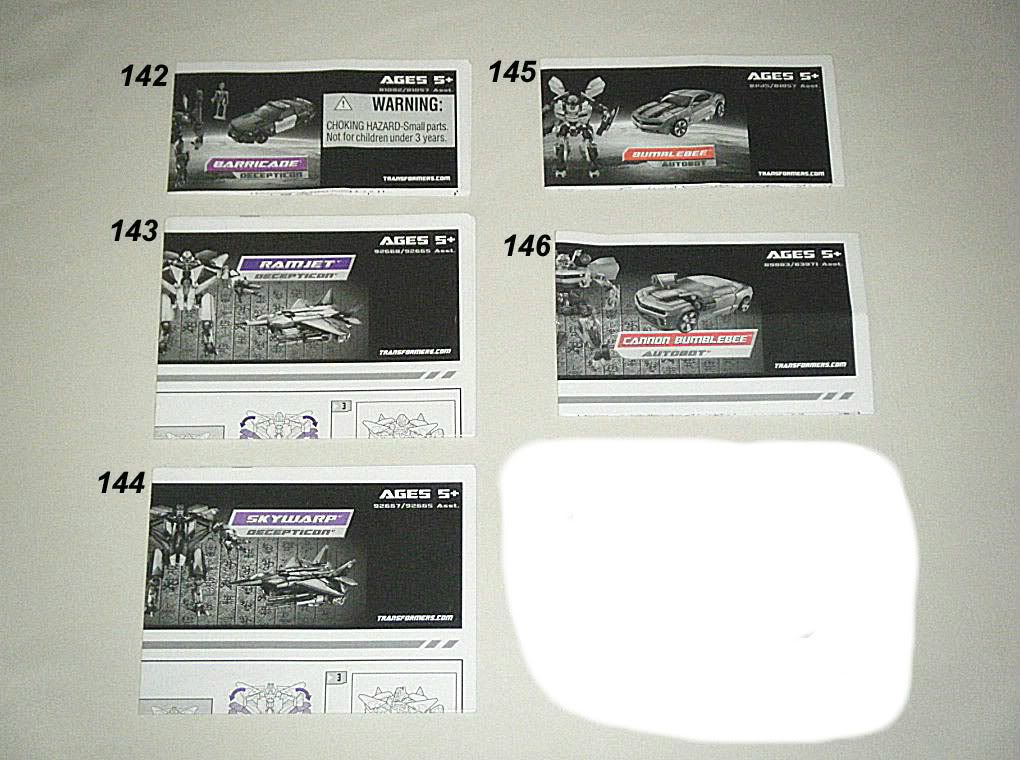 Weapons/Accessories
060:
Beast Machines
Ultra class Nightscream Energy Disks (
x6
):
$01.00 (each)
070:
ROTF
Voyager class Ramjet Missiles (
x4
):
$01.00 (each)
071:
ROTF
Voyager class Skywarp Missiles (
x6
):
$01.00 (each)
Heads
072:
Beast Machines
Ultra class Nightscream (
Beast Mode
):
$01.00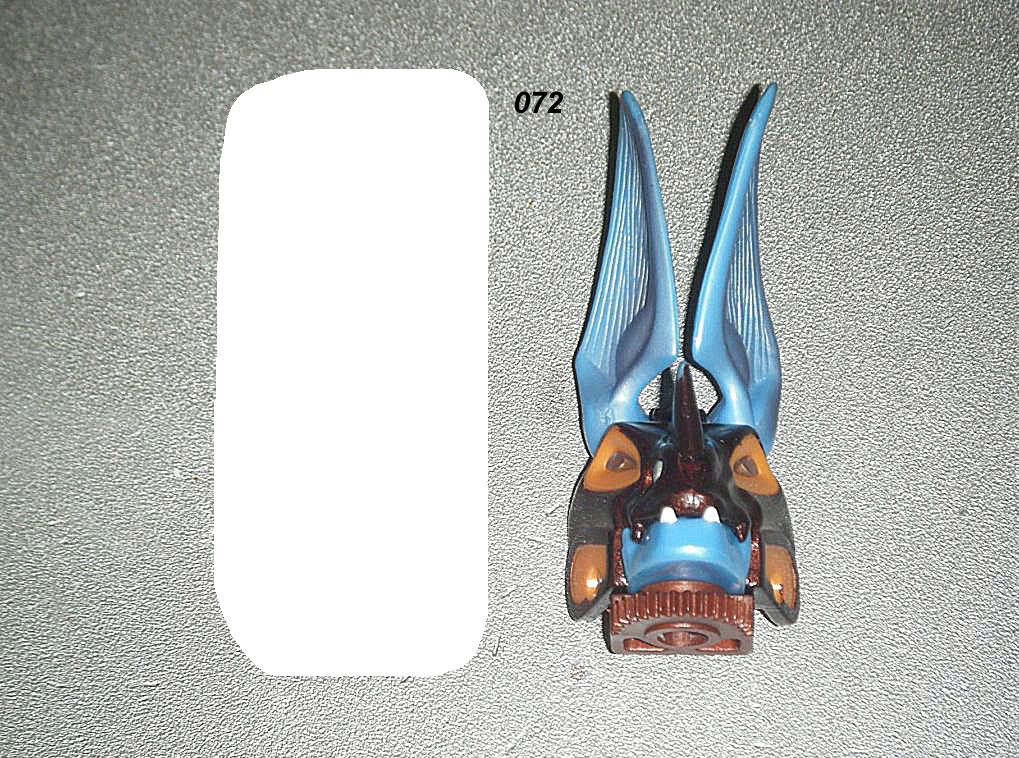 Arms/Hands
090:
Beast Wars
Transmetal 2 Ultra class Tigerhawk (
Robot Mode, lower left
):
$02.50
091:
Beast Machines
Ultra class Nightscream right hand:
$05.00
094:
ROTF
Voyager class Recon Ironhide (
Robot Mode, right
):
$05.00
096:
2007 Movie
Deluxe class Payload (
Robot Mode, left
):
$05.00
Legs
097:
ROTF
Voyager class Recon Ironhide:
$05.00 (each)
098:
2007 Deluxe
class Movie Payload:
$05.00 (each)
099:
ROTF
Voyager class Megatron (
Robot Mode, left
):
$10.00
102:
Beast Wars
Deluxe class Grimlock (
Robot Mode, left
):
$10.00
103:
Beast Wars
Transmetals 2 Ultra class Tigerhawk (
Beast Mode, right
):
$10.00
104:
2007 Movie
Deluxe class Bumblebee:
$10.00
105:
2007 Movie
Deluxe class Cliffjumper:
$10.00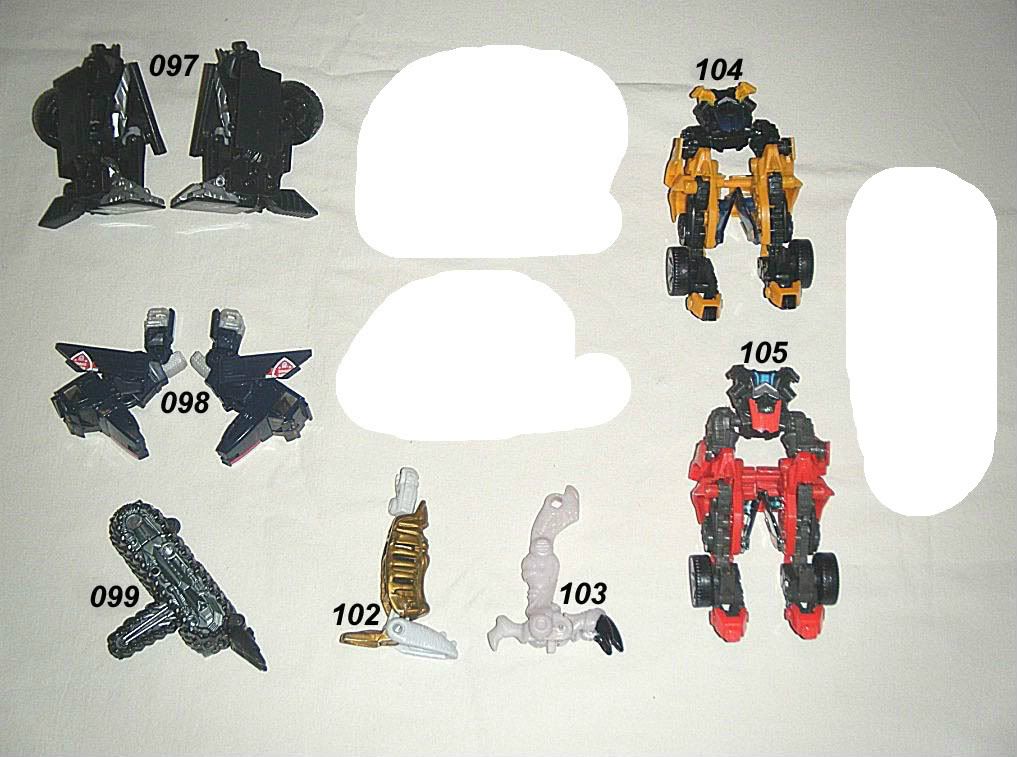 Other Body Parts/Other
107:
Beast Wars
Transmetal 2 Mega class Megatron Tail:
$10.00
110:
2007 Movie
Deluxe class Cliffjumper Vehicle Mode Engine:
$10.00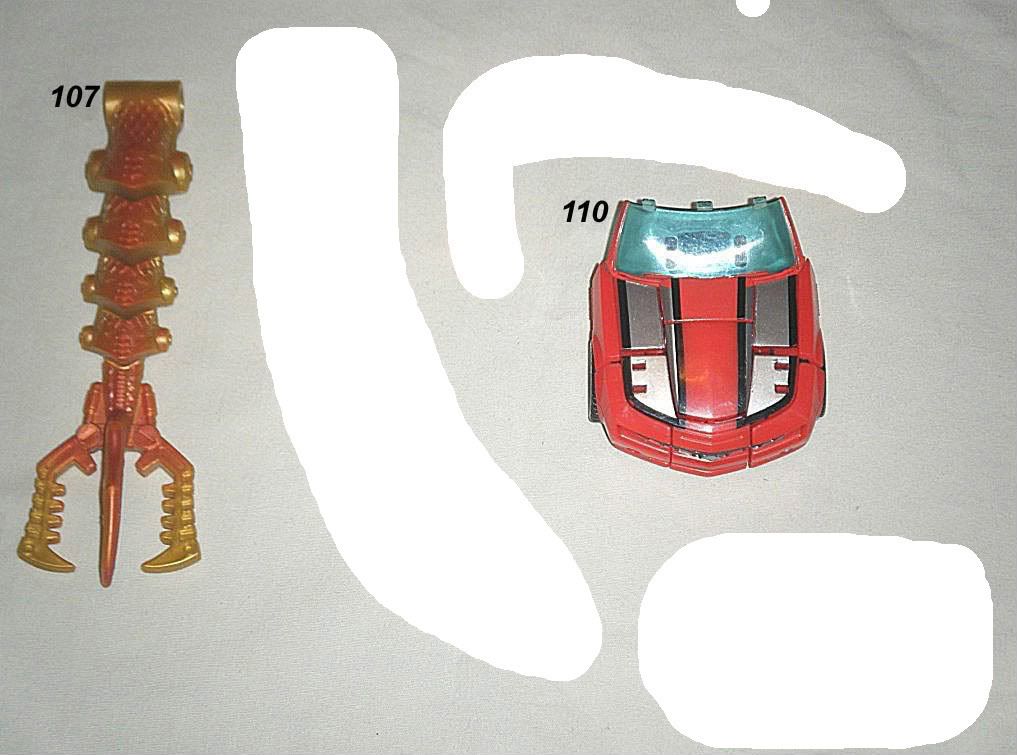 132:
Transformers: Revenge of the Fallen
– Official Movie Adaptation #1:
$05.00
B)

FIGURES
Complete, no Instructions
117:
Armada
Road Assault Mini-Con Team (
Dirt Boss, Mirage, Downshift
):
$02.50 (each)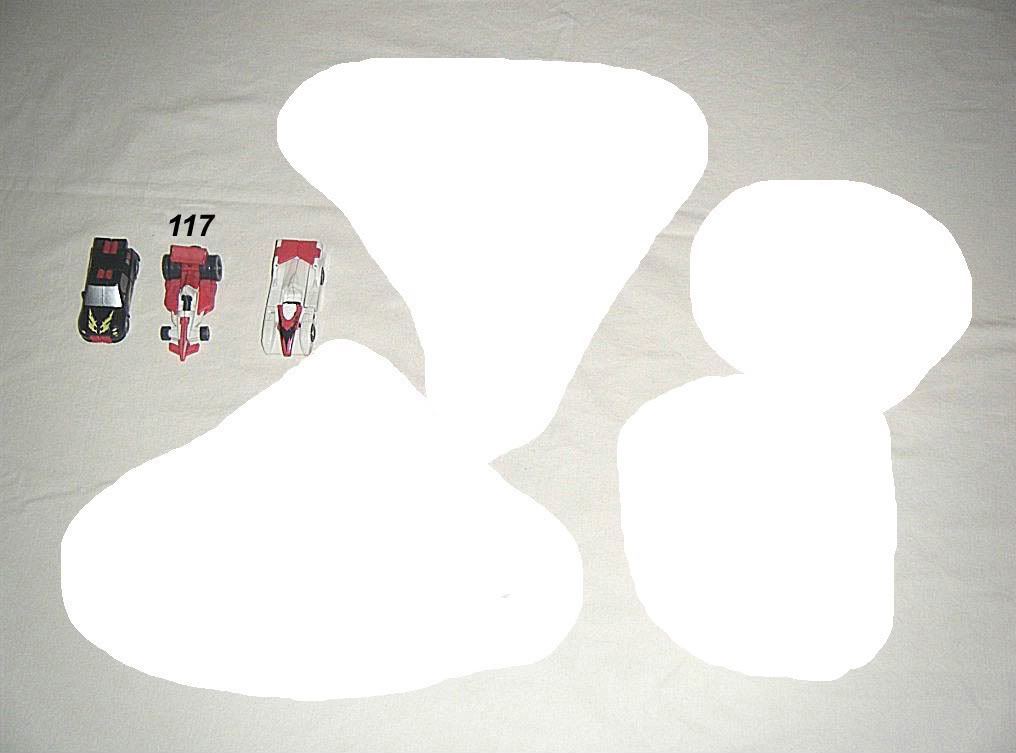 Complete, with Instructions
135:
2007 Movie
Deluxe class Bumblebee (2009 Camaro Concept) cannon/axe:
$01.00
136:
2007 Movie
Deluxe class Jazz with weapom from 2007 Movie Deluxe Final Battle Jazz:
$10.00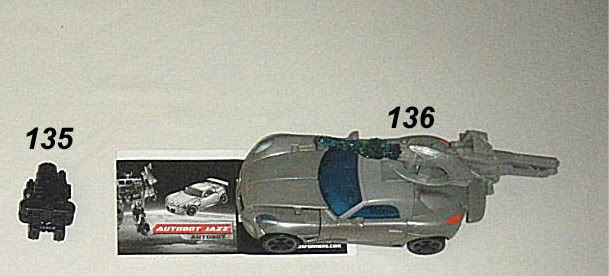 187:
Energon
Deluxe class Downshift:
$14.00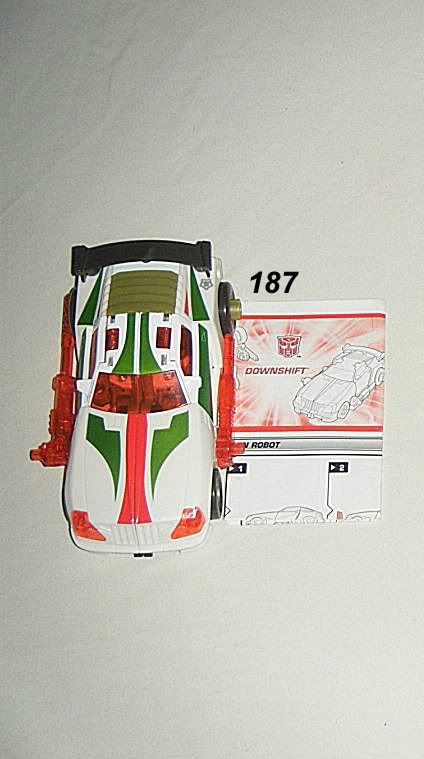 216:
Beast Hunters
Cyberverse Legion class Twinstrike:
$5.00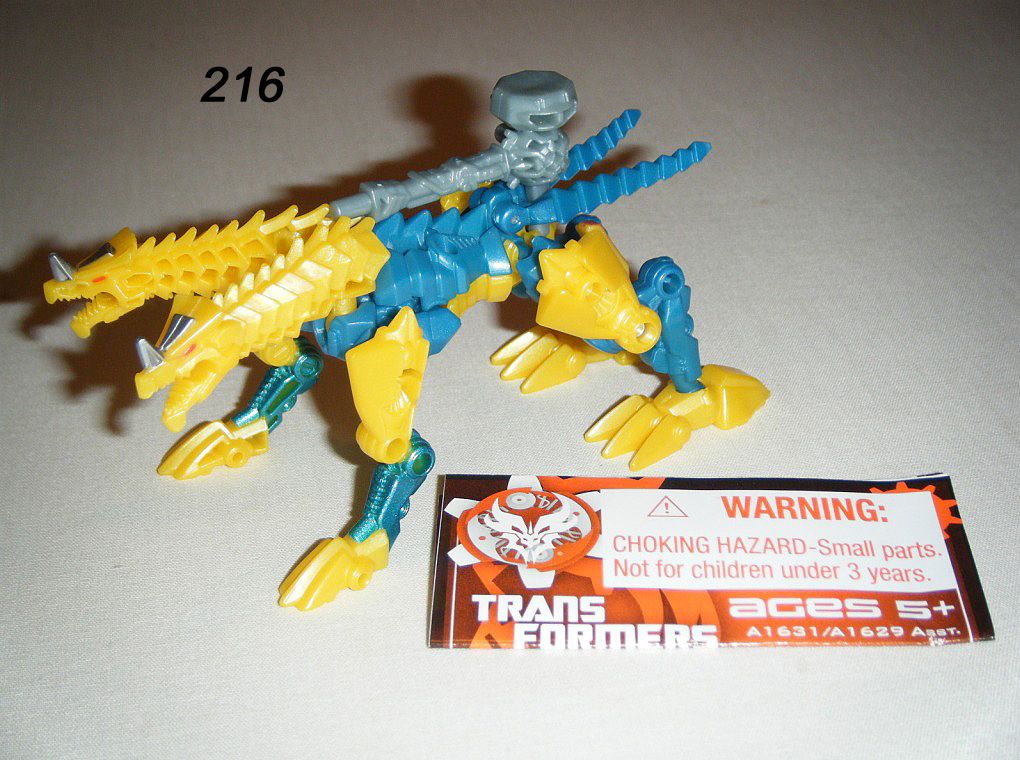 219:
Generations/FoC
Deluxe class Shockwave (minus instructions & incomplete):
$5.00
220:
HFTD
"Starscream's Assault" Deluxe class Mudflap:
$10.00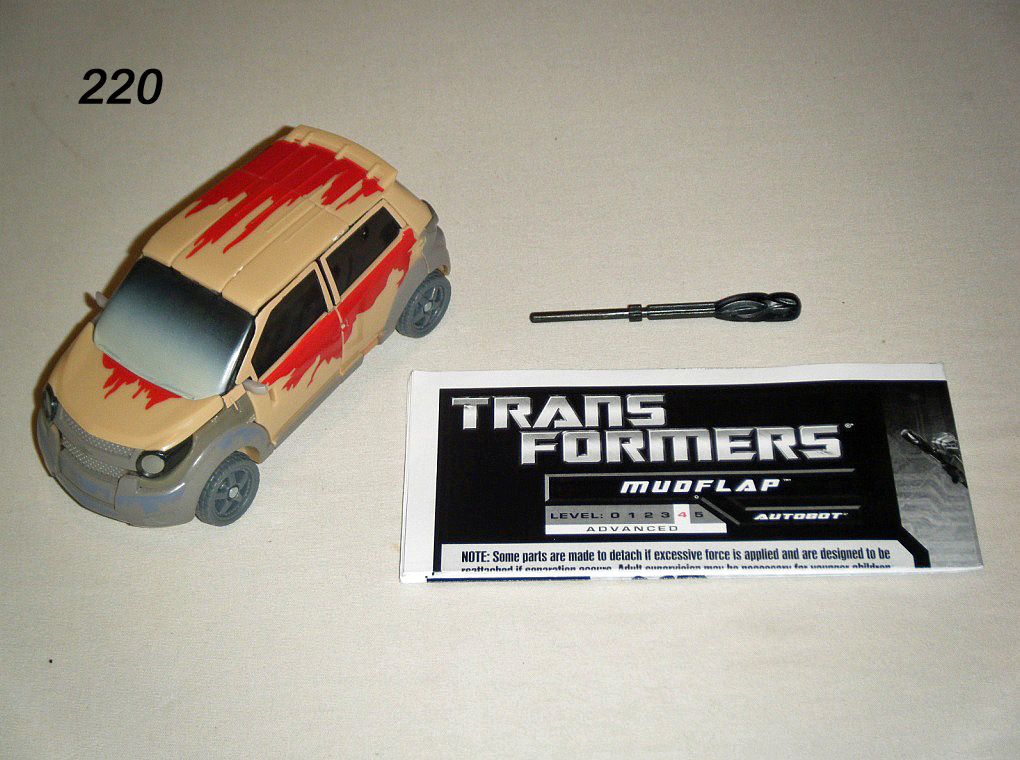 223:
Alternators
Battle Ravage (MISB):
$20.00
229:
DOTM
Human Alliance Basic class Whirl with Major Sparkplug:
$8.00
231:
Cybertron
Scout class Repugnus:
$6.00
232:
Energon
Mega class Overcast:
$18.00