This is my first Transformers kitbash/custom that I've attempted (I'm now working on a few others). I picked this up from a fellow board member here recently. I've been working on this for about a month and a half (on and off) and I've finally finished it.
Originally, I had considered just repainting the bland Classics Ultra Magnus, but everyone's been doing that since it was released (no knock to them, I love 'em all--I just wanted to do something different). I decided to take the "G1 approach" and do this as close to his orignal G1 (in robot mode at least) as I possibly could. Be warned, this can be considered a PARTS-FORMER (oh no!) simply because I am sticking to what was done on the G1/Diaclone orignal (parts galore).
Don't worry though, I only have technically 5 small parts:
1) The Magnus head is a MyClone Magnus head that I purchased from Alyosha's Corner (I carved down the peg on it so it would fit into the back of the Magnus head when it is folded down). So technically, I never removed the old Magnus head and it can be used still.
2) To create the missiles, I shredded a TRU (smaller) Energon Megatron's internal "wing" parts, cut off the tips, cut those in half, painted them, then glued a "connector" onto them so they can easily slide in and out of his arms in robot mode (just under the shoulder pad). These store under the cab in truck mode--just behind the side door panels. I considered incorporating the missiles into his vehicle mode, but it just didn't look right, so I stored them instead.
3) I took some small wooden sticks (arts and crafts crap at Wal-Mart) and created a couple of shoulder "beams" (or pilons--whatever those things are called). Yes, I said "wooden sticks" or popsicle sticks, if you prefer--lol (I haven't ordered any styrene yet and they do the job just fine until I decide to upgrade it). I painted those white and added a couple of pegs to the bottom. I hollowed a small portion of the shoulder of Ultra Magnus (the small indented spot on the top of the shoulder in robot mode). They "snap" right in and are removable. These fit just under the smoke stacks in truck mode (I painted the smoke stacks white to give him a white rifle in robot mode).
These are the only "parts-former" parts and while I love to see Transformers customs that transform completely without "extras" floating around, I do think the old school G1 "parts-former" rules can be applied and actually work here. So anyone ready to go on the offensive about this sort of thing, feel free. I know where you're coming from, but in some cases, parts-formers do in fact work. With that said, onto the show! (I'd like to thank EVERYONE who has ever done an Ultra Magnus custom--regardless of the line it was from--I learned a lot by seeing the great works of him that were done and I just wanted to share my take on it--feel free to share any ideas and pointers as well--let me know what you think):
Robot Mode ("G1-style"):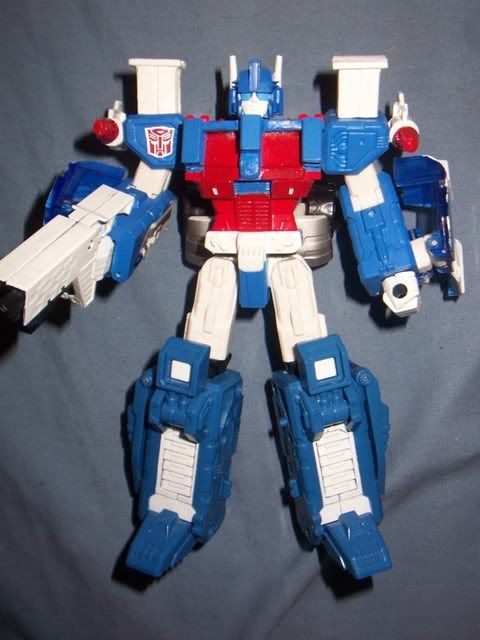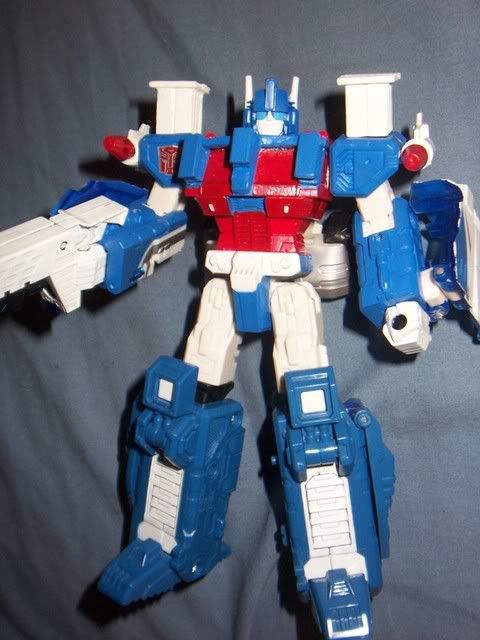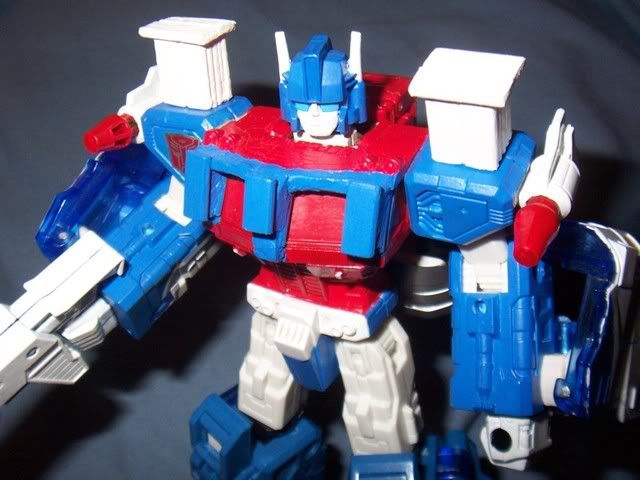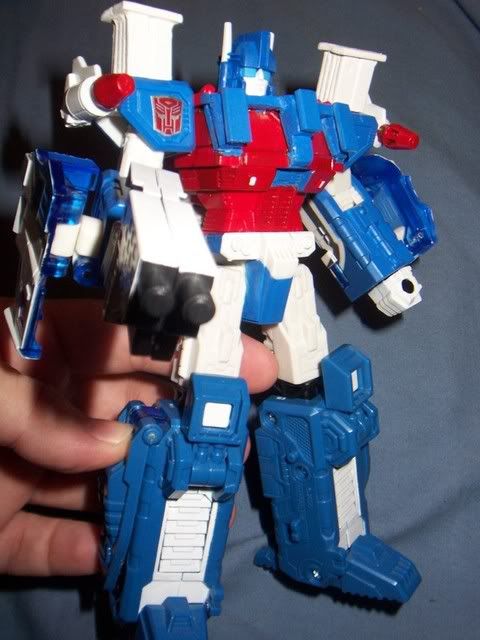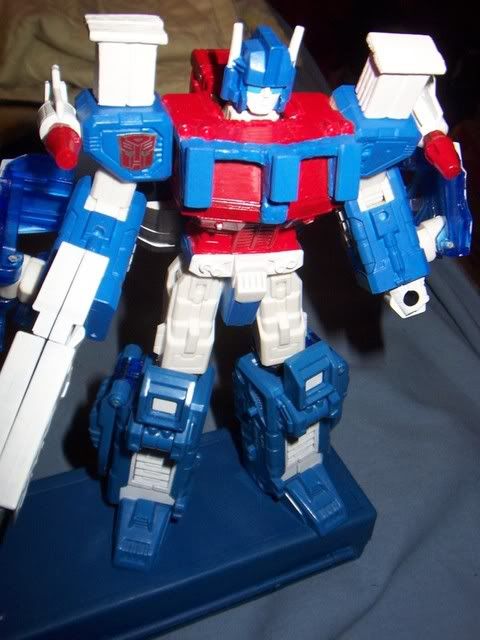 Vehicle Mode ("Classics style"):