Hottest toy sells out before it's delivered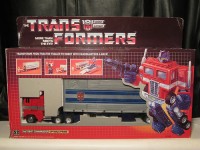 Monday, December 24th, 1984 12:01AM CST
Categories:
Toy News
,
Site Articles
,
Store News
Posted by:
Seibertron
Views:
661,608
Topic Options: View Discussion · Sign in or Join to reply
The mustachioed man in the blue jogging suit was in a dilemma.

He kept staring at the rack of Go Bots and Robo Force creatures. Sure, the Robo Force robot has "powerful crusher arms" and can stick to walls, and the Go Bot robot can change from the Block Head Enemy to a cement mixer.

But the big question remained: Would they satisfy his son? Would they hold his attention?

Jason is 10, and like thousands of other youngsters across the country, he has put Transformers - the new Hasbro Industries, Inc., wonder toy - at the top of his Christmas list.

But he may have to settle for one of the other robot-type toys, such as Go Bots or Robo Force. His dad, 37 year-old Joe North of Mount Washington, is among a growing number of parents who can't get their hands on the darn Transformers.

They are too popular. The craze for the colorful little plastic and metal robots which can be transformed into cars, planes and guns has turned normally polite parents into pushing and shoving fanatics who will do almost anything to get little Johnny or Sue what they want.

Yesterday, a mother awaiting a toy shipment at Toys-R-Us in Towsontowne Marketplace recalled getting caught in a mob scene at the same store several weeks ago.

"I'm not very good in crowds. People were pushing and shoving and I didn't get anything." she said, even though she had been among those waiting the longest.

And several weeks ago at Kiddie City in Eastern Center Plaza the police were summoned by a woman who wanted to press charges against the pushy person behind her, recalled Eric Blackmer, the store's assistant manager.

The toys, which range in price from $3 to $30, are so much in demand they rarely make it to the shelves. As soon as the toys are brought in off the truck in cartons, scads of eager parents grab them up.

But early yesterday morning at Toys-R-Us there were only two mothers, including the one with the bad luck, hovering in the back of the store near the coloring books and blocks, awaiting the day's shipment. The hordes must have known it wasn't the day, because the truck didn't come.

The day before there was a line and a truck did come in. But there were no Transformers aboard. And that's expected to be the scenario until the new year, when Hasbro comes out with dozens of new Transformers including Dinobots, which turn from robots into dinosaurs.

"I could kill myself," said Pat Milan, 30, of Baltimore City. "I saw an Optimus Prime in the summertime for $20 and I didn't buy it."

Optimus Prime is the Transformer to end all Transformers. He is the leader of the noble Autobots (the evil Transformers are called Decepticons) and with a few twists and turns he becomes a tractor trailer. (Second in popularity is Soundwave. It looks like a miniature cassette player until it is magically transformed into a robot. He is a Decepticon, a bad guy, whose motto is "Cries and screams are music to my ears.")

Will Mrs. Milan's son be devastated when he wakes up Christmas morning and doesn't find Optimus under the tree?

"He won't hold it against me," Mrs. Milan said. "He happens to be a smart kid. He understands that toy makers have kids on a string."

Transformers have been a hot item since they hit the market in May [1984], and that was the time to shop for them.

"This is beyond our wildest dreams," said Stephen Schwartz, senior vice president of marketing at Hasbro in Pawtucket, R.I.

Hasbro - which also brought kids GI Joe and My LIttle Pony - has shipped $100 million worth of Transformers since their introduction into this country eight months ago. That is wholesale dollars, he said.

To give a comparison, Mr. Schwartz noted that Coleco shipped $60 million worth of Cabbage Patch Kids in its first 12 months.

Coleco has little to worry about, however.Their homely dolls once again are among the most wanted and hardest to get toys.

People can put their names on a waiting list, but with little hope of receiving a doll before Christmas. A person who signed up at Toys-R-Us in Towson became number 10,219 on the list yesterday.

And the glum prospect for satisfying a child with a Transformer this season is echoed in toy stores all over town.

"The truck came this afternoon and we got 32 cartons. But no Transformers. I doubt if we will get any more [before Christmas]," said a worker at Best Products in Towson.

What's the attraction?

Mr. Schwartz believes it lies in "the magic of transforming something from one thing into another ... it's a real fantasy world."

One 8-year-old summed it up this way: "They're neat. GI Joes and those kind of toys are just boring. But these new things can change form robot to vehicle or plane. It's really neat."

Incidentally, Joe North, the man in the blue running suit who was trying to find the toy with the most action, finally settled on a Robot watch. Time will tell if he made the right choice.

Note from Ryan: Sucks to be that kid. This newspaper article was obtained through Linden High School's micro-fiche film library during my senior year in 1995. Linden High School is located in Linden, Mi. See ... it pays to save all that stuff!!!
Credit(s): Unknown
Most Popular Transformers News
Most Recent Transformers News
News Categories:
Toy News
,
Live Action Movie News
,
Comic Book News
,
Cartoon News
,
Site News
,
Rumors
,
Digital Media News
,
Event News
,
Collectables
,
Game News
,
Sponsor News
,
Store News
,
Company News
,
Site Articles
,
People News
,
Press Releases
,
Sightings
,
Reviews
,
Unlicensed Products News
,
Auctions
,
Interviews
,
Transtopia
,
Knock Offs
,
Editorials
,
Collector's Club News
,
Heavy Metal War
,
Podcast
,
Contests
,
Book News
,
Top Lists
Re: Hottest toy sells out before it's delivered (1507022)
Posted by
Burn
on July 27th, 2013 @ 4:02pm CDT
I love peeks into the past like this. Thanks for bringing it to light Ryan!
Re: Hottest toy sells out before it's delivered (1507023)
Posted by
RK_Striker_JK_5
on July 27th, 2013 @ 4:10pm CDT
The more things change...
Thank you very much for this article.
Great peek into the past.
Re: Hottest toy sells out before it's delivered (1507084)
Posted by
gavinfuzzy
on July 27th, 2013 @ 9:49pm CDT
And this is the exact scenario at the Local Mcdonald's over the Minion Happy Meal toys.
Grown men get out of their house at like 7am or something to go and queue outside Mcdonald's for the past week to get the Happy Meal figs.
Re: Hottest toy sells out before it's delivered (1507087)
Posted by
Cyber Bishop
on July 27th, 2013 @ 9:59pm CDT
Nice article but I don't remember Transformers being that difficult to find.. I remember the first store down here to get them was a Kmart and they had literally stacks of them in front of the toy section. Yes they sold but were replenished quickly..