IDW Transformers: Punishment Motion Comic Now Available on Madefire app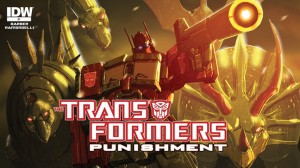 Wednesday, June 25th, 2014 12:00PM CDT
Categories:
Comic Book News
,
Company News
,
Media
,
Press Releases
Posted by:
Va'al
Views:
35,694
Topic Options: View Discussion · Sign in or Join to reply
More comics news today from IDW Publishing! Check out below the press release for the Madefire powered motion comic Transformers: Punishment,
mentioned at BotCon
, written by John Barber and with art by Livio Ramondelli - and currently available only on the Madefire app for Windows 8. The story is apparently set slightly further than the current RID and Windblade run, so there may be a few spoilers ahead.
Madefire Expands To Windows 8 With Exclusive Transformers Motion Book Release

Five New Episodes Of Hasbro And IDW Publishing's Transformers Are Now Available Exclusively Through The Madefire App On Windows 8

San Francisco, CA – June 25 2014 – In collaboration with Hasbro and IDW Publishing, Madefire, today announced that the five-issue Transformers: Punishment will be the newest additions to expand the Madefire Motion Book library with an exclusive Microsoft Windows 8 platform release. These exclusive stories based on Hasbro's iconic Transformers brand, will be available on all of the latest Windows 8 devices for no cost, and will provide a unique reading experience designed and built specifically for the digital screen.

Transformers: Punishment is all-new original content developed within the current IDW Transformers universe with its debut as a Madefire Motion Book. The creative team behind the five-part series are Transformers comic fan-favorites, writer John Barber and artist Livio Ramondelli. Autobots and Decepticons come alive and battle it out as Motion Books -- the newest innovation in reading to come to Windows 8.

"It's a thrill to see Optimus Prime spring into action," said John Barber. "This is a hard-hitting action story, and Madefire's Motion Books — including music and sound effects — deliver a powerful reading experience that makes you feel like you're in the center of it all!"

"Windows devices are supported by a rich app ecosystem that offers a variety of quality apps that take advantage of the platform's unique features such as Live Tiles, snap and Bing Smart Search integration," said Todd Brix, general manager, Windows Apps and Store, Microsoft Corp. "The Madefire Motion Books app's unique use of these features, paired with exclusive Transformers content for Windows users, really bring the app to life on the platform."

Designed for reading on a screen, Madefire has built an end-to-end publishing platform called Motion Books -- a benchmark reading experience for mobile, tablet and web that immerses the reader in a sequential narrative with sound, motion, and depth. Today, Madefire Motion Books expands beyond the iOS and web-reading partner, social network and creative giant deviantART, and is available on any Windows 8 device operating system. Currently, Madefire Motion Books is a free Windows 8 and iOS app that delivers the most innovative reading experience for digital devices as it pioneers the next chapter in storytelling. It has been an iOS 5-star rated app since launch, and was awarded an App Store's "Best of 2012".

"A global entertainment, like Transformers comics coming alive through Motion Books exclusively written for the Windows 8 platform is one thing, but teaming up with the biggest OS in the world makes it a huge milestone," stated Madefire CEO and Co-Founder Ben Wolstenholme, "Its about bringing stories to life on the devices we use everyday – period."

About Hasbro

Hasbro, Inc. (NASDAQ: HAS) is a branded play company dedicated to fulfilling the fundamental need for play for children and families through the creative expression of the Company's world class brand portfolio, including TRANSFORMERS, MONOPOLY, PLAY-DOH, MY LITTLE PONY, MAGIC: THE GATHERING, NERF and LITTLEST PET SHOP. From toys and games, to television programming, motion pictures, digital gaming and a comprehensive licensing program, Hasbro strives to delight its global customers with innovative play and entertainment experiences, in a variety of forms and formats, anytime and anywhere. The Company's Hasbro Studios develops and produces television programming for more than 180 territories around the world, and for the U.S. on Hub Network, part of a multi-platform joint venture between Hasbro and Discovery Communications (NASDAQ: DISCA, DISCB, DISCK). Through the company's deep commitment to corporate social responsibility, including philanthropy, Hasbro is helping to build a safe and sustainable world for future generations and to positively impact the lives of millions of children and families every year. It has been recognized for its efforts by being named one of the "World's Most Ethical Companies" and is ranked as one of Corporate Responsibility Magazine's "100 Best Corporate Citizens." Learn more at

www.hasbro.com

.

About Madefire

Founded in 2011 by Ben Wolstenholme, Liam Sharp and Eugene Walden, Madefire is a media and technology company. Madefire has built the Motion Books publishing platform that provides artists, writers and publishers tools for creating a new reading format called Motion Books. Madefire is backed by Toni Schneider at True Ventures, The former CEO of Automattic, makers of WordPress, as well as Bill Woodward (Anthem Ventures, former Chairman of Macromedia). The Advisory Board also includes industry leaders Mike McCue, CEO and Founder of Flipboard, angel investor Sina Tamaddon, former Senior Vice President of Applications for Apple Inc, Dave Gibbons, co-creator of Watchmen, the bestselling graphic novel of all time, and Bill Sienkiewicz, widely recognized as one of the greatest innovators of sequential art. For more information go to madefire.com.

About IDW Publishing

IDW is an award-winning publisher of comic books, graphic novels and trade paperbacks, based in San Diego, California. Renowned for its diverse catalog of licensed and independent titles, IDW publishes some of the most successful and popular titles in the industry, including: Hasbro's The TRANSFORMERS, G.I. JOE and MY LITTLE PONY; Paramount's Star Trek; Nickelodeon's Teenage Mutant Ninja Turtles; 2000AD's Judge Dredd; The Rocketeer; Toho's Godzilla; Wizards of the Coast's Magic: The Gathering and Dungeons & Dragons; V-Wars from New York Times best-selling author Jonathan Maberry; Ragnarök from Eisner Award-winner Walter Simonson; Winterworld, created by Chuck Dixon and Jorge Zaffino; and Little Nemo from the award-winning duo of Eric Shanower and Gabriel Rodriguez. IDW is also home to the Library of American Comics imprint, which publishes classic comic reprints, Yoe! Books, a partnership with Yoe! Studio, and the multiple award-winning Artist's Edition imprint.

IDW's critically- and fan-acclaimed series are continually moving into new mediums. Currently, Jerry Bruckheimer Films and Disney are creating a feature film based on World War Robot; Dwayne "The Rock" Johnson and Warner Brothers are producing a film based on Ashley Wood's Lore; Michael Bay's Platinum Dunes and Sony are bringing Zombies vs. Robots to film, Kurtzman/Orci are producing a movie based on Locke & Key at Universal.
Credit(s): IDW Publishing
Most Popular Transformers News
Most Recent Transformers News
News Categories:
3rd Party News
,
Auctions
,
Book News
,
Cartoon News
,
Collectables
,
Collector's Club News
,
Comic Book News
,
Company News
,
Contests
,
Editorials
,
Event News
,
Game News
,
Heavy Metal War
,
Interviews
,
Knock Offs
,
Media
,
Movie News
,
People News
,
Podcast
,
Press Releases
,
Reviews
,
Rumors
,
Sightings
,
Site Articles
,
Site News
,
Sponsor News
,
Store News
,
Toy News
,
Transtopia
Re: IDW Transformers: Punishment Motion Comic Now Available on Madefire app (1585731)
Posted by
Va'al
on June 25th, 2014 @ 2:19pm CDT
Mere hours after the
official announcement
of the IDW Publishing Transformers: Punishment motion comic on Madefire, here at Seibertron.com we are able to present you with the third comics review of the week, courtesy of the collaboration between
Mkall
(words) and
ScoutBumblebee
(images) - check it out below!
I'd like to start this review off by saying that I typically do not get the premise behind motion comics. To me, they often feel like someone thought of a good cartoon but didn't have the resources to do it properly. Most of them that I've seen aren't much better than comic art manipulated with Adobe Flash Studio. I'm sure that there are better examples out there, but I have not exposed myself to them.

IDW's foray into this medium with Transformers: Punishment, while not dissuading me completely of my notions of motion comics, shows me that there is a way to do it better. It's far from perfect, but I'll touch on that later.

Transformers: Punishment

is written by John Barber and drawn by Livio Ramondelli. Two powerhouses in their respective fields come together to make this book look as nice as it reads. Optimus Prime returns to Cybertron because for whatever reason, Galvatron on Earth just doesn't seem like that big a deal to him? He arrives and immediately decides his original reason to visit isn't as important as some murdered d-list Decepticons. He sets out to find the killer in a style that feels very familiar to MTMTE's Shadowplay series; where the hero (Optimus, in case it wasn't clear) spends several issues chasing a criminal, and lots of collateral damage happens en route.

The feel of this story captures very succinctly the atmosphere that IDW'S

Robots In Disguise

series has been trying to capture; that everyone is trying to come to terms with what they did during The War. There is a lot of Prime narration and introspective that puts a lot of this in context as we begin to see that the Autobots may not have been as heroic as 30 years of propaganda have lead us to believe.

This story is led by Optimus as he investigates. This disappoints me as I was really looking forward to seeing more of Starscream, who in this story is actually a heroic character. There was no sneer to the voice that I imagined in my head as I read his lines. He is generally honest in his desire to see justice done.

There are other characters too. Slug and the Dinobots serve as the needed muscle and occasional foil for Optimus. Windblade is always in the background to counter Prime's 'millions of years of fighting has changed us' mantras, which seem to occur once every issue. Sandstorm is the most curious addition to the story. Whereas the Dinobots are all too willing to fight and kill, Sandstorm does so because it's all he ever knew. Prime confronts him and attempts to get him to change and move past what he did. Will he do so? I suppose that's what was meant at the BotCon panel when it was stated that these events will reverberate in the main comic lines.

The Decepticon presence in this book is minimal (unless you include cadavers). The Firecons appear more to stir the pot than anything else. I would've enjoyed seeing more cons as protagonists. Starscream is for all intents and purposes a good guy and Barricade only speaks when there's exposition to deliver. This is certainly an all-Autobot tale. The overall story arc is nothing unique. It's been told before in other stories wherever war and violence have affected cultures. The killer(s) didn't surprise me, but they may surprise you if you are new to the IDW comics.

Overall I liked the story, despite some distractions both artistic and technical. The writing is good, and the more open nature of this medium allowed the artwork to move the text along and a good speed. I wish this was a 6th issue to allow for more interaction between Optimus, Starscream, and Windblade. This was a fantastic opportunity for old vs new Autobot interaction but it was always cut short because there were more bodies to find.

The artwork in this was done knowing it was for a motion comic, and it shows. Sparks fly, laserbeams cut the air, fires burn with intensity and the lighting is dynamic. My main issue is that because it's a motion comic, there is motion for the sake of it. Sometimes the impact of comic art is to show movement in a static frame. That's because it relies on the reader's imagination to fill in the details. Such impact is lost to me when there's a tiny bit of motion and the impact isn't as big as your mind is telling you it should be. The soundtrack gets disconcerting after a short time, especially when shifting between scenes there is no fade in/out. I like the inclusion of the sound effects, such as the transforming sound and the guns blasting away, but it's lost in the often overpowering driving beat of the music.

I got this because it was free, and I would suggest the same to anyone who enjoys these comics. Personally though, I would've paid to get it in paper.
Re: IDW Transformers: Punishment Motion Comic Now Available on Madefire app (1585734)
Posted by
Yweggo
on June 25th, 2014 @ 2:26pm CDT
Is that Treadshot? Or the other redeco guy?
Re: IDW Transformers: Punishment Motion Comic Now Available on Madefire app (1585764)
Posted by
Mkall
on June 25th, 2014 @ 4:23pm CDT
Yweggo wrote:Is that Treadshot? Or the other redeco guy?
He is referred to as Treadshot.
Re: IDW Transformers: Punishment Motion Comic Now Available on Madefire app (1585807)
Posted by
Black Bumblebee
on June 25th, 2014 @ 7:44pm CDT
There are many things I will do in order to get Transformers exclusives... but infecting my computer with Windows 8 is where I draw the line.
Re: IDW Transformers: Punishment Motion Comic Now Available on Madefire app (1585884)
Posted by
Tigertrack
on June 26th, 2014 @ 7:19am CDT
Nice review. I'm interested to see more when/if they extend the experience to non-PC people. Sandstorm has always been a character I've wanted to see more from. Nice job Mkall and SBee in support.