Trying to clear out everything I no longer want (or have room for).
If interested please PM me. Please forgive some of the blurry photo's and glare on certain figures, my camera's not the best
Also note that I do not accept Paypal, I can only take USPS money orders at this time. I also do not ship outside the US. Shipping will be via USPS w/Delivery Confirmation.
I am looking for several (almost all) TF: Prime Deluxe figures, as well as the Voyager Prime, Starscream. So if you'd like to set up a trade, please let me know.
Unicron Trilogy Figures:
Energon Bruticus Maximus (Complete, issue with both helicopters blades coming off) - $60.00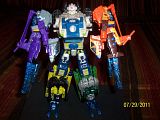 Armorhide $5.00 (Complete w/ Key)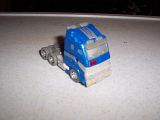 Brakedown $5.00 (Complete w/Key)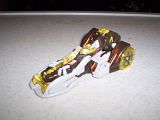 Clocker $4.00 (Complete w/Key)
Crosswise $10.00 (Complete, w/key)
Traded
Cruellock $4.00 (Complete)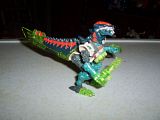 Cyclonus $6.00 (Just the figure)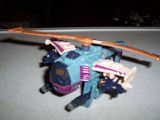 Demolisher $14.00 (Complete w/4xMissiles)
Dirtboss $6.00 (Complete w/Key)
Hardtop $4.00 (Complete w/Key)
Hot Shot $8.00 (Complete w/Key)
Traded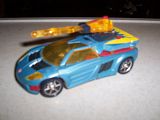 Hot Shot $10.00 (Silver version, Complete)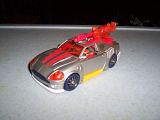 Inferno $8.00 (Complete)
Traded
Insecticon $4.00 (Complete)
Megatron $20.00 (Complete w/3xMissiles & Minicon)
Override $6.00 (Missing Key)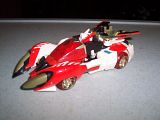 Powerlinx Hotshot $8.00 (Complete w/Minicon)
Ransack $4.00 (Complete w/Key)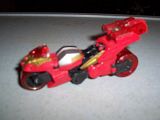 Recon minicon Team $6.00
Red Alert $8.00 (Complete w/Key)
Sideways $8.00 (Complete w/Key)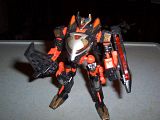 Skyblast $2.00 (Complete, has yellowing issues)
Snarl $10.00 (Complete w/Key)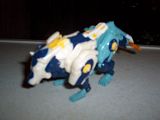 Starscream $20.00 (Complete)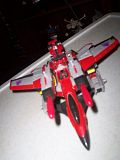 Starscream $10.00 (Missing One Missile)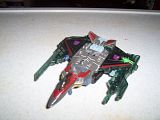 Strongarm $4.00 (Complete)
Thunderblast $12.00 (Complete w/Key)
SOLD to Kohdok
Thundercracker $20.00 (Missing Missiles, Includes Minicon)
Thundercracker $8.00 (Complete w/key)
Armada Tidal Wave $25.00 (Complete - Minicon, 2xMissiles)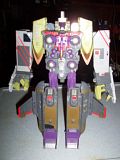 Undermine $4.00 (Complete w/Key)
Universe Sunstorm (Complete, with Minicon & Minicon Team) $20.00
Adventure Minicon Team - $8.00
Air Military Minicon Team - $8.00
Emergency Minicon Team - $8.00
Armada Hoist w/Minicon - $7.00
Powerlinx Cyclonus w/Minicon - $10.00
Miscellaneous:
Takara God Neptune - $40.00
(Only the figures, no original accessories except for the chest piece. Bought it from BBTS as an open item, as the celephane window was missing from the box and no accessories were included.)
I did custom paint a G1 Piranacon head into the Neptune paint scheme, along with two generic combiner fists. Figure came to me with no accessories, so made do with what I had on hand. These are included)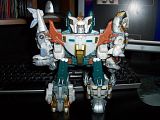 Beast Wars Sonar - $4.00 (Complete, but chrome color is flaking)
Robot Masters Starscream $25.00 (Figure plus 2xWeapons)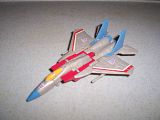 Robot Masters Skywarp & Thundercracker $38.00 (Complete, Not MISB, box has been opened)
TRADED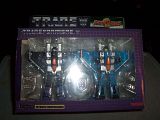 Machine Wars Hubcap $6.00 (Missing Gun)
Machine Wars Starscream $20.00 (Figure Only, no missiles)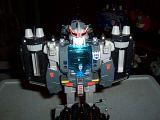 Universe Blastcharge $8.00 (Complete)
Universe Frostbite $10.00 (Complete)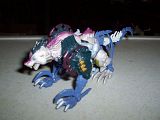 Universe Longhorn $10.00 (Complete)
Universe Nemesis Prime $50.00 (Missing one small missile)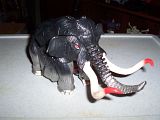 Universe Optimus Primal $25.00 (Includes Two Swords, Two Missiles, Mace)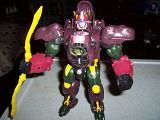 Universe Razorclaw $30.00 (Complete)
RID Axer $6.00 (Complete, Batteries still work)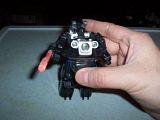 RID Dark Scream, Gas Skunk, & Slapper $8.00 (Missing small squirel arm)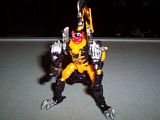 RID Dreadwind & Smokejumper $15.00 (Missing all Missiles)
RID Skyfire $12.00 (Complete)
RID Snarl & Sludge $20.00 (Complete, Updated pic coming soon)
RID Towline $10.00 (Complete)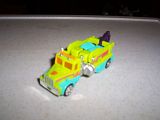 RID Wind Shear $10.00 (Two Figures, Both Missing Gun)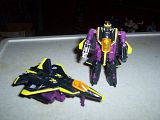 RID Ultra Magnus $10.00 (For Parts. Missing two large fists, fingers off small fists, front part of one foot, and missiles)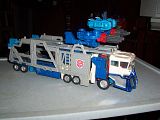 RID Optimus Prime $10.00 (For Parts. Missing tires, missile rack & missiles, shoulder pads)
Pretender Landmine $12.00 (95% Complete, missing sword)
Lot of Pretenders & Shells $30.00
Splashdown, Waverider, Cloudburst +Shell, Roadgrabber +Shell, Chainclaw +Shell, Snarler +Shell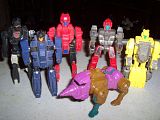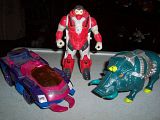 Classics & Henkei (Still considering if I want to sell these, make me an offer and I'll consider it)
Henkei Megatron (Complete, some slight wear on the purple chrome)
Henkei Astrotrain (Complete)
Decepticon Bludgeon (Complete)
Jetfire (Complete)
Bumblebee (Complete)
Ironhide (Complete)
Ultra Magnus (Complete)
25th Starscream (Complete)
Astrotrain (Complete)
Ramjet (Complete)
Rodimus (Complete)
Cyclonus (Complete)
Nemesis Prime (Complete)
Hound/Ravage (Complete)
Tankor (Complete)
Thunderwing (Complete, Factory Defect of Two Left Hands)
DVD Optimus & Megatron (Complete, Optimus has a habit of falling apart at the waist)
Grimlock (Missing Missile)
Powerglide (Missing Gun/Missile)
Silverbolt (Missing Missile)
Galvatron (Missing Missile)