Gauntlet101010 wrote:

Rated X wrote:

Gauntlet101010 wrote:I already have Renderform's Red Alert head, but this would be tempting if I didn't. Still, I don't like those shoulders at all. They hinder transformation.

The shoulders pop off along with the rocket which has to be removed anyways to transform him.

Obviously the :shoulders" can come off. But why bother even making them when they have to be removed for transformation and set aside? That's fine for guns, but a poor design choice for any other augmentation.
I think they were going for a very cartoon accurate look.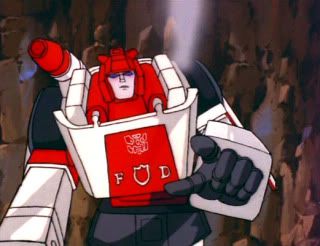 Probally just an extra add on to make the set more than just 3 pieces. Same thing with the chisels. They should have done a new Sideswipe head. But the rocket launcher looks so good, Im considering replacing my renderform kit.