With Shia Labeouf and his character not returning for the 4th installment of Michael Bay's Transformers films, a new actor is certain to take his place. Surely, Bay will be searching for new cast members that have better quality of acting and won't be making them do anything embarassing like pulling their pants down in public because that was some of the criticism that the first three films had to obtain certain negative reviews. Fortunately, someone will be replacing Shia Labeouf not as Sam Witwicky but as a different character hopefully inbetween ages 30 and 40. Take this guy for example:
Johnny Whitworth
Johnny Whitworth is the actor who portrayed Blackout from the movie Ghost Rider: Spirit of Vengeance. His character had a lot of sense of humor but also showed the audiance a lot of backbone. Meaning that he was serious, fearless and tough. So if anyone can do better than Shia, it definately him!
Since Shia Labeouf isn't coming back, neither is Rosie. So with Rosie not returning, someone will have to replace her as well. But notas Carly. As someone else in the film. Someone who is pretty and georgeous for the audiance to admire. Someone like:
Emmanuelle Chriqui
Emmanuelle played a beautiful girl named Sloan McQuewick in Entourage which lasted 7 years. She really nows how to put the charm into her smile and beauty, making herself very irressistable for fans to admire.If there is any actress whose charm is so cute and great, and well matured it's her.
Now as for Ironhide, he was one of the first five autobots in the film franchise. He survived in the first two but unfortunately got killed by a discraceful Sentinel Prime who betrayed the autobots over a planet. Ironhide's death by the traitor disappointed a lot of kids and fans that found him cool looking as a black autobot truck. Because of what the blasts from the Cosmic Rust Gun resulted in, it clear to confirm that the character's death was permenant.
Just for that, Michael Bay will need to include a new autobot character that should be awesome enough to replace Ironhide. The autobot that Bay should replace Ironhide with in the 4th installment should be an autobot who is black, transforms into a truck, whose name comes from one of the autobots from the original animated series, and has never been seen in animation for almost 3 decades. This black autobot goes by the name of
Trailbreaker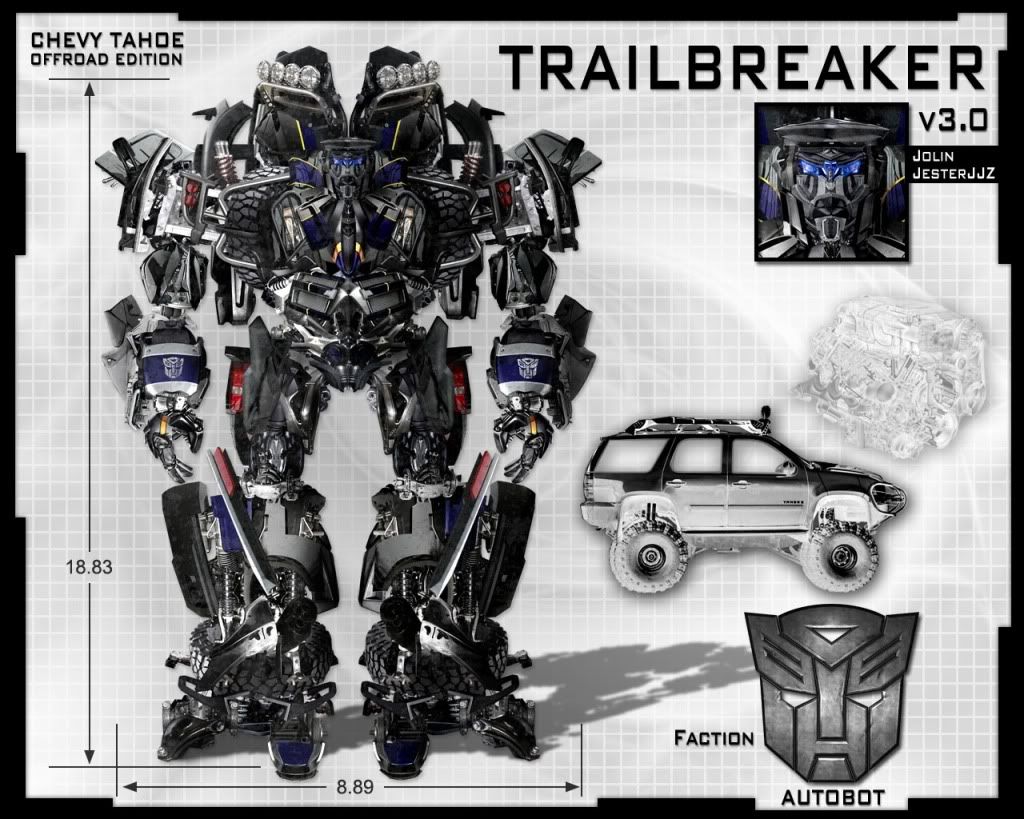 Trailbreaker appeared in the original Transformers cartoon as a light-hearted joker, who often acted a morale booster for his comrades. Deep down, however, he considers himself a liability due to his high fuel consumption. Because of this he has a low sense of self-worth, he often asks to be left out of missions. Despite this, the other Autobots know he is a valuable addition to their ranks and he transformed into a 1986 Toyota Hilux 4X4. But instead of having Trailbreaker transform into the vehicle shown in the concept art above, he should transform into a black truck that is bigger and sturdier than Ironhide's. And what better vehicle would Bay use other than
a Black Chevy Avalanche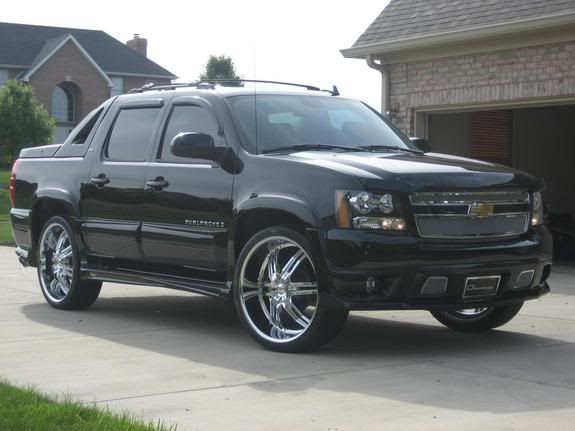 If Michael Bay does introduce Trailbreaker into the fourth film, he will be sure to make him better than Ironhide, and it won't matter who will be voicing him just as long as it's not someone that Bay has already casted in the films. Come to think of it, the director himself might even consider Trailbreaker as a brother of Ironhide.
So there you have it, the human actors Johny Whitworth and Emmanuelle Chriqui to replace Shia Labeouf and Rosie Huntington Whiteley and the black autobot avelanche Trailbreaker to replace the deceased GMC Topkick C4500 autobot Ironhide.
Read more at
http://www.comicbookmovie.com/fansites/ ... kR1uItC.99