Cosplay Optimus Prime Card To Be Featured In Takara Tomy's Wixoss Collectable Card Game
Posted:
Fri Jul 18, 2014 10:09 pm
Takara-Tomy's Wixoss collectable card game will feature a Transformers crossover with a card a girl cosplaying in a full G1 Optimus Prime costume. The card will be included in volume 3 series of the collectible cards. You can read more about the card game in the following link:
http://www.takaratomy.co.jp/products/wi ... index.html
(Please note that Google Translate or another translation service will be required to read it.)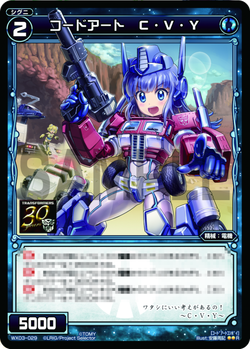 Keep your optics tuned to Seibertron.com for the latest in news and updates, plus the best
galleries
around!