Hello. I'm still in the process of moving from a lurker on the TF boards to a contributor, since my main focus has been on GI Joes so far. (So, I'll likely be posting this on tfans and tfw2005 also pretty soon.)
Inferno is my first go at a Transformer custom, and it was brought on by a couple of sources: the first was seeing Lobo's Alt Grapple, which included shots of his Inferno, on the TNI/adctalk boards. While I'm not ready to perform a reshell, the idea of Inferno as a 'state park fire jeep' inspired me. The second was the emergence of Rollbar as an official figure -- Maybe I'd drifted from the comics and cartoon by then, but I just didn't remember any character called 'Rollbar'. I could buy Rollbar in clear conscience and work on him without starting out with an 'exact duplicate'.
Modifications:
I remember as a teen, my Inferno always went around with one hand replaced by a gun. So, I had to do that here. The easy way, in retrospect, would have been to go the Shockwave route, but I admit I'm something of a purist snob -- I've totally ignored the Alternator Decepticons in the vain hope we'll see them in their G1 alt modes, not with both sides as cars. Anyhow, I scratch-built the gun on his right hand, since the pistol's "boot" holster is on the figure's left.
The gun post is cut from a support to a 1/18 limousine within its box, and is affixed to the wrist hinge to make it transformable. I found a 1/2" flat-topped screw to fit in that support and topped it with a rubber stopper to serve as the fire hose nozzle.
The other mod I made is cutting up a pair of new sculpt GI Joe wrist communicators to make the 'ears'.
Paint:
Minimal. I started lurking a week or two ago, looking for a community other than just TNI/Adctalk to present this. (I'm spoiled by JoeCustoms and their figure archive, which is what led to me signing up here first.) While browsing the forums, I found a user's pictures with the grill and door handles painted, so I copied that. I also managed to find the same source jeep for the stickers, which are created through Corel and printed through SureThing's decal master. (I finally found Lobo's Inferno gallery here last week or so, and he has the RL image I found near the end).
Personal touches include less stripes, mostly because getting the ones you /see/ on were quite enough trembling fingers, thank you.
The maltese crosses have an Autobot symbol in the center, and the choice of the Colorado wilderness charity plate.
(I have about 15 images total on Inferno, given the numbers that the galleries seem to sport. Now all I have to figure out is how to submit them.
)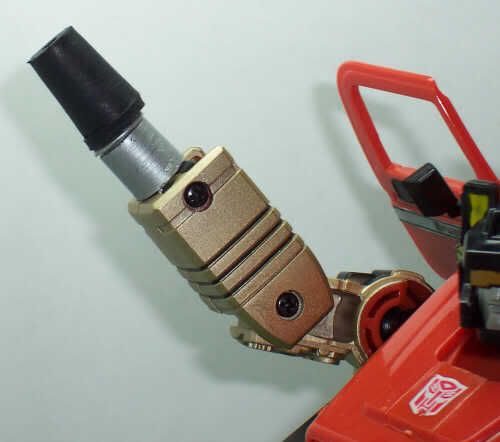 Hound is just a really minimal change: I drilled a hole for and placed a machine gun from the Elite Force figures at Target, which remains in that place in alt mode too. For stickers, Hound received a hood star, an Army vanity frame (I can't find a blank US government/army 'official use only' license plate, go figure.
), and a POW/MIA extra front plate.
I plan to give all my Alternators 'real' license plates via the software. Those and Hound I consider to tiny a change to post to the galleries. However, I do also have a WIP that I could use some help on. (in its own thread)
Anyhow, thanks for looking.