This is pretty exciting to me since this is the first time in six years I've actually had all of my toys out at once. I've moved to the other side of the country and dealt with many boxes, bookshelves, shelves, etc, and eventually had to sell almost a hundred figures due to space constraints, but I've finally managed to get everything up!
To trim the fat and make a few bucks selling some things I could part with, I've made my collection story-based, as opposed to character-, mold- or line-based. This means that I could part with any figure that I couldn't fit into my story and I can only buy figures that fit to save space and money, since, you know, we can't all be the jolly ol' chap Counterpunch. I'd like to think my story is somewhat original, but in truth it's heavily inspired by most all of the various TF fictions. So what all that means is that I'll be presenting this as a story told in pictures - don't worry though, just the basic plot. Hopefully this won't be too too long, but if you don't care about the storyline, just skip the paragraphs and look at the pictures
Also, since I repurpose a lot of my figures, I'll be noting below each picture the character and figure if it's not obvious, as well as any notes. Also because I, and my camera, suck at photography. So, here's the group shots to get us started.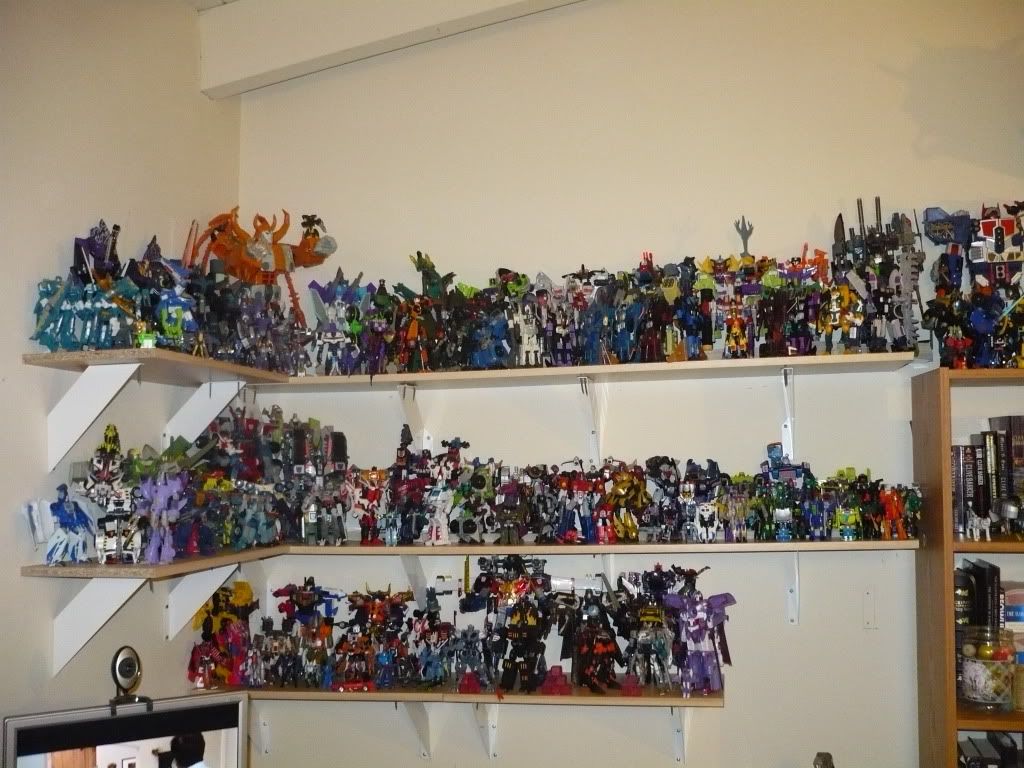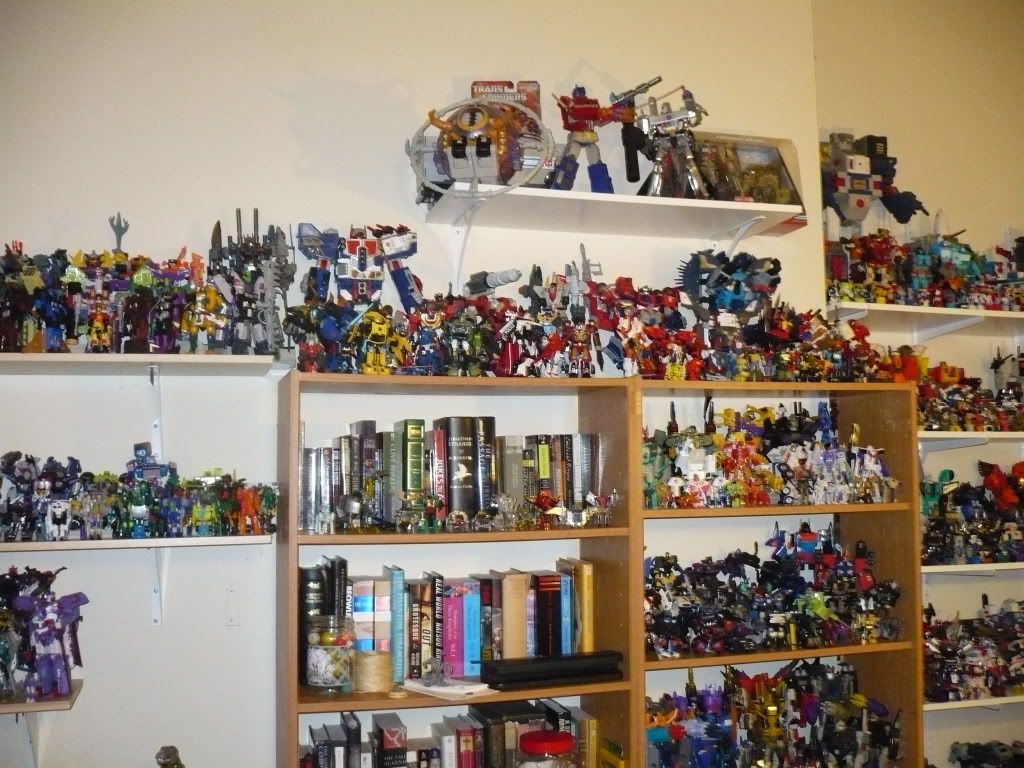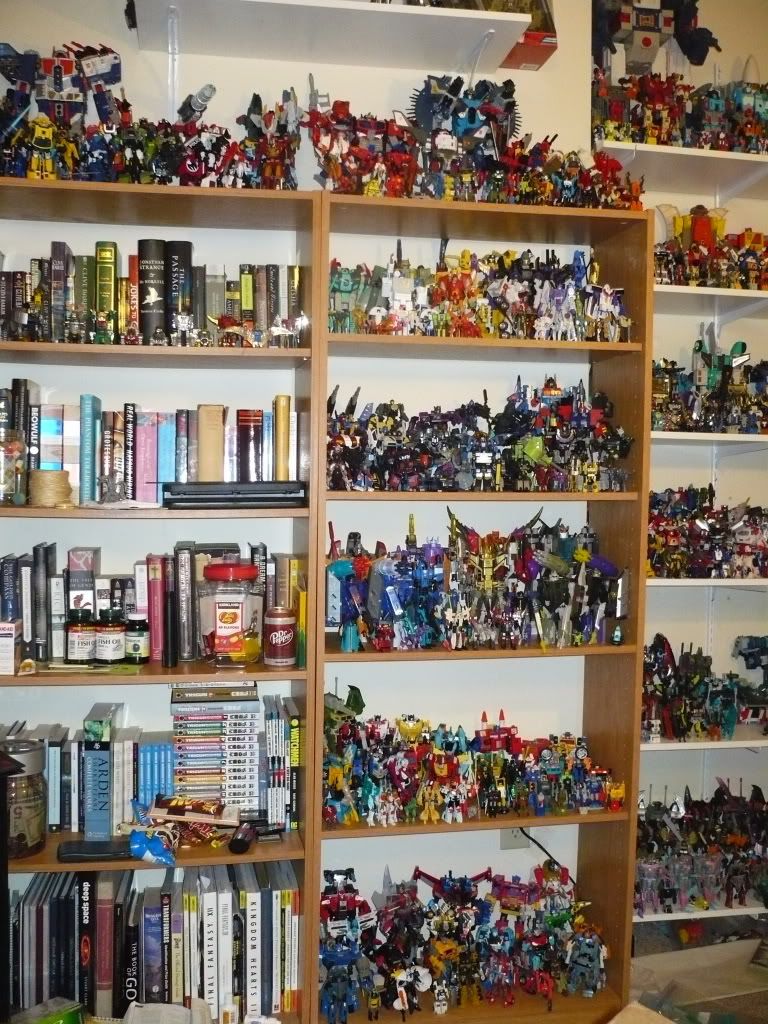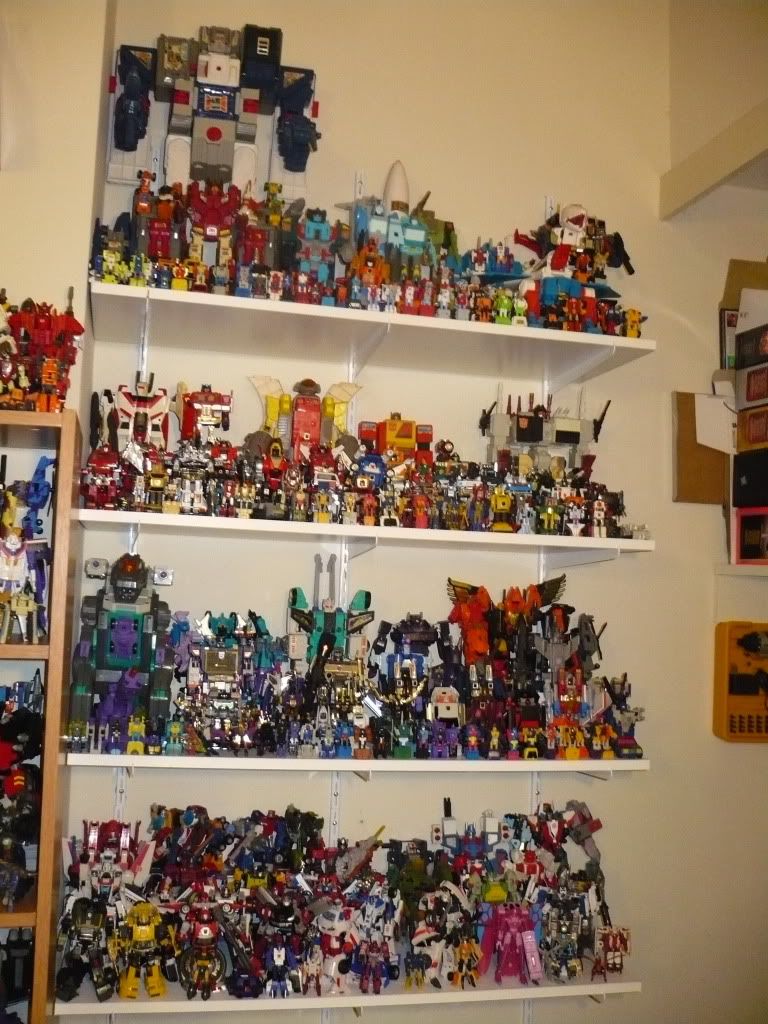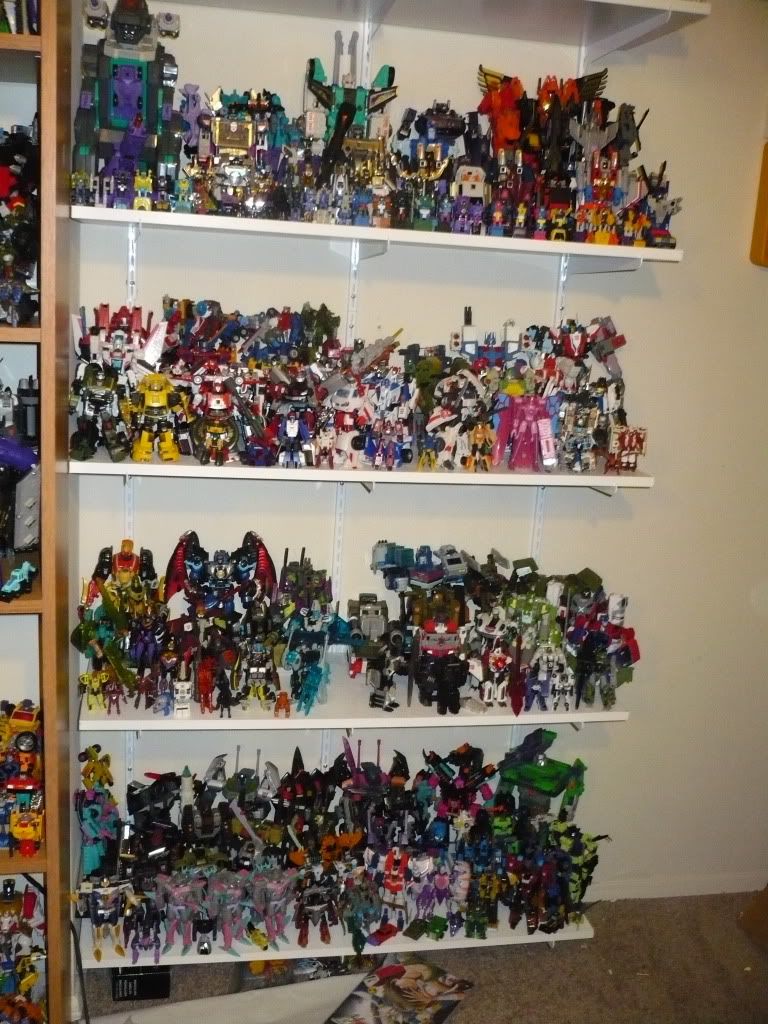 Now, without further adieu...
In the beginning, there was all that snazzy Unicron on Primus lovin' goin' on, but then as we all know Unicron, being evil and all, started abusing that poor Primus. Since police didn't exist, Primus frickin' created some, in the form of the Original 13 (Eight pictured, not counting drones)...
From Left to Right:
(Back Row)
Convoy (Japan TRU Exclusive Sonic Convoy)
Vector Prime
Logos (Cybertron Soundblaster)
Nexus Maximus
(Front Row)
Prima (2007 Movie Protoform Prime)
The Fallen [Formerly Megatronus]
Liege Maximo [Inhabits two simultaneous, identical forms] (Cybertron Sideways, GF Noisemaze Mass Production Type)
Alpha Trion
What makes this time particularly epic is the presence of two opposing forces housed within each deity: the Creation Matrix (as it was later dubbed) inside Primus, and the Entropy Matrix (as it was later dubbed) inside Unicron. Each and every being, Transformer or otherwise, has an affinity towards both energies, though beings tend to lean towards one or the other. To fend off the evil, Primus bestowed upon Prima an artifact containing a fraction of the energies of the Creation Matrix, later called the Matrix of Leadership, thereby giving him and edge (ba dum bum ching!). Unfortuantely, Megatronus eventually becomes swayed towards the Entropy Matrix, and the War of Thirteen begins. The war ends with Unicron, and his herald The Fallen, being banished to an alternate reality later known as the Dead Universe, most of the 13 either scattered or outright killed. With Prima being one of them, the Matrix of Leadership falls to Alpha Trion who, in reverence of his fallen comrade, attaches the suffix Prime to his name. This trend continues throughout the ages.
Primus uses the last of his energies to sow the seeds of life, and the Transformers race is born. Two types of beings are born based on the original 13 - Cybertronians, from the 13 themselves, and a mysterious race of semi-sentient, smaller beings called Minicons, from the drones. These Minicons have the unique ability to transform and combine, the former being developed by the people themselves as civilization progressed. Content that the world will flourish without further interference, Alpha Prime retreats deep into the heart of Primus' husk, now called Cybertron, for unknown reasons. He leaves the Matrix in the care of one of the most brilliant Cybertronians alive: Nova Prime.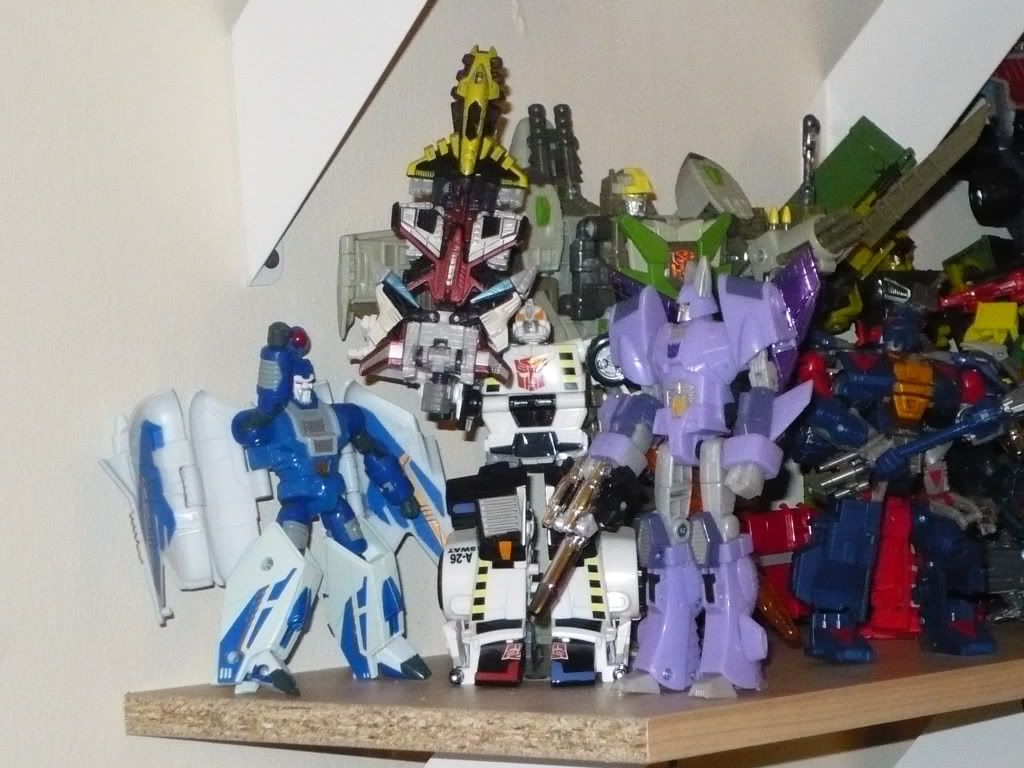 From Left to Right:
Scourge
Nova Prime (Energon Checkpoint)
Cyclonus
Nova Prime was a brilliant scientist, specializing in body augmentation and navigational technologies. Through his advances, the first major starship (the Nebula) was created and exploration of the galaxy began, and while never successful during his time as Prime he sowed the seeds for what would become Combiner technology down the line. Proudly wielding the Star Saber, a weapon formed of three particularly powerful Minicons, he crafted what is now known as the Golden Age.
However, deep within the Dead Universe The Fallen was hardly at rest. The unique properties of that universe allowed him to create an artificial vessel that could house some of the energies of the Entropy Matrix. This vessel would become known as the Dead Matrix, an artifact so intensely powerful that it allowed The Fallen to rip a hole in space/time and travel to the normal Universe. Unfortunately, the anti-matter contacting the matter of our universe obliterated, the resulting energies seeping out of The Fallen's body in fire and light. The pain was so maddeningly intense that even after eons of training, The Fallen could only manage to survive a short time in our realm.
He used that time wisely. Throughout the ages, The Fallen would appear to a few souls particularly attuned to the energies of the Entropy Matrix, testing them and slowly creating an army with which Unicron could one day gain mastery of all realms. The first being that was tested was Nova Prime. Entrusting his mission with his two bodyguards, Scourge and Cyclonus, Nova Prime forsook the Matrix on Cybertron and led his crew aboard the Nebula's maiden voyage into the Benzuli Expanse, straight into gateway to the Other realm. The Matrix then fell to Nova Prime's colleague and friend, Guardian Prime.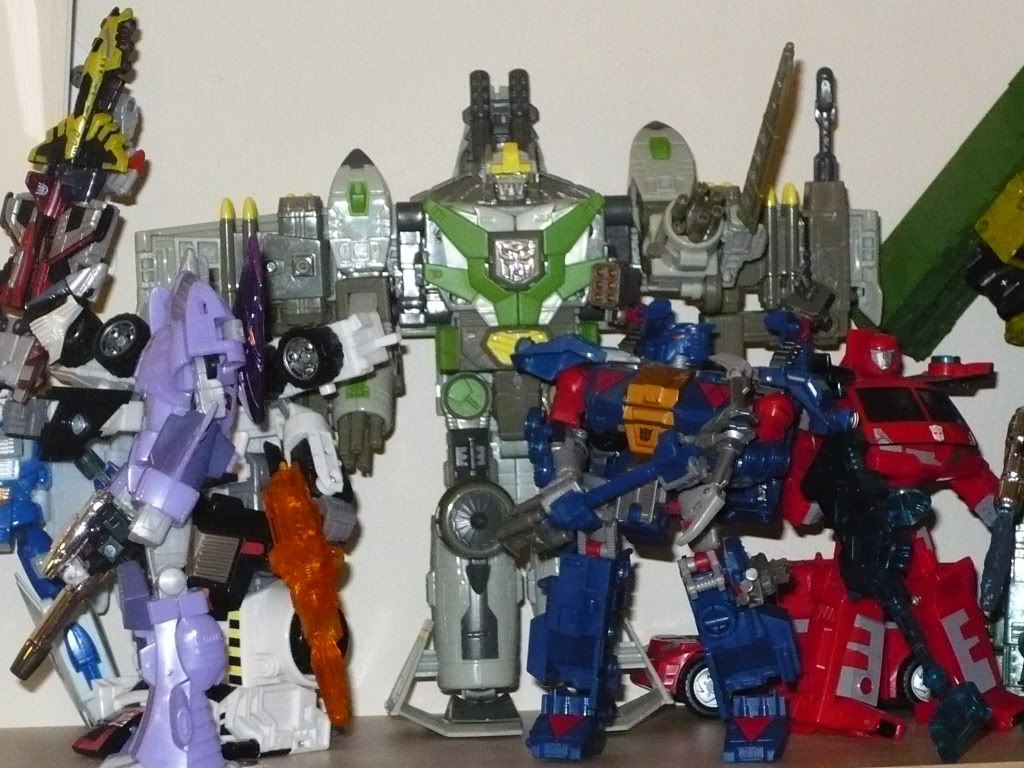 From Right to Left:
Guardian Prime (2007 Movie Wing Saber)
Straxus (Generations Darkmount)
Guardian Prime was a very well respected scientist, but lacked many of the leadership and all of the militaristic qualities of his predecessor. After the disaster that was the Nebula Incident, Guardian Prime implored his people to remain on Cybertron and focus on advancing their culture, rather than expanding it. Most notable from his efforts were the creation of levitation technology, and the ability for a Transformer to combine with a suit of armor, trailer or other vehicle. Unfortunately, these advances mattered little in the face of the great warlord Straxus, who had amassed an army capable of challenging the Cybertronian rule. Guardian Prime simply couldn't deal with it right then, so he passed the Matrix down to his most trusted general: Zeta Prime.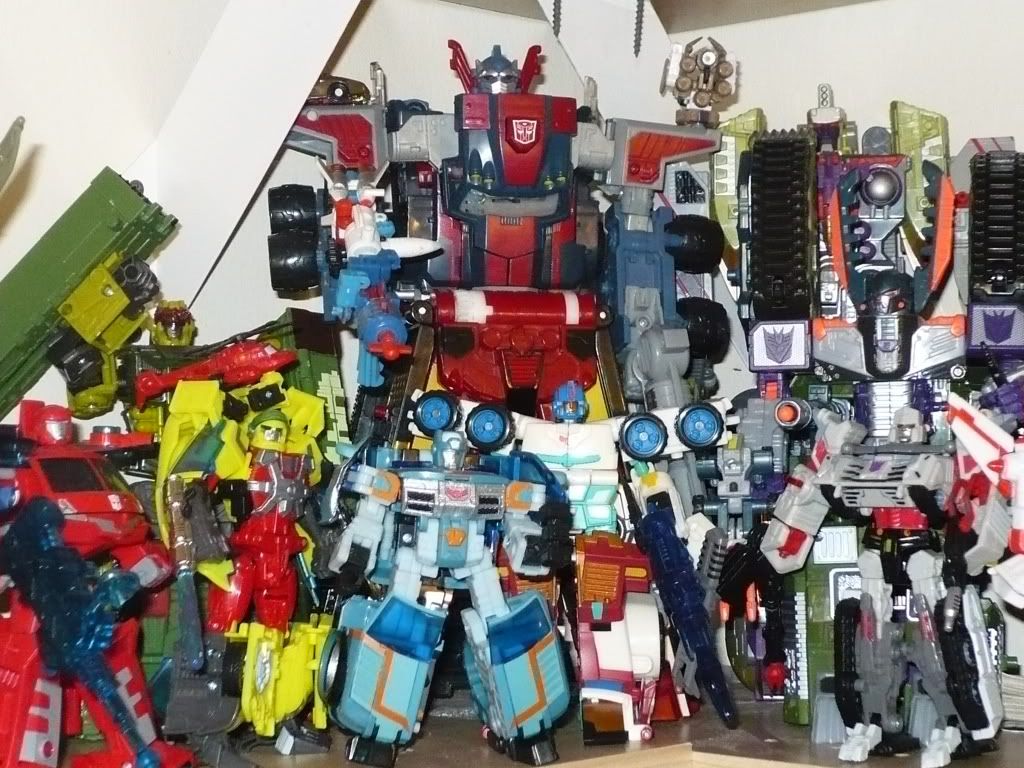 From Left to Right:
(Back Row)
Flak (Universe 2.0 Overload)
Zeta Prime (Energon Final Battle Optimus Prime)
Tidal Wave
Galvatron (Armada Megatron)
(Front Row)
Ironhide
Hot Shot
Kup
Thunderclash
Megatron
Zeta Prime proved to be a frighteningly effective leader. He formalized the Cybertronian military and began to reformat (HA HA GET IT) the government around it, as opposed to having the military be just a branch of an existing, legislative government. Among those close to him were: a group of specialized soldiers known as the Elite Guard, led by Thunderclash; his scientific advisor, Tidal Wave; his military advisor, Galvatron. The intense energy demand created many jobs for bots like Megatron, working in the mines deep in the planet and surrounding asteroids.
Zeta Prime's physical power came mainly from his use of, and later reliance upon, his Minicon brethren. Hearing tales of the legendary Star Saber, which had disappeared at the same time of Nova Prime's tragic death, Zeta Prime learned of six other equally powerful Minicons that could be of similar use. Wielding the enormously powerful Requiem Blaster, as well as several other, smaller Minicons, Zeta Prime crushed the Darkmount Rebellion and brought a balance to the world.
The Fallen chose this time to appear once more, this time to Galvatron. Revealing that Nova Prime was indeed alive and promising him great power, The Fallen set a test upon Galvatron. Galvatron succeeded, assassinating Zeta Prime and attempted to flee to the Dead Universe, but was stopped. The Fallen commanded him to stay, so that he could have an agent free to move about the physical realm. Galvatron begrudgingly accepted. Besides, after a few conversations with Nova Prime, it seemed that he might one day achieve his visions of grandeur after all...
As the Matrix falls to the first one most attuned to it, it came as quite a shock when it fell to - of all things - a Minicon by the name of Hyperlinq, one Zeta Prime was particularly fond of. Donning a powerful exo-suit with many of his Minicon brethren, including the infamous Skyboom Shield, Sentinel Prime was born.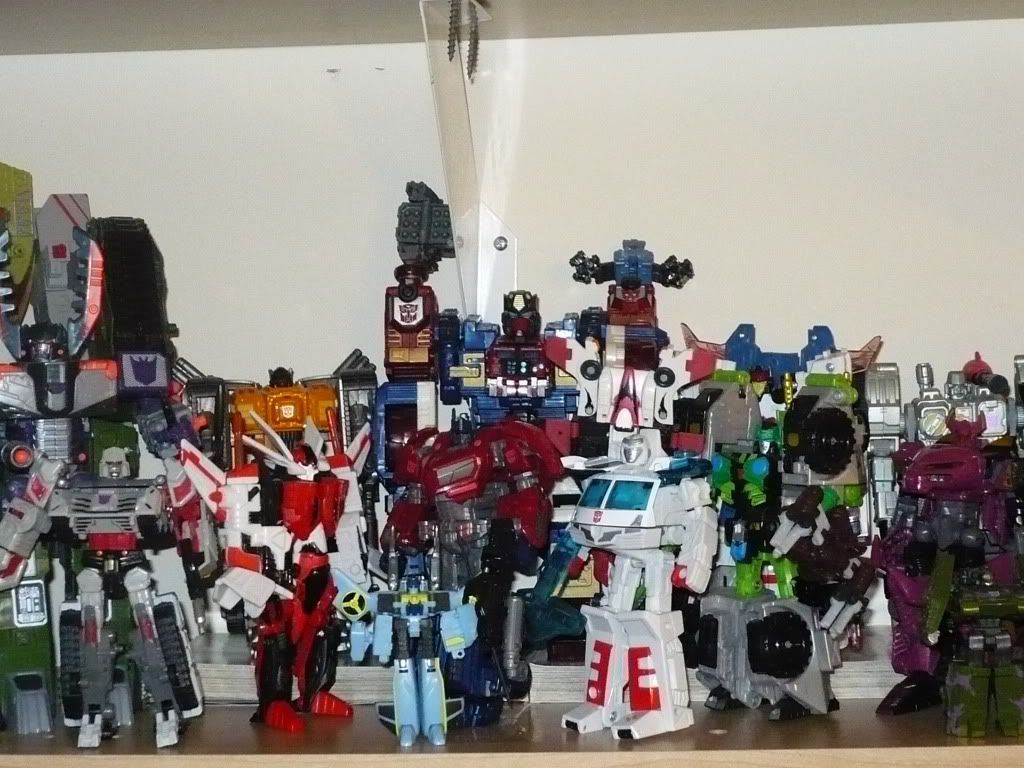 From Left to Right:
(Back Row)
Grimlock
Sentinel Prime
Getaway (2007 Movie Breakaway)
(Front Row)
Jetfire (RiD Storm Jet)
Whirl
Optimus
Ratchet
Springer
Sentinel Prime continued Zeta Prime's legacy and proved to be an effective, daring, but sometimes overzealous leader. The planet was in a state of unrest, and while Zeta Prime's mere presence had been enough to keep the peace in days before, Sentinel Prime simply could not live up to his predecessor and thus keeping the peace became a full time job. What made matters worse was that patterns began to emerge in the small riots and rebellions that popped up in cities that hosted the ever-increasingly popular sport of gladiatorial combat. One gladiator became known for his brutality, rising up in the games until his sheer power, connections and idealism convinced him to launch a coup. His name was Megatron.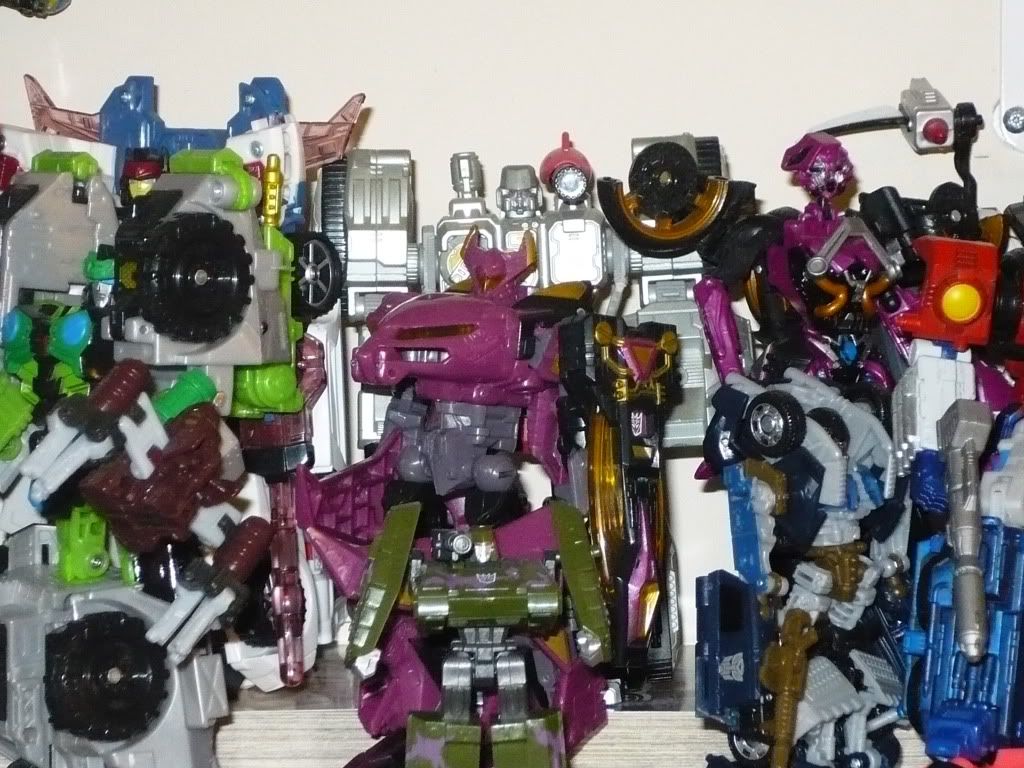 From back to front:
Megatron
Ratbat
Megaplex (Universe 2.0 Legends G2 Megatron)
The gladiator Megatron made a strong ally in the senator Ratbat, and through their alliance the Decepticon uprising came to be. Megatron quickly dominated city after city, sometimes protecting himself or spreading out his forces by putting a newly developed clone (though in truth, little more than a drone with sufficiently advanced AI), dubbed Megaplex, into the foray. Megatron's incredible military intellect caused the Decepticons to flourish, most in the upper hierarchy considered him nothing but a nuisance, or a favorite topic in the papers. The world finally understood the power of Megatron during an epic battle in Iacon, where Sentinel Prime, an entire batallion of soldiers and the Skyboom Shield itself were brutally, and painfully, and literally, torn apart.
This act had three consequences. One, Megatron was, for the time being, secured in his position of power. Two, the remaining Cybertronian forces were scattered, leaving only unorganized, isolated pockets of resistence to flare up now and again. Three, one of Sentinel Prime's most devoted soldiers became consumed by rage. He criticized Sentinel Prime's faulty leadership for the death of his friends and the loss of the war, and yearned for the days of stronger leaders.
Then, a connection was made: Every great leader of the past (he didn't think Guardian Prime was very good) has had their life ended tragically, and every one of them wielded - and in the last case, even was - a Minicon. He preached that Minicons were to blame for the destruction of the great leaders in history, and figures like Megatron, who refused to harbor such beings, rose to great heights without their curse. He and his followers scoured the globe, hunting down and massacring any and all Minicons they could find. This massive genocide bought the attention of Megatron, who attempted to recruit the soldier. He was intrigued, but as a test of loyalty Megatron demanded that he execute prisoners of war. The soldier refused, attempting to free the prisoners from their bondage. It was then that he met the wrath of Megatron. His followers came to his rescue, and a realization dawned upon him: through his campaign of extinction, he had coalesced many of the remaining populace into a formidable, organized fighting force. At the end of the day, the soldier was elected new leader of the Autobot resistence, and granted the Matrix of Leadership, recovered from the corpse of his predecessor. His name was Optimus Prime.
From Left to Right:
(Back)
Arcee
Prowl
Hot Rod
(Front)
Brawn (ROTF Scout Scattorshot[Soon to be replaced with Firetrap])
Optimus Prime
[Dead Minicon]
Perceptor
Bumblebee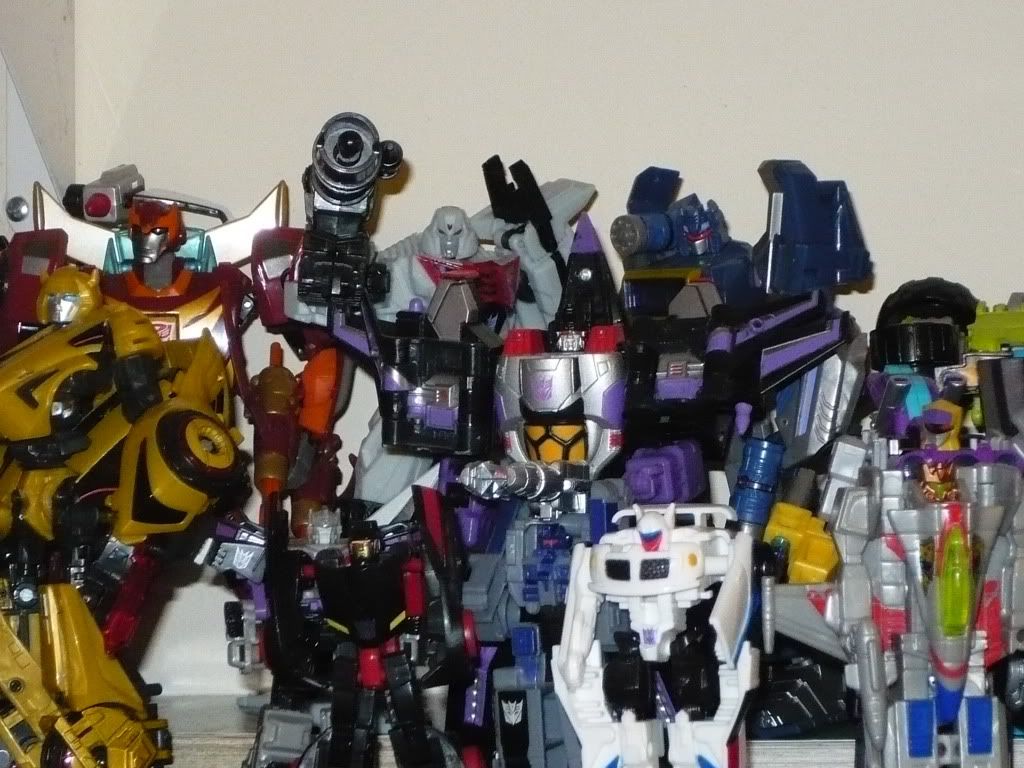 From Left to Right:
(Back)
Megatron
Skywarp
Soundwave
(Front)
Motormaster (Classics Legends Menasor)
Runabout (ROTF Legends Shadow Striker)
Onslaught
Runamuck
Thus, the Great War started.
The war went on for millions of years in an almost perfect stalemate; any time one side gained any significant terrain, it was soon lost. The planet's resources quickly disintegrated, until the efforts of Tidal Wave's disciple, Shockwave, bore fruition in the form of the Combiner process. After many experiments, most off-record, five candidates were successfully converted, and in an unforgettable battle at Thunderhead Pass the five Decepticons Onslaught, Blastoff, Brawl, Vortex and Swindle combined to form Bruticus. The gestalt's power was enough to turn the tide of the war, and the Autobots struggled to hold even their strongest fortifications. Seeing the end of the war, Optimus Prime created a drastic plan: why bother sacrificing lives and what little energy they had left on one city? Why not leave, find and colonize some uninhabited, resource-rich world, and launch a massive counterattack when they have an entire planet's worth of ground instead of one measly sector?
And so with that, the Autobots put all their remaining energon into building a massive space vessel, capable of carrying almost every soldier in the Autobot cause. A few would remain on Cybertron as spies and to hold what little ground they could, surely, but most would leave in the hopes of one day returning to win the war, instead of the battle. The Ark was created with this in mind.
The energy demands of the construction were so great that many Autobots didn't have enough fuel to power even their basic functions. Against Optimus' wishes, Wheeljack, Perceptor and Huffer developed the Micromaster process; through a massive reformatting process a Transformer's energy consumption could be reduced a hundredfold, more depending on the bot. The process resulted in very small Transformers, and their resemblance to Minicons brought about the loathing of Optimus Prime. Considering their need for energon, the fact that it was on a volunteer basis and the fact that many had done so already forced Optimus to restrain his wrath, but compromised his judgment in battle. Many Micromasters were captured, and the process was reverse engineered by the Decepticons.
Megatron learned of the Ark project through interrogation of captured Micromasters, and seeing his chance to wipe out the Autobots in one fell swoop he organized a strike force of his most powerful warriors aboard the Nemesis. They caught up in space, did a little dance, and crash landed on Earth. Four million years later, they wake up, the supercomputer Teletraan I reformatting their previously sleek Cybertronian forms into blocky, sharp bodies capable of disguising themselves as Earth vehicles of 1984. And so, their war continued on Earth...
(These shelves split in pictures for easier viewing)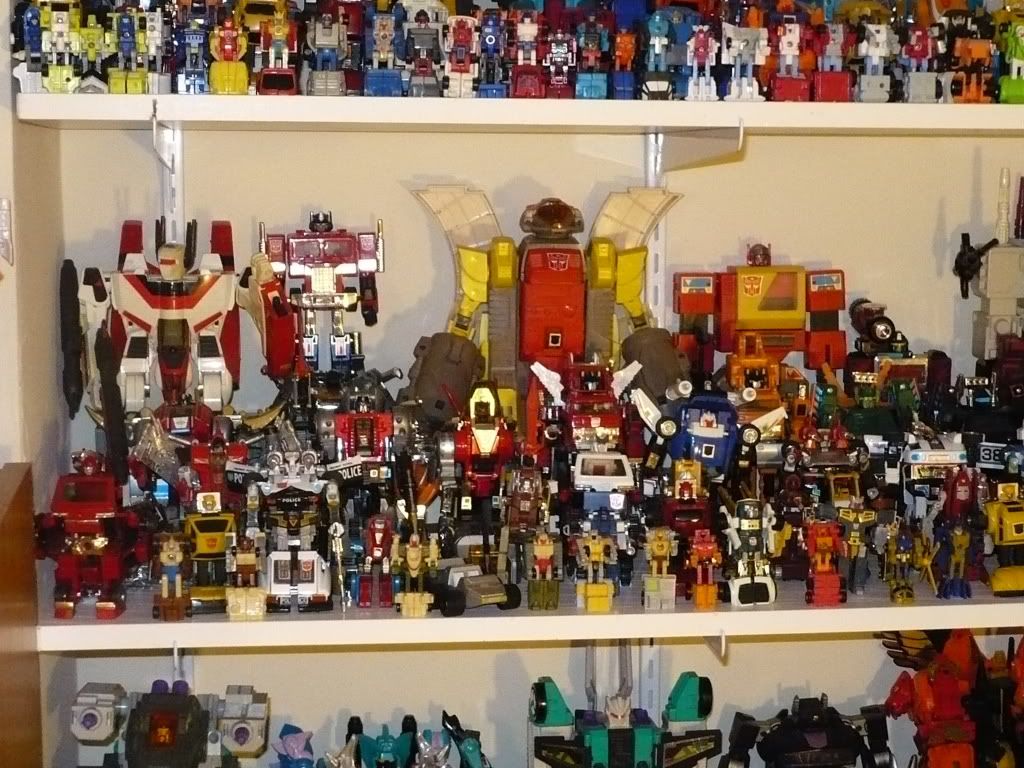 From Left to Right:
(Back)
Jetfire
Optimus Prime
Omega Supreme
(Second)
Snarl
Swoop
Grimlock
Sludge
Slag
Inferno
Tracks
(Third)
Ironhide
Bumper
Prowl
Gears
Roller
Outback
Ratchet
Pipes
Cliffjumper
Brawl
Tailgate
(Front)
Big Shot
Sidetrack
Sunrunner
Flak
Neutro
Crumble
Groundpounder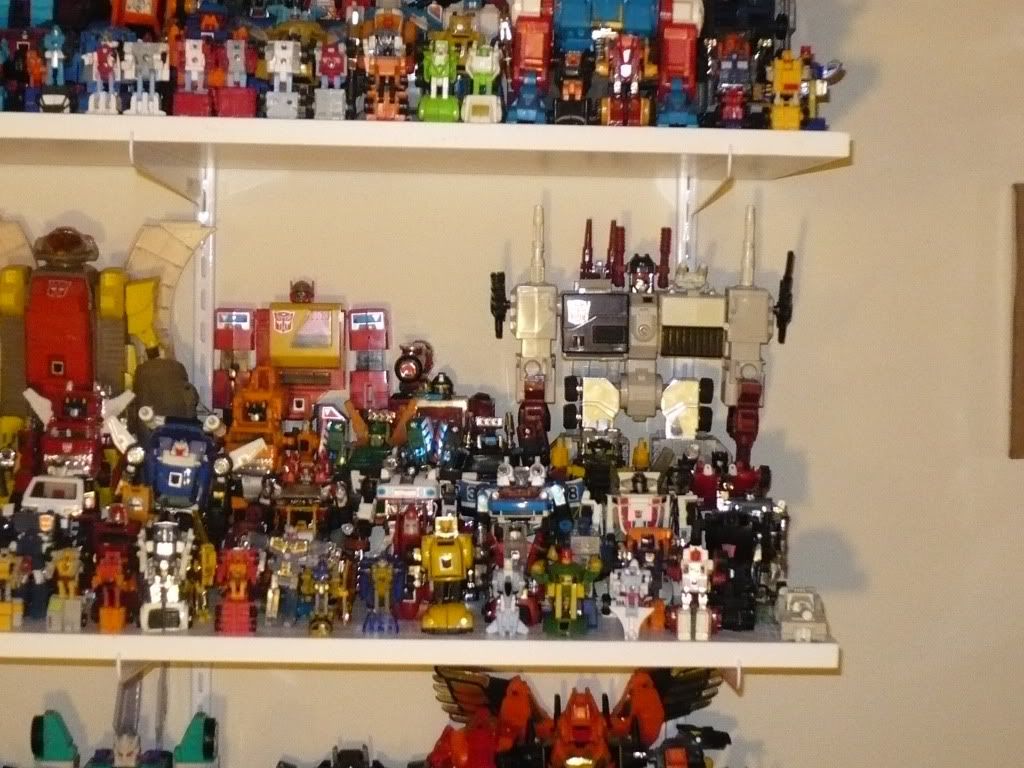 From Left to Right:
(Back)
Blaster
Perceptor
Metroplex
(Second)
Grapple
Hoist
Trailbreaker
Sunstreaker
Sideswipe
(Third)
Warpath
Bluestreak
Seaspray
Jazz
Powerglide
Smokescreen
Windcharger
Beachcomber
Wheeljack
Huffer
Scamper
Hound
Slammer
(Front)
Steeljaw
Takedown
Eject
Blaze Master
Ramhorn
Treadbolt
Bumblebee
Eagle Eye
Cosmos
Sky High
Swerve
From Left to Right:
(Back)
Trypticon (w/ Full-Tilt)
Brunt
Piranacon
Sixshot
(Second)
Soundwave
Buzzsaw (Extra Laserbeak)
Spectro
Viewfinder
Spyglass
Astrotrain
Megatron
Kickback
Shrapnel
(Front)
Roughstuff
Flattop
Road Hugger
Detour
Blackjack
Blackout
Hyperdrive
Spaceshot
Slugfest
Frenzy
Overkill
Ratbat
Laserbeak
Rumble
Ravage
Storm Cloud
Whisper
Nightflight
Bad Boy
Tailwind
Dropshot
Bugbite
Growl
Tracer
Treads
Bombshock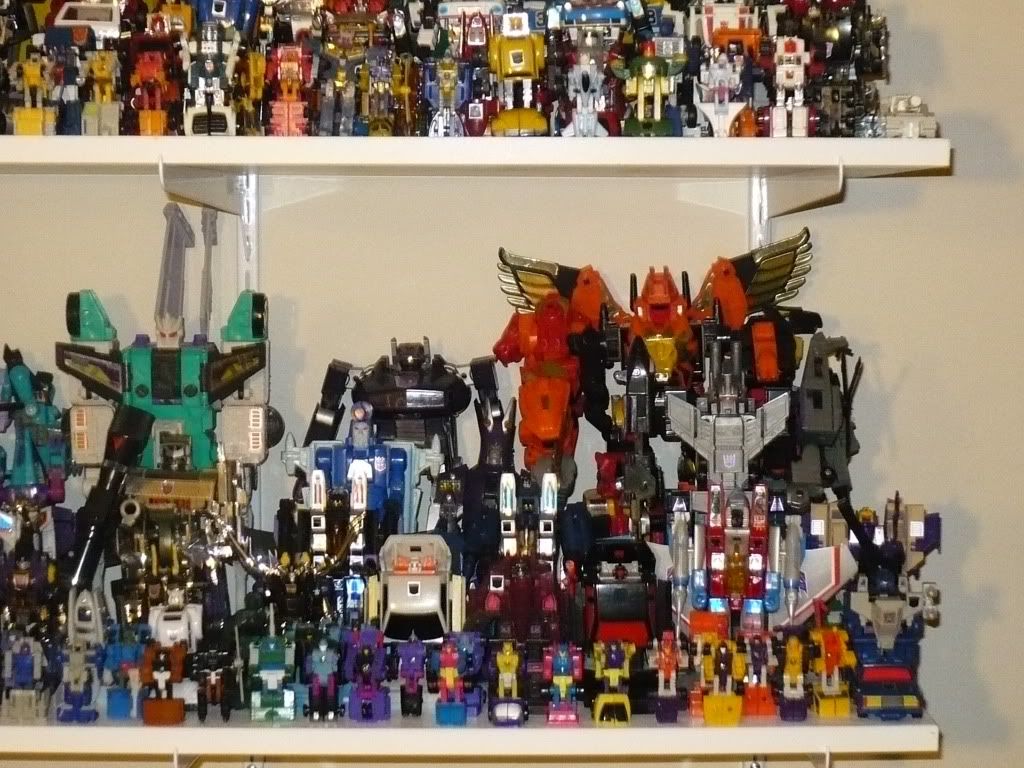 L to R:
(Back)
Shockwave
Predaking
(Second)
Skywarp
Scourge
Cyclonus
Thundercracker
Bruticus
Blitzwing
(Third)
Runamuck
Flywheels
Runabout
Starscream
Battletrap
(Front)
Vanquish
Half-Track
Fireshot
Barricade
Meltdown
Ground Hog
Roller Force
Motorhead
Knockout
Sledge
Excavator
Hammer
Grit
Stonecruncher
The war continued on Earth much like it had before. Behind the scenes, The Fallen had been keeping his watchful eye close to Megatron's heart. He was the perfect candidate, but somehow unshakable, so he sent his minions Scourge and Cyclonus to assist Megatron in his battles, in whatever time they could survive in the normal Universe. The Autobots, hard pressed to defend against an ever-increasing number of combiners, rebuilt their crashed ship into a massive fortress. Using the Matrix to infuse a spark into it, Metroplex was born.
The Decepticons tried to respond in kind, and with the help of the mysterious Scourge and Cyclonus they were able to construct Trypticon from the shattered remains of the Nemesis. For twenty one years they battled, and in that time Optimus Prime's spark began to soften for the indigenous life on the planet. At first he protected them out of idealism, but eventually it became out of a true, honest concern for their freedom. For the first time, Optimus Prime felt regret for the thousands of lives that lay underneath his throne.
It was just in time, too. The Transformers' effect on Earth technology reached its pinnacle in the year 2005, when first contact was made with the planet Nebulos. Through the combined wisdom and efforts of the humans, Nebulans and Autobots, they were finally able to communicate with their brethren on Cybertron and beyond.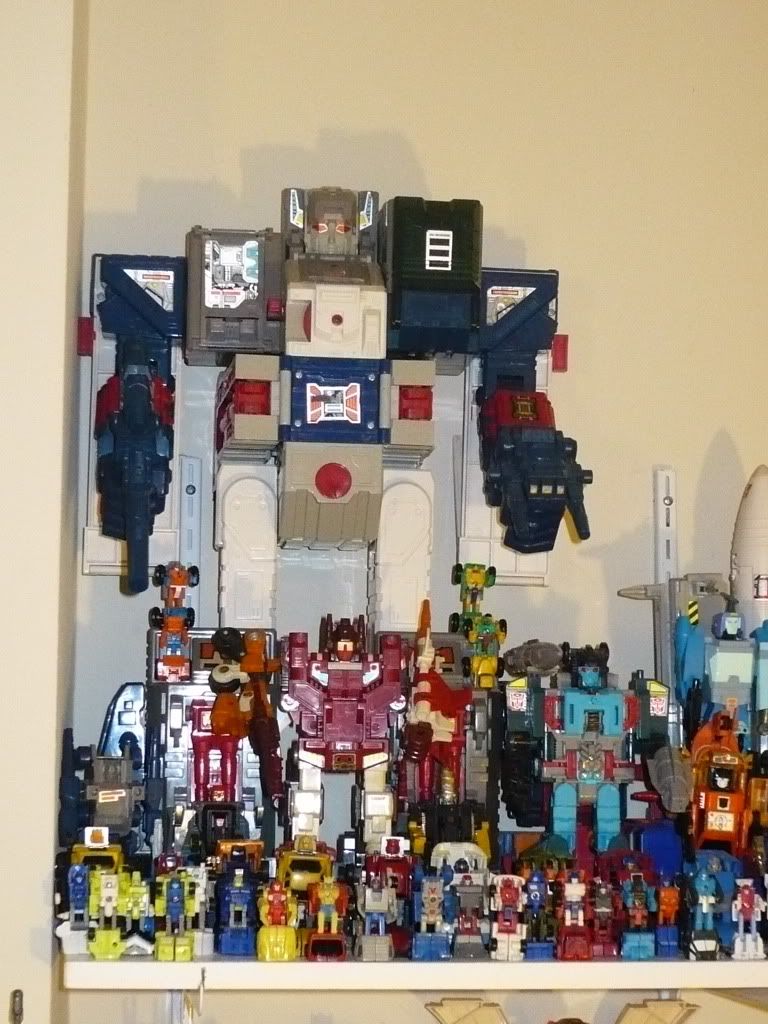 L to R:
(Back)
Fortress Maximus (w/ Cerebros, Spike)
Hydraulic
Heavy Tread
Big Hauler
Slow Poke
(Second)
Cog
Powerdasher Jet
Computron
Powerdasher Drill
Doubledealer
Sandstorm
(Third)
Hubcap
Gears
Huffer
Randy (Yellow Cliffjumper)
Minerva (Red Bumblebee)
Searchlight
Rollbar
Chase
Freeway
(Front)
Strikedown
Roadburner
Power Run
Wheel Blaze
Slide
Oiler
Free Wheeler
Roadhandler
Swindler
Tailspin
Highjump
Fixit
Powertrain
Red Hot
Tote
Seawatch
Mudslinger
Stakeout
L to R
(Back)
Blurr
Groundshaker
Kup
Hardhead (w. Duros)
Countdown
Ultra Magnus
Optimus Prime (God Ginrai) [combined w/ Roller (God Bomber), Ginrai]
(Second)
Override
Dogfight
Twin Twist
Hot House
Drillbuster
Topspin
Skylynx
Pipeline
Ironworks
(Front)
Phaser
Blast Master
Wideload
Moonrock
Missile Master
Goldbug
Barrage
Heave
Wheelie
Minispy
Greaser
Hubs
Bumblebee
Trip-Up
Big Daddy
Small Foot
Road Ranger
Overload
Erector
Pathfinder
Powered up by the newly developed Head, Target, and Powermaster systems, Optimus Prime and the Autobots drive the Decepticons from the Earth entirely. What seems like a major victory is short-lived, when they receive a message that a group of Decepticons, led by Bludgeon and Scorponok, has seized control of the planet Nebulos while all its warriors were away liberating Earth.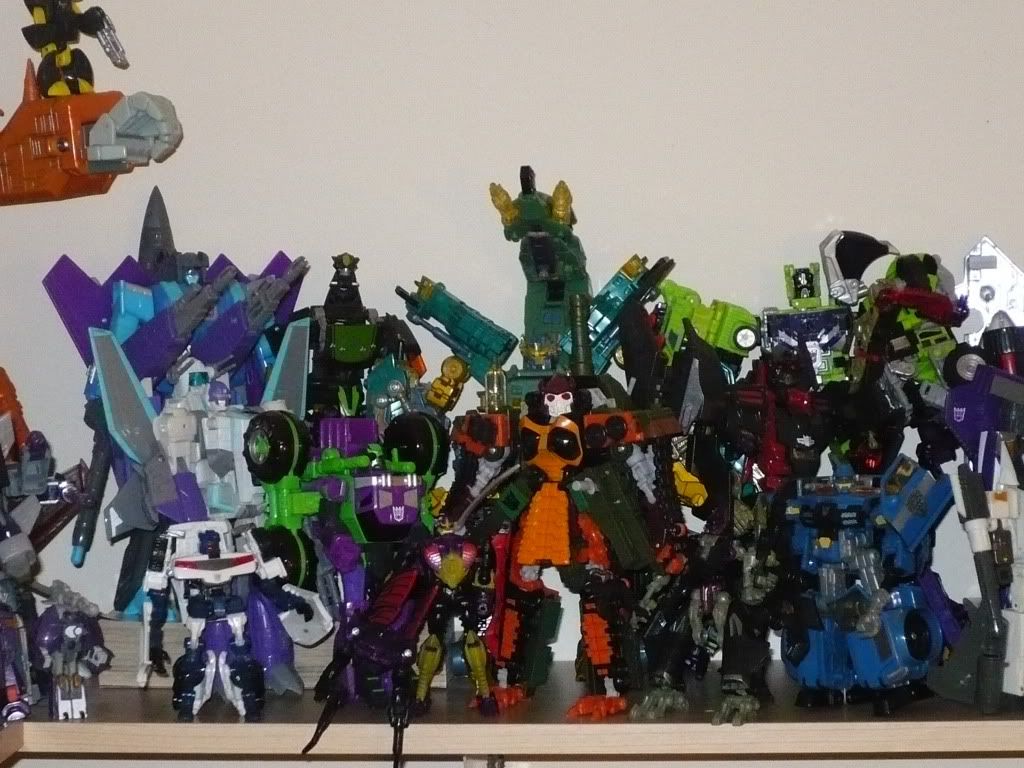 L to R:
(Back)
Darkwing
Lockdown
Scorponok
Devastator
(Second)
Dreadwind
Ruckus (Cybertron Dirt Boss)
Bludgeon
Mindwipe
(Front)
Breakdown
Bugly (BotCon 2005 Buzzclaw)
Vorath (ROTF Skystalker)
Crankcase
Another message comes to both sides; a distress signal from the planet Gobot! My goodness! It's a warning of a planet about to explode from unknown space/time distortions! It is ignored by both sides.
Megatron accepts his defeat and goes to assert his authority and rightful rule of Nebulos, relishing the sleek, new bodies they reformat into...
L to R:
(Back)
Megatron
Laserbeak
Soundwave
Bruticus
(Second)
Astrotrain
Starscream
Dropshot
(Front)
Ramjet
Skywarp
Ravage (Henkei Ravage)
Dirge
Thundercracker
Thrust
...but leaves a small detachment on Earth to subvert authority. He leaves in charge Megaplex, in hopes that if they were to be discovered the threat of Megatron would be enough to protect them. Due to an error with the reformatting process for a sparkless clone, Megaplex genuinely believes he IS Megatron, and leads his troop as such.
(Back)
Roadblock
Megaplex (Hero Megatron)
Dirtbag
(Second)
Jetstorm
Talon
Ransack
Wrecker Hook
Road Pig
Deluge
(Third)
Double Face
Air Hunter
X-Gunner
Wing Stun
Skyjack
Hooligan
Psycho Orb
(Front)
Windrazor
Eagle Eye
Jackie (Gobots Megatron)
Terradive
Afterburner
Dollup (Gobots Soundwave)
Optimus Prime, on the other hand, is faced with the reality that the Decepticons are hitting multiple points in the galaxy. So, he splits up his forces. On Earth, he leaves a small detachment of newer Autobots. He decides to put his long-time friend Orion Pax in charge, disguising Orion as himself in order to keep any Decepticons still on Earth from realizing that they've left.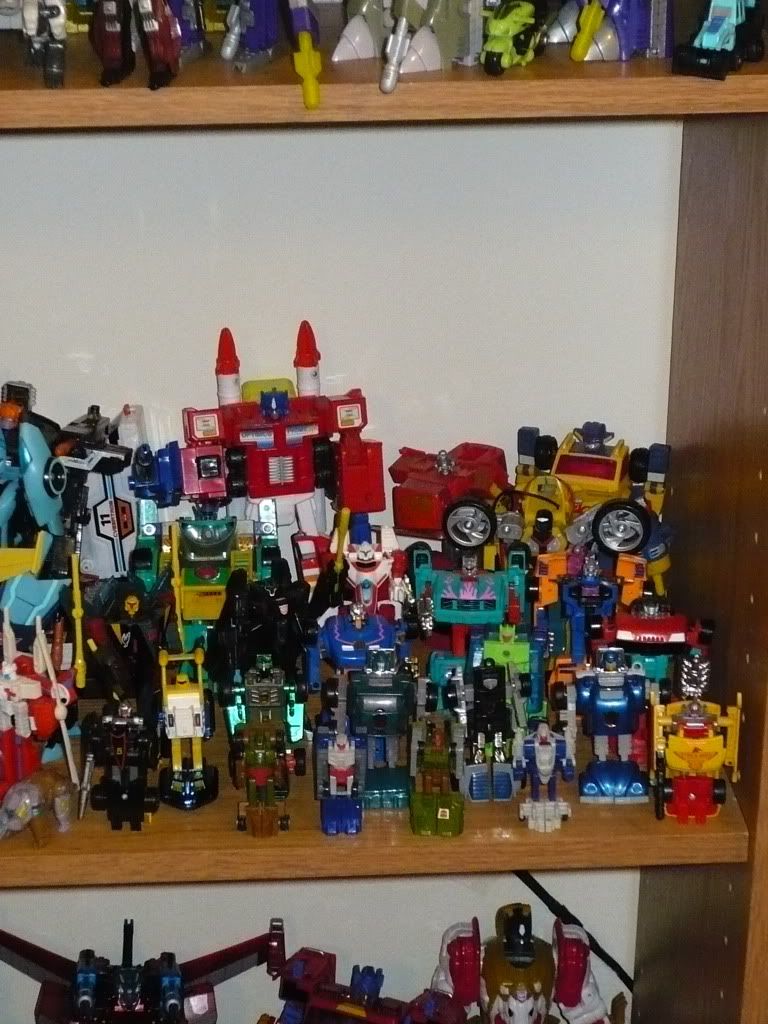 (Back)
Orion Pax (Hero Optimus Prime)
Volt
Scorch
(Second)
Drench
R-Blade
Turbofire
Road Rocket
Windbreaker
(Third)
Delta Seeker
Ricochet
Skram
Blaze
Rapido
(Front)
Stapler (Gobots Mirage)
Seaspray
Beachcomber
Gunlift
Powerbomb
Tap Out
Sidetrack
Rook
Sunrunner
Glyph
Gearhead
Meanwhile, Ultra Magnus takes command of an elite group selected to scout ahead and crush whatever Deception resistence they encounter. They call themselves "Wreckers".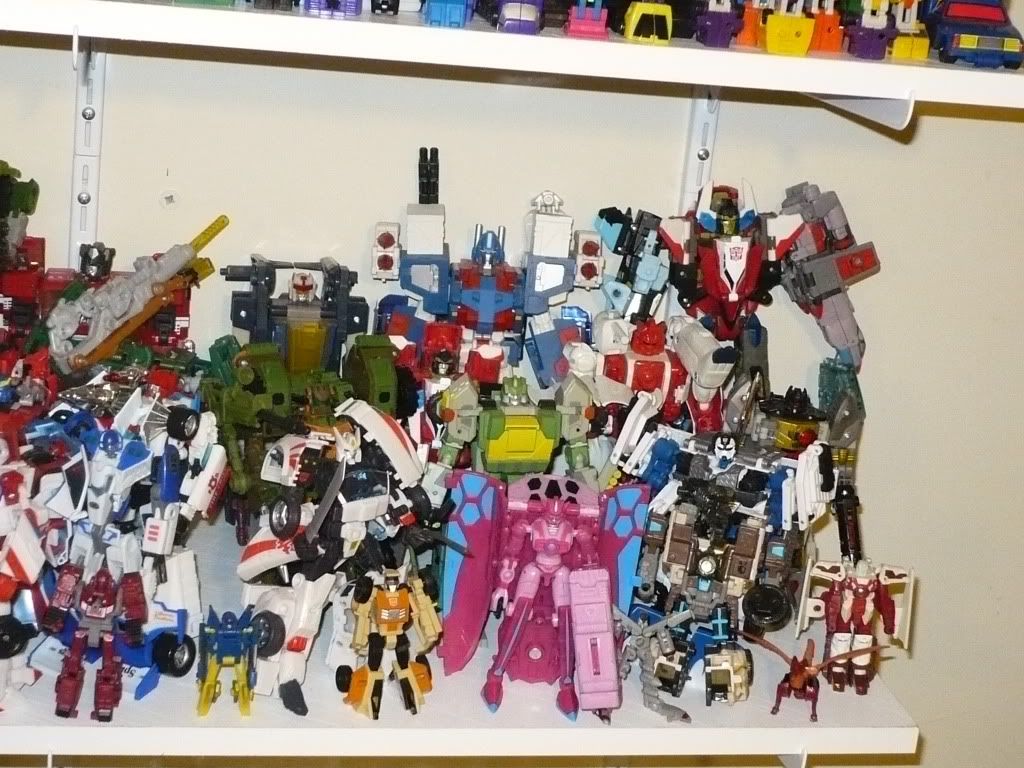 (Back)
Whirl
Ultra Magnus
Superion
(Second)
Roadbuster
Storm Jet
Springer
Polar Claw
Longarm
Grimlock
(Front)
Newton (Classics Thunderwing)
Drift
Sandstorm
Elita-1
Fig (Classics Steel Wind)
Detritus (2007 Movie Crosshairs)
Strawberry (Classics Nightscream)
Scattorshot
On one of the many worlds visited, Gorlan Prime, the Wreckers encounter something not seen in several million years: a Minicon. Three, in fact. They end up proving invaluable, so they keep this from Optimus. With Earth and the galaxy looked after, Optimus takes the rest of his crew aboard the newly-built Ark II and heads to Nebulos to kick some Deceptichops.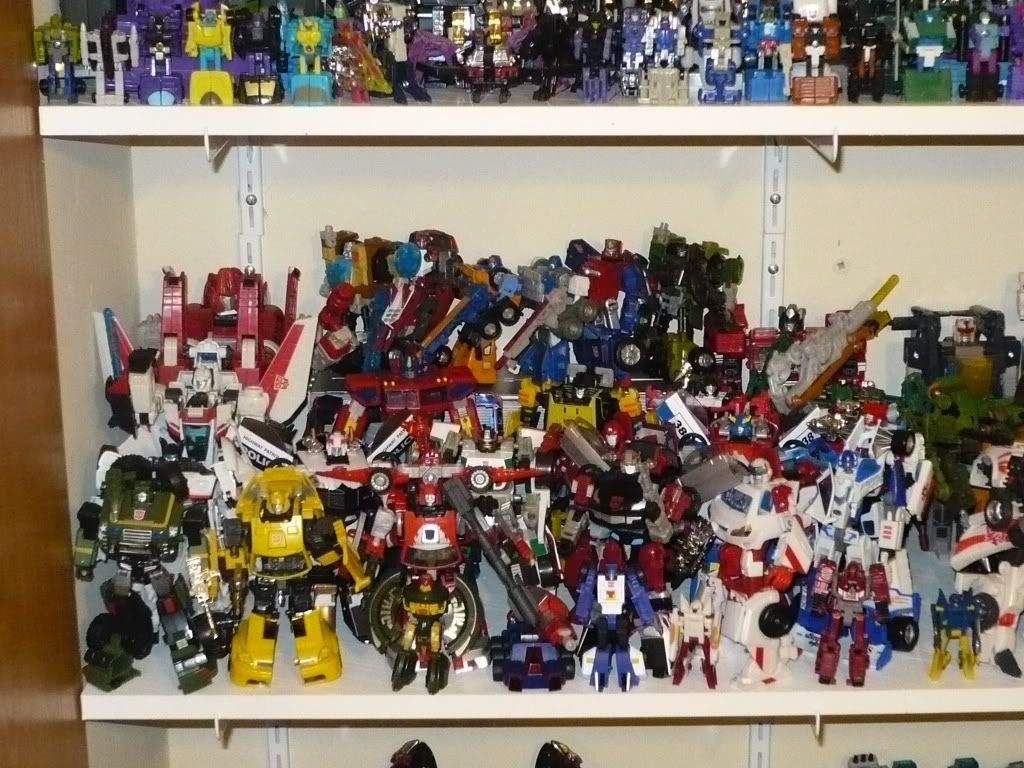 (Back)
Powerglide
Outback (BotCon 2005 Fallback)
Windcharger (Cybertron Swerve)
Huffer
Pipies (Cybertron Armorhide)
Gears (Custom from Cybertron Overhaul)
Brawn (2007 Movie Strongarm)
Inferno
(Second)
Jetfire
Optimus Prime
Sunstreaker
Sidesqipe
Hoist
(Third)
Jazz (2007 Movie Target Jazz)
Prowl
Wheeljack (Superlink Wheeljack)
Ironhide
Smokescreen
Red Alert
(Front)
Hound
Bumblebee
Cosmos
Cliffjumper
Roller (Fansproject G3 Trailer)
Beachcomber
Bluestreak
Slingshot (Credit Card Minicon Sling [Not a Minicon character])
Ratchet
Warpath
Mirage
Battles continue on Nebulos. Minicons begin to slowly re-appear, freaking out Optimus. Due to his time on Earth he's plenty well adjusted to dealing with them, and even accepts their help once in a while. Things struggle along until some unexpected help arrives from Cybertron...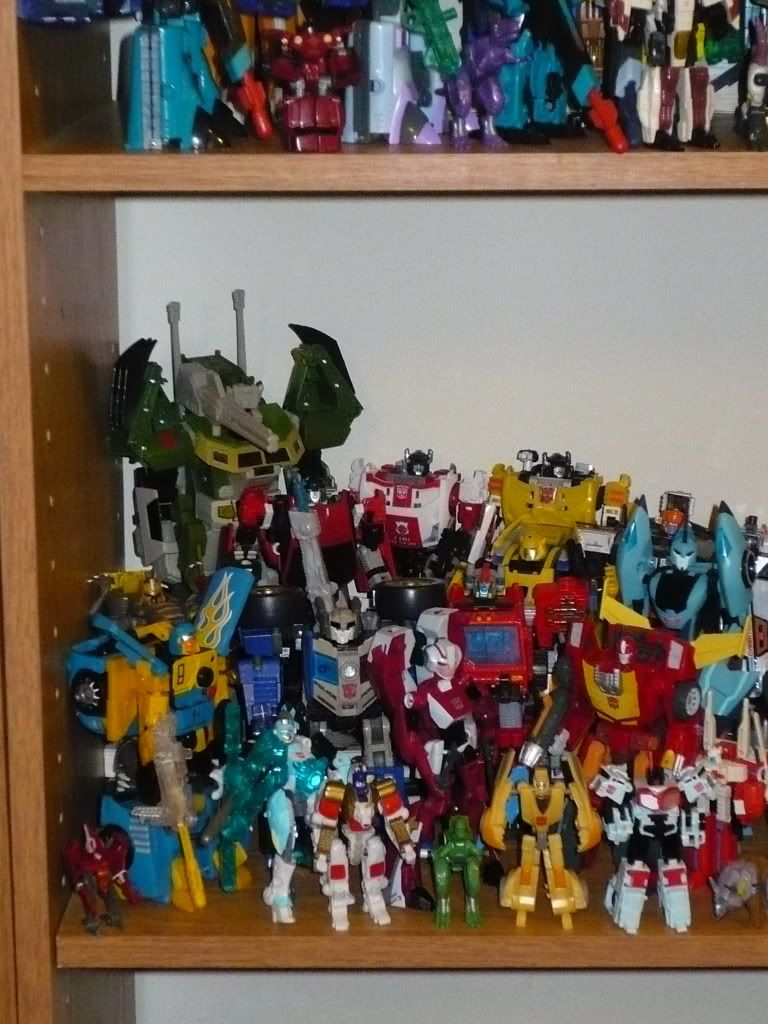 (Back)
Hardhead [w/ Headrobots' Duros]
Clampdown (Generations Red Alert)
Tigertracks (Partswapped Universe 2.0 Sunstreaker)
(Second)
Dinobot
Roadrash (Partswapped Universe 2.0 Sideswipe)
Hubcap (Classics Bumblebee)
Big Daddy
(Third)
Nightbeat
Siren (Energon Prowl)
Hosehead (Energon Inferno)
Blurr
(Front)
Swoop
Chromia
Leo
Arcee (Animated Arcee)
T-Rex (Classics Terrorsaur)
Wheelie
Hot Rod (Challenge at Cybertron 3-Pack Rodimus)
Hot Spot (Universe 2.0 Legends Hot Zone)
Blades
Knockdown
Hot Rod's crew comes in to save the day, but like the doofus he is he only gets in the way. During the epic battle of Jumanji, Megatron was able to use Hot Rod as a shield and, reveling in the repeat performance, kills a Prime with his bare hands. The Autobots are devastated. Megatron, confident that Prime's death is enough to ensure victory in and of itself, leaves to return to Earth. Apparently, there's been a new, supercharging element discovered: Forestonite.
(Back)
Piranacon
Devastator (G2 Orange)
Bruticus (Fansproject Crossfire)
(Second)
Megatron
Acid Storm
Overkill
Shockwave (Energon Shockblast)
Banzaitron (ROTF Banzaitron)
(Front)
Dirge
Starscream
Razorclaw
Thrust
Skywarp
Wierdwolf
Octane (Universe 2.0 Tankor)
During all this time Megatron has been pushing Hook, Scrapper and Shockwave to find a way to improve on the Combiner process; it finally works. Instead of a universal port and mismatched limbs, a gestalt is now specific - one bot to one function. This results in a much smoother neural combination, since each bot only has to be hardwired with one subroutine, not up to four. This is first tested on a Forestonite-enhanced Devastator and Piranacon, then perfected and turned on Bruticus to make him holy crap badass.
The Matrix this time falls to Hot Rod, becoming Rodimus Prime. Enraged at Megatron for Optimus' death, he takes a small crew and heads to Earth to take care of Megatron personally.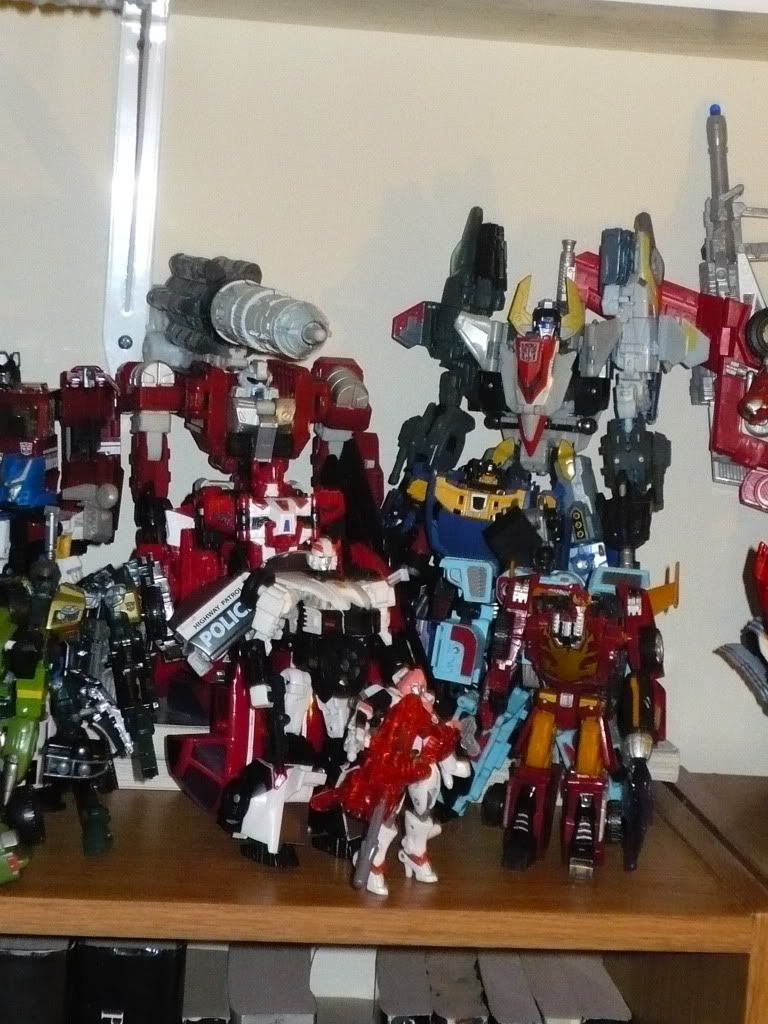 (Back)
Countdown
Superion (Fansproject Crossfire)
(Second)
Blades
Punch
(Third)
Streetwise (Universe 2.0 Prowl)
Hot Spot (Titanium Hot Zone)
(Front)
Arcee (Energon Arcee)
Rodimus Prime (Classics Rodimus [Waiting on Protector Armor])
Meanwhile, in the Dead Universe, Nova Prime has discovered something: Minicons can be used as a power source, much like Powermasters, instead of just an upgrade or weapon. Nova Prime charges Galvatron to continue making Minicons behind The Fallen's back, many of whom have wandered off and ended up in the hands of a few other Transformers. The Fallen, meanwhile, senses the death of Optimus Prime, and more importantly, senses a figure more attuned to the Entropy Matrix than any other encountered before. The Fallen comes to him, and soothes him in his grief. Eventually, Jetfire agrees to go with him, donning his new armor and calling himself Skyfire.
The time before Unicron's awakening has become frighteningly close, and The Fallen impatiently charges into the Decepticon encampment to grab the next two candidates by force, instead of relying on subtlety. The Fallen displays his power by killing Megatron and turning Starscream into ash; after this, both Astrotrain and Soundwave go quietly with him.
With both major faction leaders dead and an army worthy of Unicron's name, The Fallen rips open the space/time rift and commences his attack. Shortly after opening the gate though, he ends up being stabbed in the back (literally) with the Star Saber. Nova Prime, now calling himself Nemesis Prime, has used the stockpiled Minicon caches and forged himself a superpowered external armor capable of withstanding the intensity of the Dead Matrix. Stealing the artifact, Nemesis Prime abandons the smoking husk of his former master and assumes command of the army.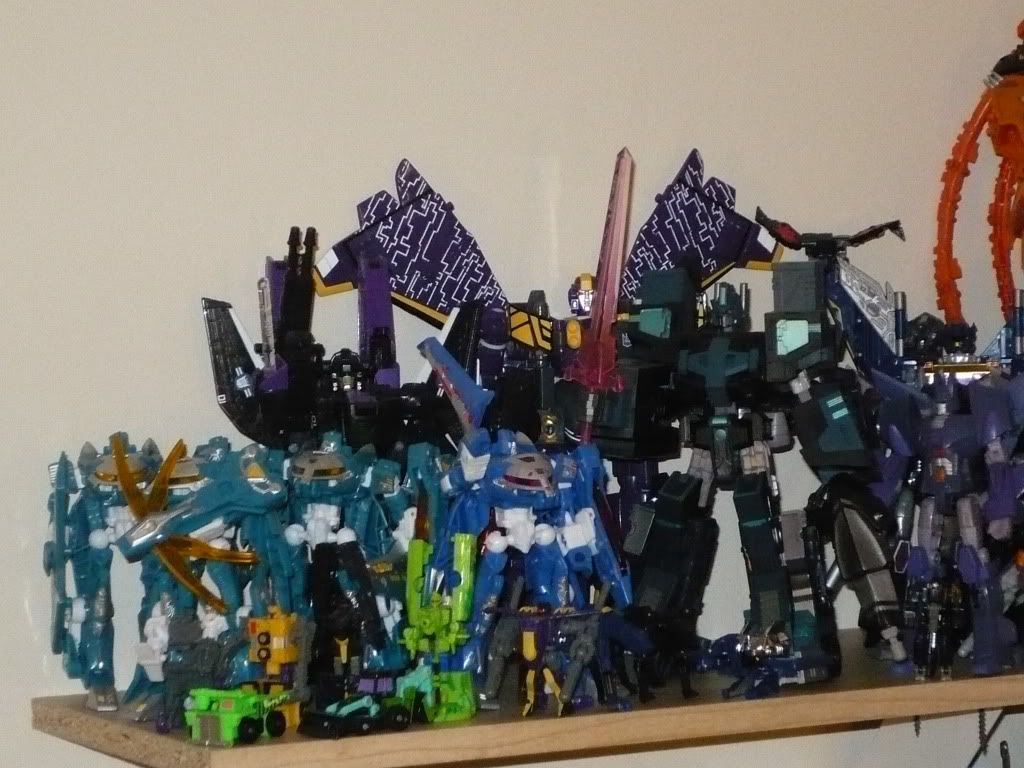 (Back)
Skyfire
Astrotrain
Laserbeak (Cybertron Laserbeak)
Soundwave (Cybertron Soundwave)
(Second)
Sweep 2
Sweep 6
Sweep 7
Scourge
Nemesis Prime (SDCC Nemesis Prime w/ Shadow Commander Armor)
Armada 3 (Universe 2.0 Cyclonus)
Cyclonus
Armada 4 (Universe 2.0 Cyclonus)
(Front)
Starcatcher
Refuser
Astro-Hook
Astro-Sinker
Rockblade
Seawave
Astro-Line
Howlback
Panther (Universe 2.0 Ravage)
Garboil
Nightstick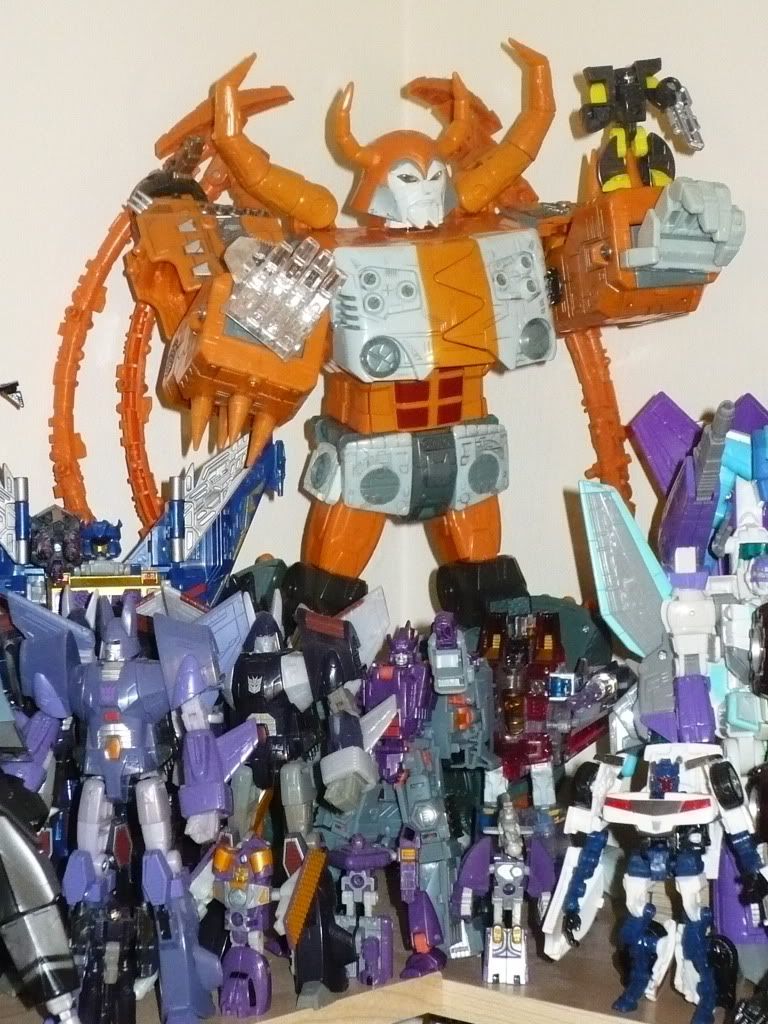 (Back)
Unicron (Takara 2010 Unicron)
Dead End
(Second)
Galvatron
Ghost Starscream
(Front)
Sail
Float
Knot
With no one else to turn to and Unicron looming overhead, Rodimus Prime and Shockwave combine forces to battle the evil god. The battle is fierce, and Rodimus entrusts the Matrix to a small elite team of Autobots, then known as the Incredible Eight - Hound, Brawn, Cliffjumper, Smokescreen, jazz, Bumblebee, Red Alert and Silverbolt. reaching thesurface of Cybertron, they're able to open up the Matrix. The ensuing energy re-awakens Primus, and in a burst of energy all of Unicron's minions are, in Skyfire's case cleansed, or in the more devoted soldiers' cases simply obliterated. From this energy arises Optimus Prime wielding the legendary Savage Claw, who then strikes down Nemesis Prime and even Unicron himself, sending them all back to the Darkness.
Things are suddenly in a state of uncertainty. The Autobot-Decepticon alliance manages to hold together, and a second Golden Age appears to be in sight. As a gesture of good will on both sides, Combiner technology, the single thing that turned the tide those millions of years ago so dramatically, is forgotten. All combiner teams are reformatted to eliminate the process and all records of it destroyed. Rodimus Prime now had that difficult task of uniting the galaxy, making sure every Autobot, Decepticon and anyone else listening knew that the war was over and peace was about to begin. His efforts to find help were fruitless.
He looked to Optimus Prime, but he refused. Optimus took a small group of dedicated soldiers and scientists with him to Vector Sigma, calling themselves Cybertrons - the guardians of their homeworld.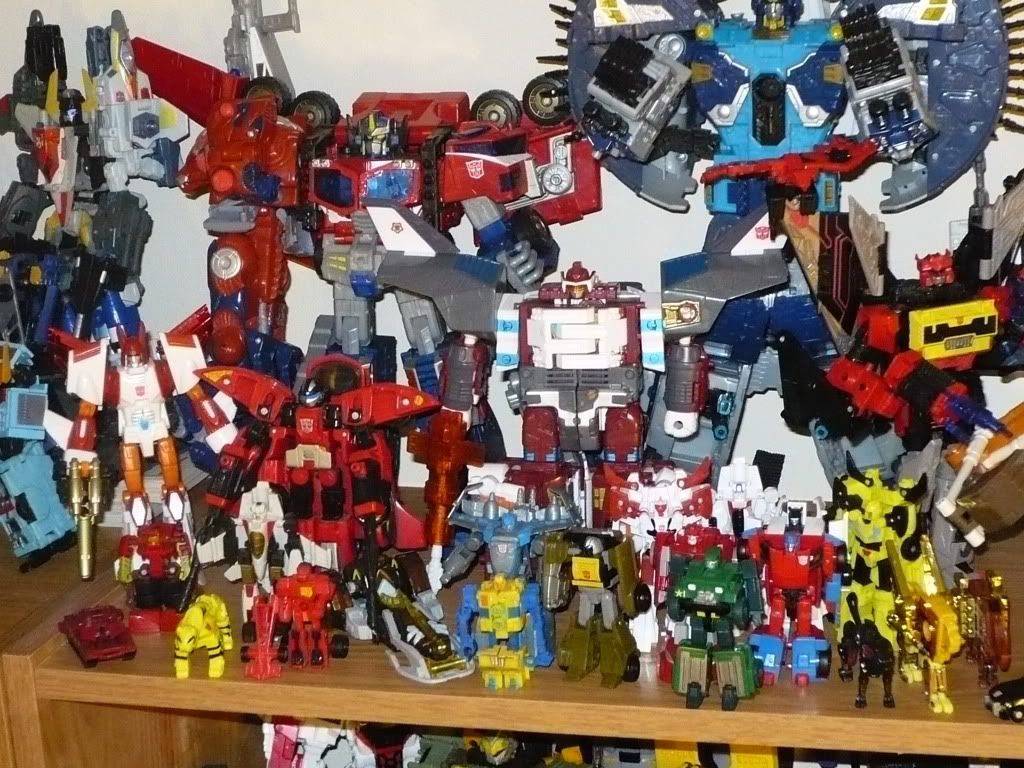 (Back)
Savage Claw (Universe 2.0 Leo Prime)
Optimus Prime (Cybertron Optimus Prime)
Primus
(Second)
Strafe
Lightspeed (Universe Swerve)
Scattorshot (Energon Jetfire)
Blaster [Waiting on Renderform upgrade]
Heavytread
Bodyblock
Apexus
Sky High (Legends Jetfire [NOTE: This and Silverbolt were switched after pictures were taken])
Roadhandler
Roller (Cybertron Brakedown)
Craydon
Eagle Eye (Classics 2.0 Legends Sky Dive)
Brawn [Incredible 8]
Red Alert [Incredible 8]
Cliffjumper [Incredible 8]
Hound [Incredible 8]
Silverbolt [Incredible 8]
Smokescreen [Incredible 8]
Jazz [Incredible 8]
Bumblebee [Incredible 8]
Gredator
Steeljaw
Ramhorn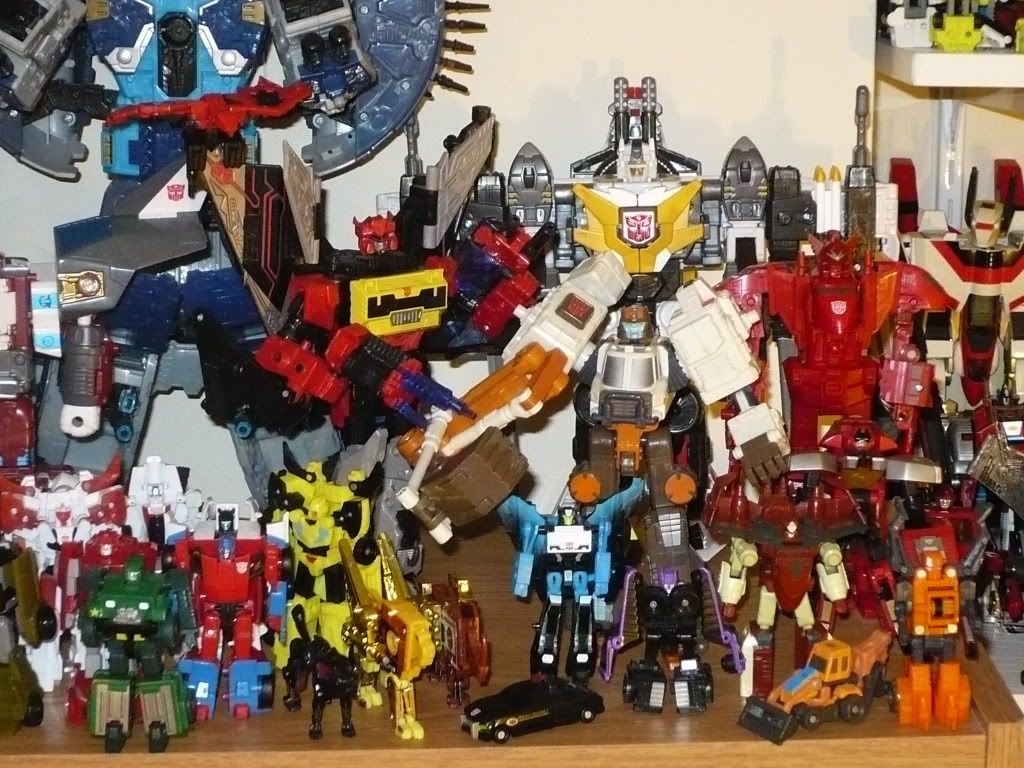 (Back)
Jetfire (Cybertron Wing Saber)
Raiden (Sixtrain Red Version)
(Second)
Nosecone (Armada Hoist)
Afterburner (Cybertron Gasket)
(Front)
Radrogue
Treadbolt (Universe 2.0 Legends Air Raid)
Knockdown
Blaze Master (Classics Fireflight)
Backstop
Refute
Intimidated by the task at hand, Rodimus Prime passes the Matrix down to someone he feels is more qualified, Ultra Magnus. Rodimus takes a small group back to Nebulos to command things on a smaller, more comfortable scale. During his stay here, Rodimus will end up getting early prototypes of Operation Combinaton, to be explained later.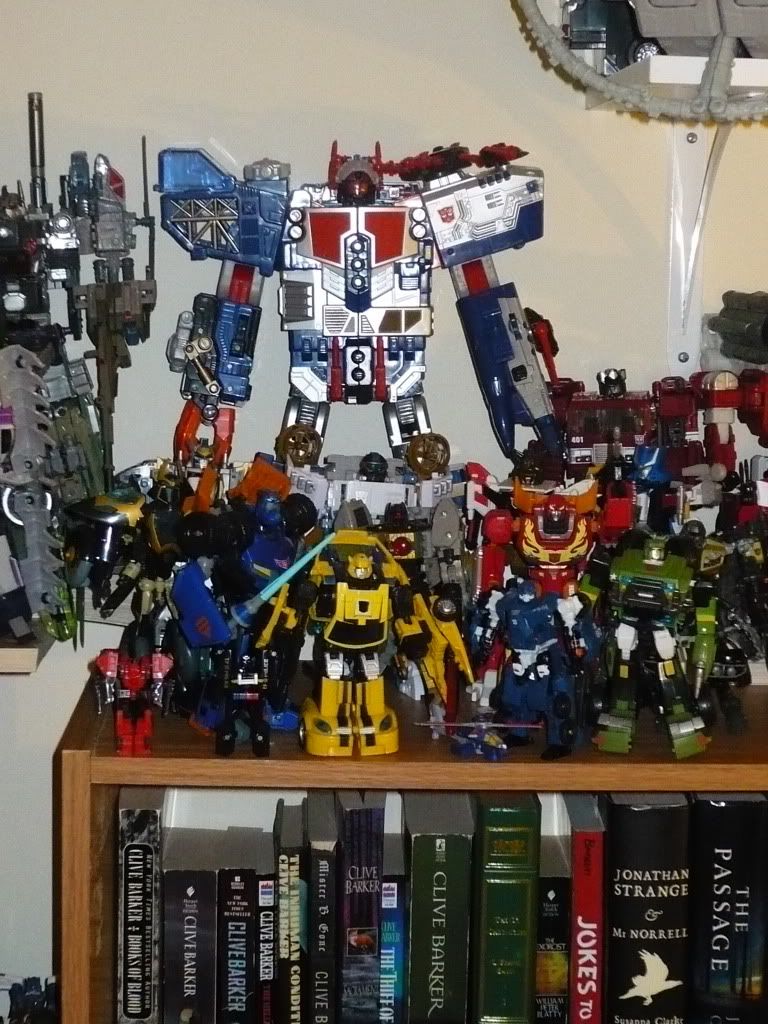 (Back)
Omega Supreme (Energon Omega Sentinel)
Inferno
(Second)
Sixtrain
Seaspray
Sixwing (Universe Superion)
Sixturbo (Universe Defensor)
(Front)
Road Rocket (Animated Samurai Prowl)
Firebot
Sentinel Maximus (Animated Sentinel Prime)
Strongarm
Bumblebee (Hero 3-Pack Bumblebee)
Grimlock
Divebomb
Breacher
Rodimus (Titanium Rodimus Prime)
Hound
Brawn (ROTF Brawn)
Ultra Prime approaches his new task with vigor. Placing high-ranking officers in charge of various outposts, he travels along the galaxy with a select group commonly referred to as the Neo-Wreckers, shutting down Decepticon rally groups and supporting, and sometimes rescuing, Autobot sympathizers. Ultra Prime begins his own experiments with technology, and eventually finds a way to infuse a weapon with energy from the Matrix. His chosen weapon of this sort is appropriately named the Magnus Hammer.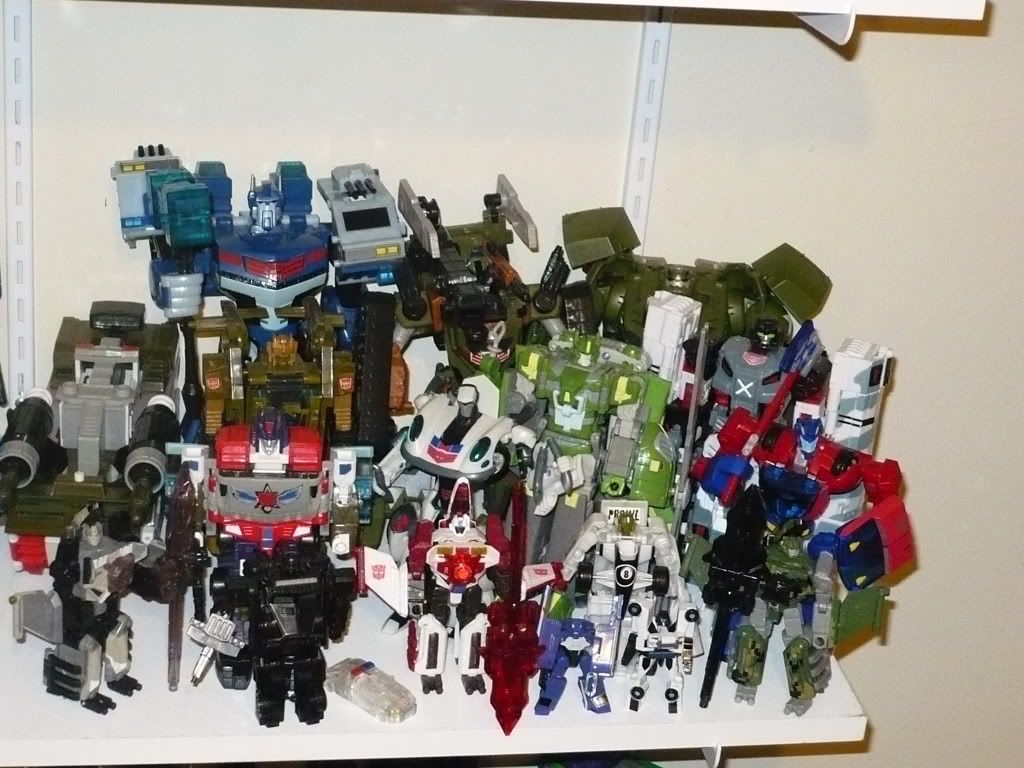 (Back)
Ultra Prime (Animated Ultra Magnus)
Landshark
Bulkhead
(Second)
Thunderclash (Machine Wars Optimus Prime)
Jazz (Animated Jazz)
Springer
Flak
Orion Pax (Animated Cybertron Optimus Prime)
(Front)
Skyblast
Hoist
Detectus
R-Blade (Superlink Skyblast)
Makeshift
Prowl
Flatfoot
Air Raid
The Decepticons, meanwhile, are scattered throughout the galaxy. Without a leader (as Shockwave is, at least on the surface, a supporter of the newly enacted truce) the only real resistance the Autobots face is from a renegade group of mechanoids called the Gobots, led by Bugbite, a being who claims that his planet was a victim of the Cybertronian wars. Bugbite's crew is certainly a nuisance, and while easily taken care their tenacity more than makes up for their shoddy numbers. Though rumours have spread that Bugbite has begun experimenting with cloning technology, and his numbers, and power, is every steadily rising...
L to R:
(Back)
Grungy (KO Yellow & Black Devastator)
Courageous (KO Landcross)
Monsterous (KO Unknown Animal Combiner)
Crasher (2007 Movie Fracture)
Royal-T (KO Deluxe G2 Dreadwing mold)
(Second)
Zero (ROTF Divebomb)
Fitor (KO Pink Seeker)
Blaster (HFTD Hailstorm)
Night Fright (ROTF Swindle)
Gunnyr (KO Orange Ramjet)
Treads (ROTF Sparkcrusher)
Bugbite
Crossword (HFTD Oil Pan)
Stinger (KO Blue Bumblebee)
Spoons (ROTF Deadlift)
Zod (ROTF Legends Ravage)
Defendor (ROTF Legends Tankor)
(Front)
Heatseeker (Universe 2.0 Legends Starscream)
Herr Fiend (HFTD Legends Override)
Leader-1 (Universe 2.0 Boltflash)
Cop-Tur
Tic-Tac (Actual Gobot @_@)
Bad Boy (Universe 2.0 Skyhammer)
Wrong-Way (Universe 2.0 Crosshairs)
This period of peace, as it is wont to do, shortly comes to an end. The first harbinger of this new war begins with the emergence of Deathsaurus, a mighty warlord from across the galaxy. Calling themselves the Predacons, they preached the invincibility - and this assuredly the continued existence - of Megatron, and worked towards crushing the Autobot regime to bring about a new Decepticon era in his name. Deathsaurus quickly brings devastation to many Autobot outposts, their guards having become soft and sedentary in their lack of duties.
L to R:
(Back)
Razorclaw
Oil Slick
Deathsaurus
Banzaitron
(Second)
Skyquake
Blackarachnia
Gaihawk (Toy Dreams Project Armada Thrust)
Hellbat (2007 Movie Overcast)
Leozack
(Front)
Suppressor
Reptix
Dreadwing
Ironlunge
Dirge
Inferno
Killbison (ROTF Blastoff)
Overbite
Jaruga (HFTD Crankstart)
Snarl
Drillhorn (2007 Movie Unreleased Gunbarrel)
Meanwhile, Earth had become a hub for scientists, Autobot, Decepticon and others alike. Undergoing research into the finally-accepted Minicons as a way of understanding their strange brethren, Huffer, Highbrow and Smolder experiment with Micromaster volunteers into aspects of the controversial Combiner technology. The project, called Operation Combination, first yields a form of Micromaster combiner in the form of Six-train, Six-Turbo, Six-Wing and Six-Builder. Further studies lead the team to create something never before even imagined: a Minicon created out of pure energy. This new type of Minicon had the power to reform itself into any shape, including weapons, tools and armor. Most interestingly though, when docked with a Cybertronian being it allowed it to remotely control and mildly reformat any nearby machines. This process is called the Power Core system.
The research facility is soon attacked, however, by none other than Megatron himself! While Huffer and Highbrow attempt to secure the newly-developed Minicons, Smolder disables the defenses, steals as many of the Minicons as he can and goes out to meet his master. With one blow, he takes down the mighty leader, revealing him to be Megaplex, left on Earth and still believing himself to be the true Decepticon leader. Smolder decides to spare his life, however, and collapses. From his limp carapace, against all odds, the ghost of Starscream rises up.
With their new technology and Predacon brethren to inspire them, Starscream starts a new Decepticon army on Earth. Using their newfound technology, Starscream crafts a new, sleek, super-powered form and amasses his former comrades.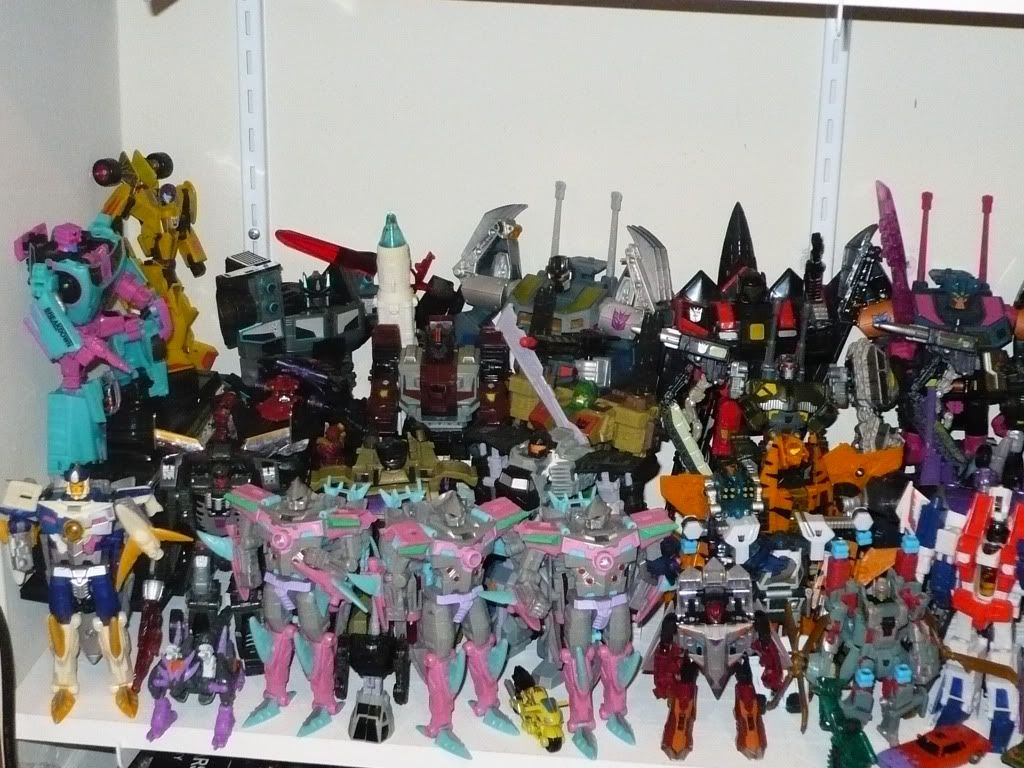 L to R:
(Back)
Drag Strip
Motormaster (RiD Scourge)
Onslaught
Skyjack (Universe 2.0 Skyfall w/ Renderform Upgrade)
(Second)
Dead End
Blast-Off (Machine Wars Soundwave)
Brawl (Cybertron Demolisher)
Bombshock (w/ Drones)
(Third)
Breakdown
Wildrider
Swindle
Vortex (Energon Cyclonus)
Hooligan (ROTF Fearswoop)
(Front)
Sky-Byte
Trypticon [Underwent Micromaster Process]
Land-Shark
Crumplezone
Sky-Shark
Dirt Rocket
Sea-Shark
Darkstream
Icepick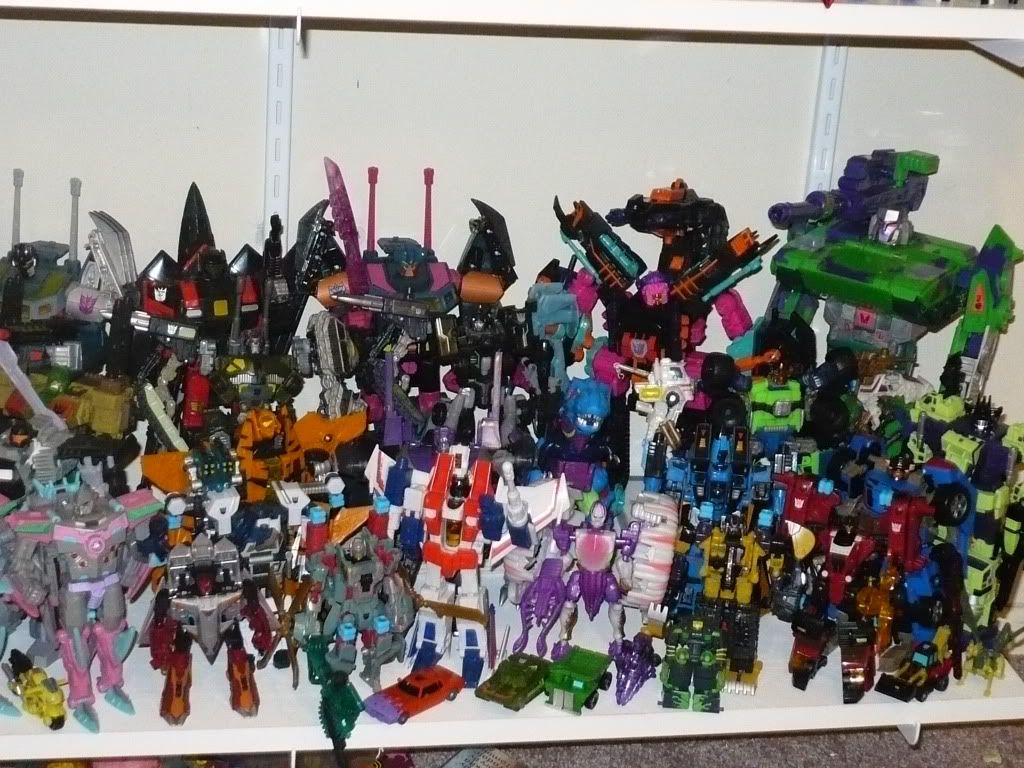 L to R:
(Back)
Clench
Double Punch
Megaplex (G2 Megatron)
(Second)
Scourge (w/ Drones)
Mudslinger (w/ Drones)
Six-Builder
(Third)
Jolt
Cindersaur
Dirge
Slicer
(Front)
Windburn
Oil Slick
Starscream
Broadside
Wideload
Skippy (Beast Wars II Clench)
Grindor
Sledge
Smolder
Ficklebean (Classics Sledge)
Brimstone
The Earth conflict escalates to the point where Ultra Prime intervenes, wrecking some shiznizzy up. The Magnus Hammer proves to be a formidable weapon, and in a cataclysmic battle manages to crack open Starscream's nuclear core. The resulting energy rips through his body, corrupting his mind. Unable to handle the intense energies, his body rips through the atmosphere and into deep space. Magnus is pleased.
Less pleasing, however, is the energon blade that rips through his chest. The blade belongs to no other than Deathsaurus, having come to Earth after hearing a rumor of Megatron's return. In a single blow he manages to completely incapacitate Ultra Prime, and rips the Matrix from his chest. Turning on the rest of the Autobots, Orion Pax picks up the Magnus Hammer. The latent energies within the Hammer, while not at the full strength of the Matrix itself, upgrade his form enough to blindside Deathsaurus, who retreats.
Ultra Prime manages to survive the battle, though only on life support and is taken back to Cybertron in hopes of resuscitation. Orion Pax, for the time being, is dubbed Orion Prime and given license of both the Magnus Hammer and the Autobots. He stays on Earth to defend it against the newly arrived Predacon threat.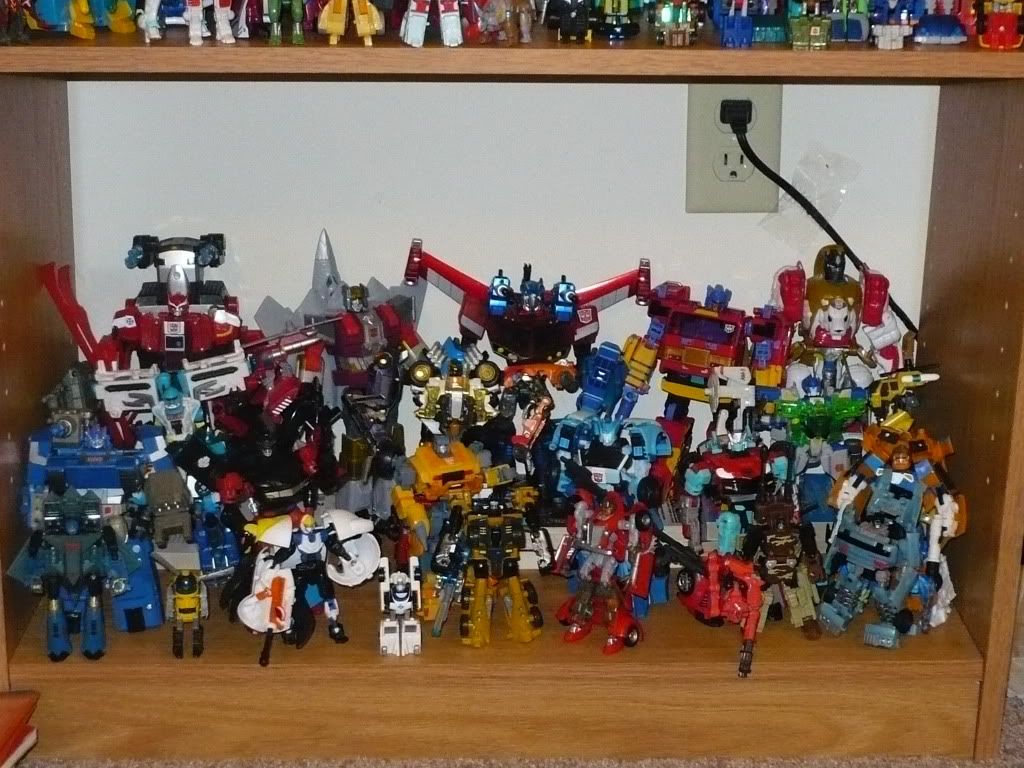 L to R:
(Back)
Overrun (Energon Quickstrike)
Silverbolt
Orion Prime (Animated Wingblade Optimus Prime)
Pyro
Leo Prime [in name only, no title]
(Second)
Stakeout (w/ Drones)
Leadfoot (w/ Drones)
Highbrow (PCC Searchlight w/ Drones)
(Third)
Reverse Convoy [that trickster!]
Streetwise (BotCon 2010 Streetstar)
Scorch
Boss (Generations Blurr)
Rapido
Windbreaker (TFCC Dion)
(Front)
Skyburst
Doris (Generations Swashplate)
Break
Frankfurter (Generations Brake-Neck)
Huffer
Volt (HFTD Hubcap)
Steelshot
Double Clutch
Meanwhile, on the other side of the cosmos, Starscream's energy begins to finally wear down. It's to his great surprise that then, standing before him was Megatron - the true Megatron - vastly upgraded. In an attempt to force a reaction form him, Starscrem attacks him but can't even land a blow, until two more figures appear: Black Shadow, and the newly upgraded and reformatted Galvatron. Galvatron explains that he has seen worlds unlike anything he'd imagined here, worlds where everything was not only not what it seemed, but perhaps even the complete opposite of what it seemed.
Galvatron offered Starscream access to these words in exchange for loyalty. Nodding to Megatron, Galvatron explains that it was the price of their rivalry; after finding Megatron's husk, nothing but the tiniest spark of life remaining, he reformatted his body, suppressed his mind and had a most excellent pet - a fate he assured Starscream would not happen to him, should he submit willingly to him, and his group of Destrons. He did. His body now healed, Starscream, now calling himself Sunstorm, followed his new master to worlds unknown.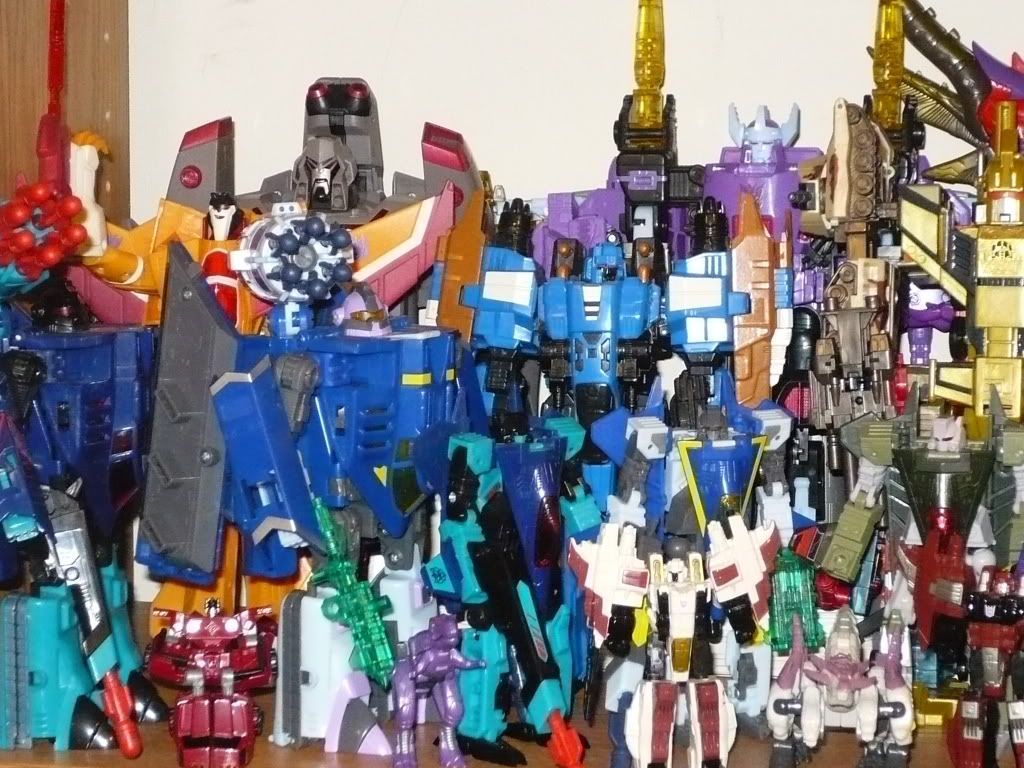 L to R:
(Back)
Super Megatron (Animated Megatron)
Galvatron (Superlink Galvatron G)
(Second)
Sunstorm (Animated Sunstorm)
Dirge
(Front)
Eagle Eye (G2 Dreadwing)
Halibut (Generations Drivetrain)
Afterburner (Robot Masters Gigant Bomb)
Gnashteeth
Storm Cloud (G2 Smokescreen)
Ramjet
Tailwind (Robot Masters Smokejumper)
Hun-Grr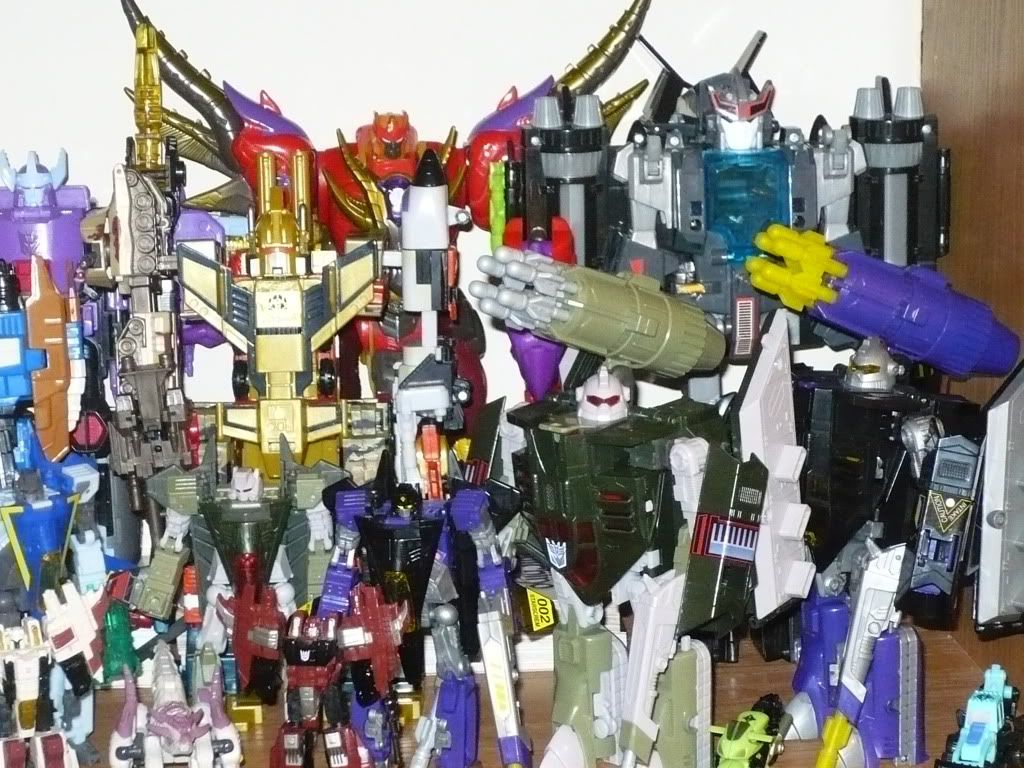 L to R:
(Back)
Scourge (Universe 2.0 Predacon Bruticus)
Black Shadow (Machine Wars Starscream)
(Second)
Battle Gaia (Car Robots Baldigus)
(Front)
Nightflight (RiD Smokejumper)
Thrust
Whisper (Beast Wars II Starscream)
Windrazor (RiD Dreadwing)
Blight
Terradive (Beast Wars II BB)
Sasquatch (Generations Pan-Handler)
The universe that he was hinting at, of course, was the Shattered Glass Universe. Since there isn't any Classics/SG crossover in my story yet, I'll just be doing the shelves as standalone and by faction.
Decepticons:
L to R:
(Back)
Starscream
Megatron
(Second)
Mixmaster (Universe 2.0 Heavy Load)
Hook (2007 Movie Mudflap)
(Third)
Sideswipe
Rumble (Music Label Headphones)
Soundwave (Music Label)
Frenzy (Music Label)
Cyclonus (w/ Krunix)
(Front)
Whisper
Razorclaw
Laserbeak (Kiss Players Sundor)
Rosanna
Ravage (Kiss Players Glit)
Scavenger (Universe 2.0 Drill Bit)
Divebomb
Rampage
These guys are pretty nifty. That is, until Cyclonus decides to up and turn traitor like a foo'. Luckily though, Megatron is rebuilt, and Hook and Mixmaster develop the Combiner process...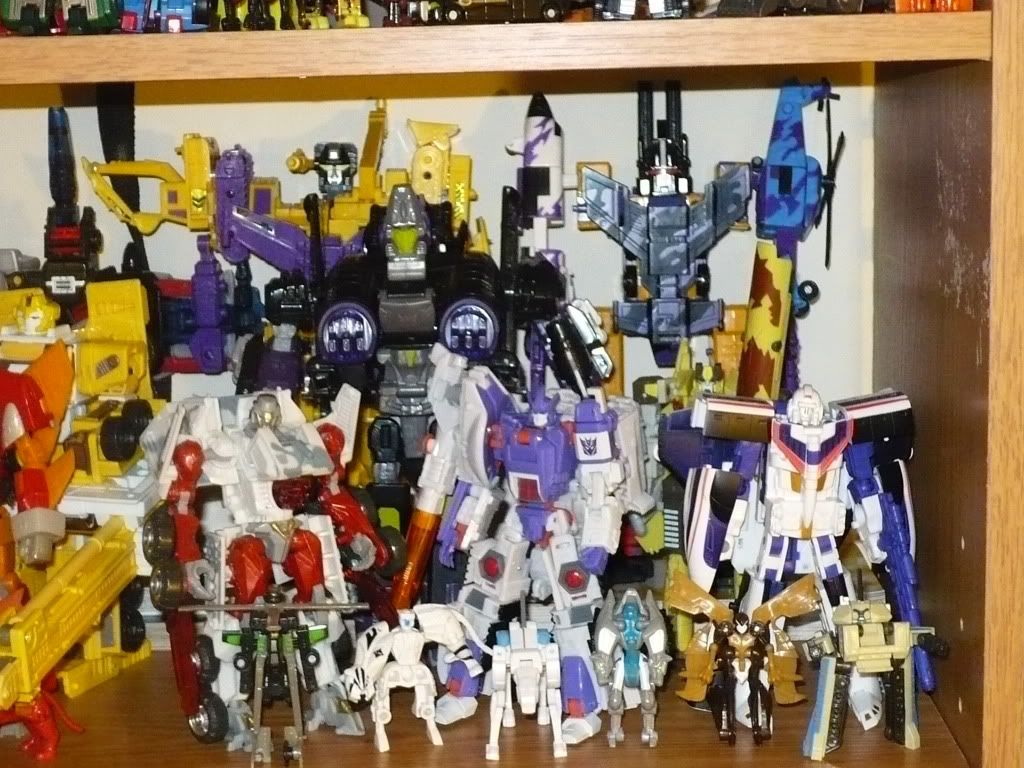 L to R:
(Back)
Devastator (G2 Yellow Devastator)
Bruticus (G2 Bruticus)
(Second)
Ramjet (Universe 2.0 Storm Cloud)
Windsweeper (2007 Movie Divebomb)
(Third)
Bludgeon (2007 Movie Wreckage)
Galvatron (Challenge at Cybertron 3-Pack Galvy)
Astrotrain (Classics Astrotrain)
(Front)
Spinister (Universe 2.0 K-Mart Crosshairs)
Pounce (Universe 2.0 K-Mart Snow Cat
Ravage
Carnivac (Universe 2.0 K-Mart Scavenger)
Wingspan (Universe 2.0 K-Mart Longview)
Quake (Universe 2.0 K-Mart Treadshot)
Meanwhile, the Autobots have their own little soiree, as it were: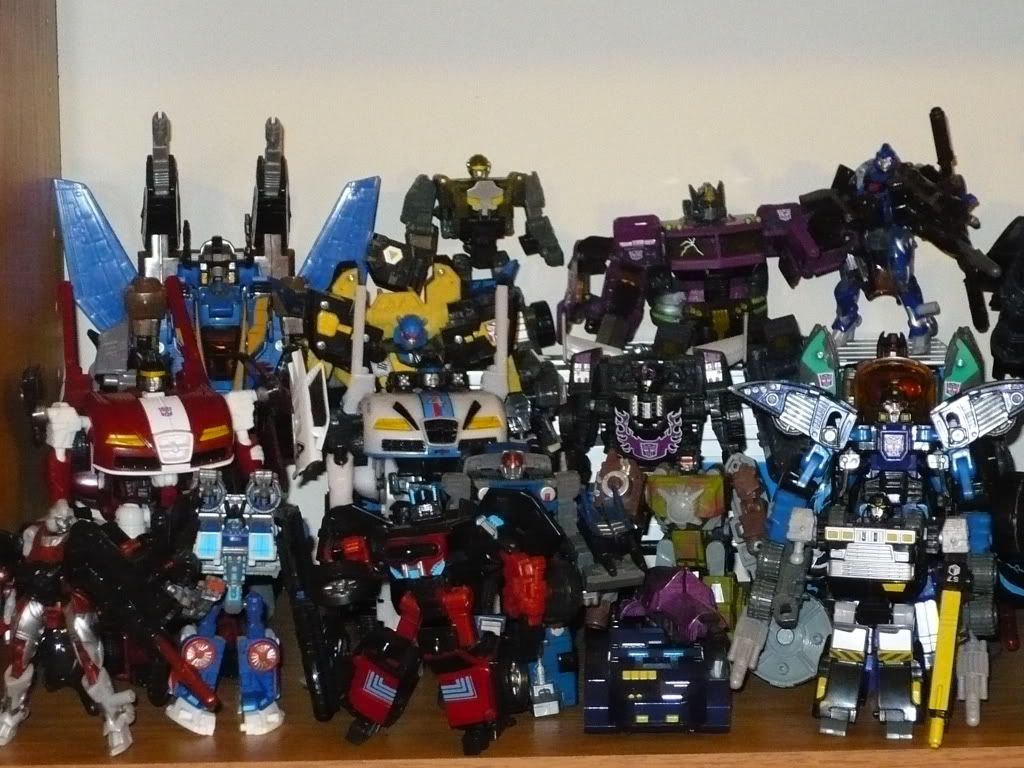 L to R:
(Back)
Jetfire (Universe 2.0 Treadbolt)
Beachcomber (2007 Movie Hardtop)
Optimus Prime
Arcee (2007 Movie Arcee)
(Second)
Ricochet
Jazz
Goldbug
Rodimus
Grimlock
(Front)
Elita-1 (2007 Movie Elita-1)
Seaspray (2007 Movie Shortround)
Gears (2007 Movie Warpath)
Windcharger (2007 Movie Clocker)
Roller (BTS Trailer)
Warpath (2007 Movie Signal Flare)
Blurr
Huffer (2007 Movie Armorhide)
Things were all fine and dandy like sour candy until Rodimus formed an alliance with the outcast warlord Ultra Magnus. Known as the Soul Collector, Ultra Magnus was the equivalent of the bogey man for young mechs. Legends say he'd come for you silently in the night and rip your ember right out, keeping it in his case. Turns out it was true. Ultra Magnus also had in his employ Ironfist, an expert at body augmentation technology; his first attempt, unfortunately, turned Beachcomber form a well accomplished sniper to a raving madman.
His second attempt was only mildly more successful. Trying to create a light distortion field for Mirage to achieve invisibility, the process failed, permanently mutating Mirage's skin into an everchanging spectrum of light. Eventually gaining control over his radiation, he now has the ability to change his colours at will, similar to an Earth chameleon. After Slingshot's successful copy of the Combiner system, together they succeeded in crafting a new body for Rodimus, who swiftly assassinated Optimus Prime and took the throne for himself.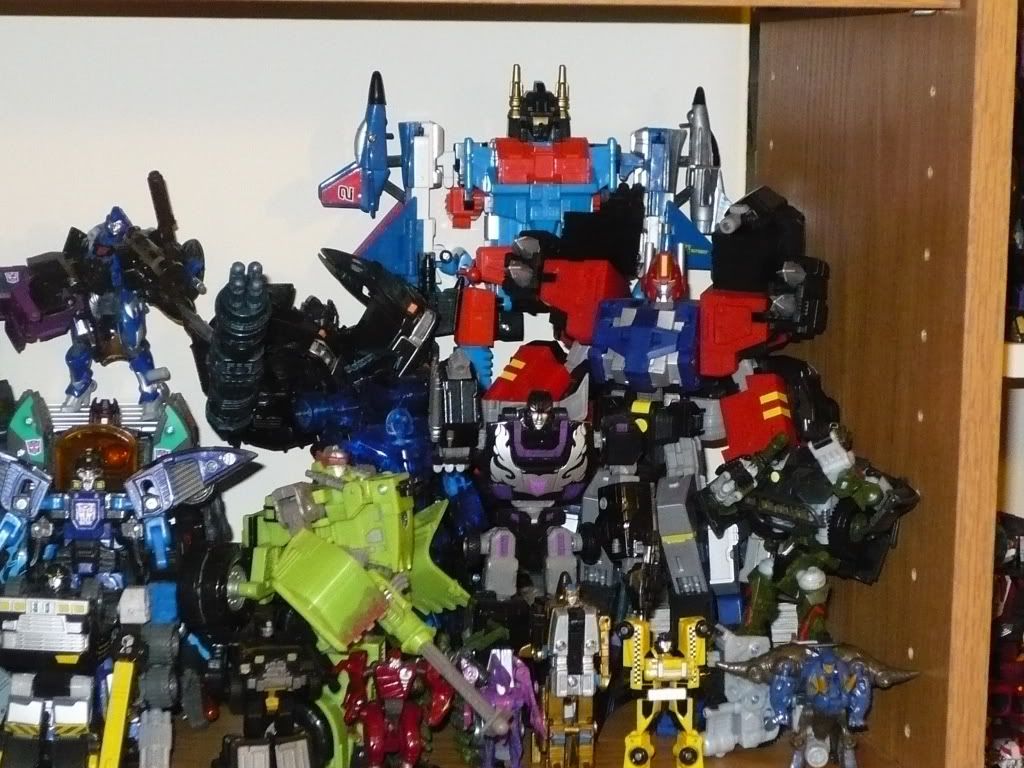 L to R:
(Back)
Superion (G2 Superion)
(Second)
Ironfist (2007 Movie Ironhide)
Mirage (BotCon 2007 Mirage)
Ultra Magnus (SDCC Nemesis Prime w/ TFCON Powered Commander Armor)
(Third)
Scoop (2007 Movie Grindcore)
Rodimus Prime (SDCC Titanium Menasor)
Beachcomber (ROTF Armorhide)
(Front)
Hound (HFTD Tracker Hound)
Grimlock (Universe 2.0 K-Mart Ransack)
Cloudraker (Universe 2.0 K-Mart Sky Shadow)
Swoop (Universe 2.0 K-Mart Windrazor)
Slingshot (G2 Slingshot) [Uses a clone as a limb; he finds the mind-melding process disgusting. Really I just want to keep him in one piece.]
Fastlane (Universe 2.0 K-Mart Overchrage)
Slag (Universe 2.0 K-Mart Stockade)
~
So, that's about it. Hopefully I didn't bore you guys too much, and if you made it all the way through, congratulations! It took me almost as long to write it all out
;;
So, to finish off, here's a few more random pieces of my collection and some full shots.
Grimlock kindly thanks you for coming. Care for a drink for the road?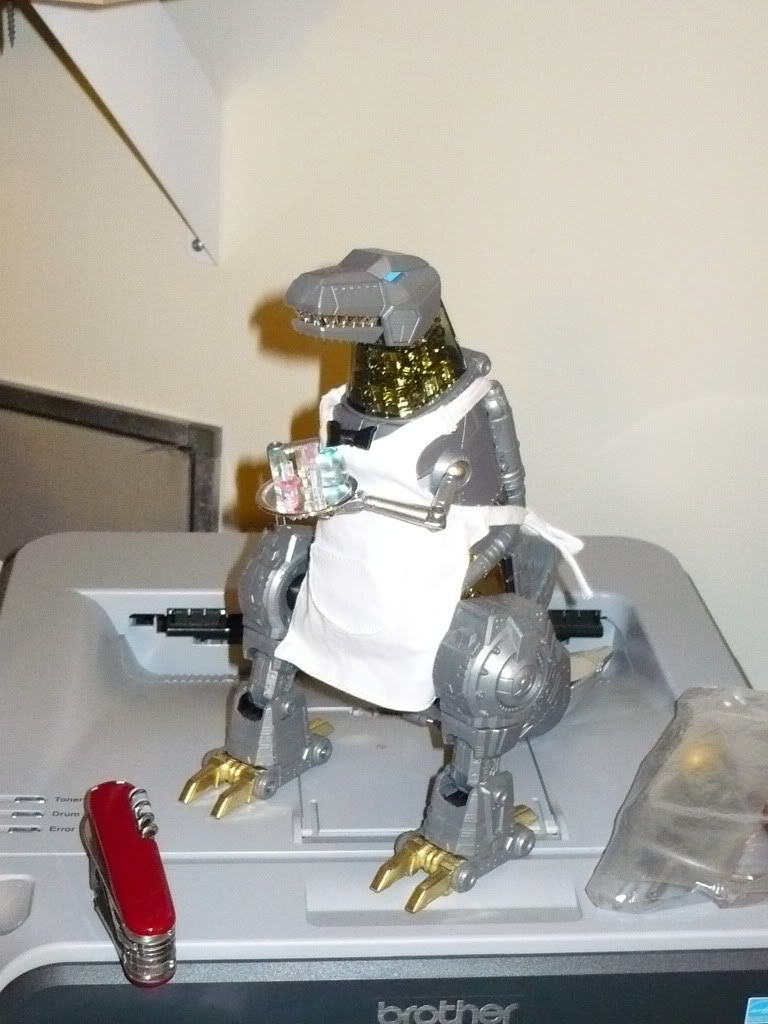 Device Label and WST Dinobots: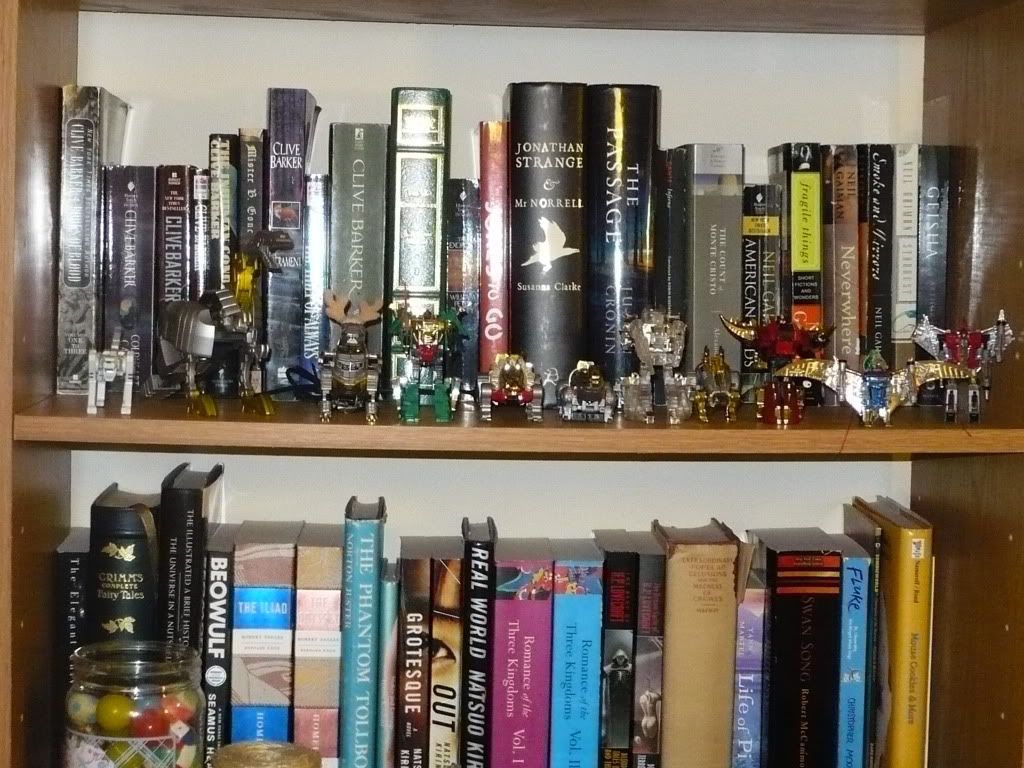 The only MPs I kept, Unicron, and some MISB stuff a friend got me for Xmas: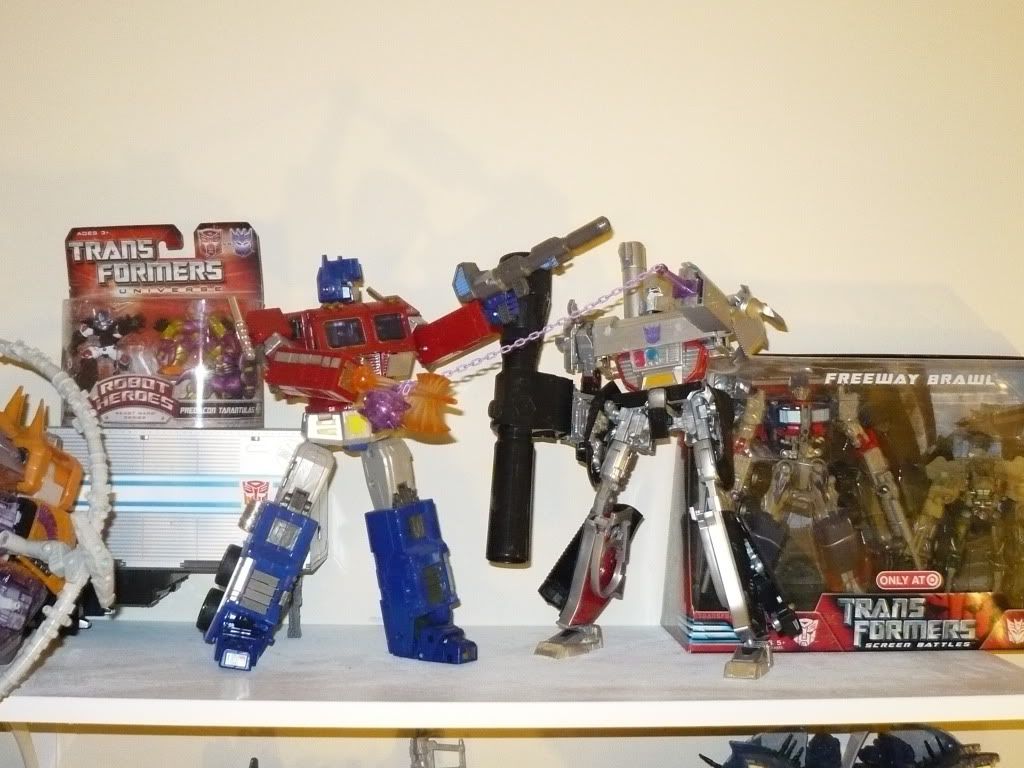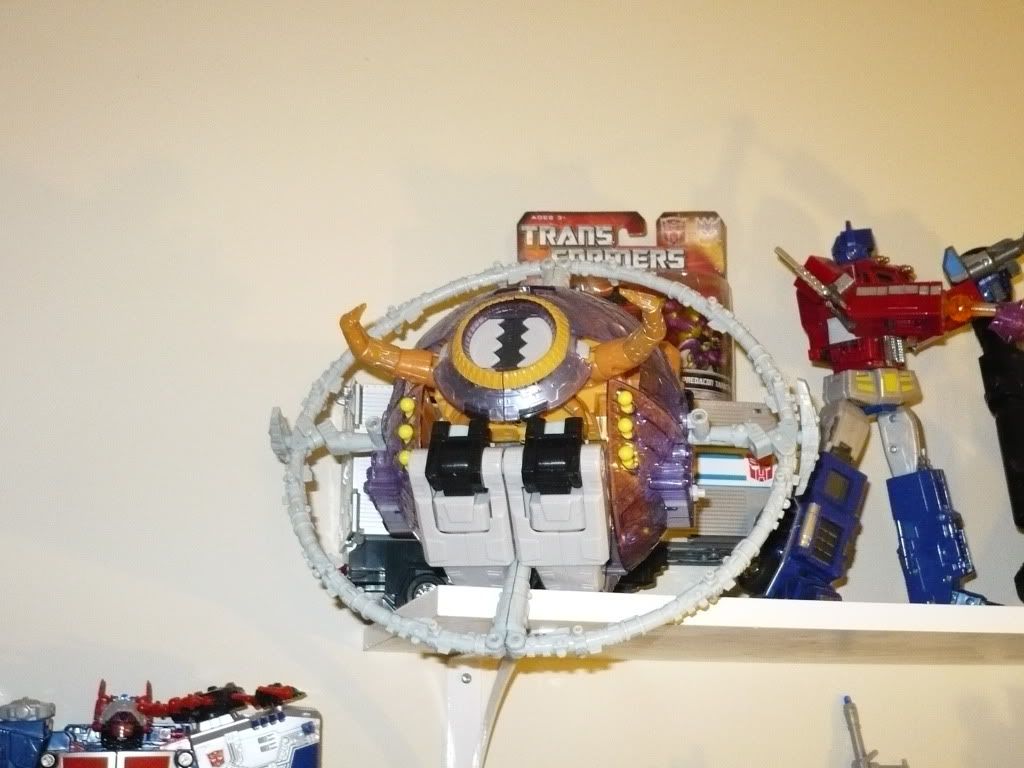 And, finally everything. Thanks for looking! :3
Check out bigger pictures at:
http://s328.photobucket.com/albums/l351 ... ollection/