Here's my modest collection of Transformers. Started in late 2008 with the Animated line and Emergency vehicles.
Animated Autobots, from left to right:
Leader Bulkhead w/Activators Bumblebee, Voyager Optimus Prime (w/ Deluxe OP's battleaxe), Deluxe Prowl, Deluxe Ratchet, Deluxe non-matte Arcee, Deluxe Blurr, Jazz, Leader Ultra Magnus, and the Jettwins.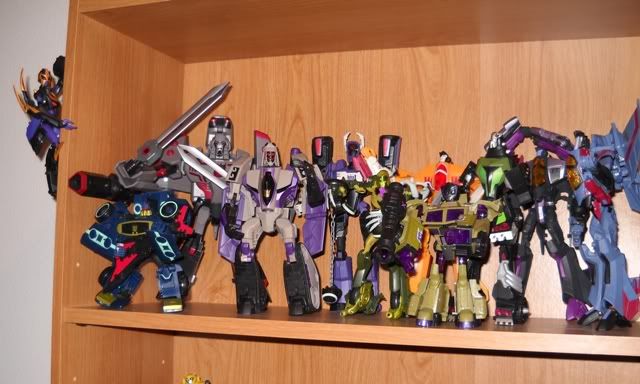 Animated 'Cons, from left to right, mostly in order of most loyal to least, LOL:
Blackarachnia, Megatron, Soundwave, Target exclusive Shockwave, Blitzwing, Sunstorm, Oilslick, Swindle, Lockdown, Skywarp, Starscream. Electrostatic Soundwave used to be up there, but he is in pieces awaiting a new paintjob.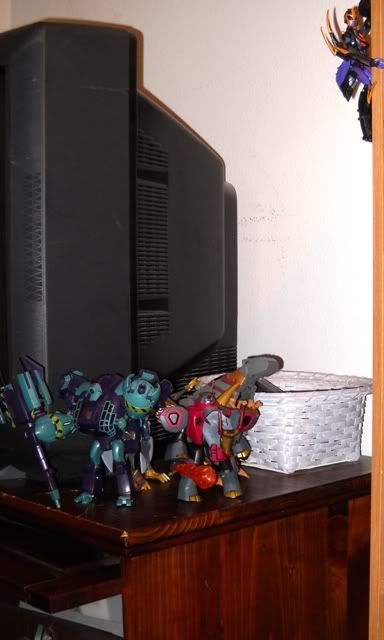 The TV-Stand of Mis-fit Size classes:
Voyager Lugnut (known as Failnut here in the casa de Kookaburra. Seriously, did ANYTHING in the design of this toy go right?), Voyager Grimlock, and Swoop and Snarl look up longingly at their mistress. Lugnut thinks about plans for shoelifts so he can go squeeze in between Purplewave and Megatron.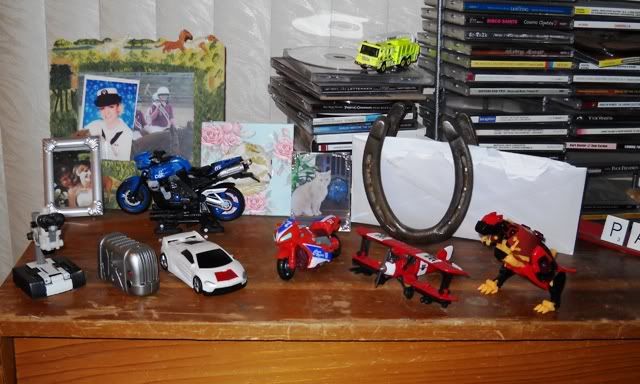 The dresser of niftyness: (mostly Scouts)
Scalpel, Ejector, Chromia, Brakedown, Reverb, Divebomb, and Fireblast Grimlock. The central space is reserved for Hubcap.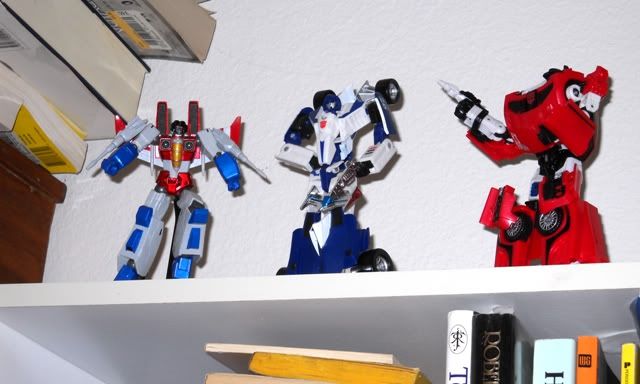 Random G1 Loft:
Revoltech Starscream, Henkei Mirage, and Classics Sideswipe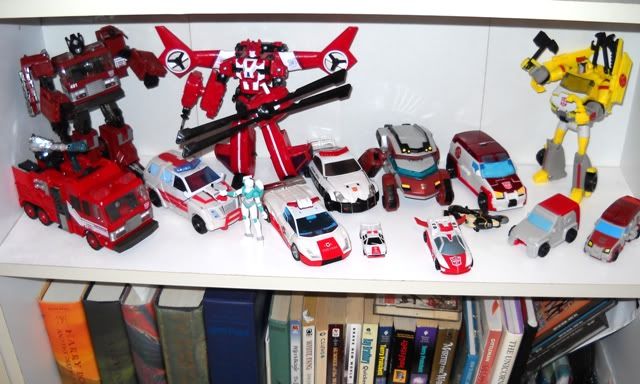 Non-movie Emergency Vehicle shelf.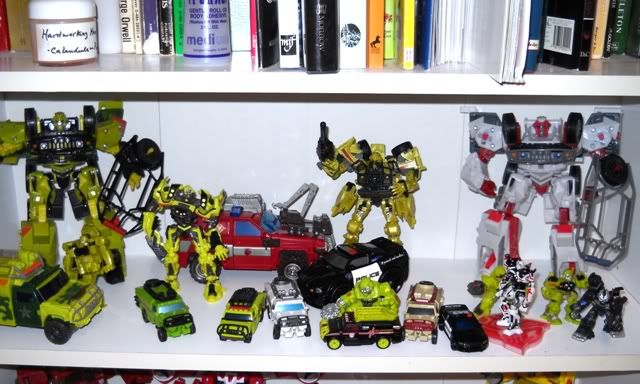 Movie (IE: Ratchet and Barricade) Emergency Vehicle shelf. Night Ops Ratchet is supposed to arrive next week from TRU, and will take the place of honor in the middle. Maybe Hasbro will decide to ship Evac to Oregon at some point so I'll be able to break up the chartreuse monotony.