Minor Mod to Generations Voyager Soundwave
Posted:
Tue Dec 25, 2012 9:36 pm
For those who purchased the newly-released Voyager Soundwave, you may have been disappointed to learn that he didn't come with what appeared to be G1 Optimus Prime's ion blaster, despite it being advertised on the packaging and the instructions. So all we got was his classic (and slightly oversized) shoulder-mounted chaingun battery.
I was fiddling around with the Deluxe-scaled Soundwave, when ingeniousness smacked me in the face. Despite being on a somewhat smaller scale compared to the Voyager, I thought I'd try giving the Voyager the Deluxe's weapons and see how it looked. Honestly, I think it looks fantastic!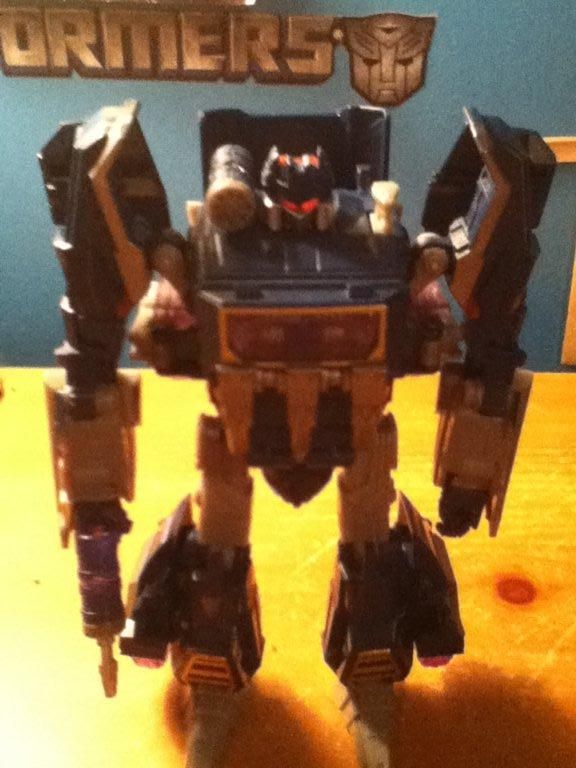 Now you're probably thinking, "Okay, so he has his classic weapons. Big whoop, he can only store one of them in vehicle mode." Well, my doubting friends, today I will prove you are...
Again, while fiddling with the slightly modified Voyager, another stroke of genius came to me. If you position the weapon like this, you will be able to successfully store either weapon in vehicle mode, while the other sits up top:
I hope sharing this minor mod will help other like-minded collectors in giving their Soundwave a more complete look!
EDIT: If you're keen on keeping the original shoulder-mounted chaingun battery, then storing the handheld rifle like the Deluxe's chaingun battery also works as well.