Universal Orlando has opened a new branch of their online store to sell Transformers items.
Of note, Transformers logo T-Shirts, caps, water bottles, key chains and other assorted accessories. The best part? The exclusive figures are also available online! Both
Voyager Class Optimus
and
Megatron
from DOTM, in exclusive Universal Orlando silver packaging (both $39.99 each) and Ride exclusive Evac in both Legion Class and Deluxe Class! Last, but not least, Deluxe Class DOTM
Optimus Prime
and
Bumblebee
, both with MechTech weaponry in exclusive packaging as well. And, of special note...
The Allspark replica!
These exclusives were quite expensive to obtain seeing as you had to have entrance to the park, entrance to the ride and then make a stop at the shop at the end of the adventure. Average Evac prices hit the $40-50 range on eBay, and now he's far more affordable at $24.95 (plus shipping, and applicable taxes, of course) through this new online store.
You can access the store
here
and Evac in both
Deluxe
and
Legion
Classes.
You can see our galleries of the DOTM figures in their original packaging
here
.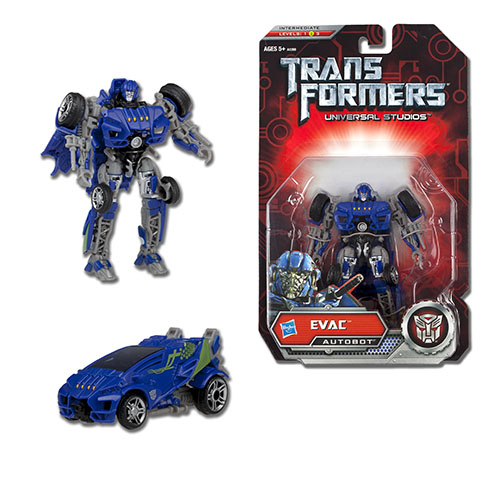 Keep your optics tuned to Seibertron.com for the latest in news and updates, plus the best
galleries
around!