Top 5 Best Transformers Stories from IDW Comics Era
Posted:
Sun Dec 23, 2018 12:00 am
Every two weeks, Seibertron.com brings you a Top 5 list related to all things Transformers written by me, your fellow editor. These are my opinions (just like movie or game reviews hosted by sites are still just the opinion of one person) so what matters most is what you guys think of the topic or list, and I hope to see your own lists or comments on omissions and ranking. Let's have fun! All previous lists can be found
here
.
Top 5 Best Stories from IDW Transformers Comics Era (2005-2018)
The IDW timeline/universe/story that started in 2005 has ended and I personally believe it includes the best Transformers fiction involving our favourite G1 characters. Of course comics can be daunting to get into and I won't pretend every single story was a gem. But there was some stellar storytelling here, the best these characters ever got and I will go through the 5 best stories from this 13 year run that any Transformers fan should check out asap. The titles link to the comics on comixology in case you want to check them out.
Note: At the day this is published, there is a major sale on all these comics at comixology.
5. The Transformers: Ironhide
Mini Series by Mike Costa and Casey Coller
I love Ironhide, he is one of my favourite G1 characters and a great archetype: the bad ass old timer soldier who will get the job done. And this book makes great use of that archetype. Plus, for any new readers, the fact that art of the story is Ironhide not remembering a lot means you and him are both unaware of what came before and it serves as a nice introduction to the IDW G1 universe. The biggest selling point though will be the art. As good as the writing is, this book's greatest strength is the gorgeous art from Casey Coller, which to me always felt like the best Dream Wave at done right (so clean and heroic but without odd proportions or angles). - William-James88
Out of the three "solo-character" books (the other two being Bumblebee and Drift), this was the best one. Mystery, suspense, and four full issues of Casey Coller being awesome. - Scotty P
Casey Coller killed, there was a lot of mystery, there was a lot of Ironhide coming to terms with not remembering 4 million years, and it started his unique relationship to Alpha Trion that shaped most of his future. - D-Max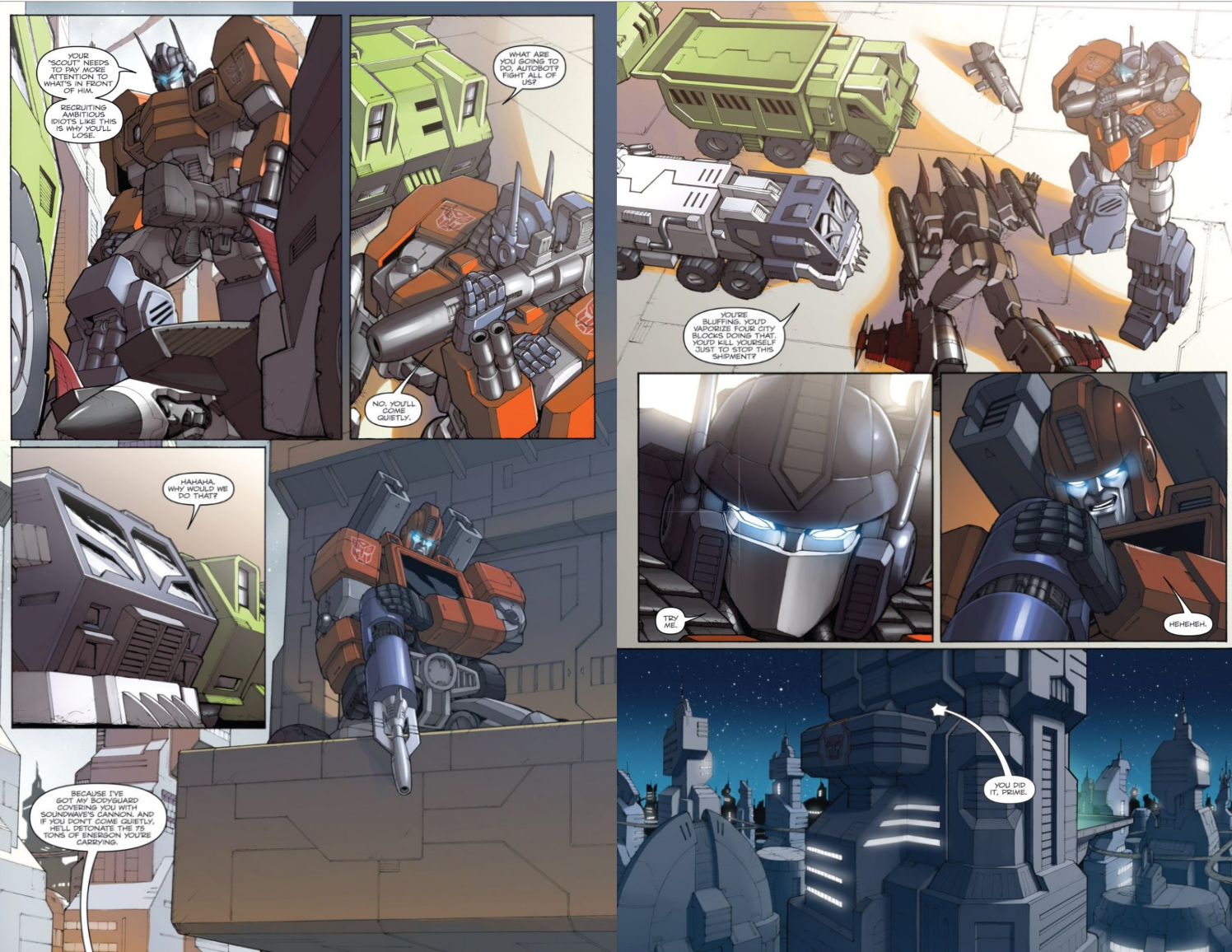 4. Till All Are One Issues 1-12 + Annual
by Mairghread Scott and Sara Pitre-Durocher
We always guessed a Starscream lead story would be fun, and this book shows us just how great that can be. While anyone who likes combiners will get their money's worth here, the part I liked most was the later half with Windblade. We get to see just how much that character can add to a story. And, lest we forget, this is the story of Starscream actually being ruler of Cybertron, something the character always wanted and we get to see it play out in full rather than him being instantly killed by Galvatron. - William-James 88
TAAO had some great moments, and I think issue 4 with Bruticus was the best look we've had at a Combiner mind in story and visuals. But 9-12 with Starscream truly changing and then the battle of the minds was truly awesome. - D-Max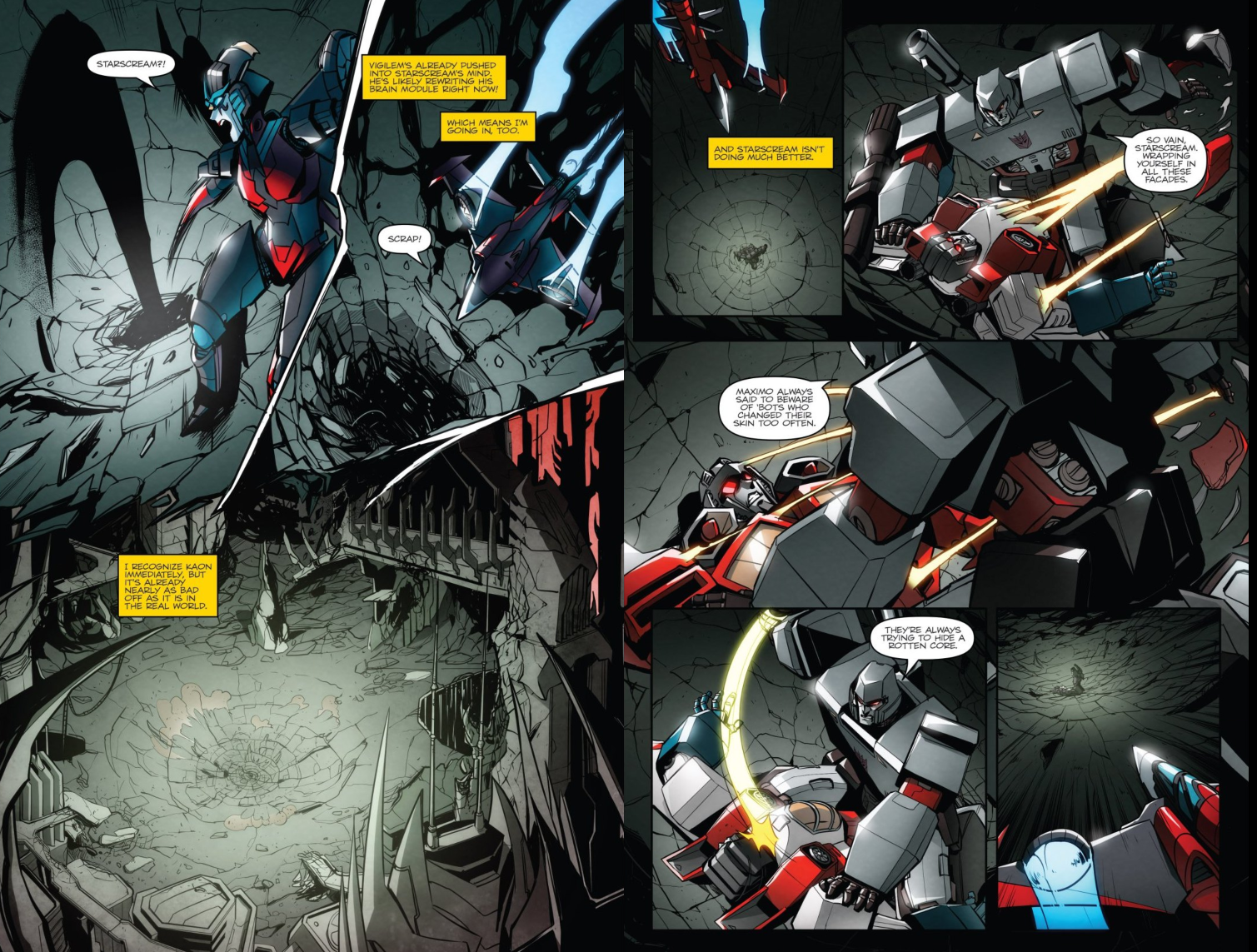 3. Shadowplay from More Than Meets the Eye 9-11
by James Roberts and Alex Milne
If anyone is interested in Pre War Cybertron starring Orion Pax as a super cop, then this story is for you. Expertly written and just plain fun to read, with lots of twists (that final page is a bigger twist than anything M Night Shyamalan ever did). While it takes place within the More Than Meets Your Eye comic, this story is very much self contained since it deals with the crew looking back on a conspiracy themed story from Pre War Cybertron and how they interacted with Orion Pax (Optimus Prime before the war) as he searches for answers. This gives us the best look at Cybertron before the war and how society was, and is a very fun mashup of Transformers in different narrative situations, like a police procedural, a political thriller and a heist story (where Orion organizes to steal the Matrix of Leadership!). As I said, just plain fun and it's great to see all the storytelling potential with these beloved characters achieved. - William-James88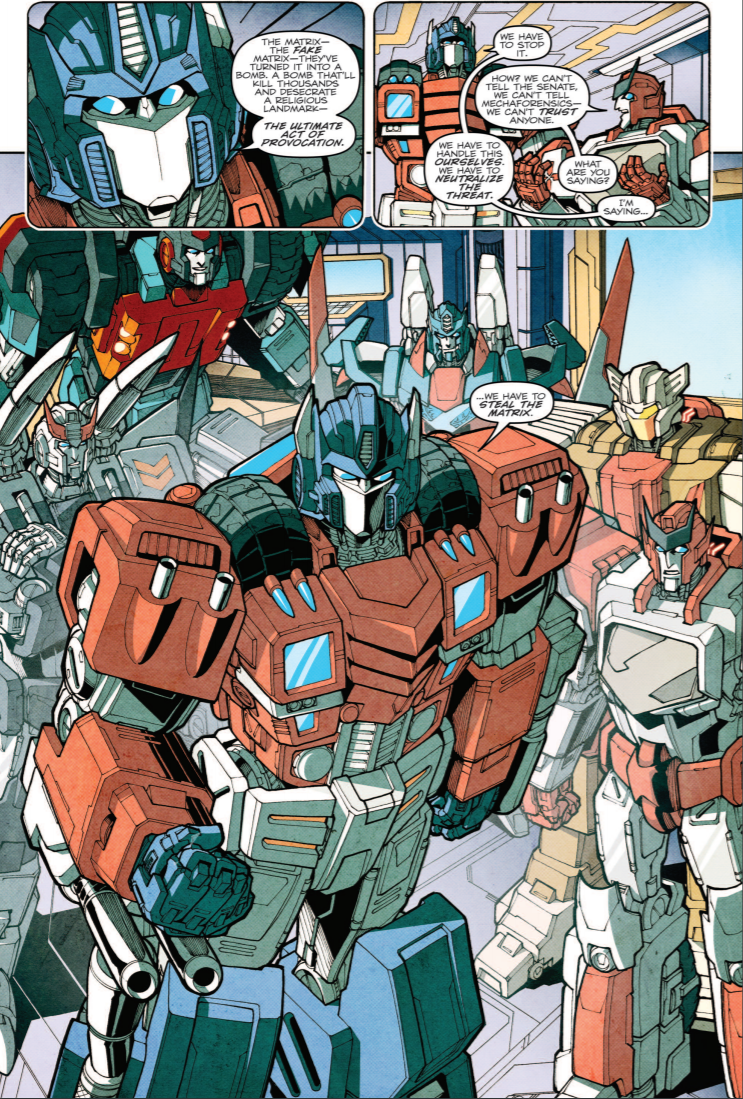 2. Transformers: The Wreckers Saga
: Last Stand of the Wreckers and Sins of the Wreckers by Nick Roche (and James Roberts for LSOTW)
Simply put, Last Stand of the Wreckers, is the pinnacle IDW story, this is the one that had people screaming at how awesome, fresh, and cool it was. That series helped put Roberts on the map and really helped define Roche's career. It's still an all time favorite of mine. The content, the simple message of people dying in stupid, pointless, preventable ways during war is so dense and so tight. If IDW had a perfect story, that one would be it, for sure.
As for Sins of the Wreckers, it is such a visual story. In the same way I and others have criticized Roberts for way too many words and not a lot of visuals in several cases, this one was the exact opposite, you got more from the story by looking at it then reading it. That book is probably the perfect visual story book from IDW. - D-Max
Sins of the Wreckers was a deeply personal story with a raw emotion and style not really seen elsewhere in Transformers. Might be the top of the full 13 year run when it comes to the use of visual storytelling.- Scotty P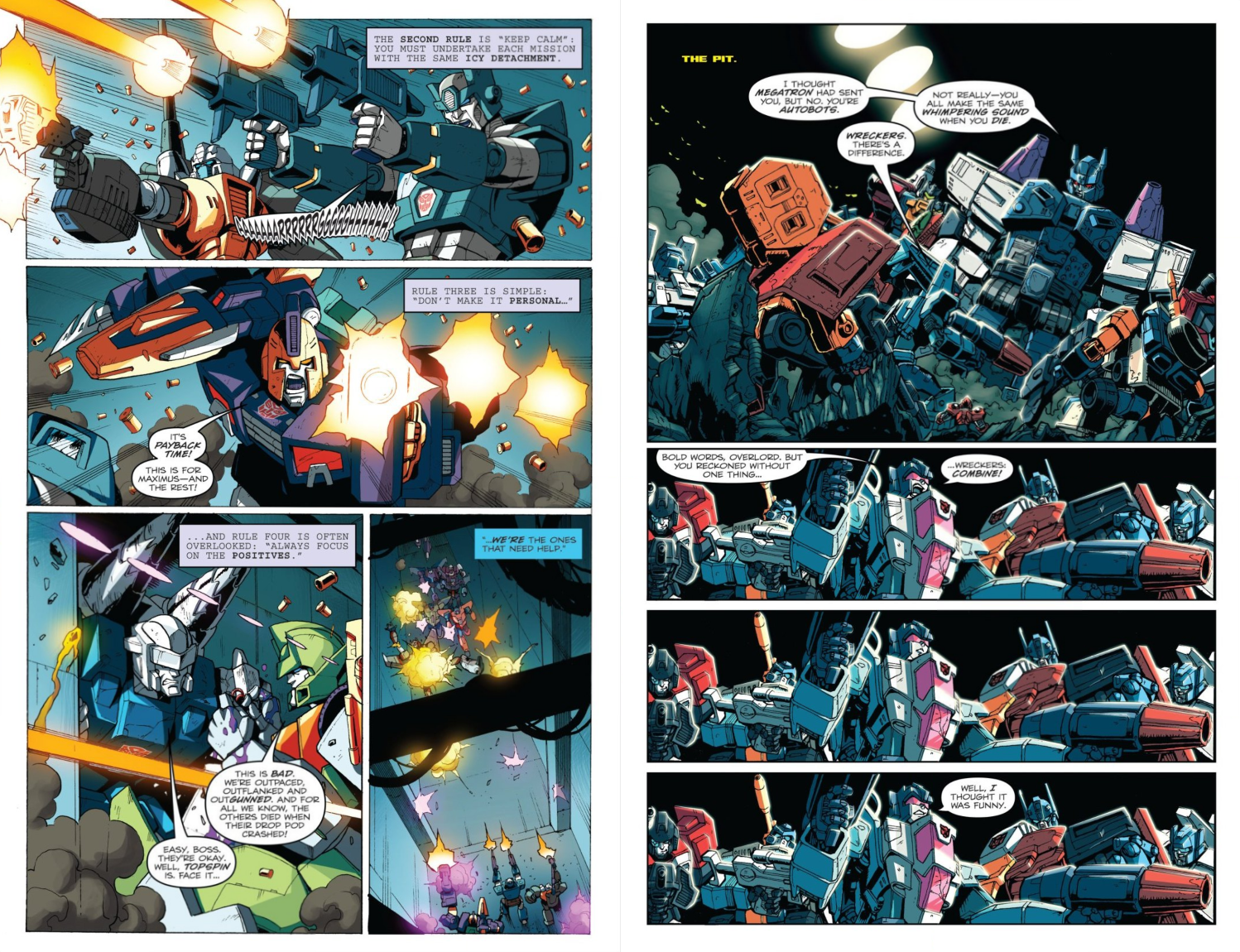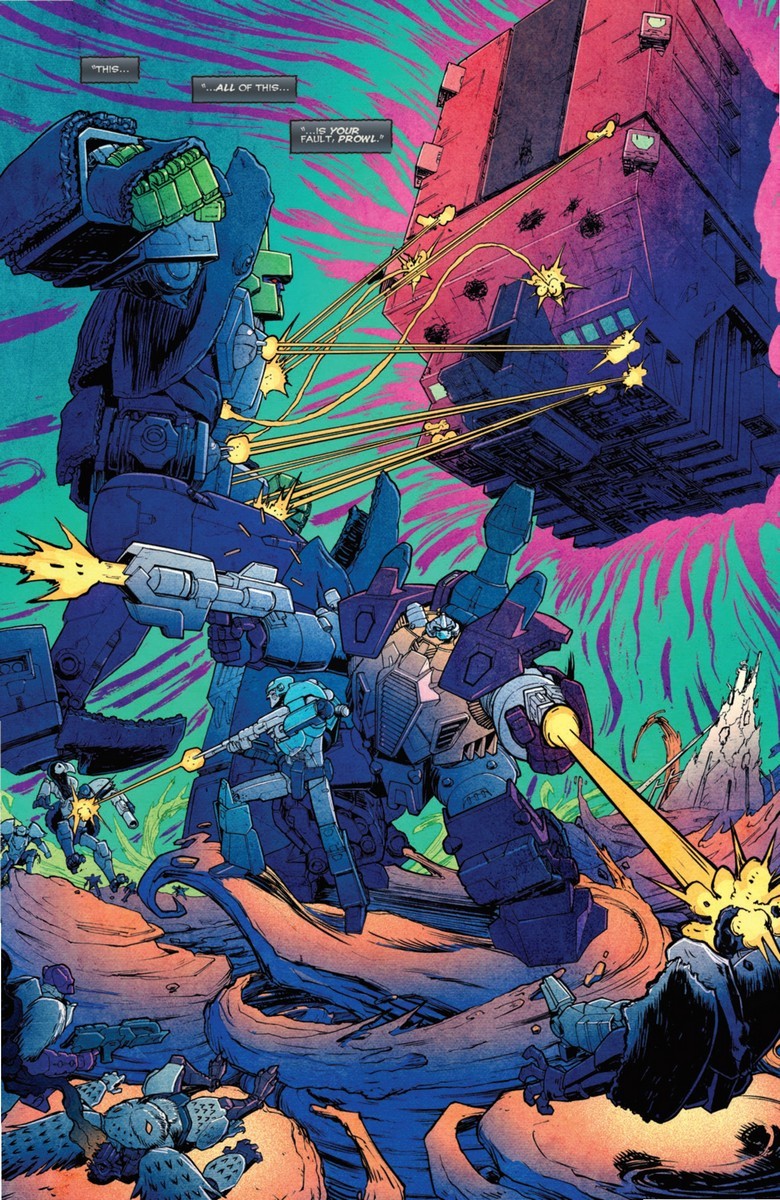 1. Chaos Theory from Transformers 22 and 23
by James Roberts and Alex Milne
If you could only read one comic (well two in this case), this is what I would recommend. While these are brief chapters written at about the half way point of this IDW universe, they serve as its true beginning tieing in what came before and becoming a basis for the future. Optimus Prime and Megatron are the main characters of the Transformers franchise and yet after all these years, this is where we finally get the best look at them. We see what makes them tick, what they stand for. This is a humanizing portrayal of both characters and yet at the same time, we see them for the leaders that they are, these giants that no other character before or after can compare to. And it's written so well. My favourite scene, if I had to pick one, is when both of them just chat about their past battles against one another and compare how much they suffered at each other's hands, both laughing it off. You also get to see how a 4 million year war happens, what it entails and how war strategies for these immortal beings are different than how we would imagine it. There is a great line about how they would plan a battle for centuries only for it to be finished over night. This is just an example of how we get a more detailed look at these characters, at the Transformers lore itself, than ever before.
While it takes place at the very end of the war, we also see both of these characters before the war and how they come to be while also setting up all the lore the IDW Universe has now contributed. Like how Transformers are made (forged or constructed cold) or where the word and symbol for Decepticons comes from and the societal environment where such a clan could rise (we even learn what the "Megatron" name implies). And as I mention this, you would think there would just be loads of text describing things like an encyclopedia, but no it just flows smoothly as a confrontation between the two commanders as they get a sense of where they are at in the war. And the fact that it sets up the lore means you won't feel lost reading it at all, it is a stepping stone for many stories to come (like Shadowplay, mentioned above). I could talk about this endlessly, I didn't even mention the immaculate art by Alex Milne (who has since become THE Transformers artist). It's only two issues, do yourself a favour and read it. - William-James88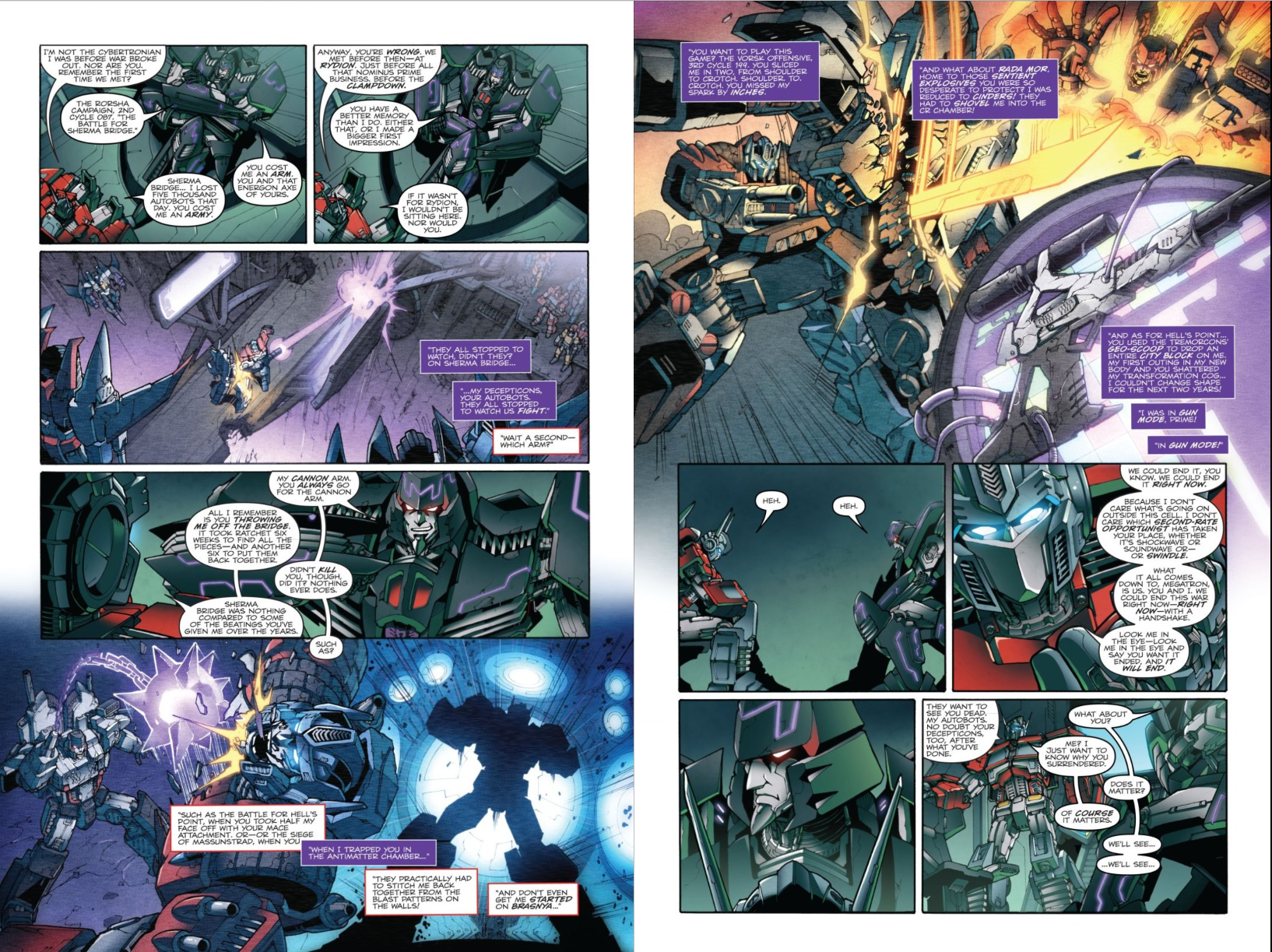 Honourable Mention
:
Transformers Escalation
- A super entertaining part of Furman's arcs that often gets overlooked. This story is peak Furman with him paying off some built-up storylines, seeding others, and doing innovative things. Plus, the Optimus vs Megatron fight in issue 5 is both one of their few one on one battles in IDW and also one of the best ever crafted. - Scotty P