What's New in Comics This Week? August 19th, 2020
Posted:
Wed Aug 19, 2020 10:08 am
Happy comic book day everyone!
We just wanted to remind you that there is a great variety of comics fiction to be consumed coming out this week (and one from previous weeks).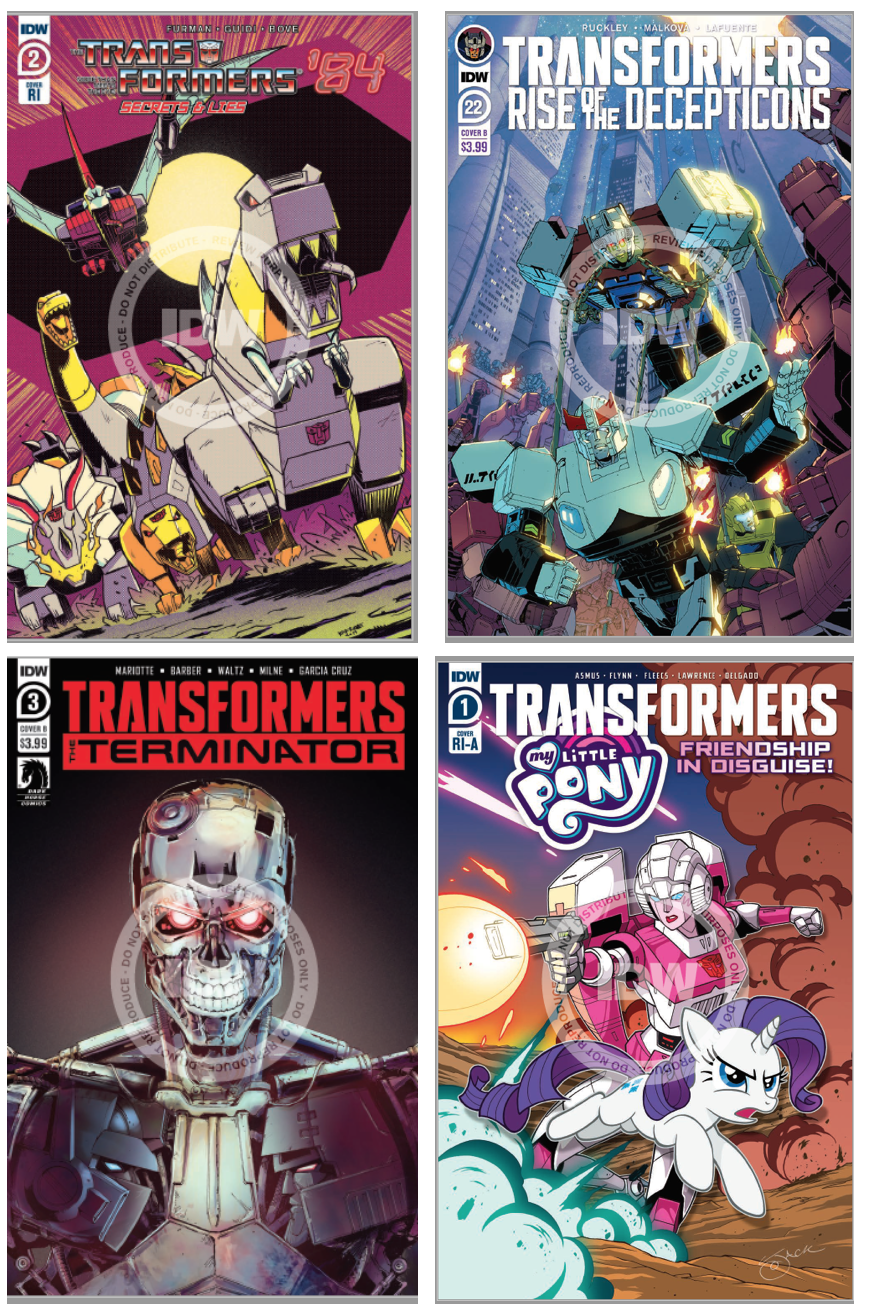 Just in case you missed it, ScottyP
reviews the Transformers Rise of the Decepticons Issue #22
.
Also coming available this week,
Transformers Vs. The Terminator Issue #3
(mini-review by williamjames)
A lot has happened since the first issue was released for Terminator Vs Transformers 1 but the main things in relation to this books as that since then I watched Terminator Dark Fate and Netflix's Siege series. Both left me underwhelmed. They were both trying something new but also failing at it. Transformers vs Terminator 3 acts as a palette cleanser to both of those by being a fun retelling of the first episodes of the G1 Cartoon and adding the Terminator to it. Everything you'd want as a G1 fan is here including a fight between Optimus and Megatron using their respective energon weapons. And there are transformations aplenty. Everyone feels on point, especially Optimus who is truly the Optimus of yore. It was impossible not to hear Cullen's voice, as it was in the 80s, while reading this comic. All the classic lines are said, and while I didn't need them there, I didn't mind. They at least fit with the G1 pastiche the author is going for. I also really like the fact that the cast is much smaller than other Transformers comics and the Siege show. It makes for a more focused story. Then again, smaller casts on both sides, and one side being warriors while the other one is scientists really speaks to me as a big Beast Wars fan. It's a good formula.

This issue also reminded me of how much of a failure All Hail Megatron was. In just a few panels, this issue shows us just how easy the Decepticons could take over if they were unopposed and we see the destruction and death they cause, something lacking from the actual story of Megatron taking over Earth unopposed. As for the Terminator angle, it was most present at the cliffhanger and while I am impressed at Starscream's genius, it isn't clear how he arrives at his conclusions. I did like the interactions between the Terminator and Arcee.

Speaking of Arcee, she is given a nice new alt mode and Alex Milne has a field day with how it integrates into her robot mode, creating a similar silhouette. I like Milne's art for the most part though I do really miss the cleanliness from his MTMTE days. He adds a lot of lines here to add shadow (like cross hatching without the cross effect) but I don't think it works with the colourist's attempt to show that shadow by using a darker colour. Hand drawn shading is meant to be used to differentiate light and dark against the same colour, so using a darker colour for the shaded parts just makes everything much darker than it needs to be. Still, that doesn't detract from some really mouth watering splash pages. Overall, not only did I enjoy this issue but it's something I needed.

out of 5 stars
Would you believe it, also available for purchase this week, is
Transformers 84 Secrets and Lies Issue #2
(tigertrack shares some thoughts)
I think this series is being written for me. I've read and re-read the original US Marvel comics series many time, and also the UK Marvel comics series and kind of love consuming them, but they have gotten a bit too familiar, somewhat stale. This series adds a new level of detail and understanding to what previously was. It's amazingly and lovingly drawn by Gudio Guidi to match classically created character art…even down to the color work done by Jean-Paul Bove being simpler-reminiscent of the 80's style. Do I think it's necessary? No. Is it fun. Yeah, I think it is -it totally immerses you into feeling like you are consuming material from the original time period. I also think it allows people newer to the fandom to experience and consume the older stuff without making commitments to whole collections, or graphic novels.

So Marvel TF readers, if you've ever wondered what the heck the Dinobots were doing on Earth, when they did not seem to be a part of the ark crew that we knew about (remember this is comics, so not cartoon origin), why Shockwave was not boarding the ark to attack the Autobots pre-planetfall and yet ended up on Earth, or how warlord Straxus received his new home (with a smelting pool even!), you get your answers here. For those up on current and previous IDW lore some of this is going to look

REALLY

familiar, something writer Simon Furman confirms in his afterthoughts.

I recommend this comic for G1 Dinobot, Shockwave, and Counterpunch fans, as well as, fans of 80's Marvel series Transformers (hence the title), or someone looking to dip a toe into that end of the fandom. It really is fun, and a nice change of pace from other current fiction. It includes a lot of action, 'easter eggs' and adds to the lore, albeit a bit needlessly...Fun, overly thought through continuity hole filling fun.

1/2 out of 5
And finally, from last week, a little share about a little comic subtitled,
'Friendship in Disguise'
. There's no doubt about it 'Transformers and My Little Pony' is an unexpected, and fun crossover (thoughts shared by tigertrack and sons).
Fun and friendship is the name here. My boys loved it—and I enjoyed it too). I'm a casual MLP participant, but my boys (8yo and 11yo) are much more refined reading the comics, and watching the movie and cartoons. They were surprised by the crossover idea, and immediately opened it to read when I gave it to them, consuming it in no time.

There's a lot of tongue-in-cheek fun, and this issue doesn't take itself too seriously, as I imagine the series probably will reflect that as a theme, as well. Plenty of silliness, and some great sincere messages as well. Sometimes characters play very simple (Windblade, Bumblebee, Optimus Prime), trying to stick close the the main themes, and sometimes they play pretty deep (Arcee). The art reminded me of the ol' 'Robot Heroes' toys from a few years back working to match the style of the ponies in their world. I don't think it's 'just for kids' though. There's fun to be had here for older Transformers (and pony) fans too. Just don't expect anything much above G-rated fun (maybe a little PG). For those with loved ones who like MLP, this is a nice way to introduce them to your love of Transformers, and get to understand their world of MLP, a little better too.

Oh Bumblebee, there's our innocent, thoughtful youth

Yes, there's evil in this book, but it's nice evil...

CUTE

evil

If you want to be a part of something pretty different in Transformers crossovers, give this a try. You may be happily surprised. And the next issue features a cover with Grimlock and combiners, so… interest level even higher? Or a cover lie? I excitedly cannot wait to find out!

It's worth a shot on cute and fun, but not a great story, yet.

out of 5
All three issues have several covers to choose from, and of course, your mileage could vary from ours.
Check out the VSD entries to see them all.
Transformers Vs. The Terminator Issue #3
Transformers 84 Secrets and Lies Issue #2
Transformers and My Little Pony Friendship in Disguise Issue #1