Transformers Movie Series Tiny Turbo Changers Discussion
Posted:
Sat Mar 17, 2018 10:10 pm
The Transformers: The Last Knight Toyline gave us series 1 and 2 of the Tiny Turbo Changers, and these were very much enjoyed by fans, especially due to their ability to Transform at such a small price point ($3 USD). Series 3 will be coming out as part of the Bumblebee Movie toyline and its listing was up on Amazon.ca (
it has gone
since then). Due to these being blind bags, the listing was for such a blind bag and thus gave the entire list of characters that you might get. Here is the list below:
Autobot Dino
Autobot Drift
Ironhide
Barricade
Sentinel Prime
Phantom Strike Lockdown
Silver Knight Optimus Prime
Evac
Autobot Ratchet
Bumblebee
Sky Rage Starscream
Dinobot Slug
That Autobot Dino is pretty great news to fans since this would make it the first ever transforming figure of Movie Dino (aka Mirage) released by Hasbro. It will likely not be licensed though since the only licenses last time were from Chevrolet and Western Star.
It is unknown if Evac refers to the helicopter or the all terrain vehicle. Below is the product description, let us know what you think in the discussion!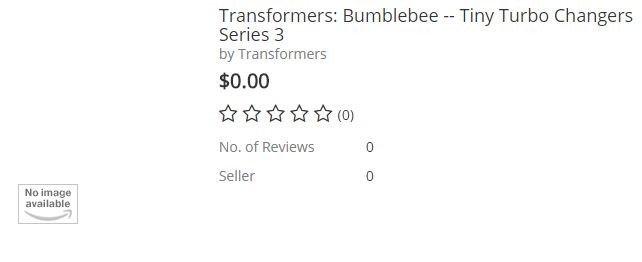 Transformers Transformers: Bumblebee-Tiny Turbo Changers Series 3
Receive 1 of 12 tiny turbo changers series 3 figures
Each figure converts in 1 to 3 easy steps
Designed with eye-catching detail
Tiny 1.5-inch -Scale; fuel for imagination
Includes 1 transformers: bumblebee-tiny turbo changers series 3 figure and instructions
Product Description
Join the transformers: bumblebee movie action with this tiny turbo changers series 3 collection. Each 1.5-inch -Scale figure converts in 1 to 3 steps. Transformers: bumblebee-tiny turbo changers series 3 figures include barricade, sentinel prime, phantom strike lockdown, silver knight Optimus prime, Evac, Autobot ratchet, bumblebee, sky rage Starscream, Autobot drift, Ironhide, Autobot Dino, and Dinobot slug. Each figure is sold separately. (Package contains 1 of 12 characters from the series.) 2017 Hasbro. All rights reserved. 2017 paramount pictures corporation. All rights reserved. Western star and the w-star logo are trademarks owned and registered by Daimler trucks north American LLC and used under license by Hasbro. Western star truck sales, Inc. Is a subsidiary of Daimler trucks north America LLC, a Daimler company. General motors trademarks used under license to Hasbro. Transformers and all related characters are trademarks of Hasbro.
Product Details
Product Dimensions: 1.9 x 8.9 x 14.6 cm ; 454 g
Shipping Weight: 18.1 g
Item model number: E0692
ASIN: B072MP9LK4
Date first available at Amazon.ca: Jan. 1 2018