Yes, apparently, Primus is smiling on this humble TF fan. For these past few days, the universe has bestowed upon me some of my WANTS plus some cool extras!
A few nights ago, I finally managed to acquire Classics Rodimus and Mirage - both good robots with reviews still planned - and tonight, yes, a rare Autobot that I never thought I'd get - Swerve!
Now, some backgrounder. Sometime last year, China had a promo wherein you get a free TF Swerve when you test drive the new Chevrolet Aveo sedan.
This really got me interested because a few months earlier, we did purchase a brand new Aveo, although in metallic yellow green.
I showed the pics to my mom, who was also very interested (she drives the Aveo most of the time) and also asked me to get an extra for repainting.
Will the fig be released outside China? Maybe. I really don't know.
Fastforward to this evening. My dad and bro just came back from abroad. My bro handed this to me - a red plastic car that looks like TFTM Swindle.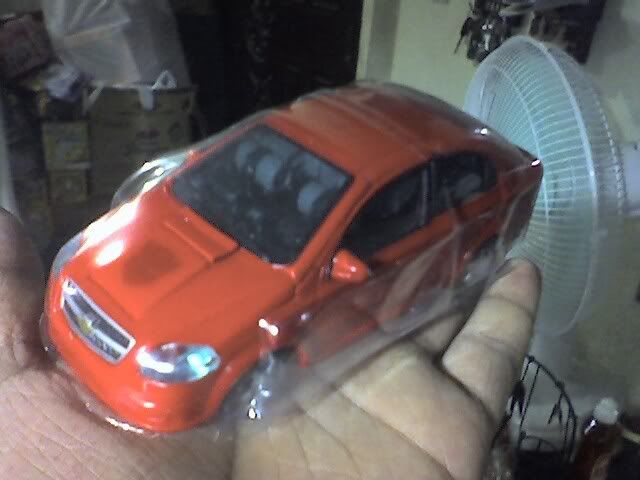 Then, I recognize the front grill and the Chevy logo.
Is this it? The China Chevy exclusive?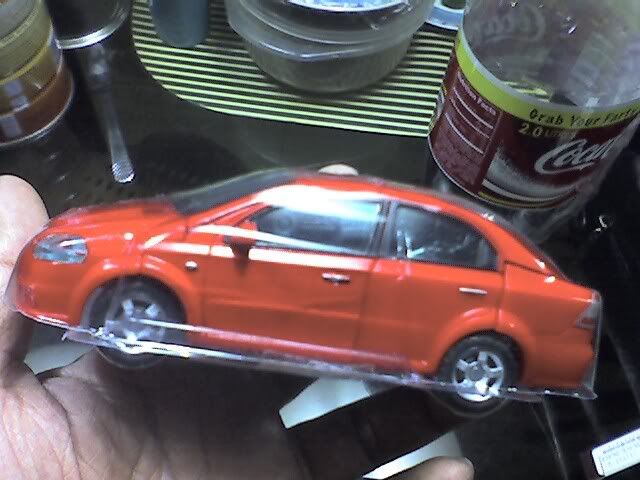 Yes. It. Is.
COOLCOOLCOOLCOOLCOOLCOOLCOOLCOOLCOOL!
No manuals are included, and the car is just packed in a small blister pack with no card. Apparently, my bro got this dirt cheap somewhere, and he was surprised when I told him what it was...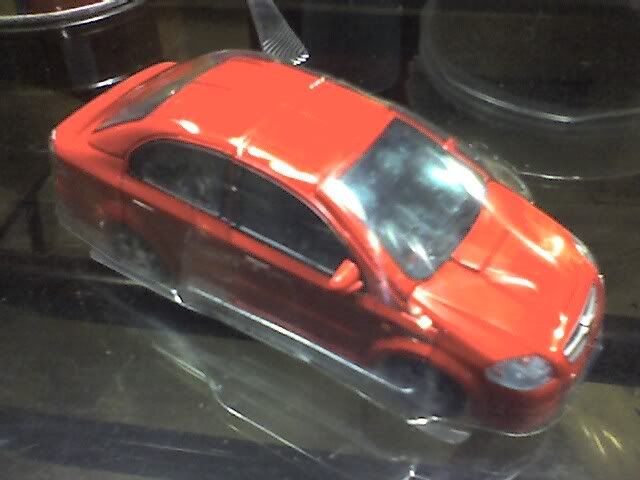 Anyways, on to the review...
CAR MODE
Car mode is an excellent scale replica of the actual Chevrolet Aveo sedan.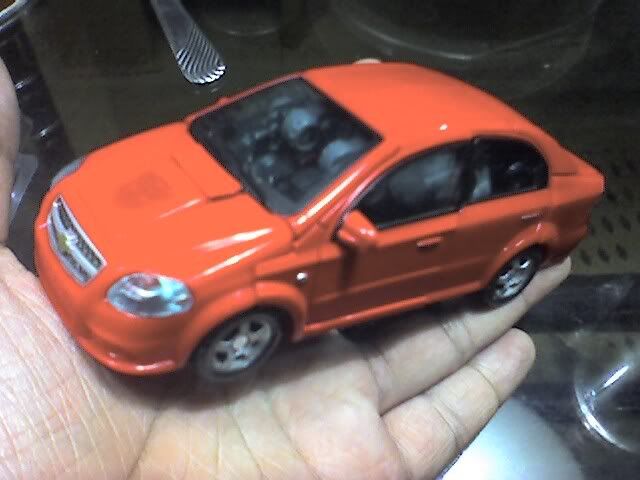 I should say that the feel and texture of this plastic car feels very much like your typical TFTM deluxe automobile. The plastic even has the same quality as the deluxes.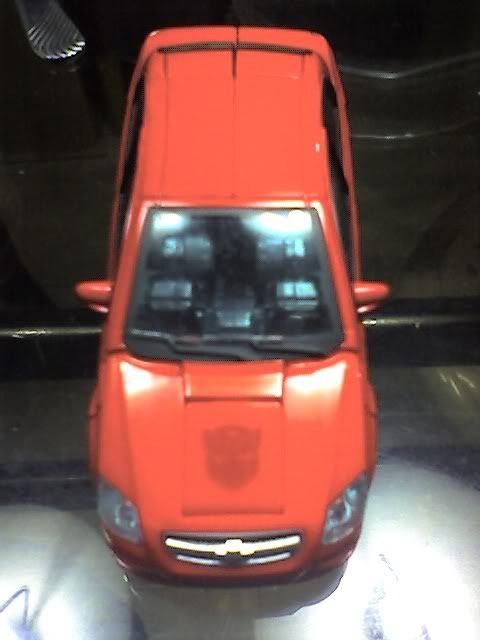 The large Autobot insignia adorns Swerve's hood. The plastic windows show robotic limbs. This car has no interior, and is proud of it.
Construction is pretty solid and stable. All wheels roll smoothly on the surface, and man, it really captures the look of an actual Aveo!
Of course, details aren't that superb, particularly the tail lights which look like a half-@$$ed paint job.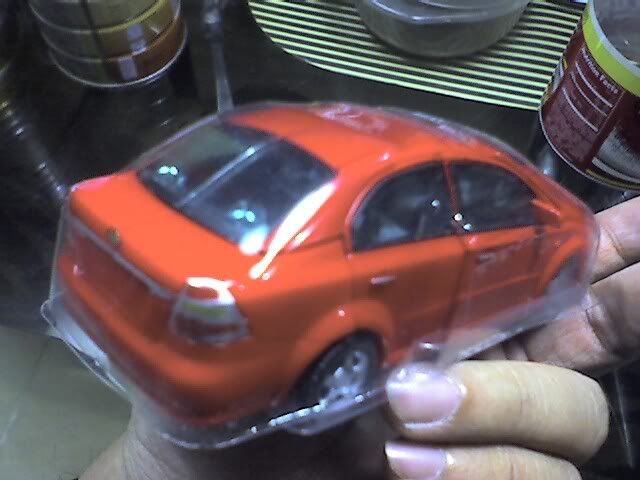 Here's what's under the car.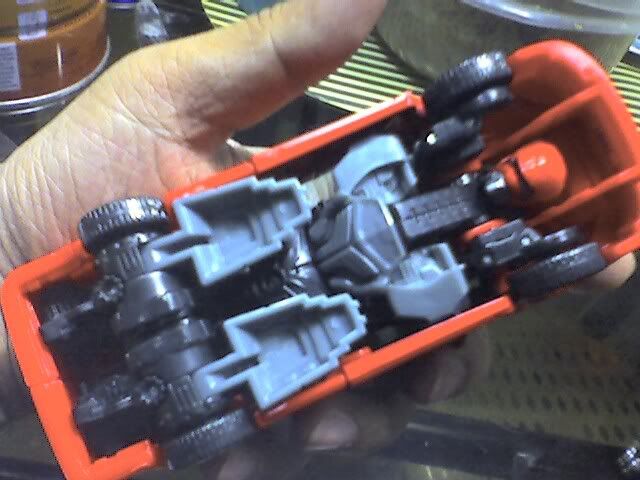 Looks complicated, and yeah, it really is.
Transforming Swerve from car to robot without a manual is very difficult. Considering that the joints are still tight, and the parts just snap together very solidly, and that this is a Chevy exclusive that I have to take care not to break, I couldn't have exercised too much caution. No automorphs here, which is good.
ROBOT MODE
After a long period of figuring out which part moves to which direction, here's Swerve's robot mode!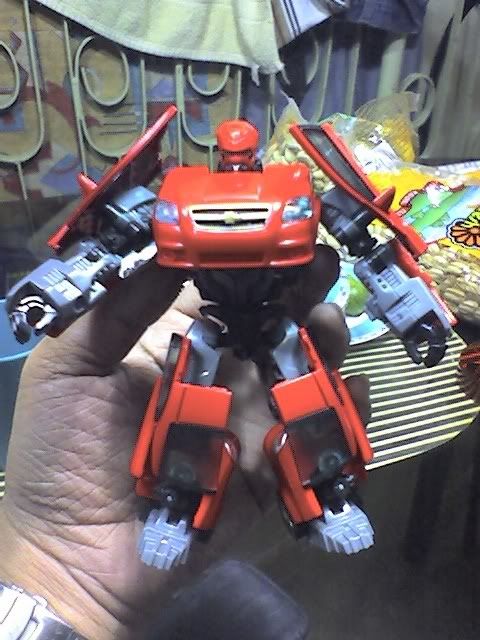 I'm not really sure if I transformed everything correctly.
Proportion is good, and the design is sort of a mix between the TFTM and Binaltech look - solid car panels and thick limbs (binaltech) and the busy and exposed machine parts (TFTM).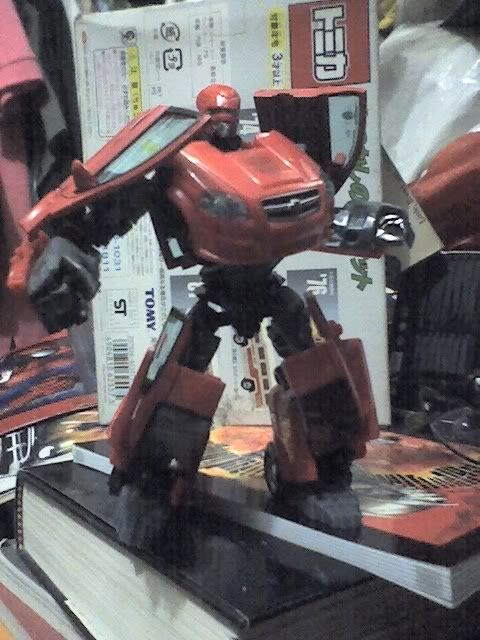 Limb articulation is a bit limited, but are still enough to do good poses. Plus, Swerve passes the kick test!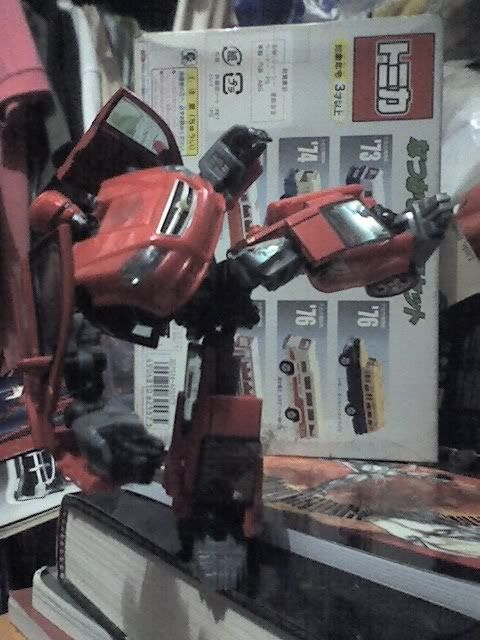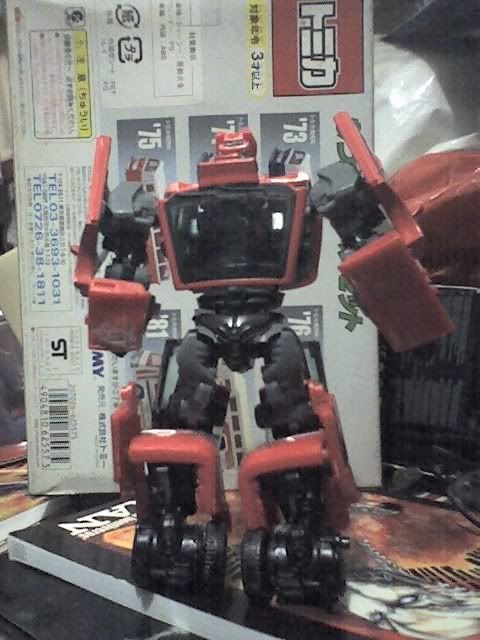 The head is attached to a ball-joint, and the face sculpt is more at home with TFTM than any other design schemes. Shame about the "eye" paint application.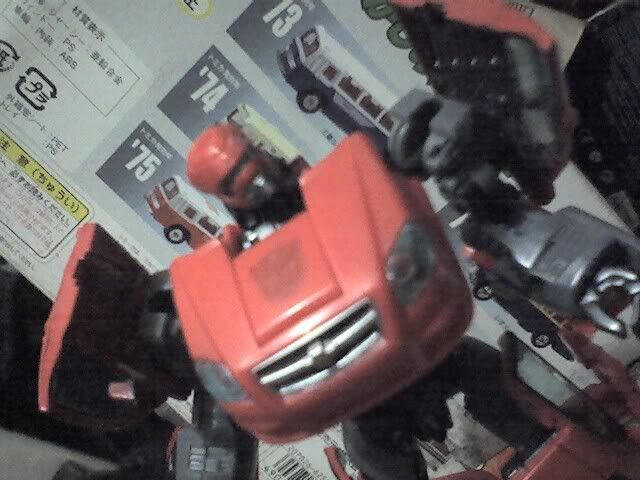 In robot mode, some details are also lacking, but the overall look of the toy is far from mediocre. A weapon would also be good.
CAR OR ROBOT?
I'd say TIE! Both modes have its ups and downs. Both modes look good, are playable, and solid.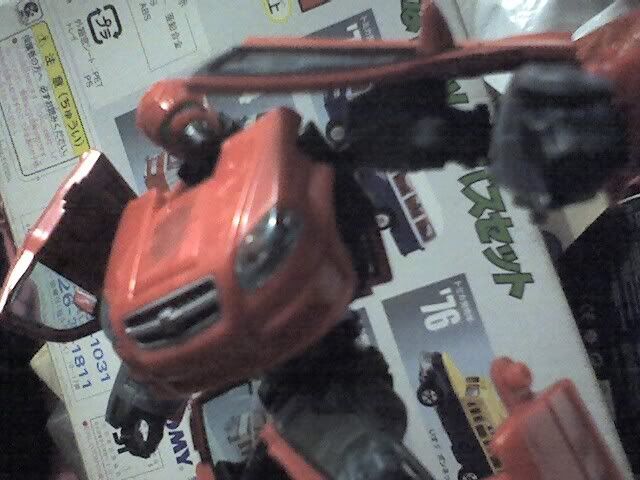 PROS
- good proportion in car mode
- good propotion in robot mode
- good articulation
- solid construction in both modes
- fits well with TFTM toys
- engaging transformation process
- all parts fit perfectly and locks in place
CONS
- lacks detail in some areas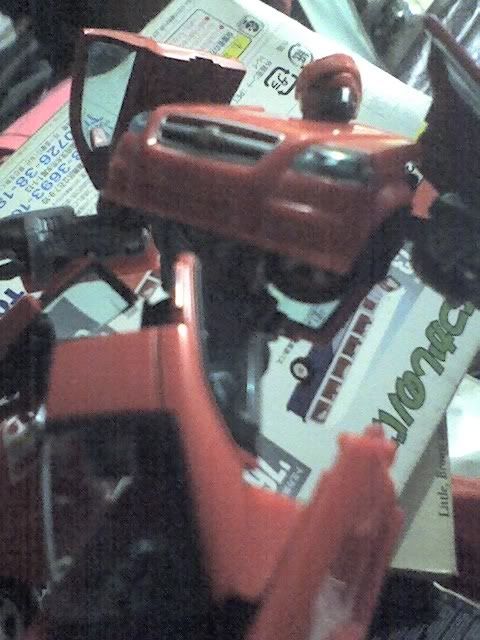 RATING
4 of 5
Wow! With good detailing, this toy would score perfect!
Also, the good thing with Swerve's robot design is that it can be easily-adapted to different continuities. A simple head swap with a more "humanoid" face will place Swerve perfectly with the Classics line. The current head, or a more alien-looking one, will place this toy perfectly with the movie universe.
Some comparison pics with my classics Rodimus...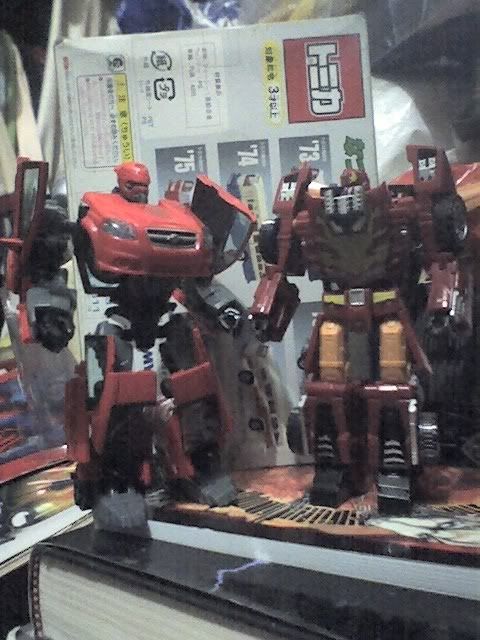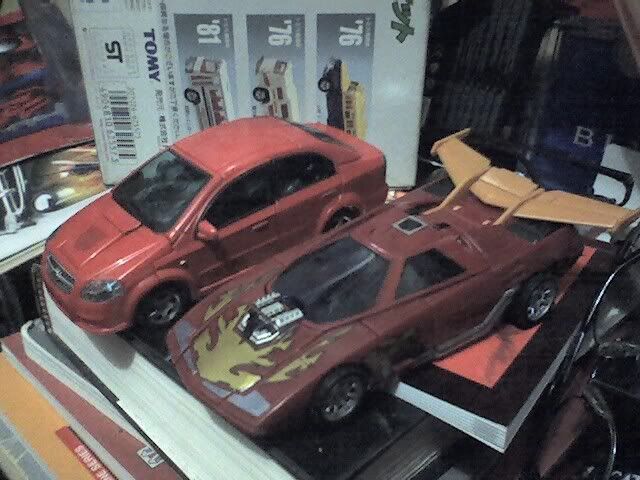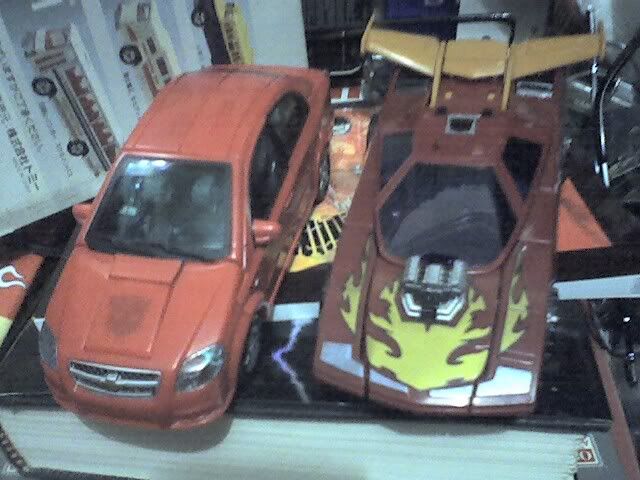 I'd love to do some comparison shots with my movie Barricade and JAzz, but both toys were lent to my GF.