Transformers Cybertron Con 2012 Competition Entry - Pest Control
-Diorama Building
-Highly Detailed Paintwork
Credits
-M Workshop
-Hadrian Khoo
-Hasbro.sg
-Decals by Bogg6ft7
Speedlee:
My Competition Entry for Cybertron Con 2012 "Customize Your Transformer" Project, which will be held at Resort World Sentosa 11th to 14th March 2012...
Pest Control in this case means the Autobots are cleaning up the pests !!! Apart from the DMK Prime I have included various Transformers from the Hasbro Toyline, using the best of my ability to portray a battle scene out from the Tranformers Movie which is purely "Fan-Art"
Both the Transformers and Diorama has taken a huge amount of time to build and complete, it has been a very very challenging and fulfilling project for me...
The diorama was deliberately attached so that the edges of the building exceeds the perimeter of the base, urging Artists of all trades to think out of the box and never to put any limits your imagination !!!
Credits to Hasbro.sg, Bernard Cher & Julian from M Workshop, & Hadrian Khoo for giving me the opportunity to participate, as well as guiding me along and giving me inspiration and support to make this happen... ^__^
For Voting:
Simply Login to Liveshare via your Facebook Account to vote for me if you think it's cool, also check out the other cool entries for this competition too !!! ^__^
Paul Lee = Speedlee
http://www.liveshare.com/#&id=1963952&...mediaid=2141568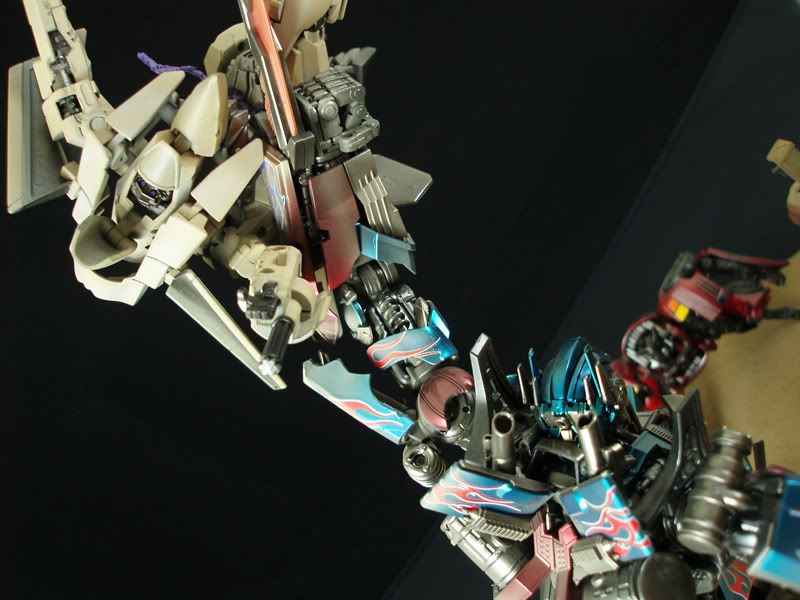 Youtube videos:
Transformers Diorama Pest Control
Recipe
-dmk optimus prime
-deluxe scorpnok
-deluxe breakaways
-tf junkers
-miniart diorama building
-tamiya military soldiers