Apple Books 3 Page Preview Of IDW Transformers #17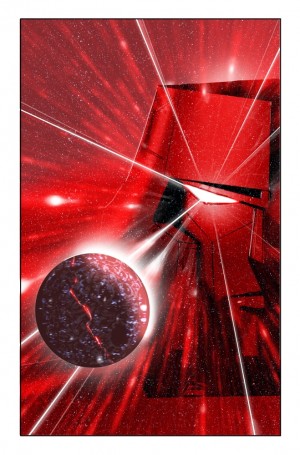 Friday, February 7th, 2020 1:51pm CST
Category:
Comic Book News
Posted by:
ZeroWolf
Views:
17,512
Topic Options: View Discussion · Sign in or Join to reply
Greetings Seibertronians! Hot on the heels of the 3 page preview of Transformers Galaxies earlier today,
Apple Books
have given us the 3 page for the latest issue of IDWs Transformers ongoing. #17 promises to be an explosive issue indeed!
Here's the publishers description for this issue:
Megatron is faced with the ultimate decision. He can forge ahead on the path he's started down, or he can take the last chance at doing things by the book. Either way, Cybertron is on the verge of change, and after this, nothing will ever be the same.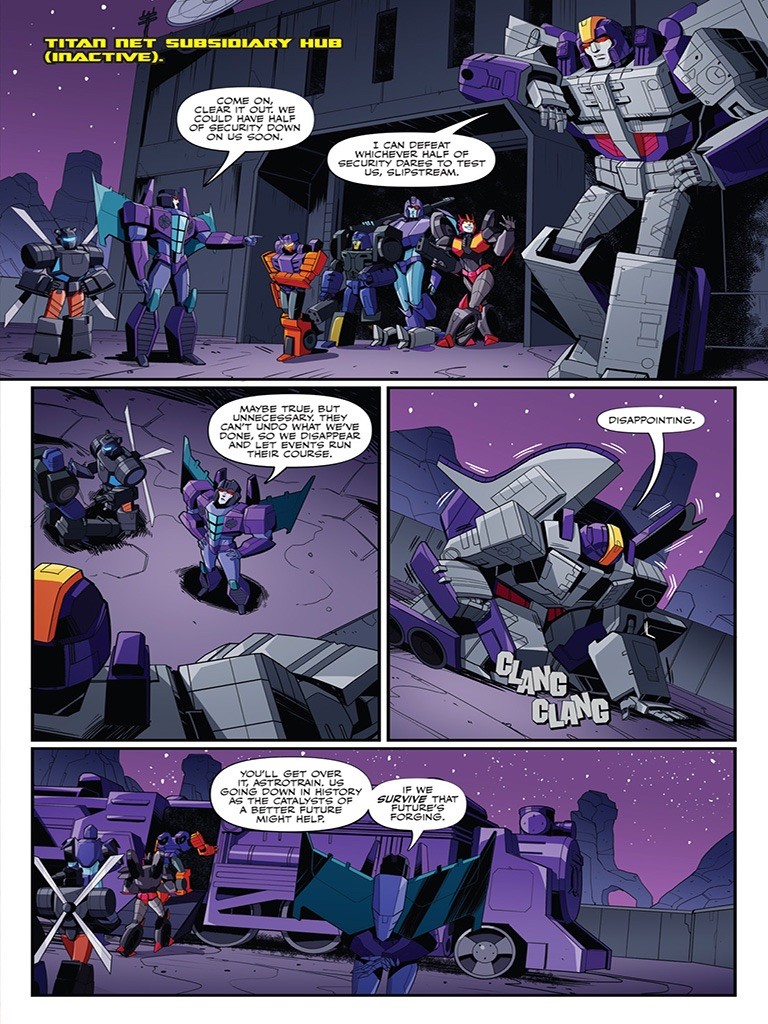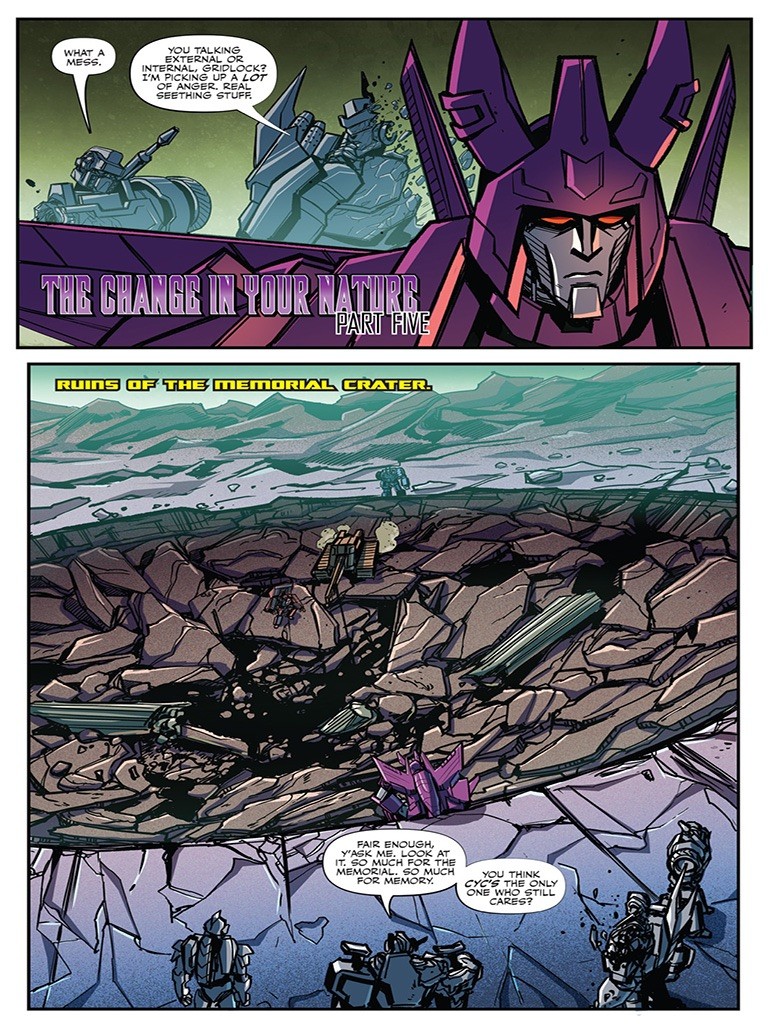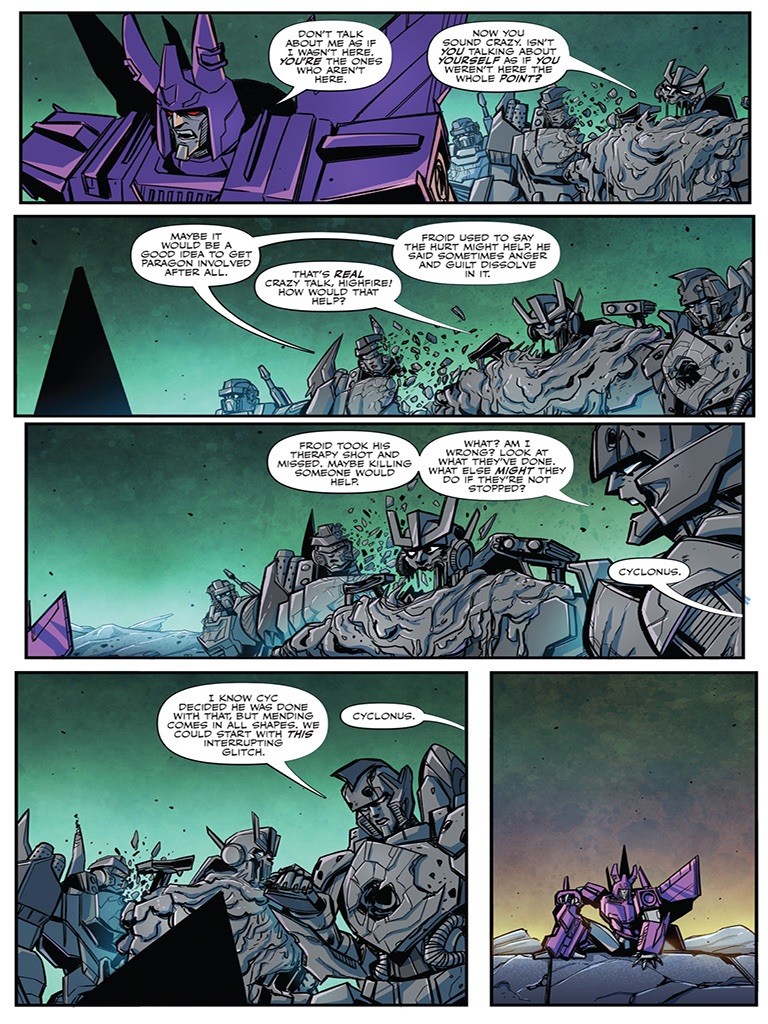 Transformers #17 is written by Brian Ruckley, with art duties shared between Anna Malkova, Beth McGuire-Smith and cover art by Livio Ramondelli.
You looking forward to this issue? Let us know in the Energon Pub and stay tuned to Seibertron for all the latest news and reviews!
Credit(s): Apple Books
---
Got Transformers News? Let us know here!
Most Popular Transformers News
Most Recent Transformers News
News Categories:
Toy News
,
Movie Related News
,
Comic Book News
,
Cartoon News
,
Site News
,
Rumors
,
Event News
,
Digital Media News
,
Collectables
,
Game News
,
Sponsor News
,
Site Articles
,
Store News
,
Company News
,
People News
,
Press Releases
,
Sightings
,
Reviews
,
Unlicensed Products News
,
Auctions
,
Transtopia
,
Interviews
,
Knock Offs
,
Editorials
,
Collector's Club News
,
Heavy Metal War
,
Podcast
,
Contests
,
Book News
,
Top Lists
Re: Apple Books 3 Page Preview Of IDW Transformers #17 (2051573)
Posted by
D-Maximal_Primal
on February 7th, 2020 @ 5:00pm CST
cyclonus continues to be the best thing about this ongoing
Re: Apple Books 3 Page Preview Of IDW Transformers #17 (2051604)
Posted by
Mr.MicroMaster
on February 7th, 2020 @ 9:15pm CST
D-Maximal_Primal wrote:cyclonus continues to be the best thing about this ongoing
I hundred percent agree with you.
Re: Apple Books 3 Page Preview Of IDW Transformers #17 (2053177)
Posted by
Rodimus Prime
on February 21st, 2020 @ 12:01am CST
I gave up on this series a while ago, but I'm curious about something. Since Prime is the Siege version, does he get the galaxy upgrade in this book?
Re: Apple Books 3 Page Preview Of IDW Transformers #17 (2053528)
Posted by
D-Maximal_Primal
on February 22nd, 2020 @ 8:55am CST
Rodimus Prime wrote:I gave up on this series a while ago, but I'm curious about something. Since Prime is the Siege version, does he get the galaxy upgrade in this book?
Not yet. Probably will, but with the pacing, it'll probably be around issue 45
Re: Apple Books 3 Page Preview Of IDW Transformers #17 (2054294)
Posted by
Tigertrack
on February 24th, 2020 @ 8:48am CST
"Perhaps Titans were -

are

- the ultimate expression of Cybertron, of us. Wondrous, vast, infinitely, capable."
Vigilem quoting Codexa,

'The Way We Were, By One Who Saw It.'
The Change in Your Nature
- Part Five - A late review without too many spoilers, even though the issue came out last Wednesday.
Written by Brian Ruckley with Art by Anna Malkova and Bethany McGuire, colors by Joana LaFuente and John-Paul Bove, with letters by Jake M. Wood and Neil Uyetake. Edited by David Mariotte and Tom Waltz.
The Rise is pushing even more boundaries and their next step is in motion. Skystalker has awoken Vigilem… What is the next step for Cybertron's many factions? Vigiliem's awakening cannot mean good things can it? The fact that the rise want to awaken him, based on their prior motivations does not seem like a positive step for the planet. But, many readers will be relying on their previous experience with the very large, very powerful, and very dangerous Titan (see 'Til All Are One') to better inform their prediction for what the outcome most likely involves.
Vigilem

is the focus this issue, which as you can imagine, is not a small thing.
The first few pages take us right back where the last issue left off and speaking of not small things, check out Astrotrain's size in the image below. Our glorious gaggle of Risers is itching for more trouble, especially the XXXL-sized train bot. History will mark their deeds and judge what they have done as being right, wrong…or possibly something even more defining.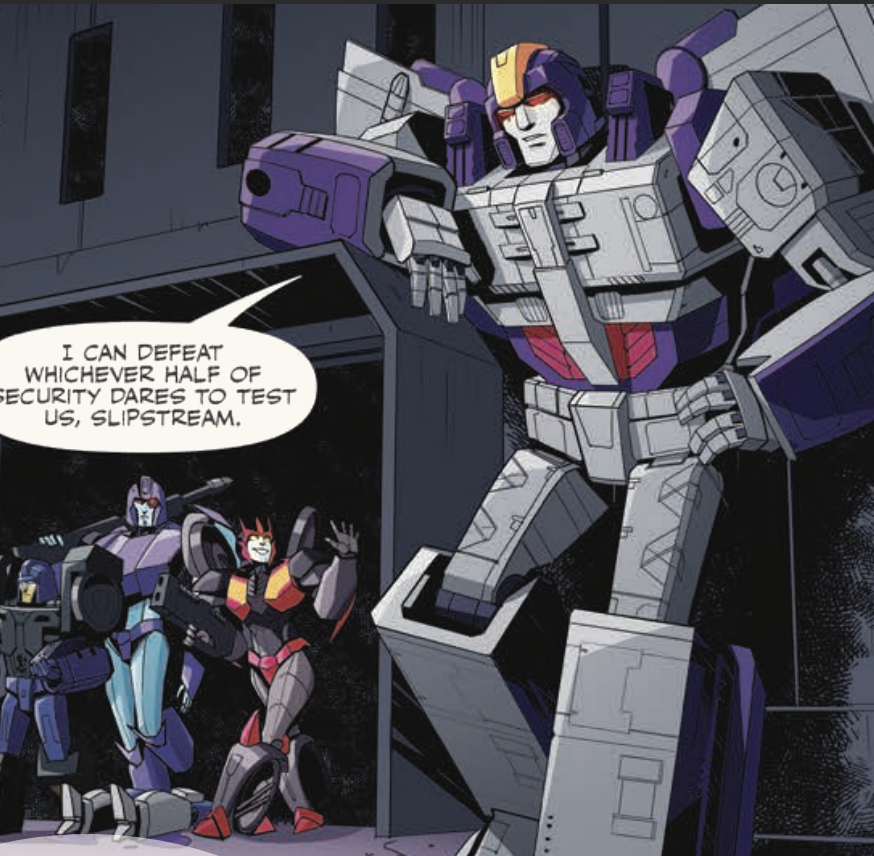 I choo-choo choose...

WAR

!
Cyclonus
is physically healed up, but is also still dealing with his mental illness which might be PTSD or something else entirely, and is now growing angry with a new inner fire being sparked because of the Rise's destruction of one of his favorite places. Is there a reason for us to care about Cyclonus' backstory right now? What bigger role will he and his memories play?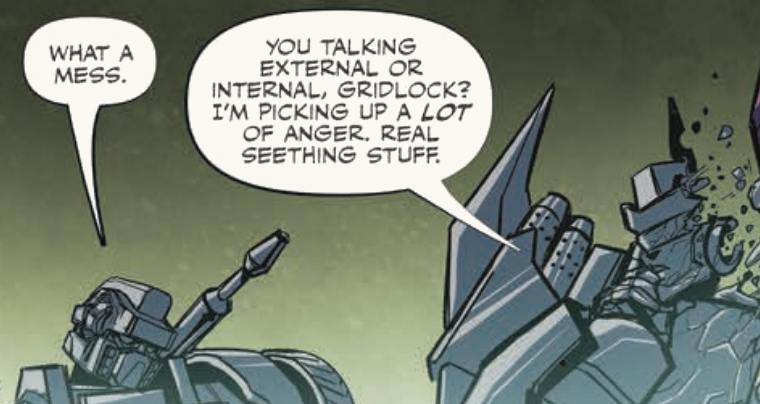 The Winged Moon,
a consistent hangout of Wheeljack and his mentee Gears, is our main setting though...and space. Gears follows through with his difficulties with 0 gravity mentioned by Cosmos in the Transformers Valentine's Day Special. More importantly, we learn of Vigiliem's target…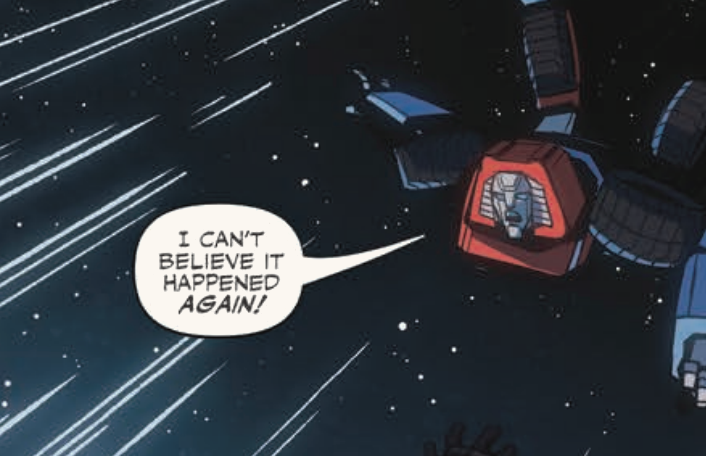 Cue the alarms and the 2nd part of the Rise's plan. Big bad rockin' communicator bot and his communication friends not named Steeljaw, Ramhorn, Eject, Rewind, Raindance, or Grand Slam, work very hard to try to undo the virus that has taken down the Titan network. This is a bad thing, of course, because apparently there is no response to be had to re-route Vigilem by communication or by force (apparently).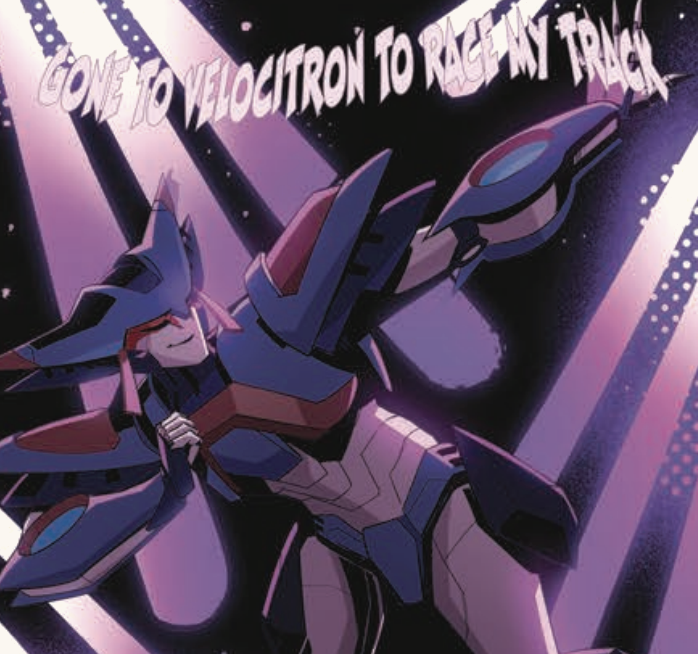 BUT WAIT!
Old friend
Lightbright
is ready to intervene with Titan Lodestar, results to be determined (and not spoiled entirely)…
Artwork
duties are once again shared by Anna Malkova and Bethany McGuire. Both are adept at showing action and expression in their work. This issue has plenty of both to go around. There are some really large almost splash pages (you can imagine with showing characters the scale of Titans with regular bots). I'm not particularly fond of Vigilem's ship-mode design, but that's a small gripe, right? I feel like being the large scale that he is, there could be more detail in trying to show that MONSTROUS scale. But the artwork certainly helps tell our story, and certainly has some amazing shining moments of expression;
especially AWE and FEAR…

Coloring duties fall to the duo of LaFuente and Bove, two worthy and capable individuals with plenty of Transformers and other comic experience to bring. The color work with Lightbright in Lodestar is a nice bit of work using Lodestar's palette as inspiration for other interiors on the Titan.

I was most impressed by the art team's panel below. This immediately caught my eye and I smiled to myself as I thought,
'Wow, they nailed that shot…I really love it.'
The potential for even more is there.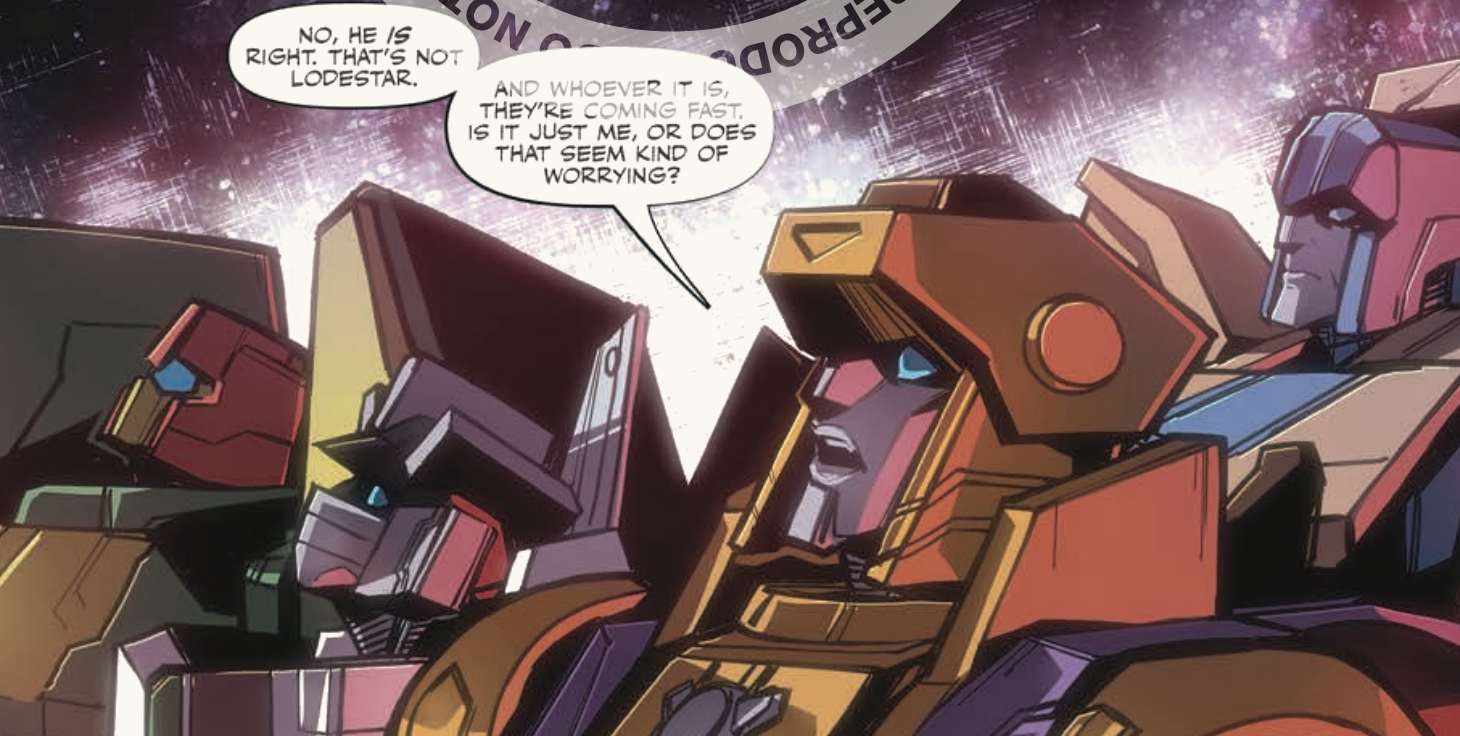 And there are a few cover options, Livio's standard, Brendan Cahill, and Marcelo Matere in the thumbnail.
The story
moves along well, with a lot of action- broken up with some moments of levity and build up for another part of the plot to pay off later via Cyclonus. There's a lot of history that is being introduced and some somewhat assumed for the reader, but not much built on yet.
All-in-all, I thought this was a good issue, and I look forward to the follow up
-that ending-
. Lots of IDW Transformers version 2 Titan lore came out, as well as, more information as to how Titans function, and are supported, some we were mostly aware of from prior experience, some brand new. We have mentions of knights, and plenty of Titan names that we have no idea who or what they fully did. And we get much of this from the memories of a Titan who has read works by Codexa (or downloaded them) and uses her words to express his/the mood. I did miss the Titan voice ballon work that we have seen in the past (and even in this issue). I think it helps to set apart the Titan's from the 'regular' bot and I'd love to see it consistently used again.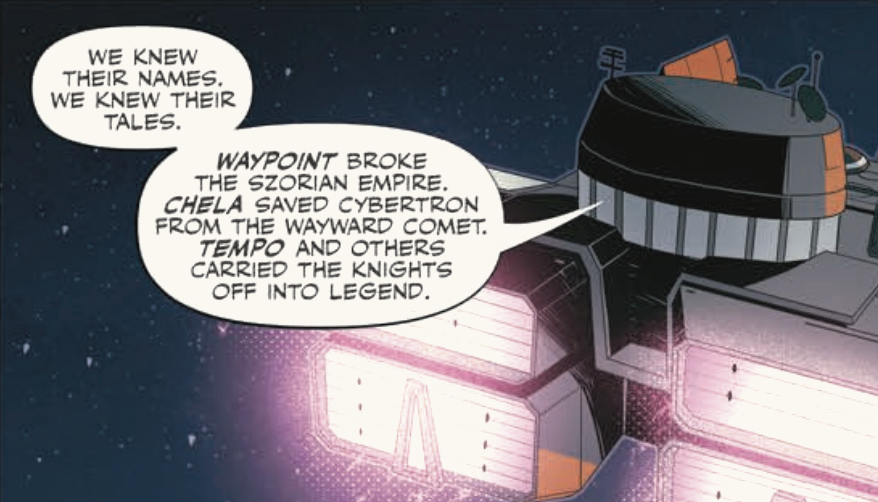 I thought that there were some possible missed opportunities with some somewhat bland panels of spaceship flying in space at many different angles, it does allow for Vigilem's exposition to be broken up, but otherwise, a solid issue with some new Cybertronian faces showing up to the party and many panels of pretty amazing artwork.
"Titans built our colonies, they fought for us, they

WERE

us."
out of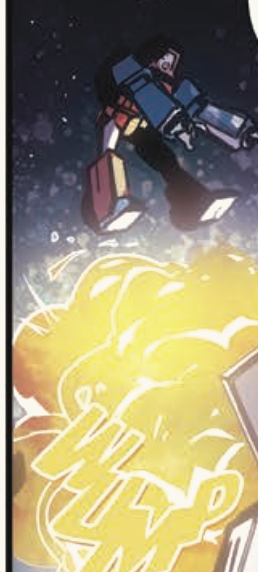 Team Gears is blasting off again!!!