Apple Books 3 Page Preview Of IDW Transformers Galaxies #4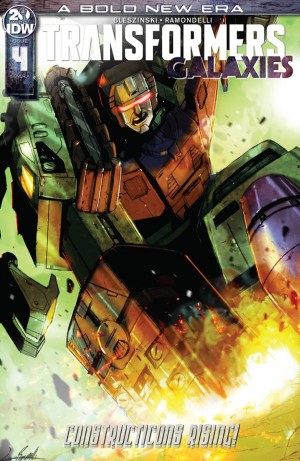 Friday, February 7th, 2020 12:31pm CST
Category:
Comic Book News
Posted by:
ZeroWolf
Views:
15,032
Topic Options: View Discussion · Sign in or Join to reply
Greetings Seibertronians! This is a treat for all the comic fans out there,
Apple Books
has posted a three page preview of the concluding part of the "Constructicons Rising" arc in Transformers Galaxies!
Here's the publisher's description:
"Constructicons Rising," Part Four! With the help of their benefactors, the Constructicons have once more been empowered. And with power, comes a way for them to escape their exile... and tear everything down in the process! The devastating conclusion to the first arc!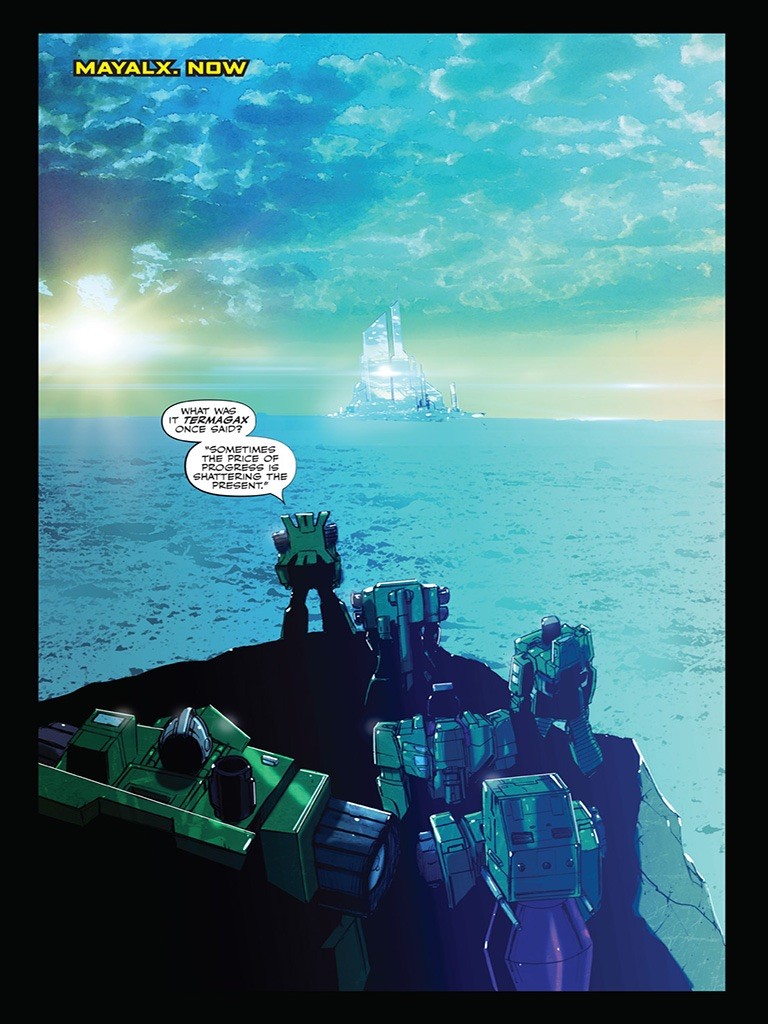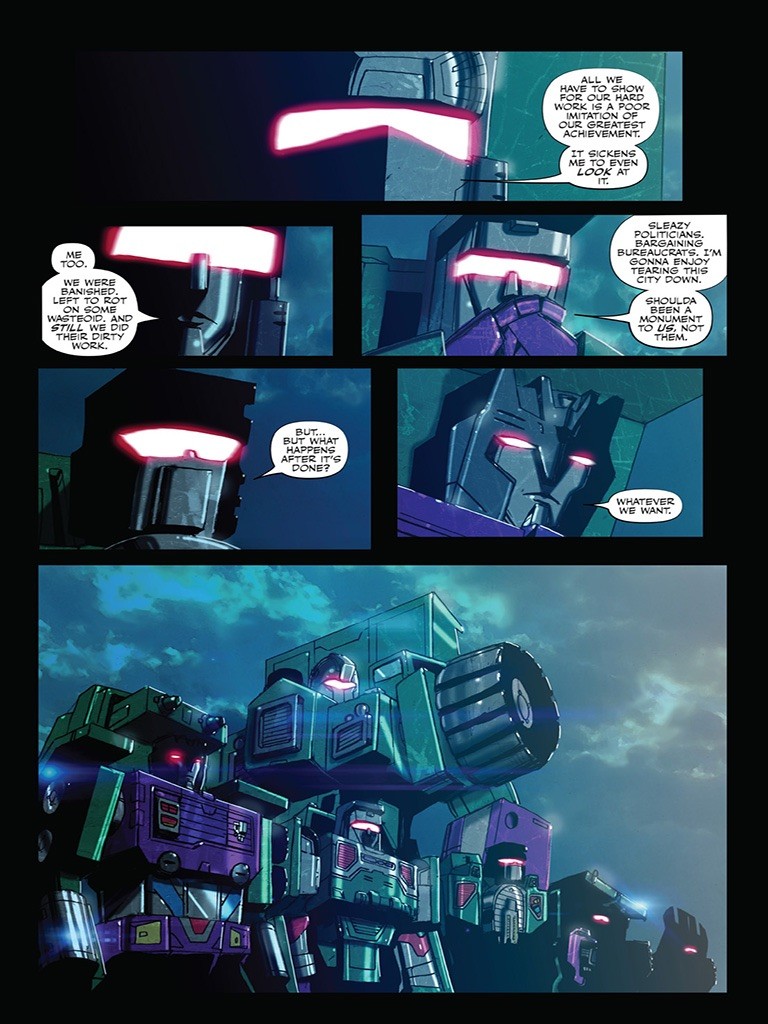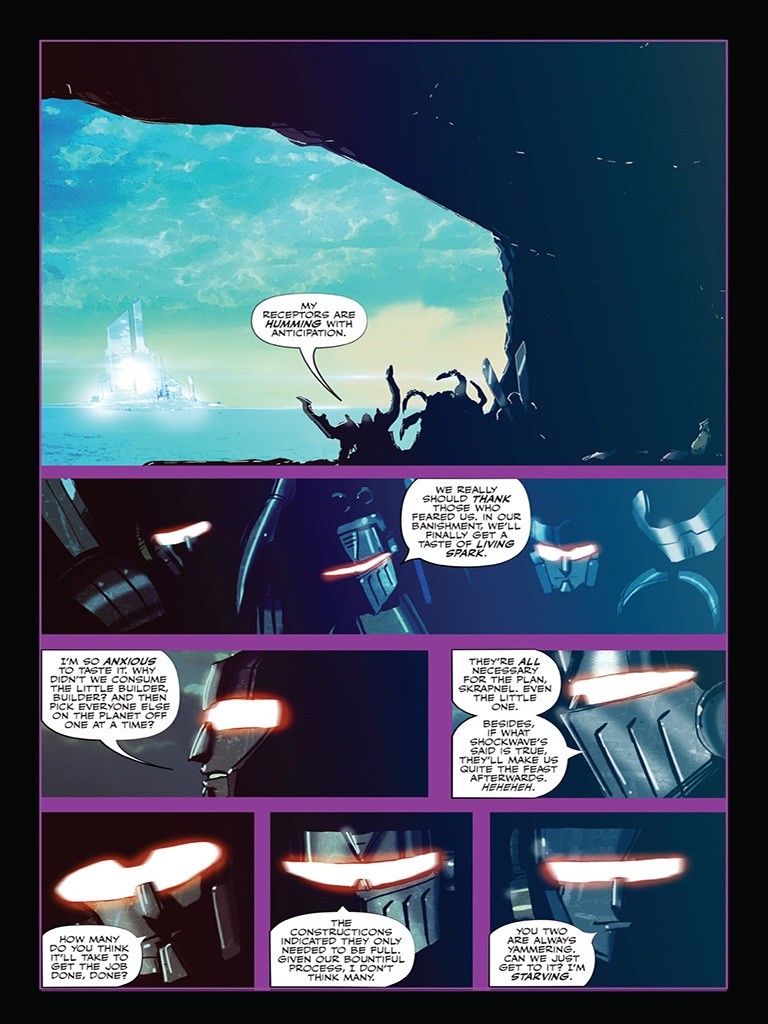 Transformers Galaxies #4 is written by Tyler Bleszinski with art by Livio Ramondelli, and is expected February 19th.
Are you getting this? Let us know in the Energon Pub and stay tuned to Seibertron for all the latest news and reviews!
Credit(s): Apple Books
---
Got Transformers News? Let us know here!
Most Popular Transformers News
Most Recent Transformers News
News Categories:
Toy News
,
Movie Related News
,
Comic Book News
,
Cartoon News
,
Site News
,
Rumors
,
Event News
,
Digital Media News
,
Collectables
,
Game News
,
Sponsor News
,
Site Articles
,
Store News
,
Company News
,
People News
,
Press Releases
,
Sightings
,
Reviews
,
Unlicensed Products News
,
Auctions
,
Transtopia
,
Interviews
,
Knock Offs
,
Editorials
,
Collector's Club News
,
Heavy Metal War
,
Podcast
,
Contests
,
Book News
,
Top Lists
Re: Apple Books 3 Page Preview Of IDW Transformers Galaxies #4 (2051574)
Posted by
D-Maximal_Primal
on February 7th, 2020 @ 5:02pm CST
This arc is really good and I'm glad it will finally wrap up, i've been eagerly awaiting this issue
Re: Apple Books 3 Page Preview Of IDW Transformers Galaxies #4 (2052712)
Posted by
ScottyP
on February 18th, 2020 @ 4:46pm CST
Raze n' Ruin
A Review of
Transformers: Galaxies

#4
84% Spoiler Free-ish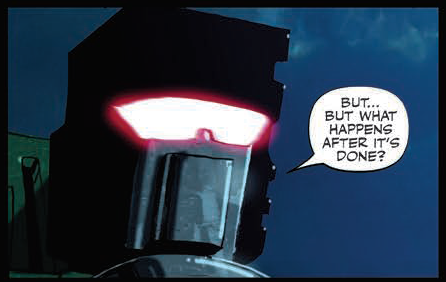 Who did you call inferior when they were writing the October solicitations?
84 days
have passed since
Transformers: Galaxies
#3 was released.
Revolutionaries
had a 63 day gap between issues 3 and 4 back in 2017 and
Lost Light
had some rough gaps in between on a few occasions but 84
feels
unprecedented and alarming. I'll stop short of saying that IDW (not the book's individual creators) owes any sort of explanation, but will say that this is the kind of thing that kills series and you don't have to take my word for it -
ask a comics retailer
.
With that out of the way the rest of the review can follow without another mention of it, but it was the elephant in the room here that had to be addressed. If you're reading this review and haven't read
Galaxies
#4 yet, know that it's a good read that's worthy of your time and the $3.99 (plus tax for many) cover price but do yourself a favor and read issues 1 through 3 again first. You won't regret it!
The issue's events pick up with the Constructicons and the Insecticons ready to execute their plans. The pieces set forth in the preceding issues coalesce here in more-or-less the way you'd expect, which may sound like it's detrimental but this issue is primarily about the action. Each group of Decepticons
(yes, they're not

technically

that yet but c'mon)
is doing what they feel they must to survive and break the cycle of control that's caught their lives and suppressed their means to achieve freedom. This issue invites the reader to witness how destruction can be used as a means to an otherwise empathetic end, and while there's some dialogue to catch-up a lapsed or forgetful reader it does bear repeating that the full impact of what
Galaxies
#4 does is greatly bolstered by recent memories of the trio of issues before it.
Said destruction is very well executed thanks in part to both Livio Ramondelli's art, with its stellar as usual sense of scale, as well as writer Tyler Bleszinski's choice to make sure that by the end of the arc Devastator isn't some mindless behemoth. There was a process taken to get him there, to be sure, but it was laid out convincingly without a huge over-reliance on the earlier introduced Enigma of Combination. Devastator is fully aware of himself as the seventh, shared consciousness of six other sentient beings and while it would have been nice to see him kill at least one character of real consequence, a symbolic panel featuring a representation of such will have to do for now.
The Insecticons have been used sparingly so far but they very nearly steal the show here. While their backstories are almost pitiful, the full brunt of their sociopathic nature is presented and while gruesome isn't a term I'd use to describe it, disturbing might fit the bill here instead. G1 fans will be happy to see some of their signature verbal tics persist along with their general appetite for energon. These feel like the original Insecticons just taken up to 11 and made more brutal, so here's hoping the main book picks them up soon.
Where it all ends up is quite open ended, which is good in one sense as it means the door's left open to more of this story. On the other hand, given the pace of events in the other ongoing there's likely no continuation coming anytime soon making this a great meal that doesn't
quite
fill you up all the way. That's almost definitely on purpose given an eleventh hour tease of some other characters yet there's still a sense of finality lacking for me, but your mileage may vary.
The quality art continues for this installment, with Ramondelli not only bringing wonderful scale in the line work but also smart colors to distinguish the time of day, giving perspective to the length of time the issue's story takes. The lighting doesn't stand up to close scrutiny in from panel to panel on every occasion, but when it looks so effectively dramatic I struggle to find much detriment in that. One thing I've noticed over time is that Ramondelli's art looks best to me on a bright phone or tablet, then on paper, then on a conventional computer monitor and writing this review on multiple decices throughout the day confirms this for me once again. The lettering from Jake M. Wood has balloons that jump back and forth swiftly at times but the dialogue remains easy to follow. I do have to offer some criticism to the onomatopoeia insert shown above. While it gets the idea across, associating an un-combining gestalt with a computer keyboard sound is certainly less than familiar.
Livio Ramondelli provides the "A" cover as has been the case for this series so far and this is the cover you can find in this review's news post thumbnail. Sara Pitre-Durocher provides a clean looking Devastator with slick coloring effects for the "B" cover while a pixel-art Shockwave and Devastator grace the ten-copy retailer incentive cover from newcomer (to Transformers, at least) Christina Neofotistou. As always, you can also find all the cover images, full credits for the issue and a list of all the characters that appear in the book through our
Vector Sigma Database page for

Transformers: Galaxies

#4
.
Transformers: Galaxies
#4 is a worthy finish to a first arc featuring these characters that left me wanting to see more of their journey. The Constructicons managed to introduce some much needed action in a setting and series somewhat devoid of it or even, as it feels at times, the potential for it. A clear plan with careful plotting is evident in this four issue run, further evidenced to me by how it only introduces one really notable element of lore that isn't thoroughly followed-up on by the end of this fourth issue. While a product of happenstance, there's even some nice synergy with
Transformers
#17 and what's seen from one of its featured characters.
I can't bring myself to call this one perfect but I almost did. It could be the delay's fault, it could be the extremely open-ended nature of its resolution, or you could just know that despite some minor, Scotty-being-picky quibbles
Transformers: Galaxies
#4 finishes up a four issue arc that on the whole is easily the best Transformers comic output of the past year. Don't forget about this one, show it some support so more Constructicon stories can be made in the future.
Final Score
.
½
out of
Look out for this issue today, February 19th, where you can pick it up at the
Seibertron.com eBay store
or at your local shop,
check here to find the closest shop to you
.
Re: Apple Books 3 Page Preview Of IDW Transformers Galaxies #4 (2053176)
Posted by
Rodimus Prime
on February 20th, 2020 @ 11:56pm CST
The arc is only 4 issues so I'm guessing it won't get its own trade. It would be nice to read the story as 1 book even if it's thinner.
Re: Apple Books 3 Page Preview Of IDW Transformers Galaxies #4 (2053529)
Posted by
D-Maximal_Primal
on February 22nd, 2020 @ 8:56am CST
Rodimus Prime wrote:The arc is only 4 issues so I'm guessing it won't get its own trade. It would be nice to read the story as 1 book even if it's thinner.
Nope, it's being lumped in as a hardback with a bunch of stories from the main story.
Which is sad, I wanted this alone as a trade, I don't want any of the mainline story
Re: Apple Books 3 Page Preview Of IDW Transformers Galaxies #4 (2053542)
Posted by
D-Maximal_Primal
on February 22nd, 2020 @ 9:20am CST
Thanks to
iTunes
, we have the latest 3 page preview for the upcoming Transformers Galaxies #5!
Transformers Galaxies is a 12 issue series that will follow 4 different characters or sets of characters. The first 4 issue arc just concluded and focused on the Constructicons and the origins of Devastator. This issue kicks off a 2-issue series that will focus in on Cliffjumper, and will feature him alongside the Decepticon of Victory Fame Deathsaurus. The 2 issues will revolve around Cliffjumper trying to negotiate an energon deal while using his similar appearance to Bumblebee to make that happen, since the natives practically worship Bumblebee.
You can check out the 3-page preview below, and let us know what you think in the comments section below!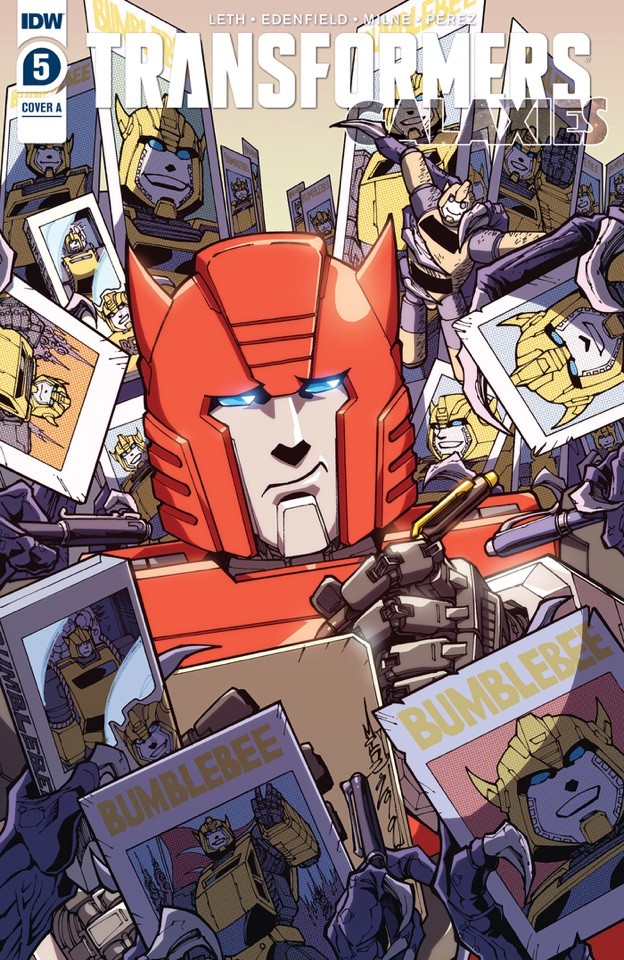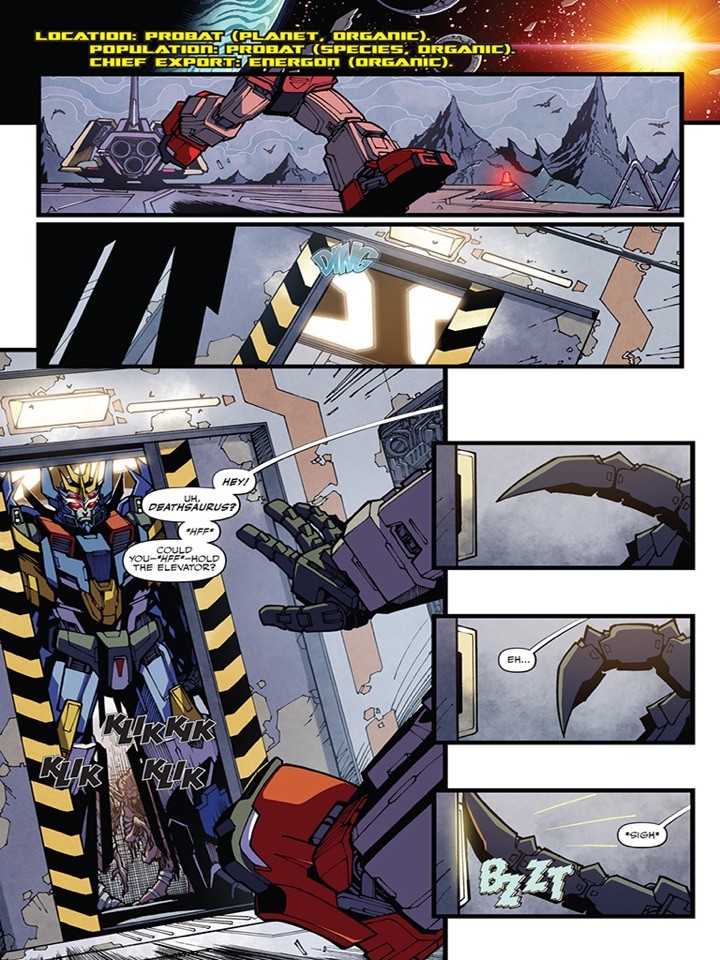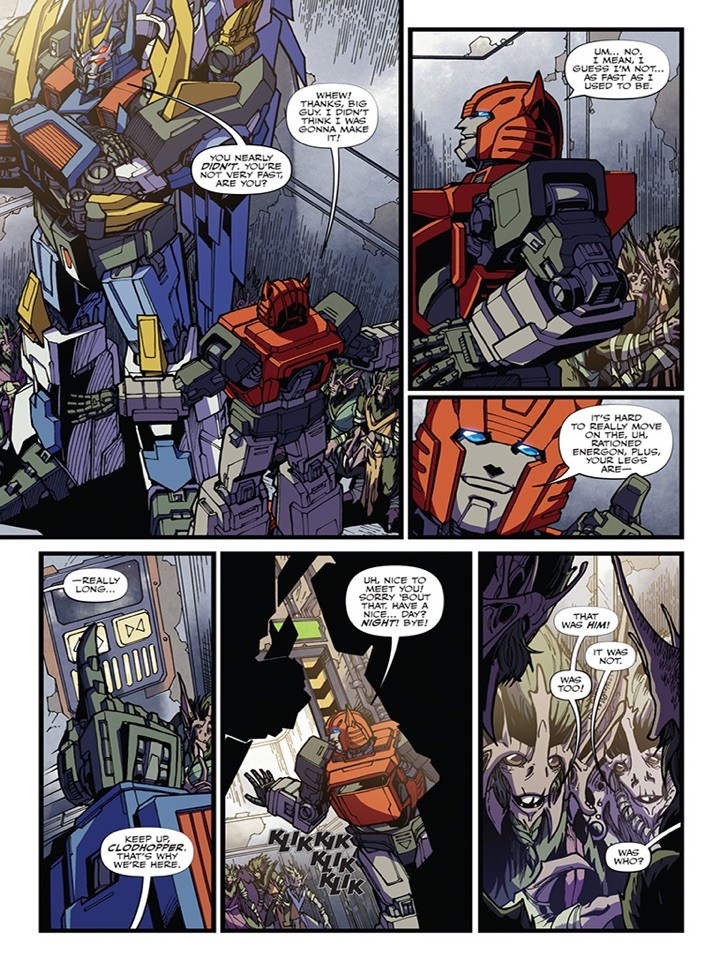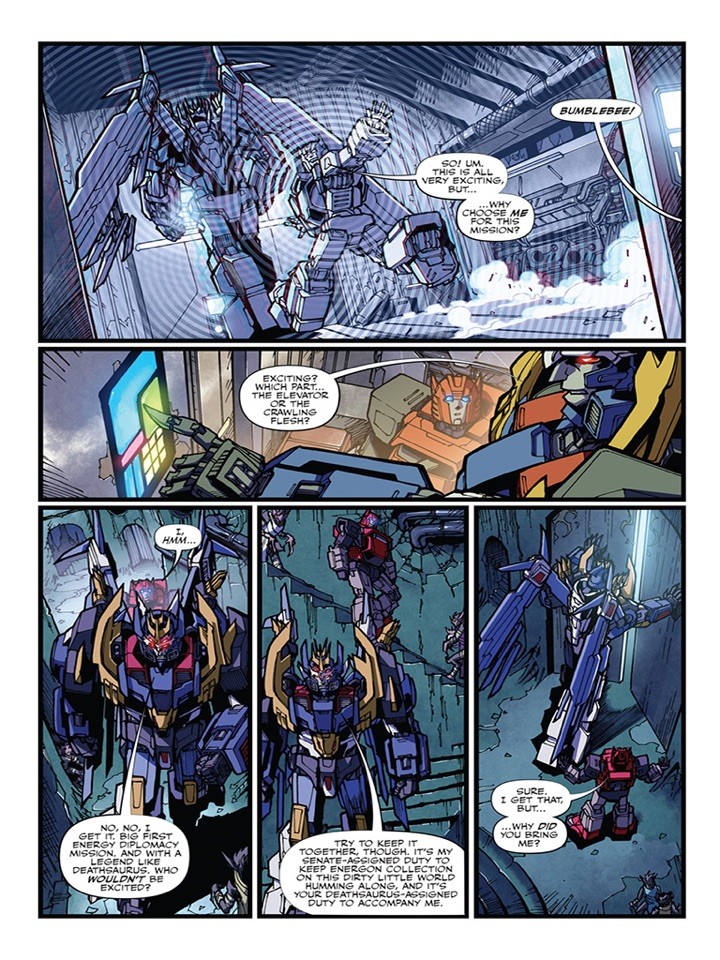 Re: Apple Books 3 Page Preview Of IDW Transformers Galaxies #4 (2053552)
Posted by
ZeroWolf
on February 22nd, 2020 @ 9:49am CST
I'm sorry but in a time of peace, a name like deathsarus would set off so many alarm bells
Not surprised the natives think he's bee though if they can't see colour.
Re: Apple Books 3 Page Preview Of IDW Transformers Galaxies #4 (2054782)
Posted by
D-Maximal_Primal
on February 27th, 2020 @ 7:09pm CST
Thanks to a tweet from
Sara Pitre-Durocher herself
, we have news that her cover for the coming Transformers Galaxies #5 has been revealed!
Transformers Galaxies #5 will be focusing in on Cliffjumper, and will take a fun take on how Cliffjumper always looks like a red Bumblebee, and will include Cliff alongside a character famous as the Decepticon Emperor of Destruction of Victory Fame, Deathsaurus. The 2-parter is being written by Kate Leth and Cohen Edenfield, with art by the always popular Alex Milne.
Pitre-Durocher's cover dives right into this Bumblebee/Cliffjumper lookalike business by including a sad and downtrodden Cliffjumper walking alongside a window with Bumblebee smiling back at him from the reflection, with Bee clearly upbeat in the reflection and Cliffjumper surely grumpy at his lot in life.
Check out the covers below, and let us know what you think in the comments section below!