Casey Coller Interview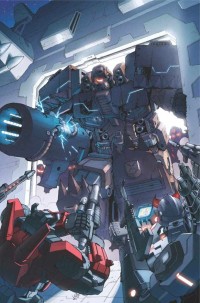 Wednesday, May 16th, 2012 1:56pm CDT
Categories:
Comic Book News
,
People News
Posted by:
El Duque
Views:
47,169
Topic Options: View Discussion · Sign in or Join to reply
The
official Transformers facebook page
has posted an interview with
Transformers: Robots in Disguise
Cover Artist
Casey Coller
. The interview is mirrored below for those without facebook access. We also get a sneak peek at Turmoil, a character that Coller helped design for
Transformers: Robots in Disguise
Ongoing.
TRANSFORMERS: Hi Casey. From what age did you start drawing, and were Transformers some of the first things you drew?

CASEY COLLER: Actually, yes... I remember when I was young, probably around seven years old; one of the first things I ever felt inclined to draw was my toy Transformers. It must have been a birthday or Christmas, and I got a new set of markers and a pad of paper. I literally put my toy on the paper, traced it with a black marker, and then filled in the rest with the colored markers. I quickly became obsessed with drawing them (as well as other toys, video game and cartoon characters).

TF: Did you always know that you wanted to draw comics or was that something you decided on in late life?

CC: I was probably in about 6th or 7th grade when I really started to seriously get into comics. Besides the Marvel Transformers comic, I became interested in the X-Men, Spider-Man and other Marvel titles. It was around that time that I first started to think I could pursue comic art as a career.

TF: Can you remember how it felt when you first saw your first published Transformers work?

CC: Kind of surreal, actually. My first published work was a "Retailer Exclusive" cover for IDW's All Hail Megatron #1, for a UK-based retailer called Apocalypse Comics. I was invited to a UK convention called London Film and Comic-Con (I am US-based), and made my first trip across the pond for the event. It wasn't until I was in another country that I actually held my first published work in my hands! People lined up to grab a signed copy of the book. I signed all weekend and we sold hundreds of copies. I never imagined an experience like that for my first published work!

TF: Up to this point, which single issue would you say has been the most fulfilling to work on?

CC: That's kind of a tough one... I guess I would say Ironhide #4. Mike Costa wrote the issue, half of which was supposed to be strictly action, and he gave me a ton of creative freedom to do whatever I wanted with those pages. Each page had very little instruction, and I was able to just go wild. I do have to give honorable mention to the Spotlight: Drift comic also. I enjoyed being able to design a Decepticon commander (Turmoil—who will be returning in the Robots in Disguise ongoing series), and be involved in the introduction of Drift to the world. People still connect me with the character. I'm asked to sketch him at conventions more than any other character—even Prime!

TF: Who would you say are the easiest and hardest characters to draw from Transformers?

CC: The easiest would be the old familiar characters in their Generation-One styles. Jazz, Prime, Megatron, Starscream, Ironhide... I feel like I can practically draw them with my eyes closed! Hardest would be anything from the live-action movies. I got the hang of drawing Prime for a while, but that's about it!

TF: Are there any characters from Transformers that you haven't drawn yet but would like to draw in the future?

CC: I've drawn most of them at this point. Though believe it or not, until I did the recent fill-in pages for R.I.D. #5 I hadn't officially drawn G1 Bumblebee! If you had asked me a couple months ago, that would have been my answer

I have to say, I've always thought Stepper (the Japanese Targetmaster repaint of Jazz) would be a lot of fun to introduce to the US fiction.

TF: Do you have a single Transformers TV series that you like better than all the others? And likewise, do you have a favorite single comic issue as well?

C: I haven't had a chance to watch Prime yet, though I hear great things about it. I really enjoyed watching Animated with my daughter. But I'd have to say that I grew up on Generation One. So it's got that childhood nostalgia aspect to it that I'll always feel. As for single comic issue? I'd say Marvel comics issue 70: "The Price of Life." Looking back, that was the issue where my perception of the comic changed from being a cool story about these toys, to having a genuine emotional investment in the characters. The weight of the fiction became so much more significant.

TF: You stepped away from doing interiors for a while to concentrate on covers. You've recently done 5 pages inside Robots in Disguise #5. Was it good to get back to doing interiors again?

CC: Yeah, it was nice. It's funny... I've been doing the covers for Robots in Disguise, so I get to read the scripts. And even though I'm happy doing covers, I do get the itch to do interiors when I read through them. I'm always thinking about how I'd lay out the pages or draw certain characters (or when there's a big crowd scene I'm thinking that I'm glad Andrew [Griffith]'s drawing it and not me!—haha!). I do get a lot of satisfaction out of telling a good story with my artwork, and I miss that. If I had the time, I would love to do interiors again.

TF: Outside of Transformers, what other characters from Film/TV would you like to draw for?

CC: I'd love to take a crack at Teenage Mutant Ninja Turtles, and I think True Blood would be fun (especially since IDW has the license!). I guess you wouldn't count them as Film/TV characters, but many of the classic Marvel characters are high on my list as well, starting with Spider-Man and the X-Men.

TF: Would you say are the most important tips you would give to a new artist trying to break in at the moment?

CC: Keep working on your craft. If you enjoy it, just keep doing it. You improve by leaps and bounds just by repetition. Also, try to walk that fine line between being persistent, and being annoying. Make yourself known. Send lots of samples (and I mean make new ones each time, not keep sending the same stuff). Go to cons and meet editors and talk to pros. Take their tips, advice and constructive criticism. Be confident, but keep your ego in check when it comes to taking criticism. Always look to improve!

TF: Where would you like to see yourself in 5-10 years time?

CC: Well, I'd love to still be involved in the Transformers brand in some way. I'd also love to have a creator-owned title out there in the comic world. That was always my ultimate dream. I've got a ton of characters with untapped potential! But I'm also a realist. As long as I can feed my family and keep some sort of positive impact on the world, I'll be happy.
Credit(s): Transformers facebook page
---
This article was last modified on Thursday, May 17th, 2012 8:00am CDT
Got Transformers News? Let us know here!
Most Popular Transformers News
Most Recent Transformers News
News Categories:
Toy News
,
Movie Related News
,
Cartoon News
,
Comic Book News
,
Site News
,
Rumors
,
Event News
,
Digital Media News
,
Collectables
,
Sponsor News
,
Game News
,
Site Articles
,
Store News
,
Company News
,
People News
,
Press Releases
,
Reviews
,
Sightings
,
Unlicensed Products News
,
Auctions
,
Transtopia
,
Interviews
,
Knock Offs
,
Collector's Club News
,
Editorials
,
Heavy Metal War
,
Podcast
,
Contests
,
Book News
,
Top Lists