Creator Commentary: Transformers Prime: Rage of the Dinobots #1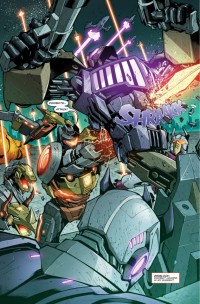 Wednesday, November 28th, 2012 6:42pm CST
Category:
Comic Book News
Posted by:
El Duque
Views:
35,131
Topic Options: View Discussion · Sign in or Join to reply
The
official Transformers facebook page
has posted a Creator Commentary for this week's release,
Transformers Prime: Rage of the Dinobots
#1. Transformers Prime writers Mairghread Scott and Mike Johnson give us some insight into the first five pages. We've mirrored the commentary below for those without facebook access.
PAGE 1: An Autobot fleet is leaving Cybertron. For those who may not be caught up on PRIME, can you say a little what has gone before, and why pick this point in history to start of your story?

MAIRGHREAD SCOTT: Okay, at this point in time, Optimus and Megatron have left for parts unknown and the Autobots who stayed behind are basically all holed up in Iacon fighting Shockwave and the Decepticons under his command. Our story starts right as Iacon, the last Autobot city, is falling and everyone who can get out is desperately trying to.

MIKE JOHNSON: We liked starting the story here because it's a less explored part of Transformers lore. The vast majority of stories in any medium have focused on what happens to Optimus and the others. In RAGE OF THE DINOBOTS we get to shine the spotlight on those who were left behind, or intentionally stayed behind, after the Exodus.
PAGE 2: At Iacon, Snarl fights with other Autobots who are still on the planet. How does the PRIME version of Snarl differentiate from his previous incarnations across the other Transformers franchises?

MAIRGHREAD SCOTT: We really wanted the Dinobots to have distinct personalities from each other. Snarl is the smartest, a real tech guy and the least comfortable with the idea that he's now a Stegosaurus. So you won't see him in Stego mode unless a fight starts getting really heated.

MIKE JOHNSON: The series is going to highlight what each Dinobot does and how they relate to each other. We have the opportunity to really explore the Dinobots and dig into each of their personalities in a way that no story has had before.

PAGE 3: Grimlock and the other Dinobots arrive on the scene, and do what they do best. Grimlock is a legendary character. What was the greatest challenge you both face while writing him into the Prime universe?

MAIRGHREAD SCOTT: Grimlock's voice is a constant challenge, but one of my favorites. In FALL OF CYBERTRON, he's clearly a smart guy who has been through a lot, but he doesn't speak that much. So we made a conscious choice to have Grimlock's dialog break down on the page, especially when he's exerting himself. That means we had to build Grimlock's voice at 100% mental capacity and 70% and 50% and 20%. It's a lot of work, but let us keep some of his best lines while still being able to give him a complex story new readers could relate to.

MIKE JOHNSON: Everybody knows the "Me Grimlock!" I even have a "Me Grimlock Kick Butt!" shirt I bought at San Deigo Comic-Con a few years back. We don't want to completely abandon what has made the character so beloved. But at the same time we really want to emphasize that Grimlock is a leader, and it wouldn't work if the leader's monosyllabic cadence carried over into a less-than-average mind. So we are taking advantage of the PRIME reality to balance Grimlock's tactical smarts with his traditional way of speaking. We do it in a fun and unexpected way that (fingers crossed) will encompass all aspects of his personality.
PAGE 4: Slug and Sludge get their chance to do some damage in the battle. With a group of characters like the Dinobots, which parts of their characters traits would you say are the easiest and hardest to write and figure out?

MAIRGHREAD SCOTT: You want to find a balance in the characters. So Slug in FoC is a bit less aggressive than Slug in our comic, but with Sludge involved, we needed to balance the group's dynamics. So Sludge became more of the voice of wisdom and Slug got a bit more gung ho.

MIKE JOHNSON: You don't want them all to act the same, but at the same time you want them all to share the common experience of being Dinobots, which means being unique among the larger Autobot population. The best way to do it is to take the things they have in common: they're soldiers, they have strange (to Cybertron) beast forms, they stay behind on Cybertron… and then show how each of them reacts in their own way to those conditions.
PAGE 5: Swoop flies in on the act, and is loving it! What would you both say to a potential reader, who may have never have seen an episode of Prime about this mini-series and how it ties in with the TV show?

MAIRGHREAD SCOTT: You do not have to watch Prime to read this book. Although we tip our hat plenty to people who have loved the videogames and books and TV shows as much as we do, we wanted RAGE to be a place where new readers could find a footing in the Transformers brand. Autobots are the good guys, Decepticons are the bad guys. Cybertron is the planet. Everything else, we'll explain.

MIKE JOHNSON: We are definitely trying to make the book accessible to anyone for whom this is their first exposure of any kind to Transformers. At the same time, we hope long-time fans enjoy the nods we've included to past lore. Add on to that that we hope it meshes well with the animated series and the video games, and we're performing a careful – but very fun – balancing act. Hopefully it kicks butt.
Credit(s): Transformers facebook page
---
Got Transformers News? Let us know here!
Most Popular Transformers News
Most Recent Transformers News
News Categories:
Toy News
,
Movie Related News
,
Cartoon News
,
Comic Book News
,
Site News
,
Rumors
,
Event News
,
Digital Media News
,
Collectables
,
Sponsor News
,
Game News
,
Site Articles
,
Store News
,
Company News
,
People News
,
Press Releases
,
Reviews
,
Sightings
,
Unlicensed Products News
,
Auctions
,
Transtopia
,
Interviews
,
Knock Offs
,
Collector's Club News
,
Editorials
,
Heavy Metal War
,
Podcast
,
Contests
,
Book News
,
Top Lists
Re: Creator Commentary: Transformers Prime: Rage of the Dinobots #1 (1442801)
Posted by
Super Megatron
on November 28th, 2012 @ 8:44pm CST
Snarl "engineer/medic/Dinobot"?!?
They picked the dumbest Dinobot to cover the roles that needs brains?!?
Re: Creator Commentary: Transformers Prime: Rage of the Dinobots #1 (1442814)
Posted by
Sabrblade
on November 28th, 2012 @ 10:49pm CST
Still no explanation for Sludge's presence.
Super Megatron wrote:Snarl "engineer/medic/Dinobot"?!?

They picked the dumbest Dinobot to cover the roles that needs brains?!?
He's not G1 Snarl. This Snarl is the smart one of he group.
Re: Creator Commentary: Transformers Prime: Rage of the Dinobots #1 (1442816)
Posted by
KNM2012
on November 28th, 2012 @ 11:41pm CST
Rodimus Prime wrote:

Sabrblade wrote:

Rodimus Prime wrote:Slug? SLUG??? WTH?

Where've you been? He's been "Slug" ever since we first saw his Fall of Cybertron design.

Really? I even played the game and for some reason that never registered. Never. Wow. I just always read "Slag" because I was so used to it. Anyway...
I thought you might some fun trivia on Slug. According to
20th Century Toy Collector
, Milton Bradley published Slug as Slag. However, there was an issue with that because "Slag" had a certain meaning in the UK. So when the game came out, Hasbro (who had later bought out Milton Bradley) had the name changed to Slug.