Creator Commentary - Transformers: Robots in Disguise #16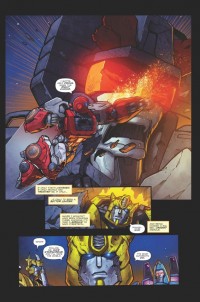 Wednesday, April 17th, 2013 4:16pm CDT
Categories:
Comic Book News
,
Interviews
Posted by:
Va'al
Views:
39,597
Topic Options: View Discussion · Sign in or Join to reply
The
official Transformers Facebook page
has uploaded a five page commentary to today's
Transformers: Robots in Disguise
#16. For those of you without Facebook access, we've mirrored the interview with writer John Barber below.
TRANSFORMERS: ROBOTS IN DISGUISE #16 hits the stands today, courtesy of IDW Publishing and Hasbro! This is it—the climax of the first big ROBOTS IN DISGUISE story. The fate of Cybertron's leadership is decided, as Bumblebee and the Autobots battle Megatron's forces in the city of Iacon. Artist Andrew Griffith—along with inker Brian Shearer and colorist Josh Perez—pulled out all the stops on this one; and we sat down with writer John Barber to talk about this monumental issue. TF:RID #16 is available at comic book stores everywhere and at

https://transformers.comixology.com/

or via the Comixology and iBooks apps on your computer or mobile device!
PAGE 1- The might against Megatron continues with Bumblebee and his team. Considering the different factions trying to live together on their home world, was there ever a right or wrong in the decisions he took? Or was it simply that he wasn't strong enough to hold them all together?

JOHN BARBER: That's a good question. Bumblebee was trying to do what was right, and here—battling Megatron—it's clear what needs to get done. But would Megatron have had support, would the Decepticon masses have followed him, had it not been for Bumblebee's policies? He locked them up, he put in the Identification/Deterrence chips, and even once those were gone, he still clearly didn't welcome them with open arms. I mean, Bumblebee had reason to be angry at the Decepticons, and reasons to not trust them. So maybe he never had a chance.

There isn't really a clear-cut answer, as to whether Bee was right or wrong, and that's one of the big themes of the series. I hope the readers will argue about it.

Was Bumblebee too weak? That's how he sees himself, and how some of the others see him. Maybe he was just in the wrong place at the wrong time, though. Could anybody have accomplished what he set out to do? Again—I don't mean to evade the question, it's that the question is the main thing about the series. I don't want to cop out on anything, but the question is more interesting to me. And hey, if I had the actual answer, I should be ruling the world myself.
PAGE 2- Megatron, Devastator and the other Decepticons pile on the pressure. You think right now Starscream is regretting the things that he has done prior to this issue, and not done what might have previously done before?

JOHN BARBER: Starscream thought he was playing everything correctly for a while—up to issue 11—then he had a crisis of… well, not "conscious," as this issue will demonstrate… but a crisis of faith in himself. I'm sure that, in his head, he's running through every action he's ever taken, but I don't think he has Bumblebee's capacity for self-reflection. He's more likely to see any failure as a failure of circumstance, not of himself. But this was a big fall—he was about to gain control of the city, and then Megatron showed up and ruined everything, so it's a crushing blow.

Anyway—he definitely doesn't have Bee's capacity for beating himself up over his decisions.Actually, his ego probably protects him a little here (like Prowl's does).
What is why, at this point in the story, even if it doesn't look like it, he is actively looking for any opportunity amidst all the action.
PAGE 3- Arcee and Sideswipe do their best to carry on the fight back. With Arcee, was the plan always to make her as ambiguous as possible until she was forced into making a decision on where she truly stood?

JOHN BARBER: Yeah—Issue 18 is where we actually get into her head, and see how she thinks. She just approaches things from a way that other Cybertronians don't. Her worldview is skewed by all the events in her life—I mean, everybody's is; it's just that her event are just a little more unusual.

So, yeah, she was definitely keeping quiet about what she knew, who she would side with, all that—until she had an opportunity to strike most effectively. Which, I don't think exactly worked out—she definitely didn't want out-of-control Prowl-Devastator running around, so it's not like she actually succeeded in her plan. But things could have been worse.

Nevertheless, from my perspective, she'd have been better off going to Bumblebee in issue 4. But she didn't think he'd trust her, and Bee definitely didn't act like he was looking to trust Prowl's secret warrior. So she didn't think that was a legitimate possibility. And now, hey, look what all that mistrust has sown.
PAGE 4- Ironhide and the Dinobots pile in to provide reinforcements? Considering what is happening to his friends, do you think Ironhide is certain that the visions of the future he saw are going to come true, despite the devastation around him? They seem to have been driving his recent actions.

JOHN BARBER: Ironhide has come to realize that, even if he believes what he saw, there are multiple ways of looking at "fate." He can just sit back and let the future happen, or he can take an active role. And if he takes an active role, he has to be himself. Beyond that—well, there's more to come.
PAGE 5- Ironhide literally tries to knock some sense into Prowl/ Devastator's head, and Bumblebee can see the tide of battle turning. This issue marks the end of the current arc in the series. In the grand scheme of things to come, how important are the issues we'll find within these pages?

JOHN BARBER: Very. I mean, this issue is the close of the first big RID story arc. The story of Bumblebee versus Starscream versus Metalhawk struggling for control of Iacon comes to a close this issue. And however it works out, any one of them (or none of them) "winning" control of the city will change the face of Cybertron. There's a lot going on in this issue, a lot of stories coming to a close, and it all matters a lot.

But it's not the end of the series, and there are still going to be big, pointed questions looming. Where's Shockwave? Why did what happened to the Aerialbots happen—and what's the status of them now? Not to give anything away, but how does Starscream justify his actions? What's up with Ironhide's vision of the future? What does Jhiaxus want with Gorlam Prime? Lots and lots of other questions…

Not everything ends here—we're back with another issue in a few weeks—but all that comes will be built on what we've done here. And there will be impacts felt in our sister series, TRANSFORMERS: MORE THAN MEETS THE EYE, too. But I can't talk about that without spoiling anything. I can say, that events from MTMTE spill into RID next issue… but if you've followed what MTMTE revealed about Shockwave, I don't think that will be a surprise. Anyway—this comic, RID #16, will have repercussions in the comics—and maybe beyond—for some time to come.

But I do want to thank all the readers who've read this series—and read MORE THAN MEETS THE EYE, and all the other Transformers comics, too—from the beginning, or who've come in during the run, or who are just joining us. Thanks for being there, hope you've enjoyed the ride so far, and it just gets better from here on out.
Credit(s): Transformers Facebook, John Barber
---
This article was last modified on Wednesday, April 17th, 2013 5:25pm CDT
Got Transformers News? Let us know here!
Most Popular Transformers News
Most Recent Transformers News
News Categories:
Toy News
,
Movie Related News
,
Cartoon News
,
Comic Book News
,
Site News
,
Rumors
,
Event News
,
Digital Media News
,
Collectables
,
Game News
,
Sponsor News
,
Site Articles
,
Store News
,
Company News
,
People News
,
Press Releases
,
Sightings
,
Reviews
,
Unlicensed Products News
,
Auctions
,
Transtopia
,
Interviews
,
Knock Offs
,
Collector's Club News
,
Editorials
,
Heavy Metal War
,
Podcast
,
Contests
,
Book News
,
Top Lists
Re: Creator Commentary - Transformers: Robots in Disguise #16 (1479934)
Posted by
Seibertron
on April 17th, 2013 @ 4:17pm CDT
Seibertron wrote:With that said, some spoilers we will avoid just to be fair, but that is at our own internal discretion. For example, if a major character dies in an upcoming comic, cartoon, or movie, we won't have a headline that says "[INSERT CHARACTER NAME HERE] dies in issue #20!" but that doesn't meant that it won't be discussed in the news story itself or elsewhere on the site in our forums.
Guess I need to clarify what I said above some more because I didn't know what kind of spoiler was being debated before I jumped into the conversation.
Out of courtesy for everyone else, this type of thing should be left as a surprise, at least for a week. Most plot details are fair game, but I think this should be left as a spoiler for a little while. Just have to draw a line in the sand somewhere.
Metalhawk is dead.
Re: Creator Commentary - Transformers: Robots in Disguise #16 (1479963)
Posted by
Blurrz
on April 17th, 2013 @ 6:07pm CDT
I think one of the reasons why I was adamant in having spoiler-free-ish reviews was because awhile back one of the reviewers for this site basically summarized plot in their comic reviews..
Re: Creator Commentary - Transformers: Robots in Disguise #16 (1480046)
Posted by
Va'al
on April 18th, 2013 @ 2:48am CDT
Oh I agree in relatively safe reviews, because I know some people can't resist temptation and will read them before they get hold of the comic.

But I agree with Seibertron and El Duque in saying that if it's a review, it might have spoilers. Which is why I mark it as such, especially in my final Thoughts section.