Creator Commentary: Transformers: Robots in Disguise Ongoing Issue #18 with John Barber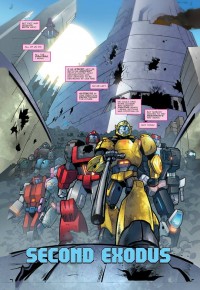 Wednesday, June 5th, 2013 2:58pm CDT
Category:
Comic Book News
Posted by:
El Duque
Views:
22,714
Topic Options: View Discussion · Sign in or Join to reply
The
official Transformers facebook page
has shared this week's Creator Commentary for Transformers: Robots in Disguise Ongoing #18 for series writer John Barber. We've mirrored the session below those without facebook access.
PAGE 1- This issue is told from the POV of Arcee. Was the challenge of finding her voice difficult, given her history as being the only established female character in the IDW universe?

JOHN BARBER: Arcee's personality was something that Andrew Griffith (the regular RID artist) and I talked about even before the first issue was done. So, the real leg-work on finding my take on her, on getting to know her voice, was really done a while back. I mean, like most of the other characters here, I've been writing her for a year-and-a-half or so.

There's an unusual extra scrutiny on her, for a few reasons. Her basic set-up in the IDW comics is pretty different than her set-up in the classic G-1 incarnation, or in Prime, or wherever. More so than most of the other characters, Arcee as handed to me was different in this universe in some fundamental ways.

Add to that that she IS the only female character that we've seen in this comic book universe… well, nobody looks at Ironhide or Swoop or whoever and thinks that their actions at any given moment are a statement being made about all males in the real world. Because there are hundreds—thousands—of other male characters in RID and MORE THAN MEETS THE EYE.

However, if Arcee does something, 100% of the female characters in the comic are doing that exact thing. I'm aware of that—but I try to deal with the specific character that she is. That's kinda all I can do. Up to now, we haven't had an issue narrated by her, because—for the sake of the story—the reader needed to be in the same position as most of the other characters, in not knowing her motivations or whose side she's on. I'm glad to finally get readers into her head and see how she views the world.
PAGE 2- The late Metalhawk was the NAIL (an acronym meaning Non-Aligned Indigenous Lifeform—slang for neutral Cybertronians who returned to the planet) who got the most attention. Did you intend for him to always be their voice or where there other characters originally just as vocal as he was?

JOHN BARBER: Metalhawk was the de facto leader of the NAILs, and—like Arcee—he has to sort of walk the line between the general people he represented, and the specifics of his personality. But in Metalhawk's case, it was a thing he was aware of; that was his actual relationship he had with the other NAILs, not his relationship with the reader.

We got a little page-time with the NAILs on the ground—Skybyte, Hipotank, Tappet, Zetca, everybody at Blurr's bar—during RID's run, but Metalhawk was definitely the main character from that group, from the onset.
PAGE 3- Is Starscream purely a believer in his "destiny" to leader Cybertron at this point (See RID 2012 Annual) or could this simply be just another way to have what he's always wanted?

JOHN BARBER: Starscream absolutely thinks the prophecy—any prophecy—is nonsense. It's a means to an end, like literally everything else in Starscream's life. To Starscream, there is no difference between what's true and false—just what helps him and what doesn't. But we see more of what makes him tick in issue 20.
PAGE 4- With the planet still evolving after its restart as seen all the way back in RID #1, is the unknown the greatest fear these guys have for not wanting to leave? And given what Ironhide may have said about what he encountered?

JOHN BARBER: Yeah, they don't know what they're facing. Megatron's program of driving everyone crazy when they leave the city SHOULD be gone… but is it? They're worried. I think the larger worry is: they lost. They lost to Starscream. And they lost in a way that—at this particular moment—is very difficult to recover from.

They're not in a position to retake the city of Iacon right now… and that's certainly what they want to do.
PAGE 5- Bumblebee and the other Autobots are leaving Iacon—maybe for good. Was this the only choice they could have made given everything that's happened? Or could there have been other roads they could have been taken?

JOHN BARBER: Well, they could have not lost. Starscream outmaneuvered them, and now—right now, at this moment—there's no real way for them to stay without making things worse.

Leaving is the less-bad option compared to getting in another shooting war in the city. They know they'd wind up fighting the people they want to protect—and at this stage, it's not just the Autobots that don't want to start fighting.

Neither Autobots nor Decepticons wants to start killing civilians, here. Megatron's out of the picture, but this time, the substitute Decepticon leadership isn't the maniacal leadership that occasionally takes over—it's Soundwave leading, not Scorponok, so the decisions are a little more measured.

We're starting to see the various groups that are coming into being. We have Shockwave in the Crystal City last issue; here we've got the Autobots reeling from the battle of Iacon. Next issue we'll look in on Orion Pax—the former Optimus Prime—as he gets drawn further into the oncoming DARK CYBERTRON event.
Credit(s): Transformers Facebook Page
---
Got Transformers News? Let us know here!
Most Popular Transformers News
Most Recent Transformers News
News Categories:
Toy News
,
Movie Related News
,
Cartoon News
,
Comic Book News
,
Site News
,
Rumors
,
Event News
,
Digital Media News
,
Collectables
,
Game News
,
Sponsor News
,
Site Articles
,
Store News
,
Company News
,
People News
,
Press Releases
,
Sightings
,
Reviews
,
Unlicensed Products News
,
Auctions
,
Transtopia
,
Interviews
,
Knock Offs
,
Collector's Club News
,
Editorials
,
Heavy Metal War
,
Podcast
,
Contests
,
Book News
,
Top Lists
Re: Creator Commentary: Transformers: Robots in Disguise Ongoing Issue #18 with John Barber (1493016)
Posted by
budmaloney
on June 5th, 2013 @ 10:09pm CDT
I actually liked this issue, for one reason...Arcee. Throughout IDW, Arcee has been misrepresented. I like her crazy character, but it doesn't feel it's Arcee (Or rather Susan Blu's Arcee). In G1 cartoons, Arcee was caring and a genuine Autobot. She was powerful, independent and an important role (Excluding japanese headmasters, I can't remember but I think she was different). In all the comics so far, this whole gender introduction thing doesn't fit well. She's basically the only female in the entire race! How does that make sense? I know it's logical for a robotic race to not have gender etc. But it created a disconnect when trying to understand Arcee, and it also removed any chance of seeing any future female characters unless they inject new ones. At the end of the day it's humans that read the comics, and having a predominantly ambiguous malesque characters makes things bland and a bit boring. But I guess that's Transformers, they're not humans. But when you see shows like TFP, often the best characters are females, humans or bots.
This is the first time we see the side to Arcee we all know too well. A side that Animated touched upon and even TFP. The side that reflects upon her situation. A side that shows her struggle. In #18, Arcee was herself again,
and her choice to become an Autobot made us all breathe a sigh of relief.
It gave us some concrete ground that we so much needed in this series. When everyone else is caught between factions. She took the hard choice.
Sure this issue doesn't innovate, but it stayed true to the roots, it felt like a classic Transformers comic. But it's WOW factor is lacking.
I'm still sticking with RID, the writing is different than MTME and has more politics which is cool.