Dairycon 2014: Fabulous Fourteen Figure Reveal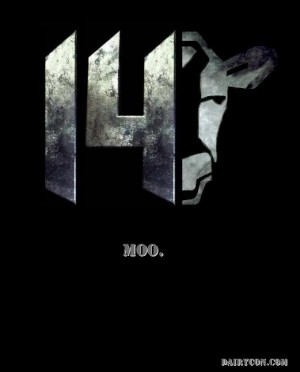 Wednesday, January 15th, 2014 9:37pm CST
Category:
Event News
Posted by:
El Duque
Views:
24,314
Topic Options: View Discussion · Sign in or Join to reply
The Dairycon Fabulous Fourteen Reveal!
Dairy!.....Dairy!….Dairy!......
Dairycons, MOOOOOOOOOOOOOO!!!!!!!!!!!!!

Dairycons are on the Move,
Dairycons are on the Loose!

Feel the Magic, Taste the Cheese,
Dairycons will Moo!

(Moo?)
(Shush, Heffer!)

Dairy, Dairy, Dairy, Dairycons, MOO!
Dairy, Dairy, Dairy, Dairycons, MOO!
Dairy, Dairy, Dairy, Dairycons, MOO!

Dairy, Dairy, Dairy, Dairycons, MOO!

Dairycon!
Register Now!
http://www.dairycon.com
****
Excelsior, Moo-Believers!
As noted in our previous Dairycon Announcement:
We revealed
Overdrive Convoy
, the Dairycon 2014 Lucky Draw Exclusive! Combined with [url=Bunny Convoy]http://dairylandtransfans.com/2014fig1.html[/url], the Dairycon 2014 Regular Raffle Exclusive, it's turning into quite the show!
There was mention of a 'Fabulous 14' Assortment (celebrating 14 years of Dairycon in the Fandom) and along with the interesting super-song lyrics, it's finally revealed:
Dairycon Fabulous Fourteen Assortment!
Part One:
Clutterbug
Allegiance: Dairycon Classic
Function: Salvage
Quote: "Catch as catch can!"

Profile:'Disorganised' is a nice way of describing Clutterbug. Anything that gets thrown out, she'll drag back again. Believes everything has some sort of value, and should be kept for future use. As a result, her nest looks like a hoarder's paradise, with piles of this and that scattered all over. The uber-packrat.

Abilities: Clutterbug has excellent sensors; she's able to detect raw materials from several feet down, even in a landfill. Can analyze the content of an object an instantly give a breakdown of its composition. Serrated pincers can cut thru most materials. In times of extreme crisis, she can unleash all her energy into one spark-attack, but this action leaves her defenseless afterwards.

Weaknesses: Her messiness is her greatest flaw; even Blot thinks she should spruce up a little. Telling her she needs to clean things up will be met with cold stares and silence. Not much of a team player.
Shining Spider
Function: Espionage Director
Quote: "I'm More Than Meets the Fly!"

Profile: This Gold Bug has a storied history. As the right-hand 'bot to the Autobot Leader, he's been on many adventures and survived to tell the tale. After an encounter with the Decepticon Sixshot that resulted in Metroplex abandoning his team, The former Throttlebot commander went into hiding. Lost during the era that Transformers turned into animals, he eventually turned up in the future sporting a new look and a new name.

Abilities: Shining Spider is the matured version of his former self. Hailing from the future, SS has the ability to remain undetected in altmode, as well as an unusual immunity to both Scraplets and the Hate Plague. Can shoot webbing of any size that traps and incapacitates his enemies just like flies, while he probes them for information. Has unusual strength for his frame. Carries a molecular transfer device, an old weapon that doesn't seem to fit his current profile.

Weaknesses: His Expectations Shattered by his former comrades, Shining Spider leads a new team in his quest for Justice. Cracks jokes that none of his enemies find funny. Still makes public service announcements to humans, much to their dismay. Considered by all to be an Amazing Friend
Danger Convoy
Function: Secret Agent
Quote: "Blast!"

Profile: The world's greatest secret agent; so secret in fact, that his codename has a codename. He speaks 14 languages fluently, including some extraterrestrial ones. He regularly balances himself on his index paw. Referred to as the "Mouse Convoy" by Uncle Whiskey Breath.

Abilities: A practitioner of the ancient martial art of kung-metallo; having bitten off a piece of the oracle, he was endowed with special Convoy of Justice powers, turning him into Danger Convoy.

Weaknesses: Longs to give up his role as a Convoy of Justice and return to his music career. Can't decide on his DJ handle, though he is leaning toward 'Convoy Mouse'. Paws, while strong, are useless for holding weapons.
Wow! Now that's what I call a Fabulous PreReg Assortment!
They're calling it Part One, so that means there's a Part Two ( Moo? ) on the way!
I can't wait!
And you shouldn't wait, either! Don't hesitate, register for Dairycon 2014 today!
Friday and Saturday
April 25th and 26th, 2014
Ramada Plaza Hotel
Crystal Ballroom
Fond du Lac, Wisconsin
http://www.dairycon.com
Dairycon 2014. A Fabulous Show. Fantastic Friends. An Udderly Good Time.
I'm on my way.
Credit(s): Methusalen
---
Got Transformers News? Let us know here!
Most Popular Transformers News
Most Recent Transformers News
News Categories:
Toy News
,
Movie Related News
,
Cartoon News
,
Comic Book News
,
Site News
,
Rumors
,
Event News
,
Digital Media News
,
Collectables
,
Sponsor News
,
Game News
,
Site Articles
,
Store News
,
Reviews
,
People News
,
Company News
,
Sightings
,
Press Releases
,
Unlicensed Products News
,
Auctions
,
Transtopia
,
Interviews
,
Editorials
,
Knock Offs
,
Collector's Club News
,
Podcast
,
Heavy Metal War
,
Contests
,
Book News
,
Top Lists
Re: Dairycon 2014: Fabulous Fourteen Figure Reveal (1542330)
Posted by
Grimlock64
on January 16th, 2014 @ 2:32am CST
Repaints of McDonald toys, with awesome bios.

I... I want them.
Re: Dairycon 2014: Fabulous Fourteen Figure Reveal (1542421)
Posted by
welcometothedarksyde
on January 16th, 2014 @ 12:00pm CST
Is Shining Spider supposed to be Goldbug? Even the naming arrangement is similar.
Also Danger Convoy's DJ name could be Deadmouse. But I think that might be taken
Re: Dairycon 2014: Fabulous Fourteen Figure Reveal (1554318)
Posted by
Methusalen
on February 28th, 2014 @ 11:59pm CST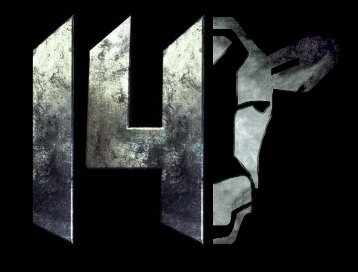 "In Space.... No One can hear you Moo."
"Moo?"
"Shush, Heffer."
Excelsior, Moo-Believers!
Not a Hoax! Not a Dream! In this Issue, Something Gets Revealed!
It's here! The Fab 14 Reveal, Part Moo:
Dairycon 2014 - Age Of Destinction!
http://dairylandtransfans.com/dtfdairycon2014.html
Revealed! Crackup! Revealed! SunBeam! Revealed! Dairycon 2014's Age of Distinction Acc packs! Revealed!
It's true. We had a notion SunBeam would be revealed, but we had no idea how big he was going to be! Reborn after his death at the hands of the Dark Energy, SunBeam GTT is large enough to take on Bunny Convoy! With their Target Moo-ster partners DairyBot and DairyCon, the battle promises to be epic!
Sunbeam GTT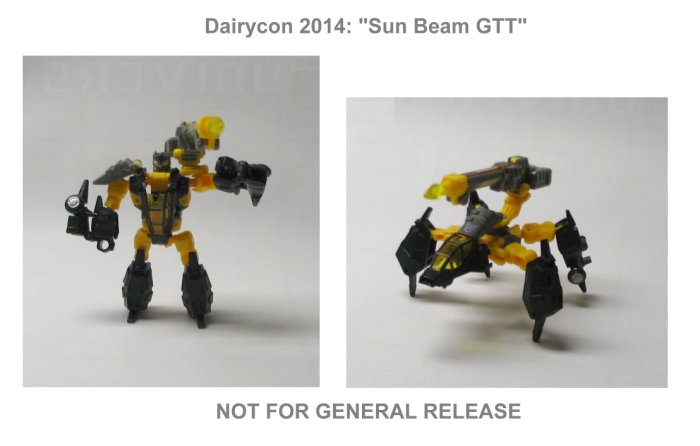 Allegiance:

Dairycon

Name:

Sun Beam GTT

Function:

Dessert Warfare

Quote:

"Careful what you touch- you might get burned."

Profile:

SunBeam is reborn! Transformed during his encounter with the Dark Energy, SunBeam now serves Nemesis Heffer as they search for the Instruments of Construction.

Abilities:

SUNBEAM 's flashy car mode has been replaced with a powerful all-terrain cybertronian construction tank. Has the ability to superheat his body to 1,000 degrees C. He can shoot concussive laser blasts from his shoulder-mounted cannon. Construction tank mode can deploy a cutting blade capable of slicing entire buildings in half with one strike. Brave Ball, when deployed, doubles the effect.

Weaknesses:

Speed is not SUNBEAM'S friend. His new form, though powerful, is slow. Can no longer travel the vegas strip with his friend Pinchbottom. The dark energy has muddied his thinking, making him slow and ponderous in body and mind. In extreme conditions, his powerplant can overheat and crack, destroying himself and everyone around him in the process.
We had a hunch Crackup would be around after last month's announcment - Sources at Dairycon won't confirm, but there's now a placeholder for him on the site! So unless they're teasing us, I have a strong feeling that figure will be available at the show!
We can't wait to see what they're hiding behind that placeholder image!
The Target Moo-sters & Acc Packs revealed!
Looks like some of the first pics of Dairycon's Age of Distinction acc packs are out! In addition to the Vector Sigma Disco Ball (first mentioned waaay back in
2002's Canadian Motormaster Tech
), it looks like fans will *finally* have a chance to get the best groovin' Dairycon Acc of all time: The IDW, or "Improvised Defense Weapon"!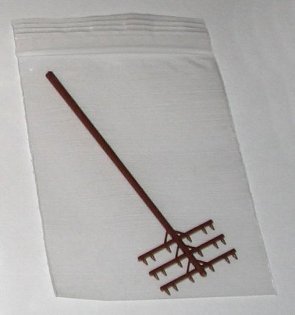 You can learn more about the IDW here:
Improised Defense Weapon, with artist's redition!
It's canon! It's epic! It's Dairycon!
Final Reveal for Today - normally, PreReg closes March 1st. We've been told by Staffers that Daircon's *official* PreReg date will now be extended to March 14th at Midnight! They're not saying why, but I imagine it's because there's one more big surprise coming down the pipe.
Dairycon 2014 Pre-Registration:
http://dairylandtransfans.com/dtfdairycon2014.html
Don't forget to book your reservations at the Retlaw Plaza!
Be sure to ask for the Dairycon Discount!
Call them directly at
(920) 923-3000
Your Purveyors of Wonder - Make Mine Dairycon!