Exclusive Interview with the Transformers Collector's Club's Pete Sinclair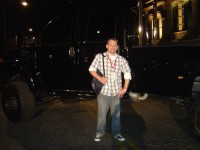 Tuesday, March 2nd, 2010 9:25pm CST
Categories:
Toy News
,
Site Articles
,
People News
,
Interviews
,
Collector's Club News
Posted by:
First Gen
Views:
82,796
Topic Options: View Discussion · Sign in or Join to reply
Hello Seibertronians,
Recently we were fortunate enough to catch up with the Transformers Collector's Club's Pete Sinclair, aka Pete@BotCon, and asked him a few questions about working with the Club and learing how Club exclusives are created. He was kind enough to field all our questions and is too nice of a guy to take a bribe. Check it out below:
First Gen: Pete, thank you so much for talking with us today. Well, first thing I'd like to get into: You're considered one of the "BotCon Elite" having been to every event. How has
BotCon
evolved over the years and what's your favorite part of it?
Pete Sinclair:
Yes, and actually, there are 8 of us who have been to every show. There are things that have changed through the years and a few things that have stayed the same. I think what has been a constant, all the way through Fun Publications taking over in 2005, is that sense of community. Even with the show now attracting several thousand walk-ins, there is still that small group feel. Having the dinner and other "collector" events clearly facilitates that. Now, that said, what has clearly been part of the evolution is what I just mentioned. The thousands of walk-ins. BotCon is clearly a mainstream show now and that to me is the most exciting part!
FG: Yeah, last year was huge. Of course it didn't hurt having all those pretty girls doing promo flyers just outside the Convention Center. So, seeing as you've been part of BotCon for so long, exactly how long have you been involved with Transformers? Or to rephrase, how long have you been with the
Transformers Club
?
PS:
When Fun Publications took over the Convention and Club license in early 2005 I, along with Jon and Karl Hartman, Ben Yee and Rik Alvarez, was asked by Hasbro to help Brian and his team get up to speed on TF's. What started out as a basic consulting gig led to me doing part time contractual work for them and then to a full time position. I currently am involved with the marketing (which I have a degree in), PR, sales and editorial side of the business. This extends to both brands we handle for Hasbro, Transformers and G.I. Joe. I went full time back in April of '08.
FG: Wow, now that's pretty sweet. Its refreshing to see that Hasbro asked fans to help out and turned around and wanted you full time. So, seeing as Hasbro went to the "pros" for help, can you tell us exactly why the Transformers Collectors Club was formed?
PS:
Many reasons I would think. To give collector's a chance to own product made just for them. Also, it's a way for Hasbro to connect directly with the fandom and collector community. A lot of that is done through the Collectors' Club Magazine. It is really enhances the collecting experience, an additional outlet if you will...
FG: The magazine is a nice treat to get bi-monthly. With regards to the magazine and the Club overall, can you tell us how many people are part of the staff that works on the Transformers Collectors Club? And if any, what sort of volunteer/employment opportunities does the Club/FunPub/Master Collector offer for TF fans looking to contribute or become more involved in the evolution of the franchise?
PS:
Outside of actual Fun Pub employees, I have about 6 people who do regular "staff" work for the club. In addition to that we obviously contract out art as well. Dan Khanna is drawing this year's Club Comic and Casey Coller will be doing all of the Club profiles. Many of the people who do work for us are fans who were just looking to get in on something official. We are always open to people contributing, whether it be art or other ideas. Actually, many of the artists for TFs over the years were fans who got a break, either from Dreamwave, IDW or us. Evan Gauntt is our resident artist and has done quite a bit of work for us.
FG: I noticed in the last Club magazine that the art contest was back in effect. Looks like I gotta break out the crayons. Moving on, how exactly is the BotCon staff formed? And following that, what is the most difficult thing for organizing BotCon every year?
PS:
That is all handled by Brian. I just show up and do what is on my schedule lol. But seriously, it is always a daunting task, that is for sure. I know he spends hundreds of hours working on the details. There are always problems that arise during a show of this magnitude, but never letting the public see the problems is a sign of a highly professional team. And that, I hope, reflects in the show we put on year in and year out!
FG: Well taking it to the other side of the spectrum, what's your greatest experience or experiences from BotCon?
PS:
At this point, just seeing people excited about the exclusives. And personally, since I am the editor for our fiction, seeing people sitting down and reading the comic. That is actually even more thrilling to me...
FG: Hey since you brought it up, lets talk BotCon Exclusives, the pride of every collector's collection. BotCon sets (attendee figures included) have gotten larger (in terms of the number of toys included) each year since Fun Publications took over the convention license. Do the larger sets make the conventions more viable or is there a chance we will see sets with fewer toys but of a larger size class?
PS:
I think collector's can expect to see the same formula for the immediate future. Though the last couple years we have tried to offer a couple larger scale toys while we have all but eliminated the scout class. That is not to say that we won't maybe change things up down the road.
FG: So, with in regards to the BotCon sets and Club figures, can you elaborate on the Transformers Club's relationship with Hasbro and Takara, especially regarding the process of getting relatively small production runs of toys made for Club exclusives? Also, do you feel that instances of Japanese exclusive figures which tread the same ground as BotCon toys present competition and if so, is it a situation that can be avoided via communication?
PS:
I wouldn't say competition. We do work with Hasbro to make sure we offer items that they do not have planned and will not be producing down the road while also making sure that they are characters and molds that our target audience will be eager to get. I think this year's Club exclusives and Convention exclusives will be just that.
FG: I know the Club exclusives are. This year's
Punch/ Counterpunch
and
Shattered Glass Cyclonus
are dreams come true for a lot of fans, and who would have thought the free Club membership figure
Elite Guard Dion
from Universe 2.0 Hot Shot would look so good? Oh yeah, that's right, you guys did. On the subject of Counterpunch/Punch, it has been stated to have a new head mold. Will there be a functional hand remold as well since they would need to be reversed for the transformation?
PS:
To keep the item in budget we had to forgo a hand remold. Fans, I am hoping, will be ok with that as we decided to put our budget towards an amazing head sculpt and not hands.
FG: That makes perfect sense. So, what are this year's BotCon Exclusives gonna be?
PS:
I was trying to think of a witty response, but then even if I say something totally ludicrous there will be that one guy mad at us for NOT making that set...
FG: Ha, the funny part is your 100% right on that one. Why can't there be a "Battle for the Sewers" set? But hey, I had to try. Since we're talking about the set, when picking the molds for the boxed sets and attendee figures for BotCon, how is it determined which molds to use? Does Hasbro have a say and is there any specific formula they try and stick by (scout, deluxe and ultra ratio?
PS:
It's a back and forth. We initially find out what basic lines are available to us, whether it be Classics, Universe, AEC and so on and then go from there. If Hasbro has certain molds in production then we may be unable to use that mold. I think people will be pretty excited when they see the molds in this year's set. And the characters are going to be an awesome surprise as well...
FG: Ah Pete you're such a tease. On a personal level, do you have a favorite Transformers character?
PS:
Sideswipe... He was my first one as a kid. The Grandfather and I were at a Gold Circle and I asked him to buy it for me. He said if he got me that one I would want them all. I assured him that this would be the only one I ever wanted...
FG: So are you a "geewunner" or did you fall in love with another era of Transformers goodness? Oh, and you can't answer with BotCon exclusive. *wink*.
PS:
What is a geewunner? I ask that rhetorically only because I grew up on G1, loved the cartoon and the comic even more. Saw the '86 film in the theater. But then when Beast Wars hit I remember being just as excited, even more in ways, because the storytelling was just so good. I remember calling Karl after the Agenda Part 3 and telling him he was not going to believe what I just saw. So, no, not a geewunner. I think so many parts of the franchise have been great.
FG: So, if one were to try and bribe you for info on the upcoming set, where would we send that bribe, hypothetically speaking of course?
PS:
It'll be worth the wait. Actually, we are working on the script as we speak. I'll be putting some news out about that soon as well.
FG: Ah, yes. Strike two, I won't go for a third. Well, Pete, I think I took enough of your time, jeez and hour and a half! Anything you'd like to say to Seibertron.com?
PS:
Well, shameless plug... This year's Club comic takes place in the Wings of Honor Universe. Part 1 of the story, which debuted last issue, was a prologue of sorts. Part 2 of the Coming Storm will begin the focus on the Elite Guard. Since we only have 6 pages per issue, we try and get as much story in to each page, and let me tell you, all kinds of surprises in these next 6 pages! I even have a bit of a preview for you of one of the Elite Guard members who will be serving alongside Dion so enjoy!
Here's a nice exclusive sneek peek at one of the upcoming members of the Elite Guard, courtesy of The Transformers Collector's Club: Elite Guard Overrun!
(Sorry Seibertronians, no plans for a toy of Overrun at the time of posting.)
FG: On behalf of Seibertron.com, I'd like to thank you for being so gracious with your time and answering a few questions for us. You rock my friend.
PS:
No problem, Thank you!
----------------------------------------------------------------------------
Seibertron.com would like to thank Pete Sinclair, Brian Savage and The Transformers Collectors' Club for making this interview possible.
Are you a member of the
Transformers Collectors' Club
? Have you renewed your membership? Now's the time to get it in gear as all Club members who are active as of March 16, 2010 will be receiving the newest free membership figure, Elite Guard Dion with Micromaster Cop-tur. And if this interview wasn't enough for you, check out our
official Transformers Collectors' Club Q&A Thread
and ask the folks at the TFCC your own questions and check out
BotCon.com
for all the latest information on the upcoming event being held in Orlando, Florida at the Dolphin and Swan Resorts located in DisneyWorld!
Keep your optics locked right here at Seibertron.com, your Ultimate Transformers Resource!
Credit(s): First Gen
---
This article was last modified on Thursday, March 4th, 2010 10:41pm CST
Got Transformers News? Let us know here!
Most Popular Transformers News
Most Recent Transformers News
News Categories:
Toy News
,
Movie Related News
,
Cartoon News
,
Comic Book News
,
Site News
,
Rumors
,
Event News
,
Digital Media News
,
Collectables
,
Game News
,
Sponsor News
,
Site Articles
,
Store News
,
Company News
,
People News
,
Press Releases
,
Sightings
,
Reviews
,
Unlicensed Products News
,
Auctions
,
Transtopia
,
Interviews
,
Knock Offs
,
Collector's Club News
,
Editorials
,
Heavy Metal War
,
Podcast
,
Contests
,
Book News
,
Top Lists
Re: Exclusive Interview with the Transformers Collector's Club's Pete Sinclair (1051320)
Posted by
Quaternion
on March 2nd, 2010 @ 10:19pm CST
Neat. Energon Quickstrike with a different head mold. That is a cool mold.
Re: Exclusive Interview with the Transformers Collector's Club's Pete Sinclair (1051339)
Posted by
Blurrz
on March 3rd, 2010 @ 12:30am CST
I'm rather eager to find out what the Botcon set will be!
Re: Exclusive Interview with the Transformers Collector's Club's Pete Sinclair (1051340)
Posted by
LiKwid
on March 3rd, 2010 @ 12:38am CST
Blurrz wrote:

I'm rather eager to find out what the Botcon set will be!
You and me both..It'll pretty much determine wether or not I'll make the trip to botcon this year..
Re: Exclusive Interview with the Transformers Collector's Club's Pete Sinclair (1051387)
Posted by
Prime Evil
on March 3rd, 2010 @ 6:26am CST
Nice interview there First Gen! Nice try on trying to squeeze any botcon figure info out of him. LOL!!

It'd be really cool if that overrun figure would be made. I don't have any of versions of that E-Bulkhead mold cause I dislike that head mold. But this would be cool. Only time will tell I guess.
Re: Exclusive Interview with the Transformers Collector's Club's Pete Sinclair (1051455)
Posted by
Liftgate
on March 3rd, 2010 @ 11:26am CST
"check out BotCon.com for all the latest information on the upcoming event being held in Orlando, Florida at the Dolphin and Swan Resorts located in DisneyWorld!"



Suuure, if they would actually GIVE us some updates, that would be great. We're less than 4 months away, so would it really hurt to give the names of a couple guest who will be there at least? Would the entire show be spoiled if they dropped a name or two of the exclusives are going to be? It's not like it's gonna give away what mold redecos they're using. Come on guys, giving no information at all isn't how you generate buzz and excitement about something.
Re: Exclusive Interview with the Transformers Collector's Club's Pete Sinclair (1051485)
Posted by
Windsweeper
on March 3rd, 2010 @ 1:35pm CST
Banzai-tron, Overrun. I wouldn't mind seeing a few more Actionmasters.

I'd love to see Classics Megatron get a head remold as Treadshot.

Maybe even Battle Ravage and Cruellock as Catgut and Tyrannitron respectively, preferably with Tyrannitron in G1 Dinobot colours.