HobbyLink Japan Sponsor News (HLJ) - 2019 Spring Sale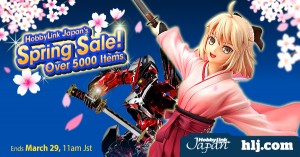 Wednesday, March 20th, 2019 4:38AM CDT
Category:
Sponsor News
Posted by:
Emerje
Views:
10,711
Topic Options: View Discussion · Sign in or Join to reply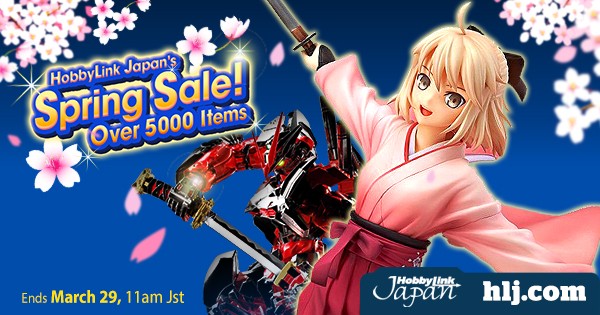 HobbyLink Japan's 2019 Spring Sale at HLJ.com
starts at 10:00am, Wednesday, March 20th, and runs to 11:00am Friday afternoon, March 29th (all Japan Standard Time, UTC + 9).
Enjoy great discounts on a variety of product categories, with more than 5,000 on sale! Great deals are easy to find: we're showcasing an assortment of hot items picked by our staff, and have a quick link on the sale page to the biggest-discount items, too!
Sale includes
102 Transformers items
!
• The sale begins March 20th, 2019 at 10AM JST, and ends March 29th, at 11AM JST.
• Our Spring Sale 2019 discounts apply only to in-stock special sale items ordered during the campaign period. Any order handling method is fine.
• Availability of Spring Sale items' stock is subject to change without notice. An in-stock item in your cart may go out of stock if our last piece was ordered by another customer before you placed your order.
• Items with a stock status of "In Stock: Orders usually filled within (time frame)" are not eligible for sale discounts.
• Refunds or price adjustments are not available for any price differences for items purchased any time prior to or after that item's period as a sale item in the Spring Sale.
• In the event of unforeseen circumstances, we reserve the right to end the campaign early.
Most Popular Transformers News
Most Recent Transformers News
News Categories:
Toy News
,
Movie Related News
,
Comic Book News
,
Cartoon News
,
Site News
,
Rumors
,
Event News
,
Digital Media News
,
Collectables
,
Game News
,
Sponsor News
,
Store News
,
Site Articles
,
Company News
,
People News
,
Press Releases
,
Sightings
,
Reviews
,
Unlicensed Products News
,
Auctions
,
Transtopia
,
Interviews
,
Knock Offs
,
Editorials
,
Collector's Club News
,
Heavy Metal War
,
Podcast
,
Contests
,
Book News
,
Top Lists
Re: HobbyLink Japan Sponsor News (HLJ) - 2019 Spring Sale (2016001)
Posted by
D-Maximal_Primal
on March 25th, 2019 @ 7:35pm CDT
Hot Preorders
HARDCORE MECHA Thunderbolt Alloy Action Figure by CCSTOYS
Thunderbolt, the hero of the 2D mechanical action game "Hardcore Mecha," gets an action figure featuring alloy parts for an excellent range of motion and durability!
figma Skull (Persona 5) by Max Factory
Ryuji Sakamoto is finally ready to join his fellow Phantom Thieves in the figma series!
Legacy of Revoltech Toy Story Buzz Lightyear Renewal Package Design Ver. by Kaiyodo
Legacy of Revoltech Buzz is back with updated packaging! He comes with his wings, and even some green army men troops.
Legacy of Revoltech Toy Story Jessie Renewal Package Design Ver. by Kaiyodo
Jessie is ready for a new adventure in the Legacy of Revoltech lineup, equipped with her lasso and plenty of other great accessories!
figma Saber Alter 2.0 (Fate/stay night: Heaven's Feel) by Max Factory
Saber Alter's sculpting and joints have been completely redone to give her the best range of motion, down to the ability to hold her sword with both hands!
Polynian Motoroid Marilyn by Daibadi Production
Motoroid Marilyn is the newest member of Daibadi's Polynian figure family, imagining a future where humans and humanoid robots from space known as Polynians live and work together!
SO-DO Chronicle SODO Kamen Rider Den-O by Bandai
This collection of mini action figures includes Kamen Rider Den-O with armor for four of his forms!
Super Mini-Pla The King of Braves GaoGaiGar Vol.6 by Bandai
Genesic GaoGaiGar finally gets a Super Mini-Pla release, with its four component parts: Genesic Galleon, Gadget Gao, Protect Gao/Broken Gao, StraightGao/Spiral Gao!Just Arrived In Stock
Actibuilder SSSS.Gridman Gridman PVC by MegaHouse
MegaHouse launches their new Actibuilder figure lineup with a figure of the giant mech from "SSSS.Gridman"!
Actibuilder SSSS.Gridman DX Assist Weapon Set by MegaHouse
Actibuilder Gridman himself also comes in a DX set with four detailed weapon/vehicles, and a stand, too!
Transformers Siege SG-13 Megatron by Takara Tomy
The mighty Megatron crashes the "Transformers War for Cybertron: Siege" party with combinable gun and sword weapons!
Diaclone DA-33 Big Powered GV (Destroyer) by Takara Tomy
The Big Powered GV (Destroyer) is an unbeatable land battleship, heavily fortified and armored, which can transform from bipedal robot mode into aircraft mode!
Transformers Siege SG-11 Skytread by Takara Tomy
Decepticon Skytread (a.k.a. Flywheels) transforms into two different robot modes, and then transforms into two different vehicle modes!
1/24 HEXA GEAR Bulkarm Alpha Jungle Type by Kotobukiya
This version of the Bulkarm, intended for use in jungle combat, is loaded with a foldable grenade cannon and a rifle, as well as an axe!
Space Battleship Yamato 2202 (Final Battle Ver.) by Bandai
From "Space Battleship Yamato 2202" comes the Yamato as it appeared for its final battle, with new molds for the main turret and deck!
1/72 VF-4 Lightning III DX Ver. by Wave
This kit allows you to build one of the VF-4 Lightning III from "Macross Flashback 2012," with a VF-4 weapon part and new decals to make either Max's or Milia's custom unit!Sale Spotlight Items
1/35 Mechatro WeGo Iesabu II by Sentinel
40% off during our big Spring Sale!
Frame Arms Girl Hresvelgr=Invert by Kotobukiya
40% off during our big Spring Sale!
MAFEX Iron Man Mark 43 by Medicom
45% off during our big Spring Sale!
1/144 MCR12 VF-31J Siegfried 2-Mode Set by Tomytec
50% off during our big Spring Sale!
Gigantic Arms 04 Armed Breaker by Kotobukiya
30% off during our big Spring Sale!
Super Mini-Pla Getter Robo Armageddon Vol.1 by Bandai
20% off during our big Spring Sale!
S.H.Figuarts Mimban Stormtrooper by Bandai
25% off during our big Spring Sale!
1/60 Full Metal Panic!: ARX-7 Arbalest by Kotobukiya
30% off during our big Spring Sale!
Re: HobbyLink Japan Sponsor News (HLJ) - 2019 Spring Sale (2016375)
Posted by
ZeroWolf
on March 29th, 2019 @ 9:41am CDT
​
Hot Preorders
Ultraman: Ultraman Suit (Anime Version) by Three Zero
This amazingly detailed Ultraman has over 40 points of articulation, and features zinc alloy die-cast metal parts for durability!
MODEROID Raijin-Oh by Good Smile Company
This MODEROID kit features Ken-Oh, Ju-Oh and Ho-Oh, which can all combine into Raijin-Oh!
1/300 HG Magnasaurer by Bandai
The mighty Magnasaurer from "Gosaurer" gets an HG kit from Bandai, and can transform into its Magna Tyranno form!
Mecha Collection U.N.C.F.D-1 Dreadnought Class Dreadnought by Bandai
The Dreadnought-class ship from "Space Battleship Yamato 2202" is ready to join your fleet, with a display base and waterslide decals included!
Defo-Real SSSS.GRIDMAN by X-Plus
Defo-Real Gridman is 15cm tall and super-deformed, with meticulous sculpting for his mechanical details!
Ginga Hyoryu Vifam: Color & Unpainted Resin Kits
Nauts brings us 4 resin kit versions of the Vifam from the 1983-84 Sunrise anime masterpiece "Galactic Drifter Vifam"!
Nendoroid Ciri (The Witcher 3: Wild Hunt) by Good Smile Company
The "Witcher 3" Nendoroid lineup continues with Ciri and her many cute expressions and accessories!
Nendoroid Ichi (Heavily Armed High School Girls) by Good Smile Company
Ichi is taking her fight to the Nendoroid world, and she's brought all of her favorite weapons with her!Just Arrived In Stock
Game Classics Vol.3 Ghosts'n Goblins Red Arremer PVC by Union Creative
Union Creative brings us another gaming classic with Firebrand from "Ghosts'n Goblins"!
1/10 ARTFX+ Emperor Palpatine PVC by Kotobukiya
The ARTFX+ series returns to the Dark Side with Emperor Palpatine!
Transformers Siege SG-12 Hound by Takara Tomy
Hound can transform from his robot mode to his 4WD vehicle mode, and his paint is weathered for a rugged appearance!
Master File Box - Frame Arms Girl Gourai Kai Ver.2 Type 10 Color by Softbank Publishing
Frame Arms Girl Gourai takes on the image of the JGSDF Type 10 tank in this special release!
1/100 Frame Arms: Zero Tora by Kotobukiya
Frame Arms Zero Tora was designed by Yoshi Shinkawa of Kojima Productions, and features a new mold!
Crash Bandicoot: Jet Pack 5.5-inch Action Figure by Neca
Neca's new "Crash Bandicoot 2: Cortex Strikes Back" figure introduces the jet pack, a vital piece of equipment on certain levels!
Time Dotabattan (Time Bokan) by Bellfine
The locust-like Time Dotabattan from "Time Bokan" gets a new model kit release from Bellfine!
MPM-3 Transformers Masterpiece Bumblebee by Takara Tomy
MPM-3 Bumblebee is back in action, with a re-release scheduled for March!
MP-34 Transformers Masterpiece Cheetor (Beast Wars) by Takara Tomy
Cheetor can transform between his sleek mechanical cheetah form and robot form, and his eyes are made with clear parts for extra realism!
HEXA GEAR Early Governor Vol.1 Jungle Type by Kotobukiya
This Governor wears a uniform and equipment adapted for jungle warfare, and features five interchangeable heads!
Re: HobbyLink Japan Sponsor News (HLJ) - 2019 Spring Sale (2018817)
Posted by
D-Maximal_Primal
on April 12th, 2019 @ 3:56pm CDT
Introducing the HobbyLink Japan Luxury Collectibles mailing list! Subscribe through the link above to get the latest information regarding premium collector items from Japan featuring sci-fi subjects and more.Hot Preorders
Ultraman Tiga Art Master 3D by GomoraKick Kaiyodo International
Kaiyodo's Art Master 3D series combines the best of classic garage kit making techniques with new modeling technology to bring us the ultimate "Ultraman" collectible!
Ultra Q Decayed Garamon Art Master 3D by GomoraKick Kaiyodo International
This incredibly detailed statue of Garamon looks like it could start moving at a moment's notice!
Final Fantasy IX BRING ARTS Zidane & Garnet by Square Enix
Zidane and Garnet join together for a Bring Arts set featuring tons of weapons and optional parts, including short hair for Garnet!
M.S.G. Gigantic Arms Order Cradle by Kotobukiya
The Gigantic Arms Order Cradle allows your action figures or Frame Arms Girls to assume command of a giant battle robot!
SG-31 Transformers Siege Red Alert by Takara Tomy
Red Alert is the newest member of the "Transformers Siege" lineup and can transform into a stylish Lamborghini Countach fire-chief car!
SG-32 Transformers Siege Autobot Springer by Takara Tomy
Springer can transform into an armored car or helicopter, and his paint is weathered to give him that rugged, after-battle appearance!
Character Classics Ultraman Taro by GomoraKick Kaiyodo International
This ultra real statue is more than just a replica, with accurately detailed features based on in-depth knowledge and research by Takashi Kinoshita!
1/12 RIOBOT VR-041H Blow Sperior Yellow by Sentinel
Yellow's Blow Sperior from "Genesis Climber Mospeada" is transformable from its Armor Cycle form to its Ride Armor form, and is made with die-cast parts for strength!
Meisho Manga Realization Outlaw Wolverine by Bandai
Wolverine joins Bandai's Meisho Manga Realization series of action figures with designs based on Sengoku period Japanese armor!
1/400 Crusher Joe Minerva by Hasegawa
The Minerva from the landmark 1983 anime film "Crusher Joe" gets a new 1/400-scale snap-fit kit from Hasegawa!
Future Boy Conan: Flying Machine I & II by Aoshima
Aoshima brings fans of "Future Boy Conan" a kit of the Flying Machine I & II, complete with miniature figures of Conan, Lana, and Dr. Lao!
Science Ninja Team Gatchaman II New God Phoenix by Doyusha
The New God Phoenix from 1978's "Gatchaman II" will be a big 39.5cm long with a wingspan of 31cm when completed!
HEXA GEAR Bulkarm Glanz by Kotobukiya
The Bulkarm can be converted from humanoid mode to vehicle mode, and it has the Hexa Gear series' first completely sealed cockpit!
1/20 PLAMAX MF-35: minimum factory PROTECT GEAR with Special Investigations Unit Patrol Vehicle by Max Factory
Max Factory teams up with Fine Molds to bring us a special "The Red Spectacles" vehicle and figure release!