HobbyLink Japan Sponsor News (HLJ) For February 15th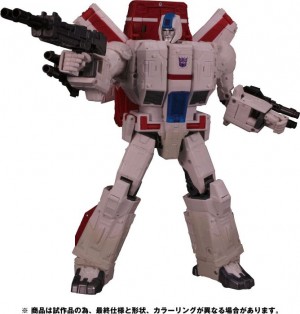 Friday, February 15th, 2019 10:23AM CST
Category:
Sponsor News
Posted by:
ZeroWolf
Views:
7,920
Topic Options: View Discussion · Sign in or Join to reply
Hot Preorders
MP-45 Transformers Masterpiece Bumblebee Ver.2.0 by Takara Tomy
Presenting the first Transformers Masterpiece Bumblebee in a purely animated style! The vehicle mode is supervised by Volkswagen, and reproduces the Choro-Q super-deformed style of the toy launched at the time of the show's first broadcast!
SG-25 Transformers Siege Brunt by Takara Tomy
Brunt features 3mm hard points and 5mm ports for effect parts and weapons; he's fully articulated, too, for maximum action posing!
SG-26 Transformers Siege Jetfire by Takara Tomy
Jetfire comes loaded with weapons, effect parts for the weapons and his jet verniers, and more!
Gigantic Arms 07 Lucifer's Wing by Kotobukiya
The Gigantic Arms Lucifer's Wing can be worn by most Frame Arms Girls and Megami Device figures, or transform into other modes for solo posing!
Diaclone DA-36 Powered System Maneuver Alpha Spartan by Takara Tomy
The Maneuever Alpha Spartan is ready for action with various weapons and tools, and a Diaclone crew member in silver and red!
Diaclone DA-35 Skyjacket [Storm Savers Ver.] by Takara Tomy
Combine DA-35 Skyjacket with the PS Maneuver to power it up to an airborne fighting machine, with a wing unit on its back and armor units on its shoulders, arms and legs!
Robot Damashii (SIDE KMF) Lancelot siN by Bandai
The Lancelot siN's Energy Wings are reproduced with vividly coloured clear parts, and the Ceaseven Anti-Material VARIS units are included for each arm!
Robot Damashii (SIDE KMF) Gurren Tokushiki by Bandai
From the "Code Geass" series comes a Robot Damashii of the mighty Knightmare Frame used by the Black Knights, the Gurren Tokushiki!
35 Mechatro WeGo: Knight WeGo by Sentinel
The Knight from "MU" becomes a Mechatro WeGo robot, equipped with the Knight's distinctive armor, sword and wings, and made with die-cast parts!
VF-31J Siegfried Freyja Wion Color Macross Delta the Movie by Hasegawa
This VF-31J is presented in colors and markings echoing Freyja Wion's costume from the February 2018 live concert held at Yokohama Arena!
Nendoroid Captain America Infinity Edition DX Ver. by Good Smile Company
Nendoroid Captain America is back, along with a DX version with more accessories, and an extension set if you've already got the earlier release!
chitocerium LXXVIII-platinum by Good Smile Company
Good Smile's new model figure series features incredible articulation and designs by popular artist, huke!Just Arrived In Stock
MODEROID Shinkalion E5 Hayabusa by Good Smile Company
Good Smile's Shinkalion E5 features fully articulated joints after assembly, allowing you to recreate its Kaisatsu Sword pose and Grand Cross pose!
HEXA GEAR VOLTREX LA Ver. by Hexa Gear
Hexa Gear Voltrex is back with a new color scheme and a Governor!
5PRO STUDIO MEGA HERO Tekkaman by Medicom
Tekkaman launches 5PRO STUDIO's brand new Mega Hero action figure lineup!
Kamen Rider Zi-O DX Saikyo Girade by Bandai
Bandai brings us Kamen Rider Zi-O's upgraded sword weapon, featuring two modes with different attack sounds!
Dragon Quest XI: Echoes of an Elusive Age Bring Arts Erik (Camus) by Square Enix
Erik from "Dragon Quest XI: Echoes of an Elusive Age" comes with his pair of daggers, a sheath, a boomerang, a treasure chest and Dracky!
Toho 30cm Series Ebirah by X Plus
The classic kaiju from 1966's "Ebirah, Horror of the Deep" is rendered in exacting detail, including his massively powerful right claw!
Credit(s): Hobby Link Japan
Most Popular Transformers News
Most Recent Transformers News
News Categories:
Toy News
,
Movie Related News
,
Comic Book News
,
Cartoon News
,
Site News
,
Rumors
,
Event News
,
Digital Media News
,
Collectables
,
Game News
,
Sponsor News
,
Store News
,
Site Articles
,
Company News
,
People News
,
Press Releases
,
Sightings
,
Reviews
,
Unlicensed Products News
,
Auctions
,
Transtopia
,
Interviews
,
Knock Offs
,
Editorials
,
Collector's Club News
,
Heavy Metal War
,
Podcast
,
Contests
,
Book News
,
Top Lists
Re: HobbyLink Japan Sponsor News (HLJ) For February 15th (2012098)
Posted by
Amelie
on February 23rd, 2019 @ 10:47am CST
Hot Preorders
MODEROID Armed Mazinkaiser Go-Valiant by Good Smile Company
Next up in the "MODEROID" series is the Mazinkaiser covered in armor, the Go-Valiant! Both the Mazinkaiser and armor parts set are included.
MODEROID Armed Unit for Mazinkaiser: Valiant Dagger by Good Smile Company
If you already own MODEROID Mazinkaiser, you can power him up with this Armed Unit!
35 Mechatro WeGo: Mazinger WeGo by Sentinel
Mazinger WeGo features Mazinger Z's distinctive coloring, along with the Hover Pilder, and Jet Scrander wings!
Frame Arms Girl Stylet XF-3 by Kotobukiya
Frame Arms Girl Stylet is back and better than ever, with a newly designed drone, wider range of movement, and more!
Armored Trooper Votoms: Scopedog ATM-09-ST by Art Storm
This Scopedog comes with its GAT-22 heavy machine gun, as well as a fully posable figure of Kiriko, who has a M571 armor magnum handgun!
Armored Trooper Votoms: Brutishdog ATM-09-GC by Art Storm
The Brutishdog comes with a fully posable figure of Phantom Fiana, and can drop down into its boarding posture so Fiana can board the cockpit!
Danball Senki LBX Achilles by Bandai
This kit of the LBX Achilles, operated by the main character Yamano Van, has been updated and revised from its earlier release, with new parts and more!
Danball Senki LBX Hunter by Bandai
Kazuya Aoshima's LBX unit is back and better than ever! Hunter's wild frame joints have been strengthened, and he comes with his rifle from the show.
Danball Senki LBX Hakai-O by Bandai
The heavyweight fighter LBX Hakai-O comes equipped with his massive serrated Ravel Blade weapon!
Danball Senki LBX Kunoichi by Bandai
Bandai has strengthened the joints in Kunoichi's strider frame, allowing for smoother movement as you pose the kit. A special display base is included, too!
1/7 G.I. JOE Bishoujo: Scarlet PVC by Kotobukiya
Designed by Shunya Yamashita, this ravishing redhead is clad in a unique interpretation of her famous bodysuit, and wields her XK-1 power crossbow!
ARTFX PREMIER Thor Odinson PVC by Kotobukiya
This superb figure of Thor has been digitally sculpted and carefully painted with a painstaking procedure that reproduces unheard-of depths of color!
ARTFX PREMIER Captain America PVC by Kotobukiya
Thanks to Kotobukiya's digital sculpting, you'll be able to appreciate the differences in the textures of Captain America's uniform, the hard metal of the iconic shield, and the rocky base!
Dragon Quest XI Bring Arts: Veronica & Serena by Square Enix
Veronica and Serena from "Dragon Quest XI" join the Bring Arts action figure lineup together! Both come with optional expressions and weapons, too.Just Arrived In Stock
Transformers Unite Warriors UW-01 Superion by Takara Tomy
Here comes the incredible Superion, featuring Slingshot, Silverbolt, Skydive, Fireflight and Air Raid!
S.H.Figuarts Obi-Wan Kenobi (STAR WARS: Revenge of the Sith) by Bandai
Obi-Wan Kenobi comes with interchangeable hands, an intechangeable facial expression, and two kinds of lightsabers!
Revoltech Evangelion Evolution: Evangelion ANIMA EVA Unit-01 Final Model by Kaiyodo
From the light novel spinoff "Evangelion ANIMA," here's the powerful EVA 01 Final Model with its distinctive two-handed Bizenosafune sword and more!
Soul of Chogokin GX-85 King Brachion by Bandai
The King Brachion, as seen in "Power Rangers Legacy," gets a Soul of Chogokin figure release, with die-cast parts and metal plating on its claws, chest, and cannons to give it a luxurious appearance!
Persona 5: Arsene by Aoshima
Aoshima is finally here with their first figure kit from the "Persona" series: Arsene!
figma Reaper (Overwatch) by Good Smile Company
Reaper from "Overwatch" is armed with his twin Hellfire Shotguns, a variety of exchangeable hands, and more!
Re: HobbyLink Japan Sponsor News (HLJ) For February 15th (2012886)
Posted by
william-james88
on March 1st, 2019 @ 1:07pm CST
Hot Preorders
MAFEX Evangelion Unit-00 (Rebuild) by Medicom
Evangelion Unit-00 features an incredible jointing system, and will be able to get into just about any pose you can come up with!
MAFEX Newt (Fantastic Beasts) by Medicom
Newt comes ready for magic and mischief with a wand, trunk, a Niffler, and his loyal Bowtruckle friend!
Hexa Gear GOVERNOR EX Armor Type: Quetzal by Kotobukiya
The highly posable Quetzal is armed with a bow, arrows, a bow gun, expansion unit, and a cloak in both action and non-action positions!
HEXA GEAR Windfall by Kotobukiya
The Windfall features camera eyes with opening/closing shutters, two types of facial expressions, and a small cockpit droid!
HAGANE WORKS Demonbane by Good Smile Company
Demonbane comes armed with his weapons Ithaqua, Cthugha, Scimitar Of Barzai, and Shining Trapezohedron!
Nendoroid The Lone Survivor (PLAYERUNKNOWN'S BATTLEGROUNDS) by Good Smile Company
The Lone Survivor's helmet visor can be raised or lowered, and he comes with an AK, an M9, and a pan to fight with!
Nendoroid Iron Man Mark 50: Infinity Edition DX Ver. (Avengers: Infinity War) by Good Smile Company
Iron Man Mark 50 gets an upgraded Nendoroid release! You can even buy the expansion pack separately if you already purchased the first release.
New Transformers Studio Series Action Figures by Takara Tomy
The newest Studio Series lineup stars Optimus Prime, Shatter, Scrapmetal, and more!Just Arrived In Stock
HG Arbalest Ver.IV (with Emergency Deployment Booster Ver.) by Bandai
From "Full Metal Panic! Invisible Victory" comes the Arbalest Ver.IV with a newly molded XL-2 Emergency Deployment Booster!
U.N.C.F.D-1 Dreadnought Class Mars Defense Line Set by Bandai
This kit comes with parts to build two ships, as well as parts for eight in-scale 3-seat Cosmo Tigers!
Transformers Masterpiece: MP-20+ WheelJack by Takara Tomy
WheelJack gets a new MP figure in colors resembling the animated version, and comes with his Cybertron Immobilizer, Shoulder Cannon, and more!
Transformers Siege SG-06 Optimus Prime by Takara Tomy
Optimus Prime helps launch Takara Tomy's new "War For Cybertron Trilogy: Siege" lineup!
Diaclone DA-31 Waruder Raider Rapt Head by Takara Tomy
The newest release in the Diaclone lineup is a dinosaur-like walker type of vehicle, and is infinitely combinable and changeable with other Diaclone items!
ZW20 Zoids Wild Dimepulsar by Takara Tomy
The Dimetrodon-type Zoids Wild, Dimepulsar, will swing its head and tail back and forth when activated!
HI-METAL R Walker Gallia by Bandai
The Walker Gallia from "Xabungle" can be separated into the Gallee-Hover and the Galee-Will!
Planet With: Sensei Action Figure by Medicos
The Sensei robot from "Planet With" gets an action figure from Medicos! It's about 13cm tall and loaded with 20 points of articulation for maximum action.
Amazing Yamaguchi Series No.008 Carnage by Kaiyodo
The vicious symbiote Carnage is back in the Amazing Yamaguchi lineup from Kaiyodo, with lots of interchangeable tendrils, extra hands and eyes, and more!
figma Saber of "Red" (Fate/Apocrypha) by Max Factory
Saber of Red comes ready to kick ass with her sword, Clarent, and her Noble Phantasm, Clarent Blood Arthur!
Re: HobbyLink Japan Sponsor News (HLJ) For February 15th (2013791)
Posted by
Amelie
on March 7th, 2019 @ 5:03am CST
Hot Preorders
SG-28 Transformers Siege Decepticon Reflector by Takara Tomy
Reflector is the newest Decepticon to join the Transformers Siege lineup, and features a spacecraft mode, and two weapons!
SG-27 Transformers Siege Caliburst by Takara Tomy
Caliburst can transform from his robot mode to his weapon mode, and comes with a firing effect part which can be attached to the weapon mode's muzzle!
Revoltech Evangelion Evolution Evangelion EVA Unit-03 by Kaiyodo
EVA Unit-03 features tons of accessories, such as a base with EVA-01's head sticking out of it, two "rip effects" for its hands, a ferocious Angel head with jaws that can be opened and closed, and more!
POSE + Metal Series Galactic Gale Baxingar by Art Storm
Pose + brings us a figure of the legendary Baxingar, hero of the 1982-82 TV series "Galactic Gale Baxingar," and it's packing the BaxSword and more!
KERORO Damashii Garuru's Spark Jegama by Bandai
Lt. Garuru's Spark Jegama from "Sgt. Frog" gets a brand-new Keroro Damashii figure from Bandai!
S.H.Figuarts Kamen Rider Woz by Bandai
Kamen Rider Woz from "Kamen Rider Zi-O" comes with his Zikan Despear weapon, which can reproduce its three modes of Yari, Tsue and Kama!
NXEDGE STYLE (MASHIN UNIT) Ryuo Maru by Bandai
The Ryuo Maru from "Mashin Eiyuuden Wataru" features optional parts to allow you to recreate Phoenix form!
NXEDGE STYLE (MASHIN UNIT) Genjimmaru (Gensaku Maru) by Bandai
Gensaku Maru from "Majin Eiyuden Wataru" features his Genso Shuriken and Lightning Knife!
Frame Arms Girl Hand Scale Gourai by Kotobukiya
Frame Arms Girl Gourai launches Kotobukiya's "Hand Scale" lineup, and will be about 7.5cm tall when assembled, with 22 points of articulation!
Toho Dai-kaiju Series Godzilla (1999) by X Plus
This figure of Godzilla depicts him as seen in 1999's "Godzilla 2000," complete with his distinctive large back-fins and ferocious head!
ART OF COLOSSUS Powered Gomora (Polystone) by Ken Elefant
The iconic Gomora from "Utraman" was the first kaiju to defeat our hero, and now he's honoured with an Art of Colossus figure!
White Glint & V.O.B Set Movie Color Version by Kotobukiya
The White Glint features a special stand, openable covers on its Overed Boost, and its head can store inside its body!
Evangelion EVA-02 TV Ver. by Kotobukiya
The EVA-02 is loaded with accessories like the umbilical cable, a rocket launcher, the entry plug, the Sonic Grave, the Progressive Knife, and the Palette Rifle!
Desktop Army Frame Arms Girl KT-116f Stylet Series by MegaHouse
Stylet is the star of the fifth collaboration between the Frame Arms Girls and Desktop Army, and her weapons can combine together to create an air-bike!
Re: HobbyLink Japan Sponsor News (HLJ) For February 15th (2014795)
Posted by
D-Maximal_Primal
on March 15th, 2019 @ 4:03pm CDT
Hot Preorders
figma Gridknight (SSSS.GRIDMAN) by Good Smile Company
Gridknight joins the figma lineup with his Calibur weapon so he can support your figma Gridman in battle!
Jumbo Soft Vinyl Figure Great Mazinger Infinity Ver. by Plex
Great Mazinger is a full 60cm tall just like the mighty Jumbo Machinder toys of old, and he's sculpted in amazing detail to represent his updated appearance in the film!
ZW22 Zoids Wild Gilraptor (Commander) by Takara Tomy
Piloted by Gallagher in the "Zoids Wild" anime, the Gilraptor will stomp determinedly forward with its mouth opening and closing while swinging its tail up and down!
Nendoroid Black Panther: Infinity Edition DX Ver. by Good Smile Company
Nendoroid Black Panther is back with new mask-less face parts to enjoy and more!
Heavy Weapon Unit 20 Ryusogu Agito by Kotobukiya
This unique heavy weapon set was designed by Naohiro Kajio, and featuers a Dragon Cannon form, the twin-bladed Soryu Sword, and more!
Heavy Weapon Unit 21 Ryusogu Ryubi by Kotobukiya
The Ryusogu Ryubi includes a long dragon sword with a movable blade, a Twin Fang with a movable blade mounted to a ball joint, and the shoulder armor for Frame Arms Girls and Megami Device figures!
Neuspotter (Maschinen Krieger) by Wave
Attention "Maschinen Krieger" fans -- the Neuspotter is back! Wave has recreated the long-lost lower body mold to bring this classic kit back to life.
figma Rikka Shiina: Summer Uniform ver. (Little Armory) by Tomytec
Rikka Shiina shows off her sharp-shooting skills in her new summer school uniform, complete with shooting glasses, a Special Forces Submachine Gun kit, and much more!
PLAMAX MS-05: RYUOMARU (Mashin Hero Wataru) by Max Factory
Ryuomaru can transform into Hooh, and his included sword can be wielded two-handed!
One:12 Collective Captain Marvel Action Figure by Mezco Toys
Captain Marvel is packed with accessories, including her an optional flight bomber jacket, energy effects, Goose the cat, and more!
MPM-3 Transformers Masterpiece Bumblebee by Takara Tomy
Transformers Masterpiece Bumblebee is coming out this month, be sure to reserve your copy before it's too late!
SS-26 Transformers Studio Series Jetfire by Takara Tomy
Jetfire can transform into an SR-71 supersonic jet, and he can also combine with SS-25 Optimus Prime!Just Arrived In Stock
Figure-rise Standard Kamen Rider Kabuto by Bandai
Kamen Rider Kabuto's chest and shoulder armor use newly molded parts, and his coloring is even closer to the look of the actual suit in the show!
Figure-rise Standard Kamen Rider 555 (Faiz) by Bandai
Kamen Rider 555 comes with the Faiz Phone, Phone Blaster, Faiz Shot, and much more!
Kamen Rider Zi-O: DX Zikan Jaclaw by Bandai
Kamen Rider Geiz Revive's Zikan Jaclaw can be switched between Tsume (Claw) and Noko (Buzzsaw) mode, and each mode features its own attack phrases!
Kamen Rider Zi-O: DX Geiz Revive Ride Watch by Bandai
Geiz Revive's Ridewatch is ready for action too, with plenty of sounds from the show!
52TOYS MEGABOX MB-05 Shin Getter Robo Armageddon Getter 1 by 52toys
The mighty Getter 1 gets a MEGABOX release and can fold up into a 5cm-square cube when he's not fighting evil!
Nendoroid Soldier: 76: Classic Skin Edition (Overwatch) by Good Smile Company
Nendoroid Soldier: 76 comes with his Helix Rockets, a Biotic Field part, an alternative mask, and much more!
Re: HobbyLink Japan Sponsor News (HLJ) For February 15th (2015335)
Posted by
Emerje
on March 20th, 2019 @ 4:31am CDT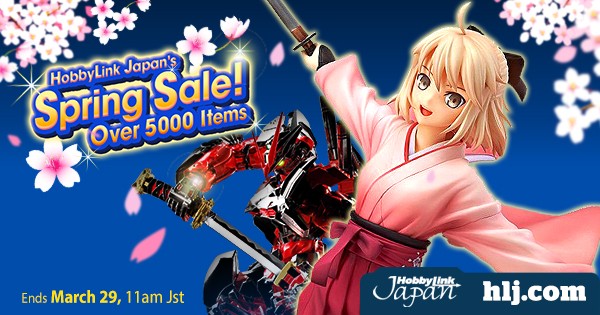 HobbyLink Japan's 2019 Spring Sale at HLJ.com
starts at 10:00am, Wednesday, March 20th, and runs to 11:00am Friday afternoon, March 29th (all Japan Standard Time, UTC + 9).
Enjoy great discounts on a variety of product categories, with more than 5,000 on sale! Great deals are easy to find: we're showcasing an assortment of hot items picked by our staff, and have a quick link on the sale page to the biggest-discount items, too!
Sale includes
102 Transformers items
!
• The sale begins March 20th, 2019 at 10AM JST, and ends March 29th, at 11AM JST.
• Our Spring Sale 2019 discounts apply only to in-stock special sale items ordered during the campaign period. Any order handling method is fine.
• Availability of Spring Sale items' stock is subject to change without notice. An in-stock item in your cart may go out of stock if our last piece was ordered by another customer before you placed your order.
• Items with a stock status of "In Stock: Orders usually filled within (time frame)" are not eligible for sale discounts.
• Refunds or price adjustments are not available for any price differences for items purchased any time prior to or after that item's period as a sale item in the Spring Sale.
• In the event of unforeseen circumstances, we reserve the right to end the campaign early.