IDW Transformers #8 Review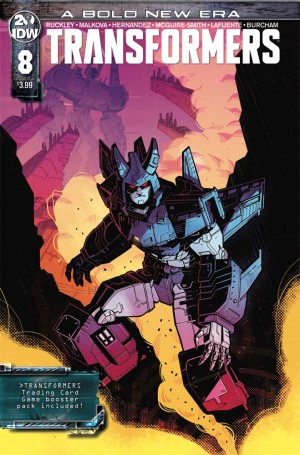 Wednesday, July 3rd, 2019 6:35am CDT
Categories:
Comic Book News
,
Reviews
Posted by:
ScottyP
Views:
22,629
Topic Options: View Discussion · Sign in or Join to reply
Self-Restrain't
A Review of
Transformers

#8
Free of any explicit spoilers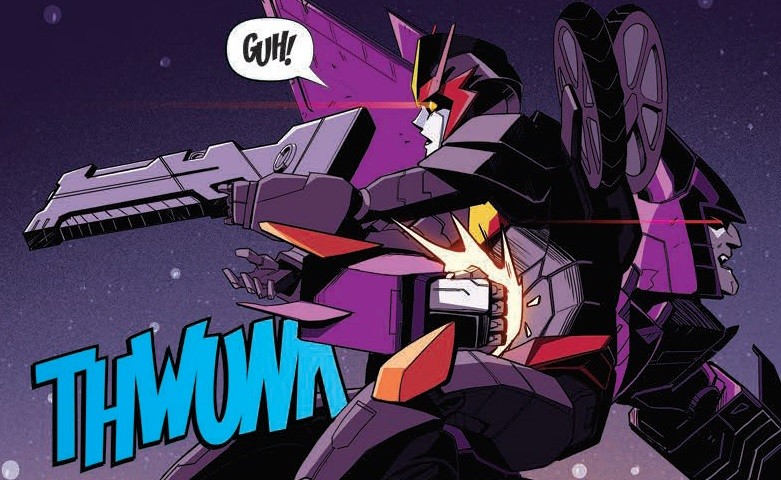 Action? Action.
There have been times that
IDW's "Bold New Era" of Transformers
has felt like it's on the right track. There have been
others
where it hasn't. Four months in and
without a cancellation post-issue 12
on the horizon, this reviewer has gone into a
this is happening so deal with it
mode and desperately wanted to like part two of its latest arc, "The Cracks Beneath Your Feet".
As it turns out, this is an issue that has very fun bookends but a troublesome middle, making it in many ways a microcosm of the series so far. Read on to find out more, or check out the
Seibertron.com eBay store to buy your copy
with its free pack of
Transformers TCG cards
then come back around here to see if you agree.
The start and ending thirds of this eighth issue are very strong, with the best action sequence and ensemble character work delivered so far in its short existence found in a pair of connected scenes. A well blocked action sequence from Anna Malkova and either Joana Lafuente or Josh Burcham* hooks you in while presenting fun teases of things to come in the future. While one facial expression here might have had a little too much
dull surprise
for my taste, the intense opening was otherwise executed flawlessly. This part gives me hope that when (if?) things ever "hit the fan" in this story, we might be in for a fun ride.
*The credits page gives no page breakdown for colorists, sorry!
The middle of this issue contains a seven page stretch that keeps doing much of the same as was seen in the previous seven issues. The first features Megatron and another new character, or at least new with respect to making an appearance. The setting is the most interesting part of the scene as the dialogue drones on with vague allusions to events unseen that are described with high-sounding phrasings that ring hollow. Maybe some of this will eventually mean something, but at the moment Ruckley continues to test readers' patience with the series' unclear overall plot. It's also worth noting that I might be the only impatient one, as other members of site staff are quite intrigued with this Megatron.
Then there are more stairs, which can no longer be ignored as a fixture in Angel Hernandez's art
thanks to WilliamJames88 pointing it out last issue
. There's also more talking and walking with Bumblebee. I'm not sure if it's a Hasbro
mandate
request
suggestion that his "plot" be featured in a majority of issues, but it adds nothing to this particular one. This series needs to show what it wants Bumblebee to be, especially given that no one else involved with the Transformers brand has
given much consistency to him over the past few years
.
It's easy to focus on what didn't work so well, but things do come around again by the end with Bethany McGuire Smith handling the lineart for the final portion of the issue's story. While Brian Ruckley delivers some effective narrative dialogue to enhance it, Tom B. Long finally gets to do something interesting with the scripts providing all the KRISH and THWUWK you've been waiting for. If editors David Mariotte and Tom Waltz were responsible for the choice of pacing, credit is due for making sure things finished out strong.
The covers available feature Cyclonus on Anna Malkova's "A" cover, which is featured in this review's news story thumbnail. Casey Coller makes me wish he was doing interiors with his Megatron based "B" cover while Jeffrey Veregge provides another excellent "travel poster" cover for the ten copy retailer incentive option,
available soon at the Seibertron eBay store
along with the others. As always, you can also find images of all of the book's covers along with full credits for the issue in our
Vector Sigma Database page for

Transformers

#8
.
A good start and a great end couldn't avoid being dragged down by a sleepy middle, but there's hope that the forest of boredom that has been this series might be clearing into something more fun to read soon. The character work in the last third is especially encouraging, with Prowl and Chromia going from harbingers of slow plot advancement to a pair that could provide a super entertaining dynamic. Despite the middle driving a final yield of something merely a little above average, two-thirds of
Transformers
#8 are hard to complain about at all so I don't mind putting a little extra on top of the score for this one -
Final Score
.
½
out of
---
Got Transformers News? Let us know here!
Most Popular Transformers News
Most Recent Transformers News
News Categories:
Toy News
,
Movie Related News
,
Cartoon News
,
Comic Book News
,
Site News
,
Rumors
,
Event News
,
Digital Media News
,
Collectables
,
Game News
,
Sponsor News
,
Site Articles
,
Store News
,
Company News
,
People News
,
Press Releases
,
Sightings
,
Reviews
,
Unlicensed Products News
,
Auctions
,
Transtopia
,
Interviews
,
Knock Offs
,
Collector's Club News
,
Editorials
,
Heavy Metal War
,
Podcast
,
Contests
,
Book News
,
Top Lists
Re: IDW Transformers #8 Review (2027274)
Posted by
Big Grim
on July 3rd, 2019 @ 7:11am CDT
Hrm. I'm getting to the point where this REALLY needs to start picking up the pace or I'll be putting down the book.
Re: IDW Transformers #8 Review (2027321)
Posted by
Stargrave
on July 3rd, 2019 @ 11:34am CDT
Dude what a great well thought out and well worded review thanks for putting in all the time and effort Scott!
Re: IDW Transformers #8 Review (2027425)
Posted by
Rodimus Prime
on July 4th, 2019 @ 6:07am CDT
Yeah, I think I'm ready to tap out on this series. I was holding out hope for the last couple of issues that if it picks up, the story will still be worth it in TPB form, where it can be read all at once, but this is just grinding to a halt. I mean, there's pretty much
nothing
going on. Nothing on the Prime/Megatron dynamic, or the supposed inside look at the story of the rise of Megatron, or whatever this book was supposed to be about. I don't even remember.
Re: IDW Transformers #8 Review (2027455)
Posted by
partholon
on July 4th, 2019 @ 5:52pm CDT
Lads if this was the G2 comic we'd now be 4 issues away from wrapping everything up.

Has this bleeding started yet?

Bold new era me backside. This is a shambles and shows what happens when you stray too far from the core concept.

The editors either don't know how to do a transformers comic any more or aren't interested.

This is practically the robot equivalent of a compilation of eating scenes in a current marvel comic.

It's starting to look like an attempt to kill the franchise through boredom. Are they trying to out do the Costa stuff?
Re: IDW Transformers #8 Review (2027551)
Posted by
Rodimus Prime
on July 6th, 2019 @ 5:09am CDT
To be fair, the G2 comics had a much more talented writer, and it already had the pre-established story of G1 to build on. This was supposed to be a totally brand new beginning, starting with the Golden Age of Cybertron. So if anything, this was gonna be a prequel.
Re: IDW Transformers #8 Review (2028181)
Posted by
AllNewSuperRobot
on July 10th, 2019 @ 1:55pm CDT
Kudos to all of you that stuck with this as long as you have. After three issues of nothing, I just couldn't take it anymore. The first run of IDWverse was into Stormbringer by now FFS
Re: IDW Transformers #8 Review (2028773)
Posted by
partholon
on July 14th, 2019 @ 7:43am CDT
AllNewSuperRobot wrote:Kudos to all of you that stuck with this as long as you have. After three issues of nothing, I just couldn't take it anymore. The first run of IDWverse was into Stormbringer by now FFS
which ironically was a response to the "too slow" and earth centric inflitration arc !
lord for the time when the books were that "Bad" .
Re: IDW Transformers #8 Review (2028774)
Posted by
AllNewSuperRobot
on July 14th, 2019 @ 7:49am CDT
Indeed. If Infiltration was deemed "too slow" by some back in the day, I what they would say to the pacing of this new series?

That said, the Earth Centric emphasis did indicate the downturn in quality of the IDWverse. Although that doesn't really apply to Infiltration directly.