IDW Transformers '84 Secrets and Lies #1 Review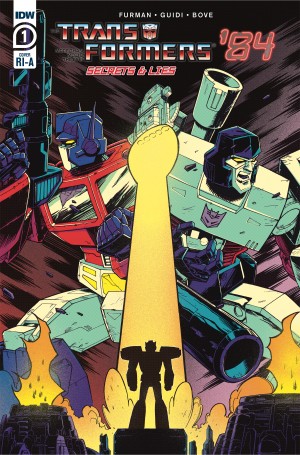 Wednesday, July 15th, 2020 8:23am CDT
Categories:
Comic Book News
,
Reviews
Posted by:
ScottyP
Views:
19,368
Topic Options: View Discussion · Sign in or Join to reply
Secrets or Lies, Perhaps?
A Review of
Transformers '84: Secrets and Lies

#1
Minor/Contextual Spoilers Within

Good luck not reading this in Counterpunch's voice. You know what I mean.
It's likely been said somewhere that the business of comic books is built on habits. There's the habit of going to your local comic shop on Wednesdays, the habit of ordering products a couple months ahead of time on the second-to-last Friday of the month, and of course the habit of actually reading the books.
The events of 2020 have shattered a great deal of these habits for numerous readers and many are still getting back into the swing of things where possible. We've fallen out of a habit here at Seibertron.com too: reviewing Transformers comics. With our apologies for the absence, let's get back to business with a review of
Transformers '84: Secrets and Lies

#1
, out this Wednesday, July 15th.
Our fandom must have bought a plenty profitable amount of last August's
Transformers '84

#0
, because not just one follow-up issue is upon us. This expansion of the early stages of the old Marvel G1 Transformers story continues on with the staple tradition of Transformers comics - a four-issue limited series. In many ways this first issue feels like the second, with the narration not missing a beat after Punch's guided tour through issue 0. Counterpunch takes the narrator role this time around, providing a not subtly taken opportunity to expand on the character. Even colorist John-Paul Bove's choice to add in G2 Color Changer Deluge
(not to be confused with G2 Aquaspeeder Deluge - this has been your toy trivia for this comic review)
and a yellow Hook adds a layer to something Counterpunch basically tells you himself anyway, which is that he's not a reliable narrator. It works really well and lends a coherency to the proceedings as the plot zigs and zags through small cracks in previously established works. The high-level plot and direction here are marvelously executed.
Readers not familiar with Marvel G1 will probably find plenty to enjoy on a quick read, but a deep-dive appreciation will be reserved for those familiar with the G1 books, and by that I mean both Marvel's US and UK output. While this slots into a chronologically similar position as issue 0, the plot plays with events that occur a bit after that first handful (or eight-full depending on your location) of original issues. Extra pages of notes by Simon Furman are provided at the end of the issue that really help guide the way, and these are very much appreciated.
A sub-plot of the story features the Dinobots (or Dynobots in this case since it's pre-Earth) in conflict with Skyfire and Shockwave. The former is novel but the latter is, to be frank, exhausted. I love the Dinobots but found myself getting a sense of déjà vu during this issue. G1, Dreamwave and IDW 1.0 incarnations of the characters feel like they're getting blended together here in a way that sadly feels stale in just their particular case. The story features some very fun moments and interactions, but just feels like the same thing seen before in a different setting. Guido Guidi took this given opportunity to provide some very cool new Cybertronian alt-modes for Slag, Sludge and Snarl, so I can't be too upset about this when all's said and done.
Guidi absolutely nails the line art, capturing the spirit of a book that knew it had to tell a story while also selling toys to kids. There's a grandeur to some of the larger panels that makes the Transformers look to be "more than meets the eye" while panels such as Dirge's toy accurate-ish transformation shown just above hit the "robots in disguise" beat that brand managers must crave. John-Paul Bove's colors are mostly good throughout but on the digital copy there were times the attempted replication of 1980s Marvel's cheapo coloring processes just didn't land for me. While the effort's appreciated, maybe some of those texturing details are better left in the past, and I think Bove's a talented enough colorist to convey a vintage look without having to rely on those stylistic callbacks. Letters are handled by now-regular Jake M. Wood, with careful attention paid to separation in narration and dialogue that keeps the reading experience comfortable. Kudos are also in order for the editorial team of David Mariotte, Tom Waltz and Riley Farmer for making space for the aforementioned continuity notes supplied by Furman, as these really help the experience and don't make me feel like I need to go start another re-read of hundreds of older comics.
On covers there are a plethora of options, with the more readily available "A" cover featuring more work by Guido Guidi while the "B" cover has Casey Coller showing off his G1-style chops featuring colors by Bove. The dynamic (and sorely missed on interiors!) duo of Nick Roche and Josh Burcham supply the 10-copy retailer incentive cover, which is featured in this review's news story thumbnail image. Things don't stop there, as readers that visit shops who order large numbers of copies may be able to snag a 25-copy incentive cover featuring the Dinobots with art by Transformers legend Geoff Senior and colors by, well, Transformers legend Josh Burcham. There were several variant retailer and convention exclusive covers shown in the sample file distributed by IDW to Seibertron.com and other press outlets, however we do not have details on how, when, or even if these will be released at this time. As always, you can also find full credits for the issue in our
Vector Sigma Database page for Transformers '84: Secrets and Lies

#1
.
One word comes to mind that describes this comic: fanservice. Fans of Marvel G1 will feel the love here, as Simon Furman has taken great care to have fun while also not totally wrecking established continuity. The narrator's slightly unreliable slant helps give an opportunity to hand-wave any incongruity while also building up the character in entertaining fashion.
I had a lot of fun reading this book and you probably will too. My subjective opinion is pretty simple: if you like Transformers just go buy a copy, read it while messing around with G1 Dirge or something after school/work/whatever, and just enjoy the nostalgic ride. A more objective analysis is factored into the score below, mostly flavored by all those positive thoughts yet weighed down a bit by a slightly derivative Dinobots/Shockwave sub-plot and '80s Marvel color textures that need to be retired.
Final Score
.
out of
This issue's out today, so pick it up on the
Seibertron.com eBay store
or at your local shop,
check here to see if you have one nearby
and remember to check first for special hours or restrictions related to public health matters.
---
Got Transformers News? Let us know here!
Most Popular Transformers News
Most Recent Transformers News
News Categories:
Toy News
,
Movie Related News
,
Comic Book News
,
Cartoon News
,
Site News
,
Rumors
,
Event News
,
Digital Media News
,
Collectables
,
Game News
,
Sponsor News
,
Site Articles
,
Store News
,
Company News
,
People News
,
Press Releases
,
Sightings
,
Reviews
,
Unlicensed Products News
,
Auctions
,
Transtopia
,
Interviews
,
Knock Offs
,
Collector's Club News
,
Editorials
,
Heavy Metal War
,
Podcast
,
Contests
,
Book News
,
Top Lists
Re: IDW Transformers '84 Secrets and Lies #1 Review (2071959)
Posted by
partholon
on July 15th, 2020 @ 12:15pm CDT
Nice nod to swoops "original" name
I didn't know this was out today so it'll be off to the lcs tomorrow to pick it up for me.
Re: IDW Transformers '84 Secrets and Lies #1 Review (2071968)
Posted by
1984forever
on July 15th, 2020 @ 1:19pm CDT
The best book IDW has ever published and the best Simon Furman has ever written, hands down. This issue deserves 5 Decepticon symbols.
Re: IDW Transformers '84 Secrets and Lies #1 Review (2074983)
Posted by
Ratbat
on August 4th, 2020 @ 2:24pm CDT
I've already ordered the
Transformers '84: Secrets & Lies
paperback via Amazon.com on
February 16
of this year.
On February 16, 2021--
exactly one year later
--the namesake trade paperback is scheduled to be released.