IDW Transformers Ghostbusters - Ghosts of Cybertron Part 1 - Review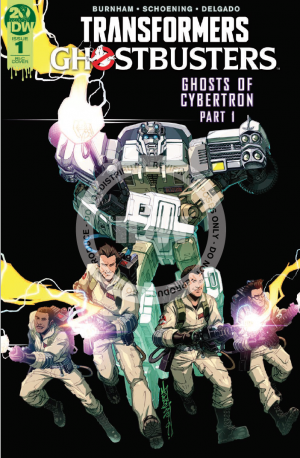 Wednesday, June 26th, 2019 10:18AM CDT
Categories:
Comic Book News
,
Reviews
,
Site Articles
Posted by:
Tigertrack
Views:
9,366
Topic Options: View Discussion · Sign in or Join to reply
Transformers Ghostbusters
Ghosts of Cybertron - Part 1 Review

"There's somethin' strange in the neighborhood.
Who you gonna' call?…

Transformers...
More than meets the eye..."

____________________________________________
SOME HISTORY:
If you would allow me a moment.
Transformers comics history is rife with crossover partners. Some seemed sensical (if not forced) and established a shared universe with similar franchises that seemed to make sense, starting with GI JOE. Then, there are those that made less sense like Visionaries, Micronauts and Rom (remember this is just writer's opinion) -but again, shared universe pushing. And finally, there are just pairings that seem to be thrown together for pure F-U-N like Star Trek —- which sadly did not include tribble-cons —- or for the ultimate 'what the' or 'what if' factor in the much criticized Transformers and Avengers crossover. Sadly missing from the crossovers to date are some that make a little more sense like Robotech, Power Rangers, Godzilla, or Gobots, all of which have enjoyed recent revival in comics format, if not other formats, as well.
This brings us to now.
A new crossover with another revitalized and popular sci-fi franchise. One that you might not pair with Transformers immediately like a
GI JOE
, but one that may prove as fun as the
Star Trek
series was, or possibly as painful as the
Avengers
series. This partnership has a lot riding behind it, more than a comic crossover (which is more than what most of the crossovers can claim), but a dedicated brand-new toy of a brand new character being introduced in the mini-series -retroactively, first introduced in a comedy TV series about childhood in the 80's-, as well as, an exclusive comic con toy, and apparel. A bit more due given here than we are used to. Will it pay off?
Hopefully, we'll find that the combining of these two popular IDW comic franchises is a fun, adventure that leaves us wanting more. Hey, with
Slimer
AND the ghost of
Starscream,
what could possibly go wrong?
YOUR REVIEWERS:
Because this is a crossover being reviewed, I will be reviewing this in conjunction with
D-MAXIMAL_PRIMAL (D MAX)
. Don't look for a good cop, bad cop thing here, each of us will tell it like it is to us, try to avoid any major spoilers, and enjoy the fact that we have a very different Transformers experience ahead of us!
____________________________________________
OVER-RE-VIEW:
This issue opens on a familiar scene. War on Cybertron between Autobots and Decepticons.
Our introduction
to the characters is very familiar generation one cartoon and comic personalities and designs in battle. Okay, looks familiar. The Autobots are taking off in their shuttle, and the Decepticons are getting ready to pursue in the ever familiar 'More than Meets the Eye' way.
But that's where the familiarity grinds to a halt…(record scratch)
D MAX: I wasn't expecting the comic creators to take it in that direction, and that's awesome that they did. It leveled the playing field and set things in motion in ways I hadn't imagined but it makes sense the way that they did it. And I like the fact that they took it in that different direction.

TIGERTRACK: Yeah, the coming of the traveler from Ghostbusters -the pivotal scene in the finale of the original movie- it was cool, but then to manipulate it to become Transformers related, coming to Cybertron and the form of the traveler being what one wouldn't first predict, and that it was picking on the cons… it truly was a nightmare!
Starscream you imbecile!!!! Kudos to writer Eric Burnham.

Are you wondering if the rest of the issue and series will be as impressively and thoughtfully planned? Me too.
Act 2
Takes us aboard the ark….which the Decepticons are a little too busy to intercept currently. Bumblebee, Cliffjumper, Jazz, Eck (Ectronymous Diamatron), and Optimus Prime are discussing Ectronymous' findings.
D MAX: I am OK with Ectotron being a standard Autobot on the Ark, his science background and also the pain he feels from bots not calling him by his real name is relatable. I feel OK with his personality so far, but I feel like it will shine a lot more in the presence of the Ghostbusters.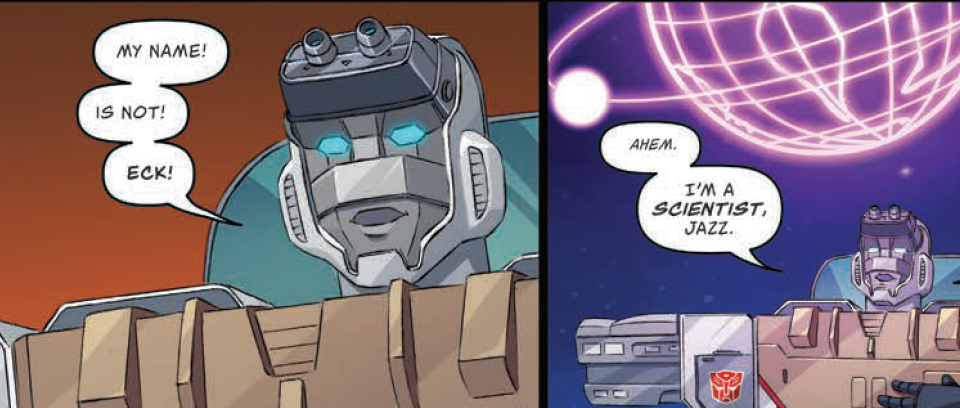 Ectotron...does not like Shakespeare.
TIGERTRACK: Spoiler alert!!!! Seriously though, it does feel like the absent Wheeljack might have fit that role just fine. I thought the name thing was somewhat fun banter to get us to understand how the other bots view Ectronymous. Sorry that I didn't know that about your name...
D-MAXIMAL_PRIMAL: Ectotron felt like from his intro on: a Ghostbuster in the Autobot ranks. He stands out amongst the bots because he really is a personality from one book displaced into another. And that is OK by me with what he is about to work with.
TIGERTRACK: I suppose he has to show up in it, or else they wouldn't sell any toys or t-shirts. I have a feeling Wheeljack will get to help invent some
'do-hickey
' down the line anyway. Making Ectotron a part of the original ark crew in this universe IS a cool way to do it. That way he isn't just the Ghostbuster's Ecto-1 given life by the allspark, or a ghostbuster's soul transferred to Ecto-1 by the same autotech that created Autobot Spike, or (choose your macguffin).
I think we possibly spoiled something there.
Act 3
took us to Earth. Much time has passed.
We're on a mission with the four original Ghostbusters in Brooklyn. Ray, Igon, Peter, and Ernie Hudson (I'm so not good with his character's name, but I do love Ernie Hudson! -Winston, right, his character's name is Winston) are pursuing what looks to be a pretty seriously powerful apparition. Ecto-1 is 'stuck'. In the shadows, a familiar face looks to acclimate himself to Earth and needs a disguise…(explore, explore…)
D-MAXIMAL_PRIMAL: As a Ghostbusters fan, I am glad to see the gang doing what they do and talkin' the talky-talk. Everything felt good and made sense, and it is awesome to read a comic with the Ghostbusters in it like this. Everything is awesome there.


Banter BANTER bAnTeR BANter (joke)
TIGERTRACK: I enjoyed this part as well. I'm not a BIG Ghostbusters fan, more a casual consumer (ie - I watch the movies when they are on). The characters felt familiar. The personalities displayed through the banter and interactions seemed spot on.
Why do the Ghostbusters in Brooklyn end up crossing paths with Ectotron and another Cybertronian? That would be telling, but ghosts and cybertronians…. hmmm….you can guess.
____________________________________________
ART:
This issue was Illustrated by regular Ghostbusters comic artist, Dan Shoening and colored by Luis Antonio Delgado. The Letters were by… you guessed it! The famous and talented, Tom B. Long.
TIGERTRACK: Reminding people about my low level of consumerism for Ghostbusters, I did think the art was an interesting mix of the cartoon-y style of vintage 'The Real Ghostbusters' cartoon, but with less artistic license taken with the characters - more movie accurate coloring, costume and settings. The Transformers were deftly handled and accurately designed by an artist that probably doesn't draw them often; although once pointed out, I couldn't ignore the difficulty that sometimes occurred with the robots proportionality, but really, overall was excellent portrayal (especially compared with some previous crossover artists). But just look at the detail in the image below. So much in the traveler's gate
to look at.
The colors were done well in supporting the designs and layouts of the illustrator, and as always, Tom B. Long does excellent work in supporting the drawings and colors with unobtrusive words and sound effects that help to illustrate what is happening in the story.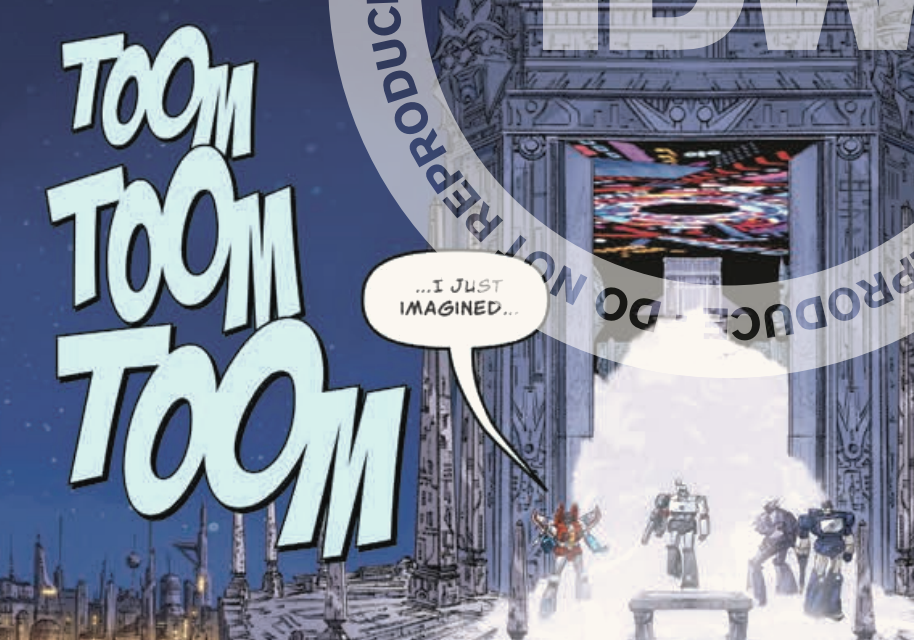 It's spelled

'T-O-M'

!
D-MAXIMAL_PRIMAL: So, the art felt a bit lacking in detail for me, and some of the proportions appeared to be off. The bots feel more bland than they should, especially Ectotron compared to his toy, and the humans were the ones who really felt like they had small heads. But it wasn't bad, it wasn't overly distracting, and it still gave us a good look at what we expect the Ghostbusters and Cartoon-based Transformers to look like.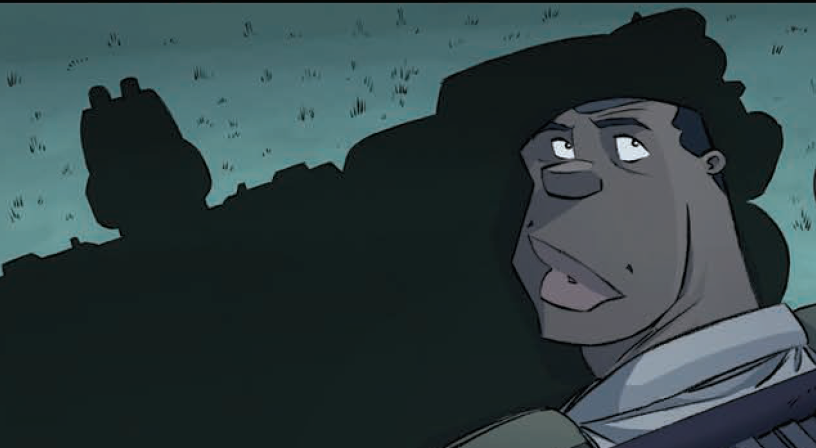 Ghosts don't cast shadows, do they?
The colors were pretty swell, and I felt that they paid proper homage to the classic cartoon style and also the Ghostbusters and what kind of wacky animated world they could live in as well.

In case, you were wondering, there is a
plethora of covers
to choose from to most likely hit your cover collecting fancy, or if you are a completist, to spend lots of extra money.
____________________________________________
CONCLUSION:
D-MAXIMAL_PRIMAL: I think this was a great kickoff issue. It was a really fun journey, and it just about ticked all the boxes I could have asked for to be ticked in an opening issue crossing over 2 of my favorite Science Fiction universes. This opener gave me hope for a great and enjoyable series, and I could not be happier to be along for the journey.
out of
TIGERTRACK: I think that IDW has another winner on their hands here in the
'FUN WAYS TO CROSS TRANSFORMERS OVER WITH OTHER SUCCESSFUL FRANCHISES THAT SEEM TO BE IN NO WAY RELATED
' genre of crossover that doesn't mess with their current Transformers series. Much like 'Transformers - Star Trek', I feel like this is meant to be a silly, what if, style series, with some avenues of popular Transformers lore being interestingly transformed to fit into another SCI FI world… when cartoons collide!
Can Transformers Ghostbusters pay off with something as fan-servicingly awesome
as a freaking Fortress Maximus Enterprise piloted by Captain Kirk
? Or was the 'traveler has come' part already been that pay off? I'm not sure, but I'm very excited to continue reading to see what else this crossover has in store! Thanks D Max for the banter. Maybe we can continue this on the next issue?
out of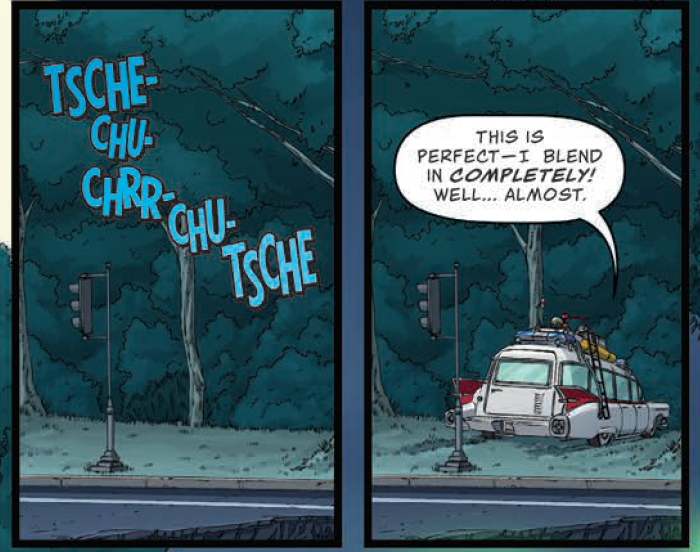 Credit(s): IDW Publishing
Most Popular Transformers News
Most Recent Transformers News
News Categories:
Toy News
,
Movie Related News
,
Comic Book News
,
Cartoon News
,
Site News
,
Rumors
,
Event News
,
Digital Media News
,
Collectables
,
Game News
,
Sponsor News
,
Site Articles
,
Store News
,
Company News
,
People News
,
Press Releases
,
Sightings
,
Reviews
,
Unlicensed Products News
,
Auctions
,
Transtopia
,
Interviews
,
Knock Offs
,
Editorials
,
Collector's Club News
,
Heavy Metal War
,
Podcast
,
Contests
,
Book News
,
Top Lists
Re: IDW Transformers Ghostbusters - Ghosts of Cybertron Part 1 - Review (2026120)
Posted by
ScottyP
on June 26th, 2019 @ 2:36pm CDT
I like the first handful of pages a lot. Then it becomes another rote exercise in franchise crossover blah, just going through its motions. Ectotron is annoying and I'm tired of the "caustic and pedantic smart person" thing.
But it was fun enough to meet my very low expectations and maybe exceed them a bit. As someone with only a tiny interest in Ghostbusters this one isn't for me but that's ok
Oh and tiny heads everywhere. Can't un-see.
Re: IDW Transformers Ghostbusters - Ghosts of Cybertron Part 1 - Review (2026242)
Posted by
D-Maximal_Primal
on June 26th, 2019 @ 7:25pm CDT
I really enjoyed the issue and I'm grateful for the opportunity to review it. This is a fun crossover that I was really looking forward to and it did not disappoint. I love it.
Re: IDW Transformers Ghostbusters - Ghosts of Cybertron Part 1 - Review (2026253)
Posted by
Stargrave
on June 26th, 2019 @ 8:04pm CDT
Not really sure if it's newsworthy but I did find this awesome combination of the alternate covers for #1 at the
IDW Twitter
labeled as "Prime Gets Slimed":

Re: IDW Transformers Ghostbusters - Ghosts of Cybertron Part 1 - Review (2026522)
Posted by
Stargrave
on June 28th, 2019 @ 10:07am CDT
From the
list released by the San Diego Comic Con
we have an image of the exclusive Dan Shoening cover for Ghosts of Cybertron #1! From the press release:
"Pick up this exclusive Transformers/Ghostbusters #1 variant cover with a TOP SECRET design to be unveiled at the convention! Prime gets Slimed as Ghostbusters and Transformers each celebrate their 35th anniversary, with this convention cover by Ghostbusters artist Dan Schoening."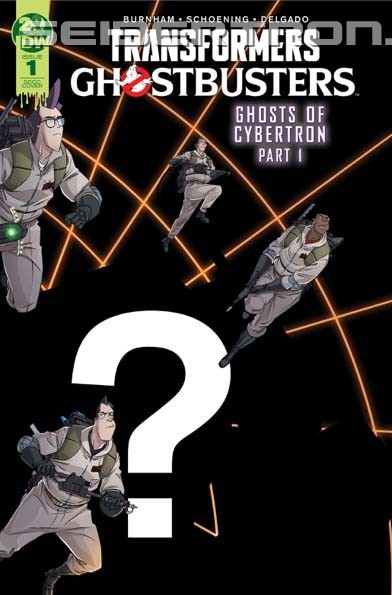 SDCC exclusives always get our community a-buzzing, for good and bad. The item is currently listed as only $10.00 so if you're a fan of the series this is an affordable bonus to grab while at the Con.
Enjoy the image and let us know your thoughts in the forum!
Re: IDW Transformers Ghostbusters - Ghosts of Cybertron Part 1 - Review (2026594)
Posted by
D-Maximal_Primal
on June 28th, 2019 @ 4:45pm CDT
Unfortunately, that whole cover was already fully revealed in issue 1 this week.
Re: IDW Transformers Ghostbusters - Ghosts of Cybertron Part 1 - Review (2026614)
Posted by
Stargrave
on June 28th, 2019 @ 5:58pm CDT
Well, I'll be a son of a glitch....
Re: IDW Transformers Ghostbusters - Ghosts of Cybertron Part 1 - Review (2028745)
Posted by
Stargrave
on July 14th, 2019 @ 12:20am CDT
Also manifesting over on
iTunes
is a two page previews of IDW's Transformers Ghostbusters Ghosts of Cybertron #2! Check out the images below and let us know your thoughts on the series in the forum.
""GHOSTS OF CYBERTRON" Part 2! Okay. So. It seems as though there are giant robots who can disguise themselves as vehicles out there in the universe, and, as it happens, one of them has taken the place of Ecto-1. When the Ghostbusters discover this replacement, they naturally have a lot of questions—and this time, even the boys in gray might not believe the answers!"
by Erik Burnham & Dan Schoening
GENRE: Comics & Graphic Novels
AVAILABLE: 2019, July 17
LANGUAGE: EN-English
LENGTH:31Pages
PUBLISHER: IDW Publishing
SELLER: Idea and Design Works, LLC
SIZE: 22.1MB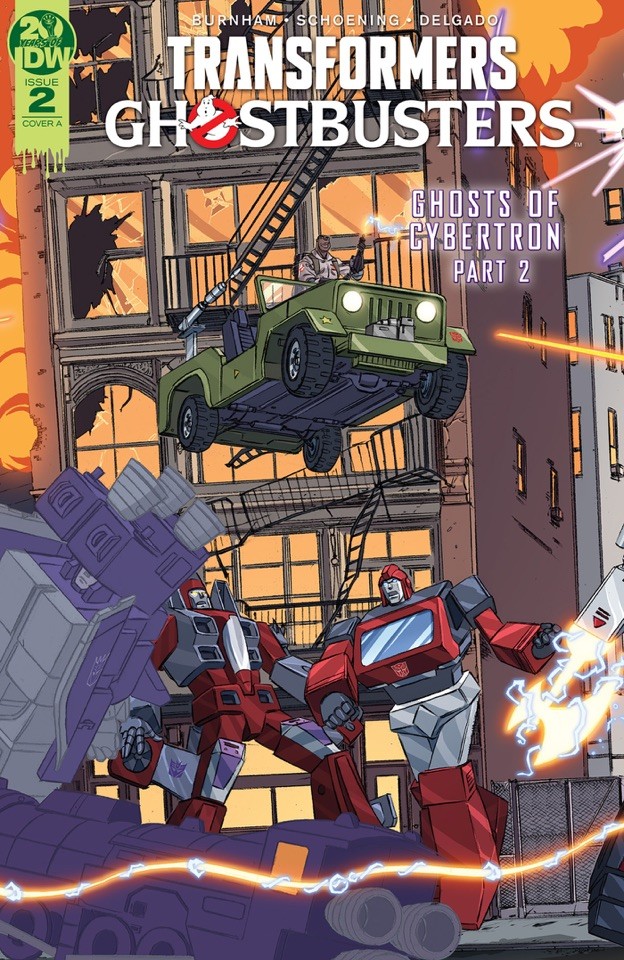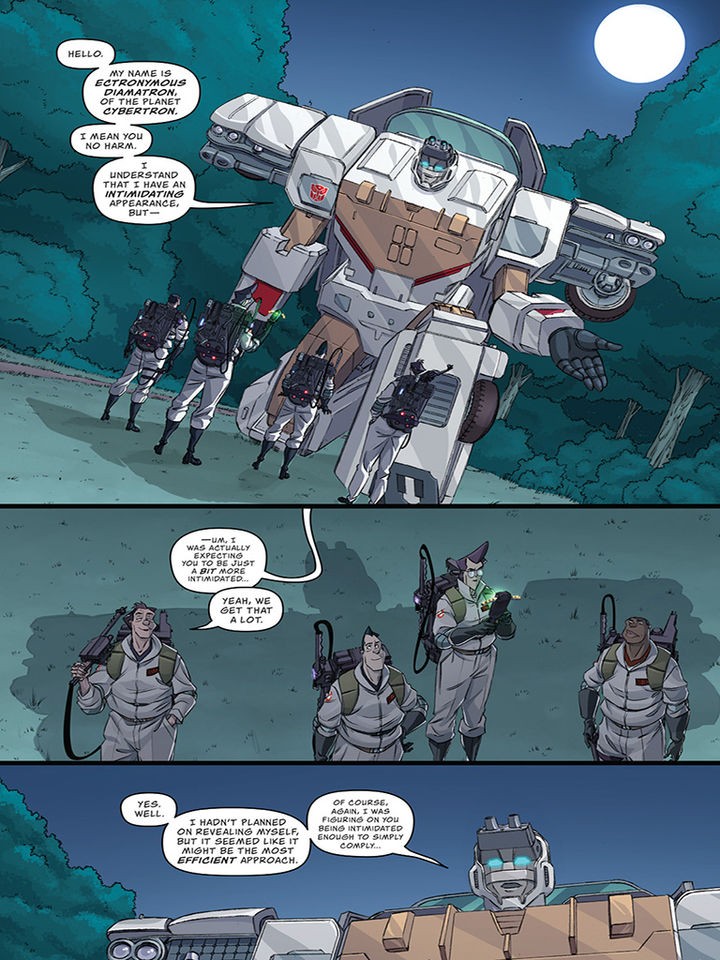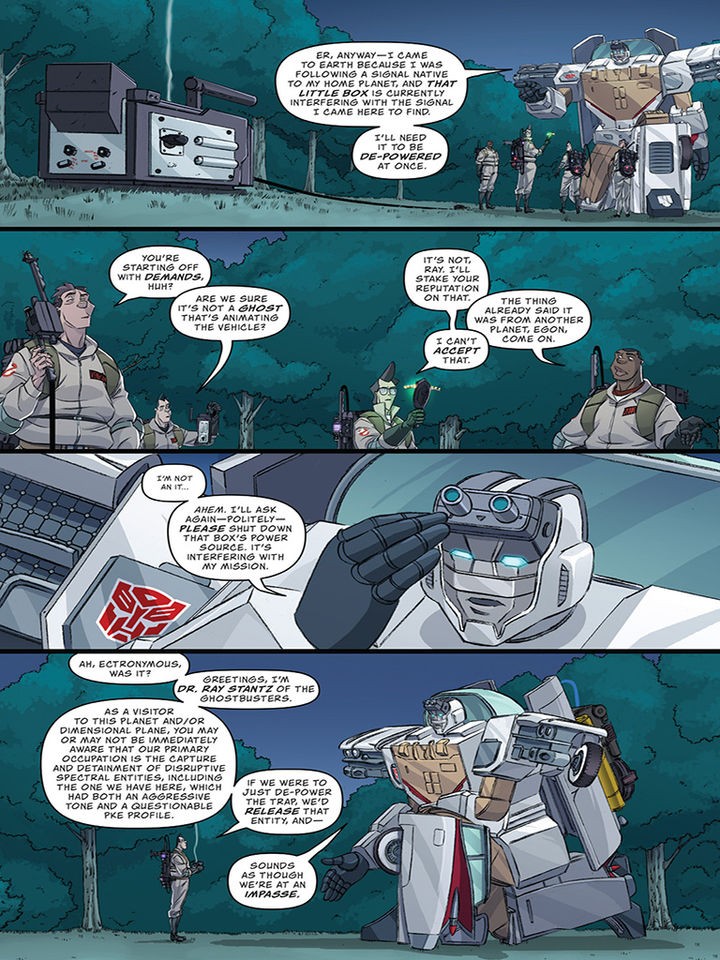 Re: IDW Transformers Ghostbusters - Ghosts of Cybertron Part 1 - Review (2028807)
Posted by
DeathReviews
on July 14th, 2019 @ 12:32pm CDT
Nice that they kept Ray's wont for prolixity...