IDW Transformers ReGeneration One #0 Review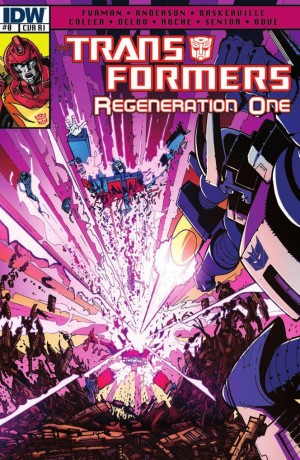 Tuesday, September 17th, 2013 5:15am CDT
Categories:
Comic Book News
,
Reviews
Posted by:
Va'al
Views:
20,508
Topic Options: View Discussion · Sign in or Join to reply
The 'How Many Times Can Old Fans Squee' Issue
(Spoiler free-ish)
Synopsis
ZERO POINT! Adventure in the time stream, as HOT ROD desperately attempts to identify the rogue elements that are leading him, and the entire CYBERTRONIAN race, inexorably towards the catastrophic end of time itself. What hidden stories do the DEATHBRINGER, BOLTAX, BUSTER WITWICKY, and GALVATRON have to tell, and what—if any—solutions are there? Or is it already too late?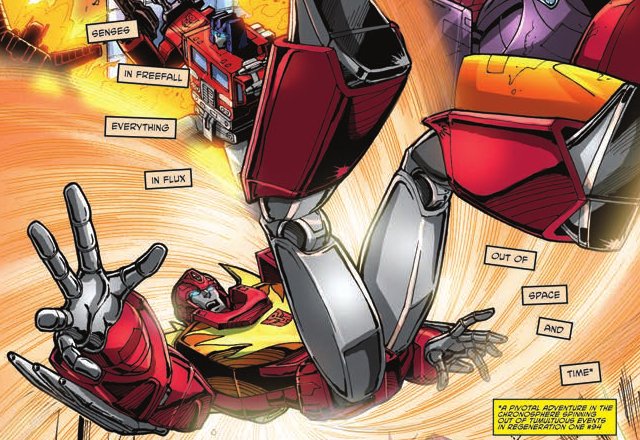 Down the rabbit hole we go! (Coller)
Story
Taking a step sideways from the events of issue 94, #0 looks at Hot Rod's journey through time to figure out what in Primus' name is happening on Cybertron, now that all seems lost. And what does he find out? A Furman fan-gasm of references, allusions and hints at other continuities, characters and what's to come.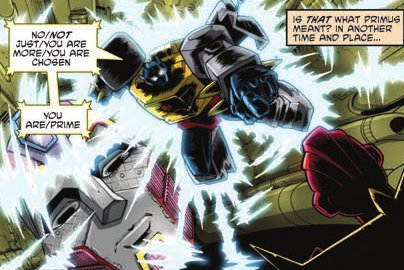 This is how we started, last issue
From the teasers, I initially thought it would be disconnected stories focusing on different plotlines and loose ends - turns out Furman had a better idea, and let Hot Rod run through all of them as a witness, learning how to help Cybertron in its time of need. Like a vast, predatory bird, really.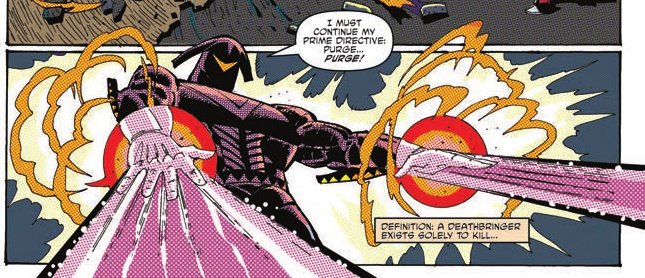 First stop: Deathbringer (Senior)
I don't want to spoil the stories at all, even though there is little to spoil for most of them, but Furman's device is really quite good in showcasing and bringing in some of the other projects he's worked on (and so have others) for the franchise.

Boltax and Jhiaxus' tete-à-tete (Anderson)
The overall storyline, connecting the different sections, is actually quite predictable. Which is a shame, considering how much thought has gone into everything else for this issue. The way in which old stories are concluded and explanations given almost makes up for it though.
Art
There are five artists: Coller, Senior, Anderson, Delbo, Roche. One inker, Baskerville, for two of the artists (Anderson and Delbo). Does it work? Yeah. Yeah it does. Coller and Roche are the newest additions to the team, and Roche's style in particular does stand out more in the issue - but it's such a fan-fest that you'll keep on drooling over the pictures anyway.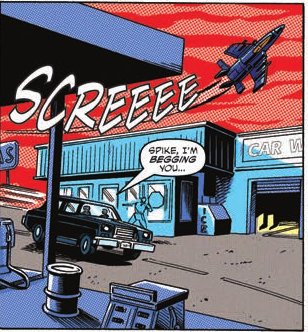 Point in case: Delbo's Buster and the..
And how to make the five-course fan-meal even more appetizing? JP Bove is here to sauce it up. The colours on the different sections are absolutely astonishing, capturing the essence of each artist's style and their location in the Transformers' comics timeline. Senior looks like Senior, Roche like Roche. And the skies look beautiful.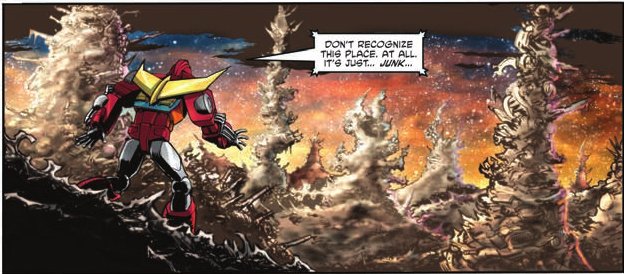 Even if it is junk (Roche)
Mowry's lettering is also pretty good, working in with the spiralling timescape of Furman's story, Wildman's actual spiral design and the various artists in the issue. Yes, Wildman and Guidi are also here, in covers A and B. I mean, come on.
Thoughts
Spoilerish ahead
As I said above, the overarching storyline isn't amazing, and is a little predictable. The re-introduction of Jhiaxus is a nice touch, and tying up some loose ends from the old run definitely pays off. But you're not getting this issue for the story, you're getting it for the art and the colours.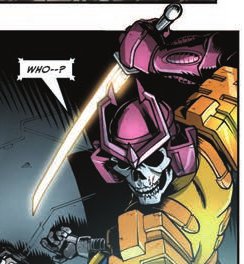 Everyone!
Because it looks amazing. Seriously, one of the best looking issues so far, with enough newness to counterbalance the oldness, while keeping everything fresh at the same time! So yes, definitely pick this one up, even if you're not reading the series - it's a real treat for new and old fans alike.
.
-
out of
Credit(s): IDW Publishing, Va'al
---
Got Transformers News? Let us know here!
Most Popular Transformers News
Most Recent Transformers News
News Categories:
Toy News
,
Movie Related News
,
Cartoon News
,
Comic Book News
,
Site News
,
Rumors
,
Event News
,
Digital Media News
,
Collectables
,
Sponsor News
,
Game News
,
Site Articles
,
Store News
,
Company News
,
People News
,
Press Releases
,
Reviews
,
Sightings
,
Unlicensed Products News
,
Auctions
,
Transtopia
,
Interviews
,
Knock Offs
,
Collector's Club News
,
Editorials
,
Heavy Metal War
,
Podcast
,
Contests
,
Book News
,
Top Lists
Re: IDW Transformers ReGeneration One #0 Review (1518406)
Posted by
Neurie
on September 17th, 2013 @ 3:00pm CDT
Must admit that last page is rather good
Re: IDW Transformers ReGeneration One #0 Review (1518735)
Posted by
Cyber Bishop
on September 19th, 2013 @ 7:46am CDT
Spoilers below..

After reading issue #0 I went back and re-read a few issues. This is what I am getting, the "crack" that was mentioned previously and the problem is that Hot Rod never was able to become Rodimus Prime like he was supposed to. That is why on his last journey he was not incorporeal but was actually there in an alternate time line where he could get the matrix and finally be who he was supposed to become.
Interesting way to bring RP into the mix now.
Re: IDW Transformers ReGeneration One #0 Review (1518881)
Posted by
Va'al
on September 20th, 2013 @ 8:06am CDT
CTV Atlantic has published an article, including video, about the Giant Robot store (Dartmouth) exclusive cover of
ReGeneration One
#0, with artwork by Casey Coller and colours by JP Bove! You can read the whole article
here
, and check out the cover art below.
The latest issue was released Wednesday. Its cover was inspired by an idea from comic book store owner Darrell Wall and completed by renowned IDW comic book artist Casey Coller.

"It is mind boggling," says Wall. "I never thought when I opened this store three years ago that I would have a comic that's exclusive to me."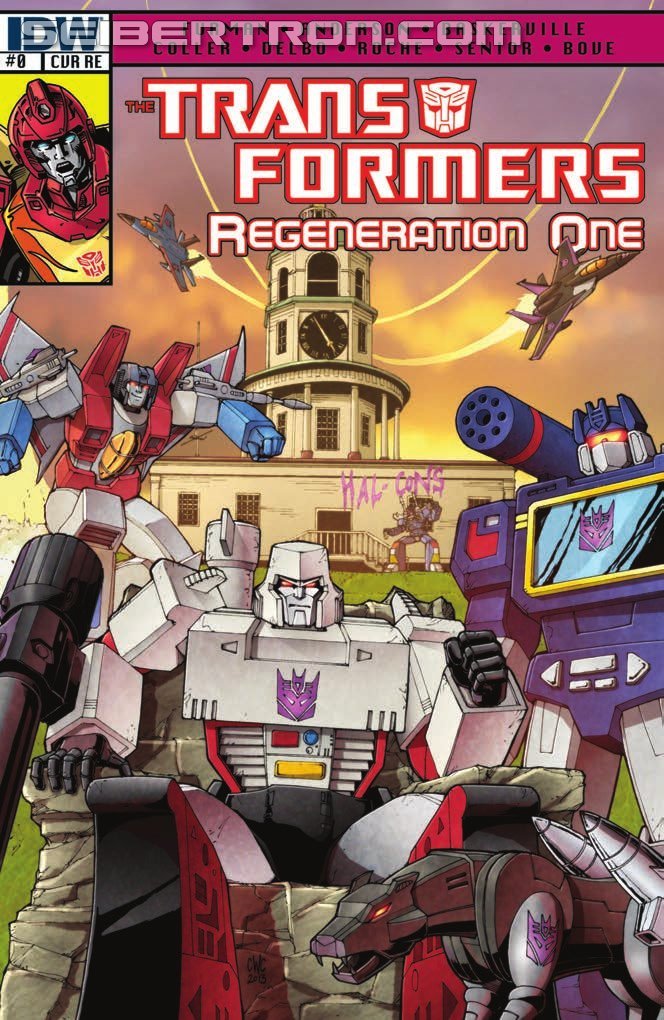 Re: IDW Transformers ReGeneration One #0 Review (1519112)
Posted by
Va'al
on September 21st, 2013 @ 7:13am CDT
Transformers colourist extraordinaire JP Bove has posted an update on
Facebook
, shedding some insight on his approach to colouring the different art styles of ReGeneration One #0. Check out his comments below!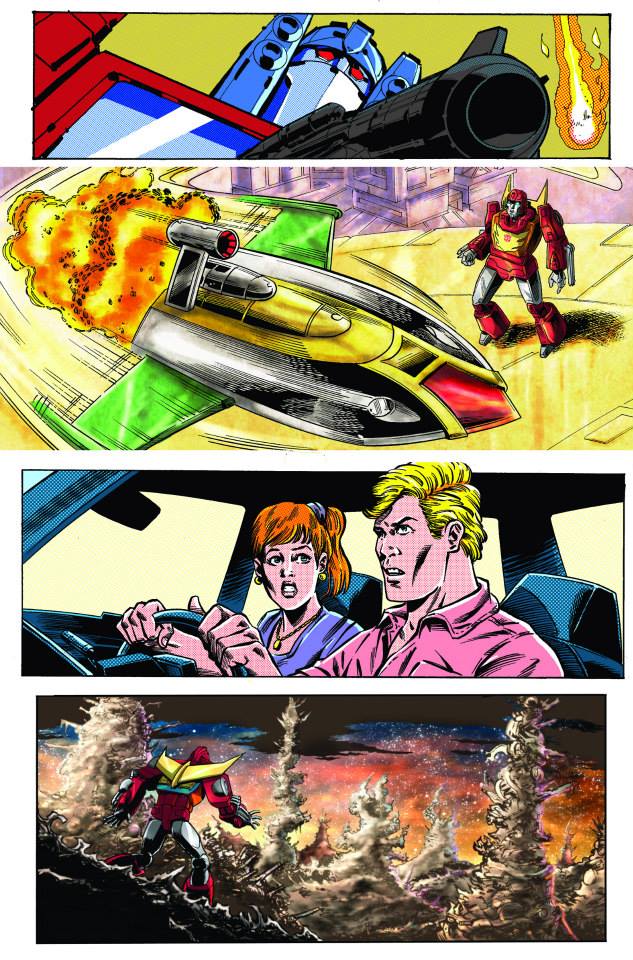 Ahead of issue Zero out on Weds 18th September I wanted to give a little insight into the atypical colouring styles I used for this issue.

From the outset I wanted to evoke the styles of the time where that was appropriate. With the top panel my initial plan had been to colour this the way that Geoff's work had often been done in Marvel UK but the time and place this story was set was meant to be confirming its place in Marvel US so I went for the Marvel US style of block colours and those pesky zip tone dots. In order to get something close to the old look I scanned several old Marvel US pages at high res to ensure that things matched pretty well.

For the second panel above we were dealing with events not previously seen so I had a lot more freedom and I decided to go for the Marvel UK watercolour/airbrush style where it should feel like we can see the medium being used to paint it. No effects, no tricks, just a lot of looking at Target 2006 for the way the streaks for reflections were used (as seen under Hot Rod. As for Rodders well he is coloured RG1 style throughout his journey because he's just an observer... Or is he?

Third panel is Jose's. My initial plan for this section set in the 90's was going to be Image comics style with high gloss, impossibly shiny skin and overloaded with unsubtle effects. That's my memory of 90's comics anyway! Stephen's gorgeous inks took things in a more classic direction so I decided to keep the zip tone look but the palette is very different between Geoff's and Jose's. I also decided that Buster was pretty in pink... That boy didn't vary his wardrobe much.

And last is Nick Roche's panel which as it is set outside of the RG1 universe entirely we went for an Animated Movie vibe meaning black outlines on foreground things with mainly bold colours and painted looking backrounds throughout.

Not only is this the first time I have properly coloured any of these guys, something for which I am still in disbelief about, I also got to work with Casey Coller again, another comic book hero of mine, although in the usual RG1 style.

I hope you pick up the book and I hope you enjoy all the nods!