James Roberts Talks: More Than Meets The Eye Future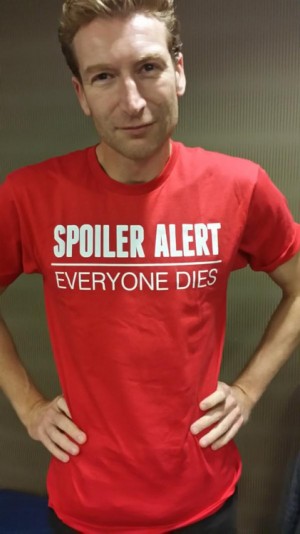 Wednesday, June 22nd, 2016 8:41pm CDT
Categories:
Comic Book News
,
People News
Posted by:
D-Maximal_Primal
Views:
20,147
Topic Options: View Discussion · Sign in or Join to reply
James Roberts has decided to take to his favorite social media platform,
Twitter
, to discuss the future of More Than Meets The Eye with everyone who is willing and able to listen. After some extensive work quoting all his tweets, we bring to you all of his words regarding where MTMTE is going and what will become of it.
His biggest points are that MTMTE will continue the story uninterrupted, but the new numbering system will kick in for "season 3" meaning we will start all over again with #1. But the story will continue as normal, with only the numbering really changing. Also worth mentioning is that there is a special surprise that is to be revealed within the next couple of weeks that will take place before Season 3 begins but after the Titans Return crossover, which by the way features Prowl.
Ok folks, buckle in and prepare for a read:
James Roberts wrote:Alright, sit down, I need to talk about the future of #MTMTE.

After Dying of the Light, which finishes next issue (#55), there's a two-part story that ties into the Titans Return crossover.

The Titans Return one-shot, out next month, is by @MairghreadScott, @TheJohnBarber and me. It feeds into exRiD 56 and 57 and MTMTE 56 and 57

MTMTE #56 + #57, set on Luna 1, star Red Alert, Max… and Prowl. We've come full circle: he was there at the start, he's there at the end.

Because MTMTE #57 is the last issue of the series in its current form. But wait! The *story* doesn't end. Season 3 kicks off in the autumn.

There will be a new #1. It will be a jumping on point, but it will also be a thumping great CONTINUATION. I went there. CAPS LOCK, baby.

Some people have said they'll walk away after #57, to which I'd say… please, don't do that. If you do that, you'll never know how it ends.

Maybe, instead of walking away, you can badger your MTMTE-resistant friends – get 'em to jump on board. Because we're not done, okay?

I've just had a look at some of your reactions. Lots of questions! I can't answer them all. Um, let's have another look…

Let's put it this way. There's always been a plan with MTMTE. A beginning, middle and end. We're still on track.

When #1 hits, Season 3 will begin, and continue, as it would have done had the old numbering continued.

There's a possibility we can revert to the old numbering for the last issue, whenever that is. Not my call, but the Big 2 do it all the time

And unless they're keeping a secret, none of Team MTMTE are planning to do a runner.

I feel really supported by IDW, who know that MTMTE has a special place in people's hearts. There's no desire to tamper with the formula.

You'll notice I've avoided all reference to what actually *happens* in Season 3. That's because we're not done with Season 2 yet. Patience!

If the renumbering bothers you, I get it. It matters more to some than others. Hey, I'm the one who made a big thing about reaching #100.

But take heart that we're still here! Nearly five years and counting. That doesn't happen much any more, whatever number's on the cover.

And if I have my way, years down the line, EVERY issue will be gathered together in one huge, 2000 page hardcover omnibus.

Last thing for the moment. There's a little surprise for you between now and #1. Wait a few weeks and you'll hear.

I'm so pleased TDOTL has gone down well so far. The last part has it all, as they say.

I'll say it nearer the time, but if you hate spoilers, don't even look at the previews. Go in stone cold.

We would also like to send a shoutout to Tori O'Regan for the Thumbnail image!
Credit(s): James Roberts, Tori O'Regan
---
This article was last modified on Thursday, June 23rd, 2016 6:06pm CDT
Got Transformers News? Let us know here!
Most Popular Transformers News
Most Recent Transformers News
News Categories:
Toy News
,
Movie Related News
,
Cartoon News
,
Comic Book News
,
Site News
,
Rumors
,
Event News
,
Digital Media News
,
Collectables
,
Sponsor News
,
Game News
,
Site Articles
,
Store News
,
Company News
,
People News
,
Press Releases
,
Reviews
,
Sightings
,
Unlicensed Products News
,
Auctions
,
Transtopia
,
Interviews
,
Knock Offs
,
Collector's Club News
,
Editorials
,
Heavy Metal War
,
Podcast
,
Contests
,
Book News
,
Top Lists
Re: James Roberts Talks: More Than Meets The Eye Future (1799833)
Posted by
Randomhero
on June 23rd, 2016 @ 9:28am CDT
People just need to calm the hell down and have some trust. It's James and John and they've been doing a great job for the past 4 almost 5 years.

Now if the news was Andy Schmidt was coming back then yes, worry. Worry a lot
Re: James Roberts Talks: More Than Meets The Eye Future (1799845)
Posted by
D-Maximal_Primal
on June 23rd, 2016 @ 10:15am CDT
I'm curious as to what the surprise is
Re: James Roberts Talks: More Than Meets The Eye Future (1799999)
Posted by
Blozor
on June 23rd, 2016 @ 5:08pm CDT
The surprise better not be Megatron turning bad again already.

1) Not that much of a surprise.
2) I love the idea of Megatron as an antihero.
3) So much for redemption.
4) His stepping out of the spotlight has allowed so many other more minor Decepticon generals demonstrate their own leadership styles.

I'd really kind of like them to find the Knights and discover that their growth along the journey was the answer they were seeking -- Cyclonus learning to care, Whirl learning to work with a team, Magnus learning to loosen up, Tailgate becoming more assertive, Swerve becoming more self-assured, Megatron learning how to do good, etc.
Re: James Roberts Talks: More Than Meets The Eye Future (1803581)
Posted by
Rodimus Prime
on July 6th, 2016 @ 7:48am CDT
I never got a good vibe from TR anyway, so I planned on quitting MTMTE after Dying of The Light. I'll check out "how it ends" as he said, but I don't have expectations. Honestly, I kinda have an inkling that Optimus and Megatron will be enemies again, this time Megatron leading the Lost Light Autobots and somehow Optimus being the leader of some Decepticons. Unless, of course, Megatron falls off the murder wagon, considering what Ratchet told him and what the DJD is doing, and just goes back to being a good ol' conquering mass-murderer again. Regardless, I made up my mind about 6 issues ago that Dying of The Light would help me decide to either stay with MTMTE or get away from it. So far, it has been a disappointment, so unless issue #55 is cover-to-cover awesome, I'm out. I gotta catch up with the other series, but it seems that Barber has been doing much better than Roberts lately.