Japanese Language Review of Transformers Go! Jinbu, Ganoh and GoKenzan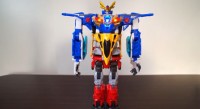 Tuesday, June 18th, 2013 11:18pm CDT
Category:
Reviews
Posted by:
LOST Cybertronian
Views:
14,689
Topic Options: View Discussion · Sign in or Join to reply
KyoryugerJP is back with Japanese language reviews of the rest of the Transformers Go! Samurai team and the combined form of GoKenzan. The first video shows off the transformation for Jinbu while the second video covers Ganoh. The third video shows the combination of GoKenzan.
Credit(s): Youtube member KyoryugerJP
---
Got Transformers News? Let us know here!
Most Popular Transformers News
Most Recent Transformers News
News Categories:
Toy News
,
Movie Related News
,
Cartoon News
,
Comic Book News
,
Site News
,
Rumors
,
Event News
,
Digital Media News
,
Collectables
,
Game News
,
Sponsor News
,
Site Articles
,
Store News
,
Company News
,
People News
,
Press Releases
,
Sightings
,
Reviews
,
Unlicensed Products News
,
Auctions
,
Transtopia
,
Interviews
,
Knock Offs
,
Collector's Club News
,
Editorials
,
Heavy Metal War
,
Podcast
,
Contests
,
Book News
,
Top Lists
Re: Japanese Language Review of Transformers Go! Jinbu, Ganoh and GoKenzan (1496423)
Posted by
Sabrblade
on June 18th, 2013 @ 11:49pm CDT
Despite his lack of an actual pelvis, Jinbu actually looks like a pretty fun figure.
So does Ganoh, His transformation also seems very familiar.
Though far from perfect, GoKenzan at least looks to be an imposing display piece.
From the sound of it, looks like videos for GoJinbu and GoGanoh are not far behind.
Re: Japanese Language Review of Transformers Go! Jinbu, Ganoh and GoKenzan (1496427)
Posted by
Autobot032
on June 19th, 2013 @ 12:47am CDT
Those are terrible. They look like knock offs from those Road Bot things. Those ones made by Happywell or whatever they were called. Transformers, they are not. You can't convince me. Blech.
Re: Japanese Language Review of Transformers Go! Jinbu, Ganoh and GoKenzan (1496459)
Posted by
Actar
on June 19th, 2013 @ 5:30am CDT
For me, you've got to put it into perspective -> Looks and articulation versus functionality. I say they did a brilliant job, more so than the FOC Bruticus, considering each of them have 5 separate modes each.
Re: Japanese Language Review of Transformers Go! Jinbu, Ganoh and GoKenzan (1496527)
Posted by
dedcat
on June 19th, 2013 @ 12:51pm CDT
I
love
goofy, clunky japanese robot toys, so for me this is an easy decision to buy. I have no doubt that play wise, these are top tier figures.
That being said, the 3 toys and the combined mode are far below the standard of quality Transformer fans have come to expect. They are trapped in the late 90's, the proportions are terrible and the kibble is obscene.
I understand there are aesthetic sacrifices for the sake of playability, but yeeeesh.
Re: Japanese Language Review of Transformers Go! Jinbu, Ganoh and GoKenzan (1496535)
Posted by
craggy
on June 19th, 2013 @ 1:14pm CDT
looks like they still have loads of articulation even in combined mode. this makes me happy. of course, his rear is backpack city, so stability might be an issue, but it'll be interesting playing about with the back kibble and seeing if I can do anything cool with it, due to the aforementioned "loads of articulation"

all three look nice in bot mode. Kenzan is probably my least favourite on it's own. the cop car mode isn't wowing me and the bot isn't fantastic. Love the head sculpt and the swords though, plus "pew pew japanese words pew pew ca-ching!" lights and sounds...and loads of them from the looks of it! none of this "my name is optimus prime" "optimus prime is the name" BS that Hasbro's given...well, I can't say "us" since I don't even remember the last speaking TF I bought...does Omega Prime count if I never put batteries in him?

Junbu looks like loads of fun, I'm even warming up to his colours. I might call him Solarcracker or something. good bot mode and good alt mode. and again, a kickass head sculpt. if it wasn't for 3 movie's worth of pavlovian conditioning by Hasbro making me want to smash and melt and throw into a black hole every bit of yellow and black plastic I'd probably really love him. As it is, he's still pretty cool.

Ganoh looks like Hosehead and Big Red (from the 1st issue of the G1 comic)had a little protoform. I like both modes, but dayum does he have some Giant Friggen Robot Fists hanging off the back of that truck mode? (answer: yes, he does) transformation is pretty basic, but it's effective in its simplicity and he looks like a big burly dude, the strongman of the team. he should have a robo-mousetache in the fiction. not keen on the weapon here so much though. might have to scrounge up an Arms Micron or two for him. Maybe the AMW blue wrecking ball?

combined GoKenzan form isn't my favourite of the three I don't think, but it's still pretty decent and the backpack even makes me think that he's got all manner of samurai shenanigans going on in there. the combination sounds that Kenzan spits out (along with the little Dynamic Combination montage music and Head Reveal ca-ching!) really make it.

glad I have these on pre-order. Did Japan get Fat Shark and the Predacon Reserves at the same time, or will we have to wait for more on them?