John Barber Transformers: Robots in Disguise Interview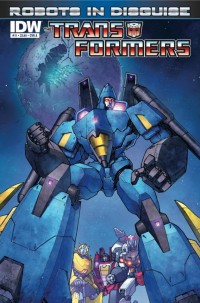 Wednesday, November 21st, 2012 11:34pm CST
Categories:
Comic Book News
,
People News
Posted by:
El Duque
Views:
65,515
Topic Options: View Discussion · Sign in or Join to reply
The
official Transformers facebook page
has posted an interview with Transformers: Robots in Disguise Ongoing writer and IDW Senior Editor John Barber. We've mirrored the interview below for those without facebook access:
Q: Hi John. Robots in Disguise is almost a year old now. Has everything panned out as smoothly as you had hoped in the story you are telling?

JOHN BARBER: Hi! Well, we've stuck pretty close to the original ideas. New things have definitely cropped up, new ideas pop in all the time, but the essential story Andrew Griffith and I set out to tell over the first year or so has gone according to plan. Along the way there've been some nice synchronicities, some characters have asserted themselves in ways that either made them bigger characters or that changed the way the story unfolded, but overall, yeah.

Q: You've been trying to make sense of some continuity issues that have cropped up. Is this something you really wanted to try in fix from past TF comics?

JOHN BARBER: It's not really that I set out to fix things as much as sometimes little continuity things suggest interesting stories or directions. Like, with Metalhawk—when More Than Meets The Eye writer James Roberts and I were working on The Death of Optimus Prime, James had come up with the notion of having a character be the de facto leader of the neutral Cybertronians who were returning home. I thought it'd be cool to use an existing Transformers character that we hadn't seen yet—somebody that would have resonance with some fans, but it wouldn't be essential that anybody know who he is.

We bounced some ideas between us and Andy Schmidt, who was the editor then, and to Michael Kelly at Hasbro. Eventually, James suggested Metalhawk. A quick internet search showed that Metalhawk had appeared in one panel in the Drift limited series. Or, anyway, somebody that looked an awful lot like Metalhawk was there. Alex Milne had drawn him in as, basically, a random 'bot. Nobody called him Metalhawk, he didn't do anything particularly important. And it would have been pretty easy to just ignore that. And, honestly—and I know some fans vehemently disagree with what I'm about to say—I think it would have been fair to just write that off as "somebody that looks like Metalhawk" if it got in the way of the story.

But it got me thinking, and I thought it could be kind of cool if that were Metalhawk, and even though he's only got that one panel in the Drift comic, that battle had actually been a key part of Metalhawk's life. And that created an opportunity to bring Turmoil (who I think is an awesome character who deserved more of an on-panel life) back and have it mean something personal to somebody that Turmoil was around. So that panel just suggested some depth to the then-just-being-developed-in-current-continuity Metalhawk.

Hopefully, in practice, it doesn't matter to the RID reader if they ever see that panel, but I think it's fun that that panel is there. It creates a wider, more coherent tapestry of stories, without being obtrusive or stopping us from moving forward.

Q: After seeing all of the previous TF work, how hard did you find it get into the characters heads and come up with their voices and point of views?

JOHN BARBER: Well, over my life I've spent a fair amount of time with these characters—reading the comics, watching the cartoons and movies, playing with the toys when I was young—so I had some thoughts about the characters. There were some that, over the years, had been portrayed in ways that didn't exactly match up all the way, which is just the reality of what happens when you have an ongoing comic book universe with different writers and artists playing in the same sandbox.

But, again, that was an opportunity. Real people do contradictory things, real people change their approaches over the years. We react differently to different situations. So I tried to use those different reactions and figure out what might make these particular iterations of these guys tick.

I tried to give the characters distinct points of view and voices based on what we'd seen them do over the course of all the IDW-published comics, and also what the sort-of "classic" versions of the characters are. I like using the big characters, and some of them have developed really interesting backstories, but that's mostly how I view the previous stories, in practical storytelling terms. I mean, not that my stories are better, I just mean that as a writer, you have to focus on the story you're telling, not a previous story. As a reader, you shouldn't need to know the details of the character's lives to follow what they're doing now, or to enjoy them as characters… but if you do want to know about their life stories—a lot of it's been published!

Q: Can you say much about your grand plan when you started writing RID? Did you have this time of peace on the re-born Cybertron well plotted out?

JOHN BARBER: Yeah, the big arc of the first year or so, definitely. It's really about 16 issues that will get you a big climax to the story begun in issue 1. But not an end to the RID saga, I should add. That definitely keeps going!

Like I said, some of it changed a little, but the broad strokes are the same.

There were certain stories I wanted to hit—RID was never meant to be only about the political struggle. I wanted to have a story about somebody coming home trying to fit in on this world; a wilderness story; a story about the city surviving the changed environment of the planet. I feel like we did pretty well hitting those stories and still moving forward with a big, macro story about the power struggle in Iacon.

Q: Have you had to change or adapt how you write the stories, maybe based on something you've seen coming up in maybe an issue of More Than Meets the Eye (RID's sister title)?

JOHN BARBER: We toss ideas back and forth all the time, James and I. So yeah, we're constantly affecting what each other are doing. We've managed to not screw each other up, though, with our stories. If that's what you mean.

Q: Have you found it difficult to keep a track of events in RID, especially with issues such as the time travelling space ship causing chaos (at least for the characters)?

JOHN BARBER: Yeah… it's funny. I really intentionally focused in on five key players—Bumblebee, Ironhide, Prowl, Wheeljack, and Starscream—with Metalhawk playing a huge outsider role for most of the series. But as the series went on, a lot of other characters became important, too. So keeping track of where everybody is and where they wind up by issue 16 has been constantly on my mind.

Issue 10, with the time-traveling space-ship… that was it's own beast. That was hard to keep track of on a totally different level. And I'm happy people came along for that ride.

Q: Is there any one stand-out moment from the first year of RID that you are most proud of over the others?

JOHN BARBER: Yes, but I can't say what it is yet without giving things away.

Q: A certain character re-appears in issue 11 of RID. Had the return of this character been in your mind right from the very start?

JOHN BARBER: Yes, absolutely. Don't miss today's issue! Everything changes here.

Q: Between writing RID and editing the books across the TF license, would you say its one of the most challenging jobs you've done in comics?

JOHN BARBER: Sure, yeah. I mean, I edit more than just the Transformers comics, too—I work on G.I. Joe with Carlos Guzman, and on Dungeons & Dragons, and on a few other comics, too. So it's a lot of good stuff to get to do. There's definitely a lot of Transformers comics across a lot of timelines, but it's a good challenge.

Q: Anything you can say about season 2 of RID? Can you say about possible happenings or characters that may reappear?

JOHN BARBER: Two words: purple reign.
Credit(s): Transformers facebook page
---
Got Transformers News? Let us know here!
Most Popular Transformers News
Most Recent Transformers News
News Categories:
Toy News
,
Movie Related News
,
Cartoon News
,
Comic Book News
,
Site News
,
Rumors
,
Event News
,
Digital Media News
,
Collectables
,
Sponsor News
,
Game News
,
Site Articles
,
Store News
,
Company News
,
People News
,
Press Releases
,
Reviews
,
Sightings
,
Unlicensed Products News
,
Auctions
,
Transtopia
,
Interviews
,
Knock Offs
,
Collector's Club News
,
Editorials
,
Heavy Metal War
,
Podcast
,
Contests
,
Book News
,
Top Lists
Re: John Barber Transformers: Robots in Disguise Interview (1441584)
Posted by
Rodimus Prime
on November 22nd, 2012 @ 3:52am CST
hellkitty wrote:Overlord's not dead, though~!
Oh yeah, I forgot. Getting blown up by those pansies wasn't enough to kill him, how could it be. I don't read any of the current stuff, except for Regeneration. I just happened to see Overlord return on 1 of the new covers.
Re: John Barber Transformers: Robots in Disguise Interview (1441663)
Posted by
Va'al
on November 22nd, 2012 @ 12:12pm CST
I agree with the review, this issue works really well in pacing, artwork and plot!

Arcee's moments have a redeeming sense about them, showing her true colours (I believe).
The Omega Supreme splash page is gorgeous.

And the ending is.. well, go read it if you haven't.
Re: John Barber Transformers: Robots in Disguise Interview (1442316)
Posted by
PaxCybertron82
on November 26th, 2012 @ 1:01pm CST
I have always hated Arcee. After this issue, I truly loath her. I do hope she gets whats coming to her.
Re: John Barber Transformers: Robots in Disguise Interview (1442317)
Posted by
PaxCybertron82
on November 26th, 2012 @ 1:02pm CST
Rodimus Prime wrote:

hellkitty wrote:Overlord's not dead, though~!

Oh yeah, I forgot. Getting blown up by those pansies wasn't enough to kill him, how could it be. I don't read any of the current stuff, except for Regeneration. I just happened to see Overlord return on 1 of the new covers.
You just called the Wreckers "pansies". Them's fightin' words, boy.