Michael Bay and Steven Spielberg Hall of Fame Induction Videos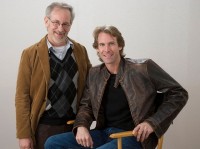 Tuesday, June 7th, 2011 8:14pm CDT
Categories:
Movie Related News
,
Event News
,
People News
Posted by:
El Duque
Views:
47,947
Topic Options: View Discussion · Sign in or Join to reply
As you all know Michael Bay and Steven Spielberg were the humans inducted into the Transformers Hall of Fame at this year's BotCon. Take a look at their induction videos embedded below featuring various Hasbro executives and movie cast members commenting on their contributions to the franchise.
Credit(s): transformers YouTube
---
This article was last modified on Tuesday, June 7th, 2011 8:37pm CDT
Got Transformers News? Let us know here!
Most Popular Transformers News
Most Recent Transformers News
News Categories:
Toy News
,
Movie Related News
,
Cartoon News
,
Comic Book News
,
Site News
,
Rumors
,
Event News
,
Digital Media News
,
Collectables
,
Game News
,
Sponsor News
,
Site Articles
,
Store News
,
Company News
,
People News
,
Press Releases
,
Sightings
,
Reviews
,
Unlicensed Products News
,
Auctions
,
Transtopia
,
Interviews
,
Knock Offs
,
Collector's Club News
,
Editorials
,
Heavy Metal War
,
Podcast
,
Contests
,
Book News
,
Top Lists
Re: Michael Bay and Steven Spielberg Hall of Fame Induction Videos (1235829)
Posted by
MINDVVIPE
on June 7th, 2011 @ 9:31pm CDT
Wow that was a lota posts to read, haha.
Yea, I guess it so happens that there a lot of people who knew from the start the HOF was just for kicks, sorta in the vein of Transformers being sort of a light-hearted fandom.
I guess there were also those who were hoping it would be a little more serious; perhaps something to raise their own feeling of belonging when the person inducted is actually a TF veteran of the industry, someone who they themselves really appreciate and, in a way, want to feel like they're part of some solid fandom that works on a logical sense, rather than a largely money-based one (of which I am convinced the HOF is).
I didn't really care about the HOF myself, so I guess I can't really complain as there is nothing I have beef with. I believe, like someone else also mentioned, that the movies really did so well due to marketing, and in effect aided Hasbro marketing. Also, when I say marketing, I'm not just talking about lots of trailer air time, but the visual content of them... explosions, lots of CG, lots of eye candy
basically.
I'm just glad I have all the oldschool TF stuff (a lot that I haven't even fully explored yet), and don't have to rely on just the movieverse. There is one sad loss though, If not for some of your posts, I wouldn't know which other people are really great at TF work, and now I have some help in deciding what next cool piece of TF material to get into... the HOF could have done that, if it were more based on quality of work rather than quantity of sales.
You guys gota relax more. Sometimes it's pretty clear from the start that someone feels Bay sucks, okay, whatever, who cares. Discuss with the people who comment positively on him then, and leave others to discuss why they were so terrible. You're not going to change peoples' opinions from forum posts (least it aint likely, since the movie is there for all to see and evaluate themselves).
Re: Michael Bay and Steven Spielberg Hall of Fame Induction Videos (1235837)
Posted by
TulioDude
on June 7th, 2011 @ 9:50pm CDT
Congratulations!
They tottaly deserve it and it was so interesing to see how they contribuet to the Movie series and the franchise.This was just so much Awesome!
Re: Michael Bay and Steven Spielberg Hall of Fame Induction Videos (1235862)
Posted by
00Geass
on June 7th, 2011 @ 10:24pm CDT
Every time i come on here i find more and more difficult to believe you're all adults, honestly all of you bitching about "ruined childhoods" are pathetic little ingrates.
Since when has hasbro been aiming it's toy line to grown ass F@CKING 30 YEAR OLDS!? Grow the F#CK UP, the franchise is all about getting new fans hooked on the toys, those new fans are KIDS, CHILDREN, ACTUAL CHILDREN, not childish men who think they know whats going top sell a fucking GLOBAL FRANCHISE to kids all over the god damned planet! Did you study marketing at a college level? Honestly get a life, if you like it more power to you, if you don't at the very least voice your opinion in an intelligently formed context like a grown adult.
Little kids go on this site, and I'm pretty sure having them see all this pansies whining about every single fucking toy isn't helping the franchise out one bit
Re: Michael Bay and Steven Spielberg Hall of Fame Induction Videos (1235897)
Posted by
AutobotTopper
on June 7th, 2011 @ 11:51pm CDT
I thought these vids were only to be shown at the hall of fame. It makes me a tad upset that I find them on the internets just a few days after attending the event myself. But on the other hand, I really wanna see the Erector vid again, so I'm torn
Re: Michael Bay and Steven Spielberg Hall of Fame Induction Videos (1236441)
Posted by
OptiMagnus
on June 8th, 2011 @ 11:00pm CDT
First off, I would like to congratulate Michael Bay and Steven Spielburg on their induction and for their contributions to the hobby I love.

I can't resist. I must give my rant. If I go too far I ask Burn to shut me up:
Okay, whether Bay and Spielburg "raped your childhood" or not, they still made Transformers, as a BRAND, not just as a movie continuity, a ****load of money. Now children (the ones who really buy the stuff) love Optimus Prime and Bumblebee because of all this exposure to the public. And thanks to this, all of the adult collectors who love their GeeWun classics get to keep enjoying their hobby. It's a magical thing.
Maybe I'm just some young whipper-snapper who's been "raped and brainwashed" by Michael Bay's corruption that has ruined Transformers FOREVER, I don't know. But I still love G1, Beast Wars, RID, Unicron Trilogy, Animated, and TF Prime just the same. If Bay's work is what it takes to keep all of that up, so be it. (The movie universe is still my favorite. I don't care how much you hate me for it.)
Besides, who is forcing anyone to buy these toys, buy movie tickets, or even watch the slagging trailers? It's not wiping out G1. It's not ruining anything. G1 still exists, doesn't it? Has anyone even realised we're arguing over a TOY brand?

If you're going to read 1 paragraph out of this, please read the final one.
Re: Michael Bay and Steven Spielberg Hall of Fame Induction Videos (1236450)
Posted by
MINDVVIPE
on June 8th, 2011 @ 11:14pm CDT
or better yet, read this:
(R***ed my childhood)
If you guys are so determined to ensure this is all kept kid-friendly, then maybe stop using the R word, it isn't helping your cause.
Re: Michael Bay and Steven Spielberg Hall of Fame Induction Videos (1237640)
Posted by
vectorA3
on June 11th, 2011 @ 1:09am CDT
congrats to Spielberg. No congrats to Bay.
Bay wouldn't have been involved with the TF movies if Spielberg didn't pick him. I didn't like in Bay's video how they said there's no one else capable of doing what he did. No replacement. BS -there are a lot of directors out there
Re: Michael Bay and Steven Spielberg Hall of Fame Induction Videos (1239611)
Posted by
Novascream
on June 14th, 2011 @ 6:36pm CDT
It was not worth the 45 bucks I paid! There wasn't even a dinner included like they had last year in Florida. I felt it was a waste of my time. Since what they showed is available online right now on the official site. I will never ever pay for something like that again! In fact I think I have a way to get my money's worth next Botcon! Hopefully it will be in a better/different location than this year. I wanna see new places!