Quick Reviews of Transformers Galaxies #9, Transformers 84 #3, and Transformers My Little Pony #2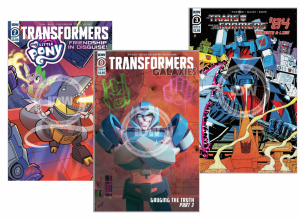 Wednesday, September 2nd, 2020 5:59pm CDT
Categories:
Comic Book News
,
Reviews
,
Site Articles
Posted by:
Tigertrack
Views:
52,147
Topic Options: View Discussion · Sign in or Join to reply
What's new in Transformers comics this week - 9/2/2020
It's new comic book day again, the first in September, and we find ourselves here with a slew of new comics fiction to chew on and enjoy.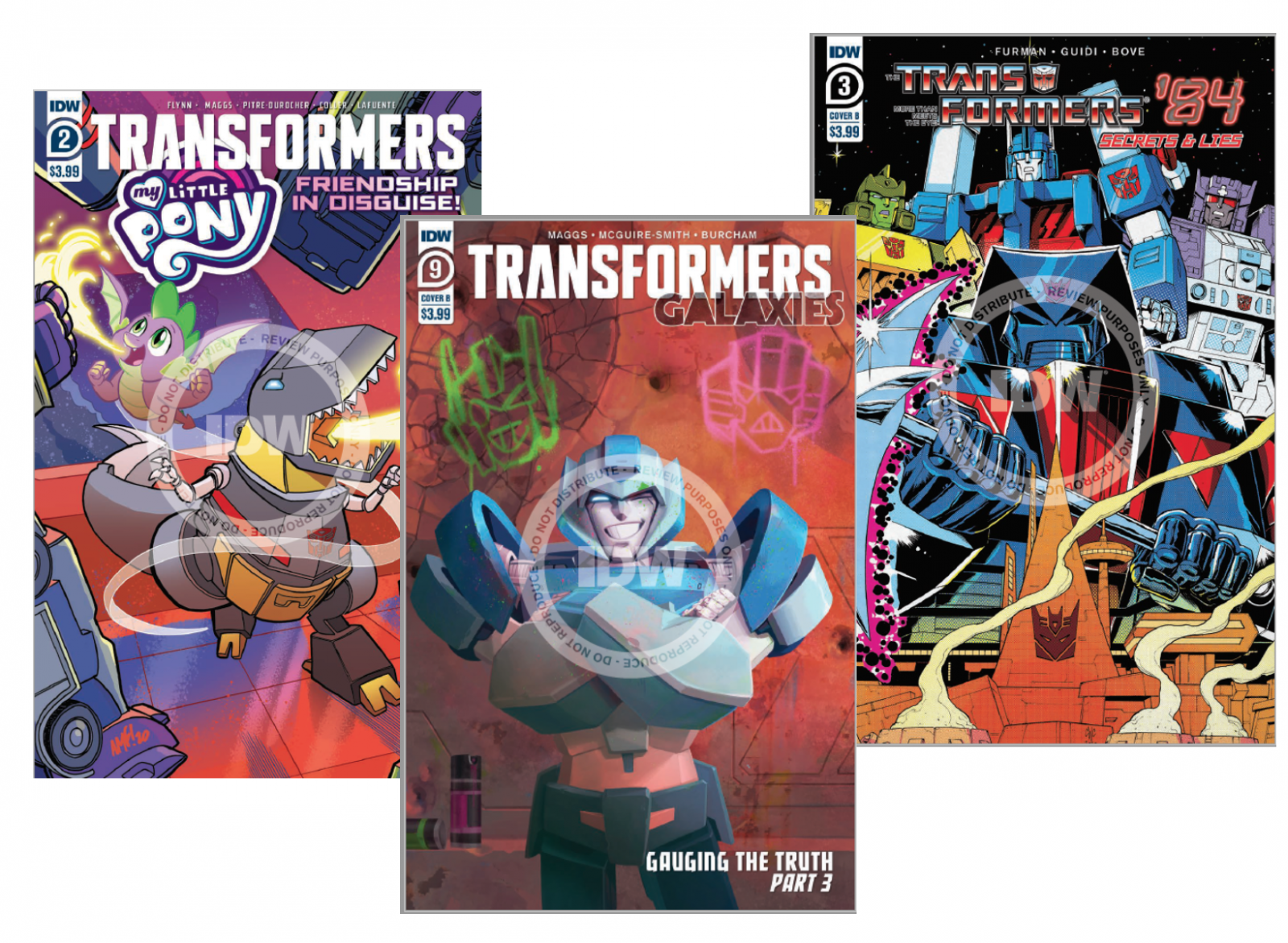 This week's offerings include
Transformers My Little Pony Friendship in Disguise #2
,
Transformers Galaxies #9
, and
Transformers 84 Truth and Lies #3
. All 3 issues feature several covers some drawn and colored by IDW Transformers heavy hitters, for your collecting specifics.
No local comic shop?
You can conveniently order them from the Seibertron.com eBay store!!!

Mini-Review of Transformers 84 Secrets and Lies #3 (Tigertrack)
This issue really had me at hello…as soon as Counterpunch said, "Megatron and Shockwave BOTH sleeping with the fossils…" like he's a stereotypical 1920's gangster stooge. I knew we were going to get to focus on some new (old) Decepticons. And that's exciting, capiche?
Yes, this issue really more than the last issue goes it's own direction and fills in details revolving around Straxus, Scorponok, and Thunderwing before they get their future moments to shine. Reminiscent of the IDW's earlier Stormbringer mini-series bringing these big cons together (along with Shockwave) to discuss Thunderwing's science, this issue tugs at those fond memories of that series, as these cons basically divide Cybertron.
That's not all it has in common with that series. At the request of our spy-ally, Punch, our friends the Wreckers make their origin appearance. It's nice to have the definitive start, and thankfully, it comes about a bit unconventionally. I was thinking they were started by Emirate Xaaron, Kup, or Magnus, maybe even Impactor, but I was at least, mostly wrong - Or at least by Punch's possibly skewed point of view, anyway. And that my friends is amazing, as well.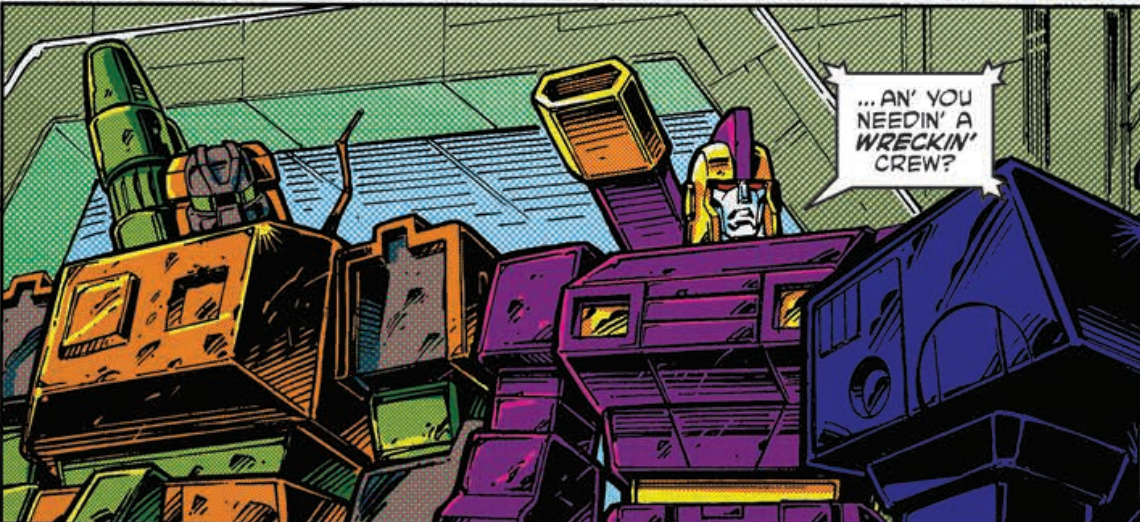 Just waiting on Ralph...I hear he really likes to Wreck-It.
BUT NOT ONLY ALL OF THAT… a little bot by the name of Star Saber makes an appearance (no misrepresenting cover syndrome here). I could go on, but I might ruin EVERYTHING, and you guys have to have something left unspoiled, right?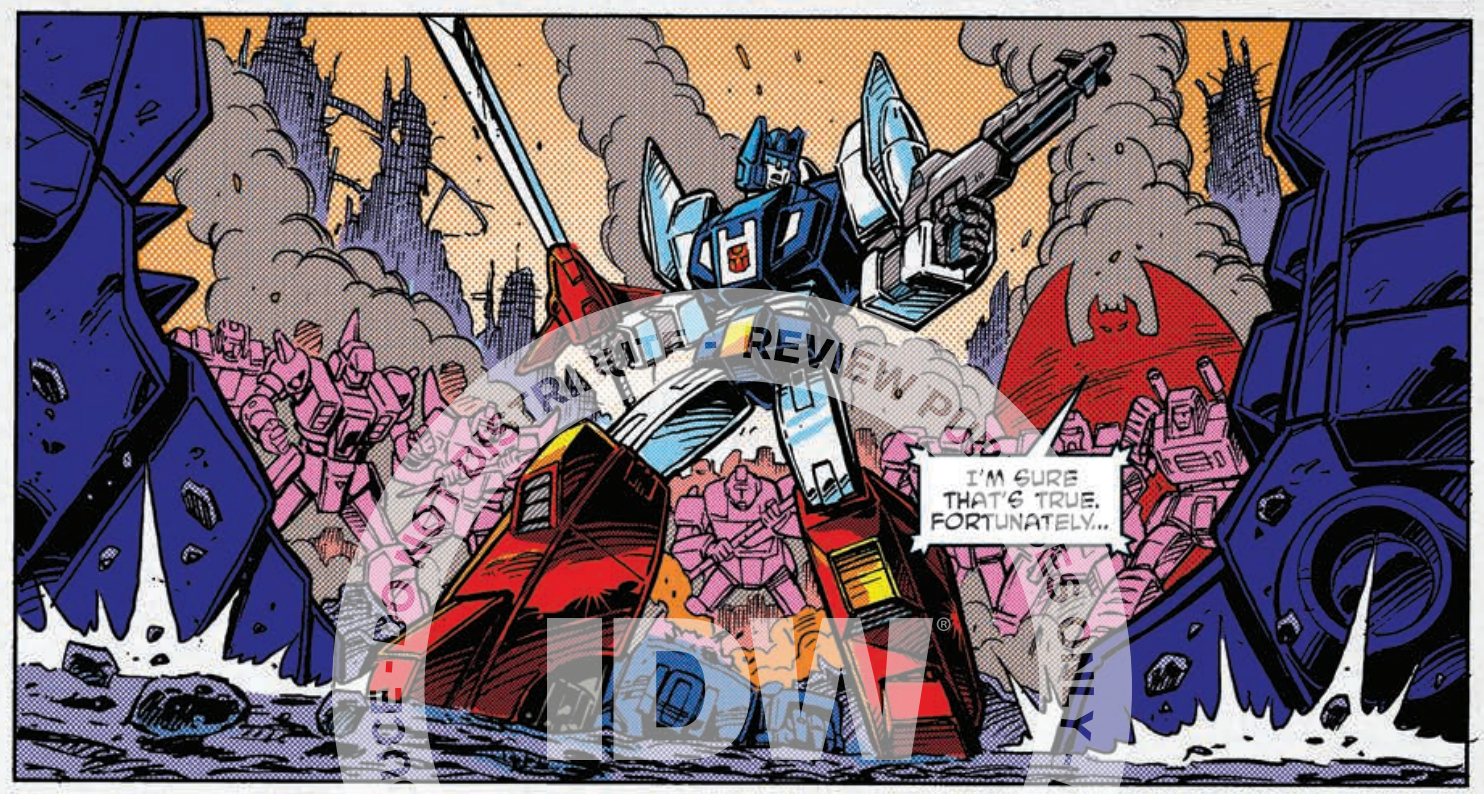 Cons to the left of me, cons to the right of me.
I can't say enough how I love what
Guido Guidi
, and
John-Paul Bove
are doing with the art here. John-Paul shared via twitter his process and just how much effort and time it took to research and experiment to come up with the coloring and shading as he did, working to mix colors to get the original look, but with a little bit more modern twist. Phenomenal… And I will say his name one more time since I messed it up before, well done,
John-Paul Bove
(super-kind and forgiving individual, btw)
.
For the 3rd of 4 issues in a mini-series, I think this one has been my favorite so far, which is hard for 3rd issues to do. It did something with characters that I wanted or expected to see happen, perhaps in the Regeneration series. Didn't happen there, but here it is! Good on you Guido, Simon, and John-Paul, another entertaining issue. My only teeny tiny quibble with the issue was for me there was no clear cut cover that I really wanted. Nick Roche and Casey W. Coller's were too similar, in an inverted kind of way, so I am going with the regular cover by Guido Guidi of commander Star Saber! Plus plenty of other cool cameos and story additions that I don't want to entirely spoil. Think opposites of the Decepticons presented, and the Autobot I just mentioned.

Battle Up!
4.75
out 5
symbols

_________________________________________
Mini-Review of Transformers My Little Pony Friendship in Disguise Issue #2 (Tigertrack)
Welcome back fans of kindness, silliness, and friendship! If you were hoping that Issue #2 would pick up where Issue #1 left off... I'm sorry, that's a different comic. Instead, we have two new crossover stories following entirely different cast members from each of these unlikely collaborators; the Transformers and the My Little Pony-ies.
Broken into two short stories like last issue. These stories are not disguising any silliness.
The first short focuses on Grimlock, who did appear for a moment in the first issue, left behind as the other Autobots headed to Equestria via the dimensional spacebridge.
This short sees Grimlock battling Devastator on Earth defending the ark from the those dastardly, cunning Constructicons. The dinosaur leader finds himself allied with Spike, a spunky, smart dragon and royal advisor in Equestria. Spike finds himself in a perilous situation after Grimlock is punted and squashed into submission. And the ending leads to a nice new friendship, and excellent, feel good message.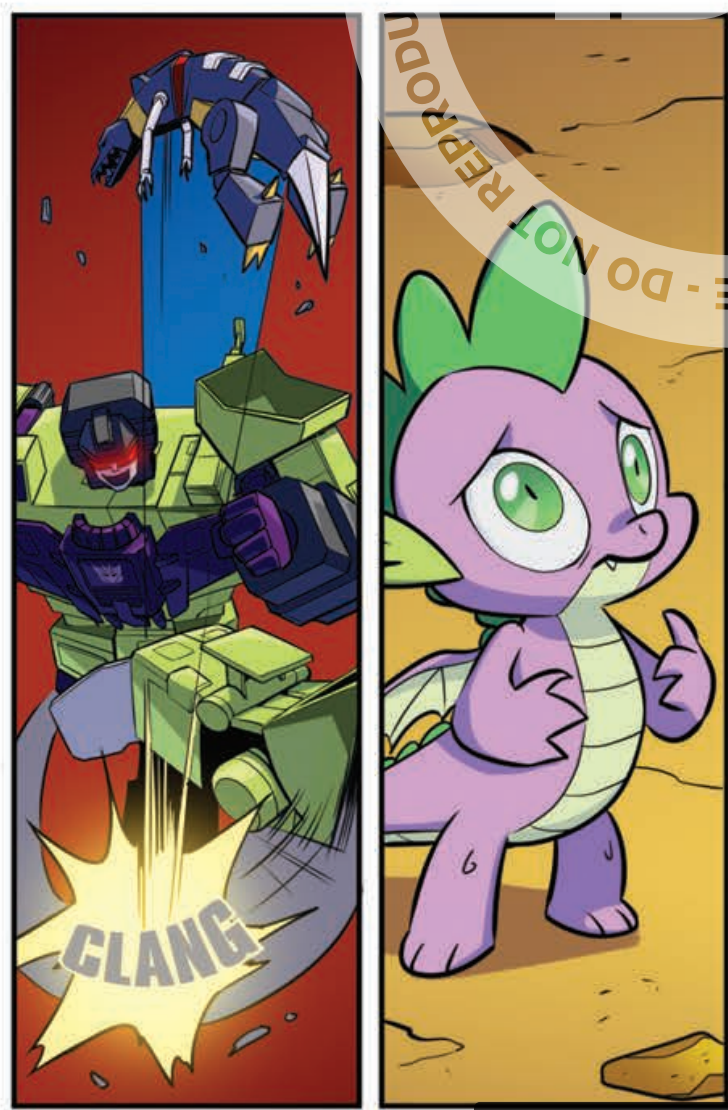 Me Grimlock, butt kicked!
The 2nd story is the Equestrian equivalent of a Food Network culinary chef show led by cute as a button pony, Pinkie-Pie.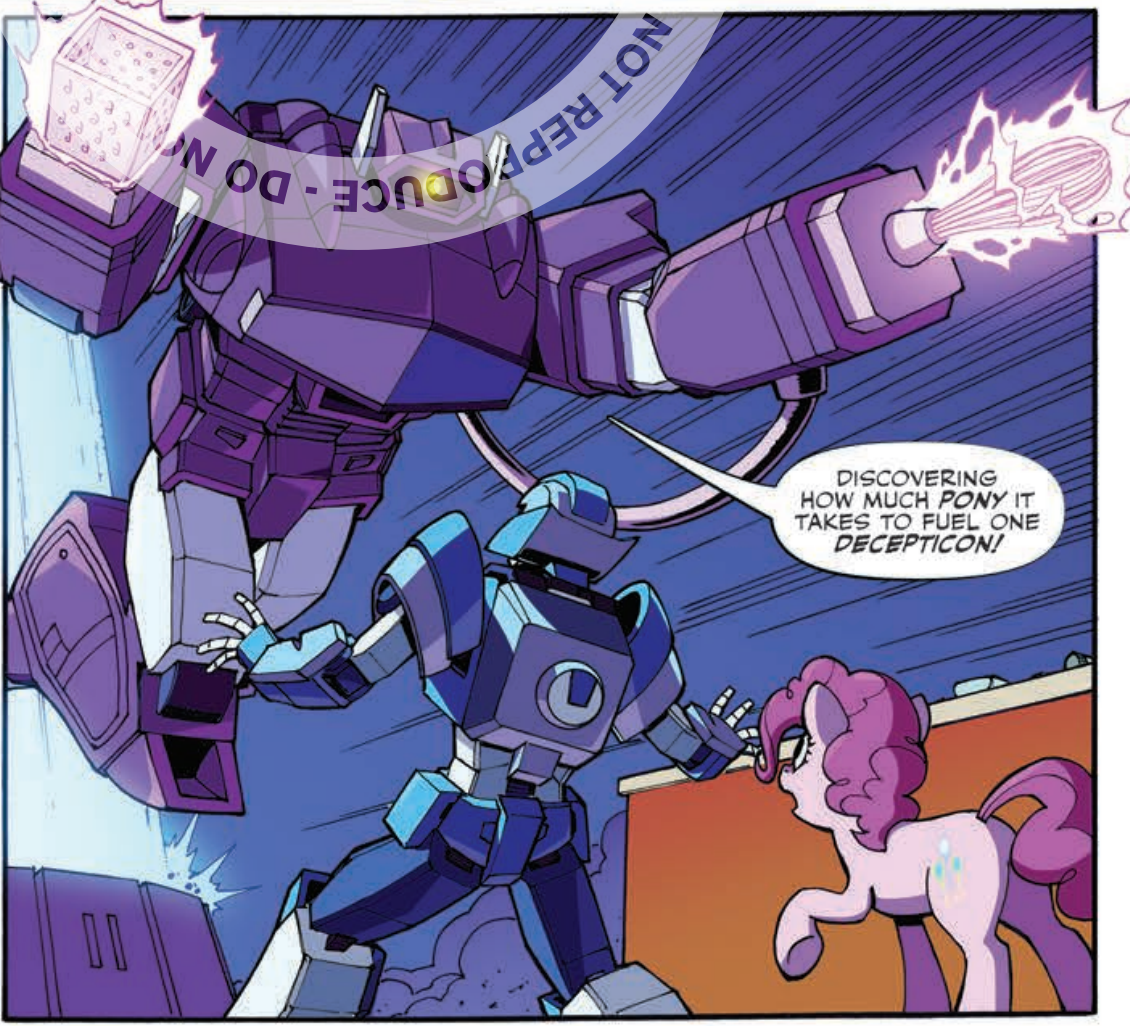 Shockwave is ready to..."mix it up."
The surprising part of this is not the odd partnerships of ponies and robots, BUT the inclusion of brand new Transformers star Gauge. She's featured in Galaxies and also seems to be quite a successful chef, as well. Shockwave shows up as Gauge's foil, ready to -in a very twisted Grimm's fairy tale kind of way- see how many ponies it takes to make a pony-powered energon smoothie. It's another fun, silly story with more than a few slapstick moments. Gauge and Pinkie-Pie beating Shockwave on any day of the week is far-fetched, but the chuckle moments are many and it just adds to the story's expected over-the-topness.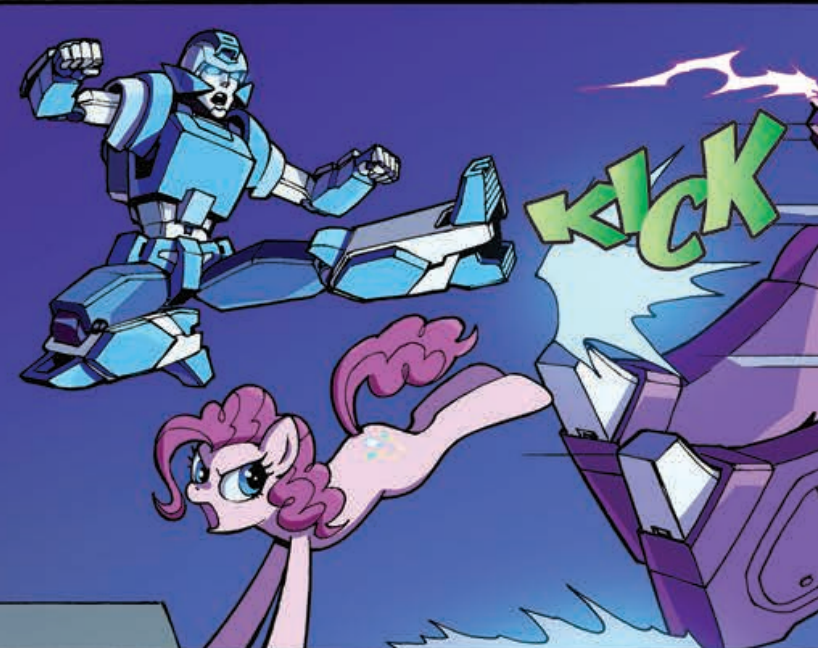 "BAAAAMMMM!!!...time to
KICK
it up an notch."
Stay to the end, so you can experience the fun cultural 'food' exchange.
4
out 5
! It had a dinobot and combiner!

_________________________________________
Mini-Review of Transformers Galaxies Issue #9 (william-james88)
Full of spoilers below.
This is the story that closes out the Gauge, Greenlight, Arcee story. I'd say this is the best of the recent issues in this Galaxies arc, but there is still a lot to be desired. This is basically the story of someone who was indoctrinated into a cult and then rebels against the cult leader. What is tough here is that we the audience clearly know that Arcee and Greenlight are good guys and the cult leader isn't, so when Gauge talks about conflicting emotions and ideologies that battle in her mind, there is no conflict going on in the reader's mind since we know where she will side with. And even though Gauge states that she must become her own person and not listen to either side, we know that's also bogus because there isn't enough character development for her to be more than a "good" bot.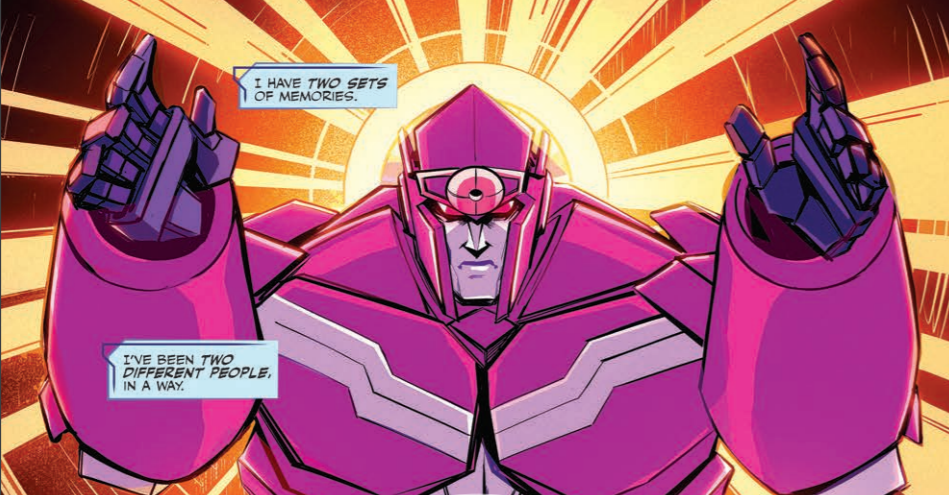 I do like that Heretech was fleshed out in this reboot. While he was a James Roberts character, we saw very little of him (though I did make the most of it by
breaking down a James Robert script page starring Heretech and Megatron in gun mode
). He is of course very much a copy of the cult leader archetype trying to make every drink the Kool Aid but I think that's fine since Transformers fiction is always incorporating archetypes into the Transformers world/lore.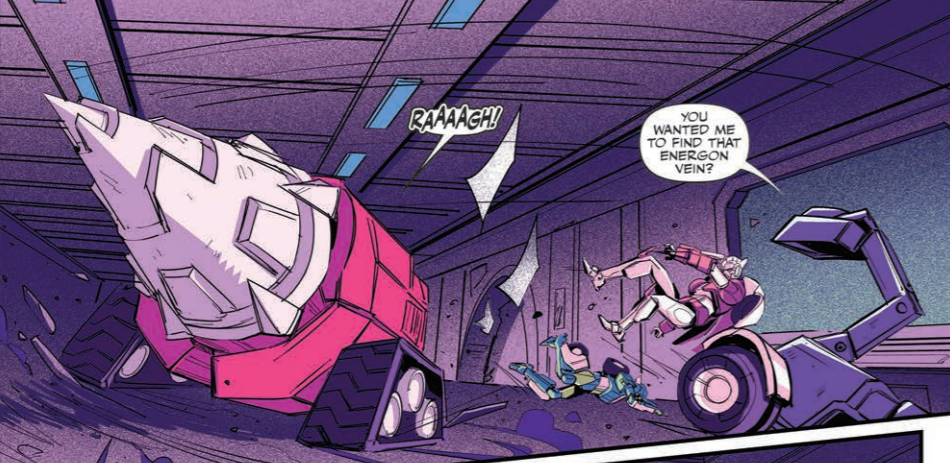 Thew best part of the issue, and why I think a Transformers fan should look into it, is the final fight with the three heroines and Heretech. It is almost fully in alt mode. So not only do we have transformations in a Transformers comic, but we see how the alt mode can be weaponized. Heretech becomes a drill tank, which is a vehicle very dear to the heart of Transformers fans. I also like the callback of him (wrongfully) thinking he is the chosen one and becoming the same vehicle that Rung was forcibly converted into in the James Roberts comic book run. Both lend to the theme of false beliefs, lies, heresy and not being the chosen one after all.
In the end, this was fine. Not amazing or groundbreaking, but I still enjoyed it and appreciated seeing more Heretech and drill tanks.
3
out 5
symbols
---
Got Transformers News? Let us know here!
Most Popular Transformers News
Most Recent Transformers News
News Categories:
Toy News
,
Movie Related News
,
Cartoon News
,
Comic Book News
,
Site News
,
Rumors
,
Event News
,
Digital Media News
,
Collectables
,
Sponsor News
,
Game News
,
Site Articles
,
Store News
,
Reviews
,
People News
,
Company News
,
Sightings
,
Press Releases
,
Unlicensed Products News
,
Auctions
,
Transtopia
,
Interviews
,
Editorials
,
Knock Offs
,
Collector's Club News
,
Podcast
,
Heavy Metal War
,
Contests
,
Book News
,
Top Lists
Re: Quick Reviews of Transformers Galaxies #9, Transformers 84 #3, and Transformers My Little Pony #2 (2078795)
Posted by
Lore Keeper
on September 2nd, 2020 @ 6:18pm CDT
So... my comic shop didn't have Galaxies today. They said it was scheduled for next week. Did anyone else have this happen?