Reminder: Transformers: Rescue Bots Season 2 Starts Today!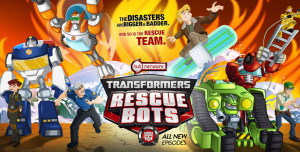 Saturday, March 1st, 2014 10:04am CST
Category:
Cartoon News
Posted by:
El Duque
Views:
32,972
Topic Options: View Discussion · Sign in or Join to reply
Quick viewing reminder, Transformers: Rescue Bots season two debuts today on The Hub Network at 1:00 PM ET. This season will kick off with two back to back episodes, "Road Trip" and "Sky Forest". The show will relocate to a 1:30 PM ET slot on March 8th.
THE AUTOBOTS ARE BACK AS "TRANSFORMERS RESCUE BOTS" RETURNS FOR ITS SECOND SEASON ON THE HUB NETWORK, MARCH 1

Premiere Kicks Off With Two Back-to-Back, Action-Packed Episodes

A New Match Game Entitled "Hero Hunt" Launches on Hubnetwork.com

LOS ANGELES — "Transformers Rescue Bots," animated series, created especially for younger TRANSFORMERS fans, returns for its second season on Saturday, March 1, with two all-new, back-to-back episodes starting at 1:00 p.m. ET/ 10 a.m. PT, on the Hub Network, a destination for kids and their families. Beginning on Saturday, March 8, new episodes of the show will air at 1:30 p.m. ET/10:30 a.m. PT. The series is produced by Hasbro Studios. In addition, HubNetwork.com will launch a fun-filled new match game called "Hero Hunt."

The second season of "Transformers Rescue Bots" kicks off with action-packed, episode "Road Trip", where a tricky transporter takes Cody for a crazy ride and Kade takes on a high-flying rescue mission. The second episode, "Sky Forest" has Cody and Frankie going head to head in a town inventor contest, leading to a jealous divide between the two. To make matters worse, Frankie's contest entry gets out of control, not only threatening her friendship with Cody and the Bots, but the safety of the entire island.

In the digital Rescue Bots game "Hero Hunt," fans can get the Bots ready to roll by making the correct match and the more matches they make, the more points they score. Players will be challenged to complete each mission and see if they can make it to the end of the game. Viewers can get into the action at

http://hubnetwork.com/herohunt

.

"Transformers Rescue Bots" features a group of Autobots charged with a mission to protect and learn about humans. Stationed by Optimus Prime on a technologically advanced island, the Rescue Bots — Heatwave, Boulder, Blades and Chase — team with the Burns family of first responders, including a police chief, firefighter, rescue pilot and engineer to keep peace and safety in the city. Alongside their human friends, the Rescue Bots learn teamwork and heroism. The half-hour series brings family, heart, humor and adventure to the Transformers brand.

The series features an ensemble of voice talent including, LeVar Burton ("Star Trek: The Next Generation") as Doc Greene, Lacey Chabert ("Party of Five") as Dani Burns, Élan Garfias ("The Hangover") as Cody Burns, Maurice LaMarche ("Futurama") as Chief Charlie Burns, Jason Marsden ("Step by Step") as Kade Burns, Shannon McKain ("The Assignment") as Graham Burns, Diamond White ("X Factor") as Francine Greene, Jeff Bennett ("Johnny Bravo") as Huxley Prescott, Steve Blum ("Transformers Prime") as Heatwave, Parvesh Cheena ("Outsourced") as Blades, D.C. Douglas ("NCIS: Los Angeles") as Chase, Imari Williams ("Resident Evil: Operation Raccoon City") as Boulder and Peter Cullen ("Transformers Prime") as Optimus Prime.

The series is produced by Hasbro Studios, executive produced by Stephen Davis and developed for television by Jeff Kline, Nicole Dubuc and Brian Hohfeld.

About the Hub Network

The Hub Network is a multi-platform joint venture between Discovery Communications (NASDAQ: DISCA, DISCB, DISCK) and Hasbro Inc., (NASDAQ: HAS) that champions family fun by providing enriching, cool, relevant, family friendly entertainment experiences that children and parents can enjoy together. The cable and satellite television network features original programming as well as content from Hasbro's rich portfolio of entertainment and educational properties built during the past 90 years and from leading third-party producers worldwide. The Hub Network's lineup includes animated and live-action series, as well as specials, game shows, and family-favorite movies. The network extends its content through a robust and engaging online presence at HubNetwork.com. The Hub Network rebranded from Discovery Kids on October 10, 2010, and is available in nearly 72 million U.S. households. The Hub Network logo and name are trademarks of Hub Television Networks, LLC. All rights reserved.

To find the channel in your area, please visit HubNetwork.com and check the channel locator at the top of the page.

Visit the Hub Network on Social Media:

Facebook at Facebook.com/HubTVNetwork

Twitter @HubTVNetwork

Instagram @HubTVNetwork

YouTube at YouTube.com/HubTVNetwork
---
Got Transformers News? Let us know here!
Most Popular Transformers News
Most Recent Transformers News
News Categories:
Toy News
,
Movie Related News
,
Cartoon News
,
Comic Book News
,
Site News
,
Rumors
,
Event News
,
Digital Media News
,
Collectables
,
Game News
,
Sponsor News
,
Site Articles
,
Store News
,
Company News
,
People News
,
Press Releases
,
Sightings
,
Reviews
,
Unlicensed Products News
,
Auctions
,
Transtopia
,
Interviews
,
Knock Offs
,
Collector's Club News
,
Editorials
,
Heavy Metal War
,
Podcast
,
Contests
,
Book News
,
Top Lists
Re: Reminder: Transformers: Rescue Bots Season 2 Starts Today! (1554378)
Posted by
Antron
on March 1st, 2014 @ 10:31am CST
Thanks for the info. We have a youngling who loves Rescue Bots. I just txted his dad the info.
Re: Reminder: Transformers: Rescue Bots Season 2 Starts Today! (1554468)
Posted by
Flashwave
on March 2nd, 2014 @ 1:00am CST
Whoo, so the energize gimmicks got a little feature! Look out, Heatwave is now armed!
Re: Reminder: Transformers: Rescue Bots Season 2 Starts Today! (1554470)
Posted by
Sabrblade
on March 2nd, 2014 @ 1:12am CST
From the main
discussion thread
:
Sabrblade wrote:Episode 27 -

You know, with the MHQ being a Cybertronian-sized vehicle, there might not be that many roads/streets big enough for it to be driven on.

Heh, Kade likes hummus.

This is Heatwave's first driving lesson. As a robot moded driver, that is. Kade's teaching him.

Is that a school bus with

rocket boosters?!!

Dude! Where were those when I rode the bus?!

Theme song sequence looks to be unchanged from season 1, but still just as good as ever.

Heh, Blades is doing DDR with Frankie.

Chase and Heatwave are playing a two-player Cybertronian board game whose Cybertronian name is untranslatable (Heatwave thinks "Chase Always Wins" sounds close). It looks like a giant hologram version of Connect Four but it played kinda like a vertical version of Chess, and with medieval warrior characters like a guard, a flank, and an archer. Doc helped build the game for them.

DOC AND BOULDER ARE BUILTING THE ENERGIZE GEARRRRRRRR!!! WOOOOHHOOOOOO!!! Though, they appear to be just light blue colored, physical metal devices rather than being purely energy based as the toyline had us believe.

The teleportation device is called the "Vacuum Accelerator".

Graham has installed a mobile command center inside the MHQ.

Emergency dispatch. It's go time!

Uh oh. The teleporter came back... and took the MHQ and Cody away with it.

The parachuter in danger is Taylor, who was the pilot from "The Lost Bell" that Dani took a liking to.

Taylor's voice is DEEP! Also, he's had EMT training on the mainland.

So this episode has two danger fronts simultaneous of each other. That's always fun.

Boiling chips!

Oh boy. Atop the highest peak of Mount Griffin. This is bad.

Taylor's a pretty resourceful guy.

Blades is one tough litter chopper to carry all that weight on his winch: The entire MHQ plus the other three Bots and Cody.

And now they've warped to the drive-in.

Ah, so it was the MHQ's GPS signal that was overriding the teleporter's controls.

I love it when this show acknowledges when one of its characters does something stupid that they regret.

Heatwave was one Lobbing champ three years running.

I also love it when the show's characters acknowledge that they have no idea what's going on.

Sure is a darn good coincidence that that particular part of the woods that MHQ teleported into just happened to be open enough for it to fit.

WOAH!!! Heatwave almost just steamrolled over that bear with the MHQ!!! Don't tell PETA.

LOL, Heatwave roared back at the bear.

Ha, they warped right in front of Mayor Luskey down at City Hall.

ROGER CRAIG SMITH voiced Taylor! Sonic the Hedgehog himself, folks!

This first episode of season 2 felt really welcoming for a reintroduction to this show and to its characters. Feels so great to be seeing these people again and still doing what they do best. And now we see out first glimpse at what their new life is like with the Greenes now in the know of the Autobots and the MHQ as a part of the team. Though, there clearly seems to be more work to be had to get everyone used to the new changes, which is a good thing since it lets room for further development to come down the road. And the foreshadowing to the Energize gear was a nice touch, but let's see where they go from here. On with the next episode!

Episode 28 -

That fruit-picking robot looks kinda like EVE from WALL-E, but with four long arms.

Mr. Alper!

Bit of CGI there when Boulder rammed into that mound of fertilizer.

Oh dear. I don't think I'm gonna like this character. The only of the airborne fruit picker is some snooty rich girl named Priscilla Pynch.

For the contest, Cody's idea is a portable sprinkler suit that firefighters/rescuers could wear to enter any blaze as it would spray water in all directions to protect them. Frankie's idea, however, is self-sustaining rain forest towers built in urban areas, which would clean the air of carbon dioxide, produce oxygen, and sustain an endangered ecosystem. Since they can't agree on one idea, they're going to enter separately instead of together.

So Frankie's tower is the titular "Sky Forest".

And Frankie's idea won (that was quick). Looks like Priscilla is a sore loser since she tells Mayor Luskey to forget about an donations to his reelection campaign from her family, and her invention tries to steal his toupee. Brat.

Thanks a lot, Huxley, for making things worse for Cody. He and Frankie are not "bitter enemies".

Boulder: "Frankie and Cody are enemies? When did this happen?"

Heatwave: "It's tough to lose, especially to a friend."

Blades: "If they're enemies, we'll have to choose sides. That's what happens in every buddy movie, I think it's called 'The Bro Code.'"

Chase: "I find no reference to this code in the civil statutes. But, I do value loyalty. Cody, we stand with you!

Solidarity!

"

Heatwave: "Team Cody all the way."

Blades: "We'll teach her for being smarter than you!"

Heatwave:

*looks at Blades*

Blades: "...What?"

Even though the tower is complete, it'll take about ten years for the rainforest to grow. Sorry, Mayor, no tourist attraction just yet.

What the--?! Suddenly there's a bunch of flora growing on the tower. As Chase put it, "Apparently someone rushed mother nature."

Aw, Mayor! Rapid-growth formula in the irrigation system is an accident waiting to inevitably happen! Especially something from the Best Left Forgotten section of the Hall of Inspiration, and

especially

something labeled "aggressive growth".

The Sky Forest is like something straight out of Willy Wonka's chocolate factory, only with actual plants instead of candy.

...And more deadly, seeing as how the plants are now trying to kill Frankie and Cody.

Sure are a lot of puffins in the Sky Forest.

Seems like Mr. Harrison has finally gotten the hang of his heli-pack. Let's see how long that lasts.

EEEEEEE!!! They're activating the Energize tools! "Power Up and Energize!" They pull them out from reaching behind their backs not unlike how the Beast Wars characters grabbed their own weapons. Chase has his toys' claw, Boulder has is toys' drill (as seen in the last episode but not in this episode), and Heatwave had his Minicon figure's axe instead of his transformable figure's dual-nozzled water cannon. The axe also makes laser sound effects with each swing. I guess they're at least partly energy-based in that they're physical tools that radiate energy instead of being like tool-based lightsabers. As for Blades, he hasn't activated his yet.

As is typical of her kind of character, Priscilla is ungrateful for her rescue.

The one weakness of these plants is saltwater. Makes sense.

Nice thinking of Cody using the remaining droplets in his suit's water tubes to scare off the vines wrapped around the valve.

Kade: "Longest twenty minutes of my life." -

Okay, Priscilla giving the mayor a bill for her destroyed hover picker was pretty funny.

The tower has been disassembled and relocated to Wayward Island, a nearly inaccessable atoll off of the coast of Griffin Rock.

And so Frankie and Cody will now share the first place title, as Cody's idea proved very reliable in the end.

Priscilla was voiced by Katherine McNamara.

Another good one with a lot of heart and ingenuity. I liked how, aside from the walking stereotype that Priscilla was, this episode played around with cliches and expectations, avoiding going down the obvious routes with them. Frankie and Cody could have easily become harsh rivals in the competition, but their rivalry was brief and remained consistently friendly. Frankie could have easily gotten caught up in all the attention she was getting and had it all go to her head, but she remained in character and never once let her ego get inflated. If one hadn't seen the previous episode, then the Energize tools could have been seen a Deus ex Machina items that would have saved the day in an instant, but were instead only some extras that were thrown in as a bonus and were far from the subject of today's victory. And most of all, the mayor himself turned out to be responsible for the day's catastrophe, as he's always the one blaming others for the disasters, when this time he has no one to blame but himself, and he sure does come to regret it. It's little things like these that help to make this show be so great.