Retrospective Reviews - Transformers Spotlight: Bumblebee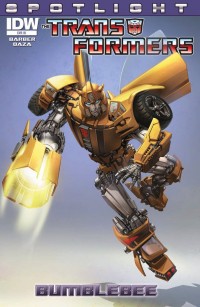 Thursday, May 16th, 2013 6:11am CDT
Categories:
Comic Book News
,
Reviews
Posted by:
Va'al
Views:
27,347
Topic Options: View Discussion · Sign in or Join to reply
Sbotblight: Bubmblebee(b)
(Spoiler free-ish)
With this week's reveal of the official images of Generations Hoist and Thundercracker, it's time to complete the reviews for the
Spotlight
series, which now seems to have concluded as far as we know. Read the others so far:
Orion Pax
,
Megatron
,
Thundercracker
,
Trailcutter
and
Hoist
.
And now, the missing link -
Spotlight: Bumblebee
!
Synopsis
ESCAPE FROM EARTH! Before Cybertron was reborn—BUMBLEBEE lead the Autobots on Earth. In this untold tale, he must take the reigns of command… and he's got hundreds of rogue Decepticons standing between him and respect!
Ha! "Standing"! Get it?
Story
Sliding between
Spotlight: Megatron
and
Trailcutter
, arguably the best issues to come out of this run,
Bumblebee
suffers a lot from the comparison. And it takes place during a moment in the IDW continuity that a lot of readers had issues with -
Police Action
. So I wasn't expecting much.
No, it isn't
Admittedly, the comic patches up another smaller gap in the continuity of the Costa run, and we know, by now, that Barber adores patching things up. The story itself, however, does not add that much to the characters, main or secondary. Prowl, for example, suffers some flips (and not of the table kind).
Sure, 'cause you loved *him*
Even the Metroplex/Metrotitan plot is only casually name-dropped, and there's an ..er.. explanation for those who missed the
Megatron
and
Thundercracker
ones. But very rushed, and didn't feel that necessary at all.
Aaand that's it
As I said, this issue is not the most brilliant, and it rehashes the Bumblebee/Hot Rod trope of 'What would Prime do?' for the umpteenth time. Without the very final page, it would have stood as a valid start to the attrition between Prowl and Bumblebee too, but..
Art
Again, the Spotlights are a means for lesser know artists to showcase their talent, and when I saw the preview, I didn't mind the almost
ligne claire
approach by David Daza. As the story progresses, though, the art loses definition and detail, at times being vague outlines of characters, if that.
Not really sure what I'm looking at here
The colours aren't bad, though, and Zac Atkinson does seem to try adding some recognisable schemes to the blotchier figures, though the result is still not satisfying, or reedeming enough for the artwork to shine. Nothin wrong to say about the lettering, but nothing that really stands out, either.
Point in case: Blue-ltra Magnus
The artwork, including colouring and lettering, is definitely off to an interesting start, and then seems to lose its way with panels progressing. It would have been nice to see another take on the Stunticons, and Earth-modes in general. The lighting, and there's a lot of strange sources, could have improved the general art too, but didn't work that well either.
Thoughts
Spoilerish ahead
I almost feel disappointed, as I thought Bumblebee could do with more characterisation. It was interesting to see his Earth mode again, though, and his interactions with Thundercracker, but the whole story felt superfluous. Just some more Barber continuity patching, with little more to show for it.
My thoughts precisely. The shrugging, I mean.
So yeah, not the gem of the bunch, not adding much, not subtracting that much either, except for the Prowl moment at the end. I am really not happy nor convinced about that, especially after all the
Robots in Disguise
work on him (or even the
Police Action
one, for that matter!). But I suppose it is just an in-pack comic, shoehorned into the continuity.
.
½
out of
Credit(s): IDW Publishing, Va'al
---
Got Transformers News? Let us know here!
Most Popular Transformers News
Most Recent Transformers News
News Categories:
Toy News
,
Movie Related News
,
Cartoon News
,
Comic Book News
,
Site News
,
Rumors
,
Event News
,
Digital Media News
,
Collectables
,
Game News
,
Sponsor News
,
Site Articles
,
Store News
,
Company News
,
People News
,
Press Releases
,
Sightings
,
Reviews
,
Unlicensed Products News
,
Auctions
,
Transtopia
,
Interviews
,
Knock Offs
,
Collector's Club News
,
Editorials
,
Heavy Metal War
,
Podcast
,
Contests
,
Book News
,
Top Lists
Re: Retrospective Reviews - Transformers Spotlight: Bumblebee (1487701)
Posted by
dragons
on May 16th, 2013 @ 8:05am CDT
picture of thundercracker looks to human smooth not enough rough edges to make him have robot face he looks like onizuka from gto good review
Re: Retrospective Reviews - Transformers Spotlight: Bumblebee (1487967)
Posted by
Hotrodimust
on May 17th, 2013 @ 7:57am CDT
What are the comics becoming like the figures? Bumblebee already had a spotlight. I wanna read about other characters that they don't tell a lot about. I mean if they do a story like what was bee doing when prime was still Orion pax maybe that would be good but I doubt what this is.
Re: Retrospective Reviews - Transformers Spotlight: Bumblebee (1487974)
Posted by
Hotrodimust
on May 17th, 2013 @ 8:20am CDT
I take my last post back I thought they were doing another one the cover on the front page tricked me because its not the cover on my issue.
Re: Retrospective Reviews - Transformers Spotlight: Bumblebee (1488112)
Posted by
Stormrider
on May 17th, 2013 @ 6:01pm CDT
Thanks for the review. I am tired of Bumblebee and wouldnt be sad if he was melted down to slag for a while.