Review of DOTM Rising Storm #4!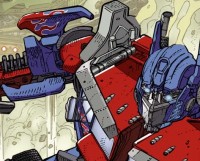 Wednesday, May 4th, 2011 8:03am CDT
Categories:
Comic Book News
,
Movie Related News
,
Reviews
Posted by:
Dead Metal
Views:
82,578
Topic Options: View Discussion · Sign in or Join to reply
So Here we are with our final review for Transformers Dark of the Moon Rising Storm, because today we take a look at Its fourth and final issue.
So let's get started on Transformers Dark of the Moon Rising Storm #4
Just as always, Spoiler Heavy!

The issue starts out Megatron monologing to an imaginary Optimus Prime – again. And yes it's annoying. While doing so we cut back to The Autobots saving Sam and Company from Club Starscream.
Prime then gets a call from his good friend Jolt, how how many adventures they had, and gets to witness first-hand how Shockwave kills him and the rest of the NEST base.
Speaking of which, that's exactly where we're going now. Fearswoop and Shockwave have a bit of a talk about killing Autobots, the former even remarking how unusual Shockwave's Autobot killing style is. And both of them kill, Autobots and humans, if you hate humans in your TF fiction – you'll love this series. Both leave the base.
We are reunited with 2/3 the magic threesome as they are fighting Soundwave and his minions. Soundwave tells them just how dead they are. We then cut to the remaining part of the magic threesome, the Elita part and her escape from Astrotrain.
She manages to get into a city, believing that Astotrain cannot follow due to being a train, but he just transforms into his flight-mode. She gets all doomsday and decides that she'll kill him.
Back to Dam and Company, the Club Starscream is getting killed, while trying to run away from something.
Back to Elita and Astrotrain, Elita runs away from Astrotrain.
Back to Optimus Prime, he talks to Wheeljack, while Shockwave pinpoints his location. Elita shows up and tells him that:
"It's a TRAP!"
(If I didn't know this was written months ago, I would say someone's been reading my reviews of this series)
Elita tells Prime that the rest of her magic threesome is in danger, then Shockwave lands and crushes her under his foot.
Oh bother, guess they'll have to revive her again, just like the last time she died.
Back to the rest of the magic threesome, they/she/it feels the death of Elita/herself/itself and hurt by this fact. Soundwave gets close to killing them/her/it, but the magic threesome manages to press a button which makes something go boom.
Back to Prime, Shockwave shoots Wheeljack and Mirage to bits, Prime asks him
"WHY?"
Shockwave replies
"Why What Prime? I live to kill"
I love this Shockwave
Fearswoop, swoops in to help Shockwave, but crashes and dies in mid-air. Turns out that Wheeljack generated a force field around Prime and Shockwave. Prime threatens to kill Shockwave.
Back to the magic
threesome
twosome, they are shown to have survived.
Back to Prime beating up Shockwave. While Prime is just about to deliver the final blow, Shockwave's "pet" shows up bursting through the ground saving him, and then disappearing.
Ratchet states he might be able to save Wheeljack and Mirage, but they might never look the same again.
We end out comic with Starscream demanding to know why he was used as bait by Megatron, who replies with
"Have patience Starscream"
Oh he also finishes his monologue.
My thoughts:
The art:
You know, in my previous reviews I kept pointing out how the art looked bad and how the colours where bad, that has changed. The line-work, like I said previously isn't bad at all, it's not brilliant but it's really pretty good, but what about the colours? Well those are actually not that bad this time around. The colours have improved greatly and really show off the line-work now.
Overall the art is not brilliant, but it's pretty good.
I give the art 7 out of 10 stars.
On the writing
The writing is OK. This issue was kind of annoying to read, due to the events being broken up so suddenly, with something different at a different location with different characters happening on every second page, seriously.
So this issue was writing wise not that cool due to, well the distorted scene transmission, if this where a 20 minute long film, the plot-threads would rotate at a 1 minute time frame.
I give the writing 5 out of 10 stars.
This puts the comic at an average of 6 out of 10 stars.
So how's the complete series? Well I guess I would rate the full story line at about 6.5 stars out of 10. I guess I'll try and get this in TPB form; yes I kind of enjoyed this series.
Credit(s): idw, seibertron.com
---
Got Transformers News? Let us know here!
Most Popular Transformers News
Most Recent Transformers News
News Categories:
Toy News
,
Movie Related News
,
Cartoon News
,
Comic Book News
,
Site News
,
Rumors
,
Event News
,
Digital Media News
,
Collectables
,
Game News
,
Sponsor News
,
Site Articles
,
Store News
,
Company News
,
People News
,
Press Releases
,
Sightings
,
Reviews
,
Unlicensed Products News
,
Auctions
,
Transtopia
,
Interviews
,
Knock Offs
,
Collector's Club News
,
Editorials
,
Heavy Metal War
,
Podcast
,
Contests
,
Book News
,
Top Lists
Re: Review of DOTM Rising Storm #4! (1217036)
Posted by
Starscream GaGa
on May 4th, 2011 @ 8:13am CDT
I guess that confirms that the Einstein-bot is, in fact, Wheeljack seeing as we know that the Ferrari is Mirage.
Re: Review of DOTM Rising Storm #4! (1217173)
Posted by
OlivusPrime
on May 4th, 2011 @ 2:37pm CDT
Starscream GaGa wrote:I guess that confirms that the Einstein-bot is, in fact, Wheeljack seeing as we know that the Ferrari is Mirage.
Freaking YES. This puts all of my doubts to rest - I was scared that Wheeljack would be comic exclusive, with "Q" being a crap version of Perceptor.