Review of IDW Hasbro Universe's Micronauts: Wrath of Karza #4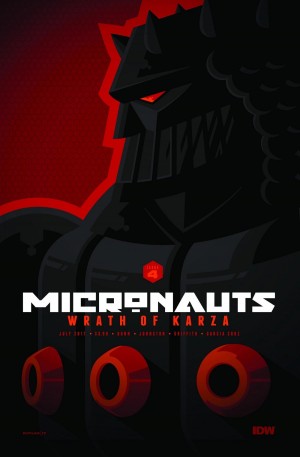 Wednesday, August 16th, 2017 10:54am CDT
Categories:
Comic Book News
,
Reviews
Posted by:
ScottyP
Views:
14,921
Topic Options: View Discussion · Sign in or Join to reply
Not

First Strike

, The Other Crossover
A Quick Review of
Micronauts: Wrath of Karza #4
Free of too many spoilers. There's at least one.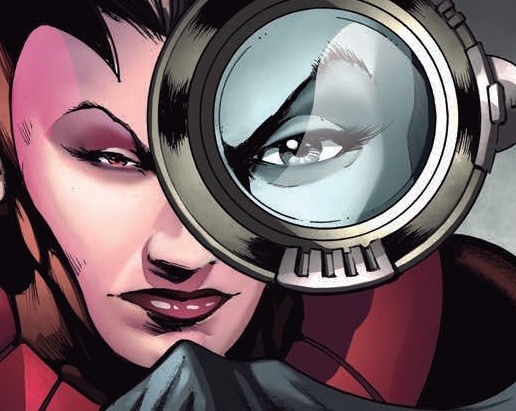 See, right there. It goes just before

Optimus Prime

#1
The partial-crossover event that leads into
First Strike
carries on, though as things have progressed it actually appears this story fills a time-gap between
Revolution
and
Optimus Prime
in the greater IDW Hasbro Universe's continuity. That's not really what's important here though. If you read my
review of

Wrath of Karza

#3
, you'll have to excuse me if I repeat myself because many of the same feelings have carried over to this fourth installment (out of five) for this mini-series. There's action, there's character building, there's good art, and most importantly there's fun awaiting readers of this latest comic from writers Cullen Bunn and Jimmy Johnston.
The character roster has branched out on the "bad guy" side of things, with the well-tread Acroyear armies of the Microspace Ministry of Defense now being supplemented with other various creatures inspired by the old Micronauts toyline. This enhances the IDW Micronauts world in a charming way by showing readers a diverse range of miniature alien life that works because this is a universe that doesn't really need a bunch of rules to follow. Microspace is a universe created by one of the Thirteen Primes and is inhabited by beings that can merge with other beings, flying reptilian things, biomechanical androids, and even time travelers. It's nice to see the authors being fearless when it comes to adding to the roster regardless of the general lack of focus placed on Microspace in the scope of the larger IDW Hasbro Universe.
Of course you're browsing Seibertron.com and it'll be hard to continue justifying comics reviews for books that don't have Transformers in them. With that said I'll just cut to the chase, and pardon the spoiler - yes, there are some Transformers in this book (like Jazz pictured above) and they have a prominent role in the later stages of this issue's plot. They're used in a fun way with Bunn and Johnston staying true to their generally established characterizations while also providing dialogue for them that goes plenty beyond the average/low expectations that one would have for "Transformers writing in a piece of media where they're supplementary". Just like the playfulness that's inherent with the new denizens of Microspace that have recently appeared, the Transformers are used in an entertaining fashion.
The art is well executed once again, with familiar name Andrew Griffith taking the helm for most of the pages while Ron Joseph lends an assist for two pages in the middle focusing on Shazraella. They're complemented by David Garcia Cruz on colors, who takes advantage of the varied environments utilized in the story. Different palettes are used throughout the outdoor scenes that give a dusty, sandy, and war torn look. Meanwhile, cleaner blacks and grays are seen throughout interior settings which helps the delightful weirdness of the books' characters to stand out in contrast even more. Tom B. Long is on letters and provides all the THWA-WOMPS that something with this much action needs.
A few covers are available this time, including the Tom Whalen variant featuring Baron Karza if you're looking to collect that set of various IDW books. As always, you can see all the covers and credits in our database page for
Wrath of Karza

#4
.
This keeps up the fun that I've come to expect from IDW's
Micronauts
and adds some additional Transformers flavor to the mix this month. Overall, this is a solid chapter in a story that I look forward to seeing the ending of. The final page makes it clear that readers can expect the fifth and final issue of this mini-series to have some ramifications on a character that solicitation-text readers will know is set to feature in
First Strike
over the next couple of months, but I do admit it felt a little underwhelming due to knowing this in advance. Maybe if the release schedule wasn't running a full month behind for this series that would have been different.
The only real critique that makes me put this one a notch lower than issue 3 stems from some of the panel layouts in the latter stages. Karza and Oz have a confrontation that feels more like a circular conversation, but this isn't really the art within the panels causing it. Rather, it's the amount of panels covering others in ways that feel understandable but end up coming off a little cramped in a spot or two. This takes what should be happening in a more open environment and focuses it a little too narrowly for my tastes. Granted, this could just be due to how we reviewers have to consume sample copies on digital documents and the print edition won't have this
perception
carry over. Here's hoping it doesn't, and I hope you'll give this series a shot if you haven't!
.
and ½ out of
---
This article was last modified on Wednesday, August 16th, 2017 11:07am CDT
Got Transformers News? Let us know here!
Most Popular Transformers News
Most Recent Transformers News
News Categories:
Toy News
,
Movie Related News
,
Cartoon News
,
Comic Book News
,
Site News
,
Rumors
,
Event News
,
Digital Media News
,
Collectables
,
Game News
,
Sponsor News
,
Site Articles
,
Store News
,
Company News
,
People News
,
Press Releases
,
Sightings
,
Reviews
,
Unlicensed Products News
,
Auctions
,
Transtopia
,
Interviews
,
Knock Offs
,
Collector's Club News
,
Editorials
,
Heavy Metal War
,
Podcast
,
Contests
,
Book News
,
Top Lists
Re: Review of IDW Hasbro Universe's Micronauts: Wrath of Karza #4 (1909005)
Posted by
WreckerJack
on September 7th, 2017 @ 2:25am CDT
Fellow Seibertronian
Soundwave902
has pointed out that Wrath of Karza #5 has a preview up. According to the description this will be the final chapter. Pre orders are available on
iTunes
, the expected release will be on September 20th.
The final chapter! Baron Karza has conquered Earth! Only the Micronauts and the Transformers stand against him! Little do they know that a new enemyãa much more dangerous enemyãwill rise to challenge friend and foe alike!¾And one hero makes the ultimate sacrifice!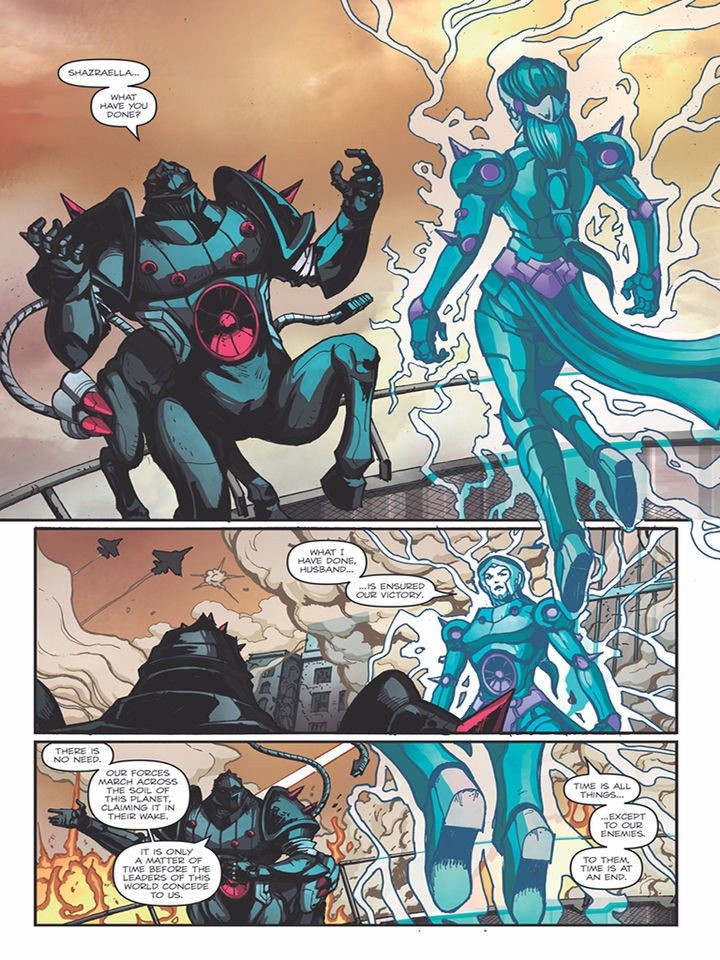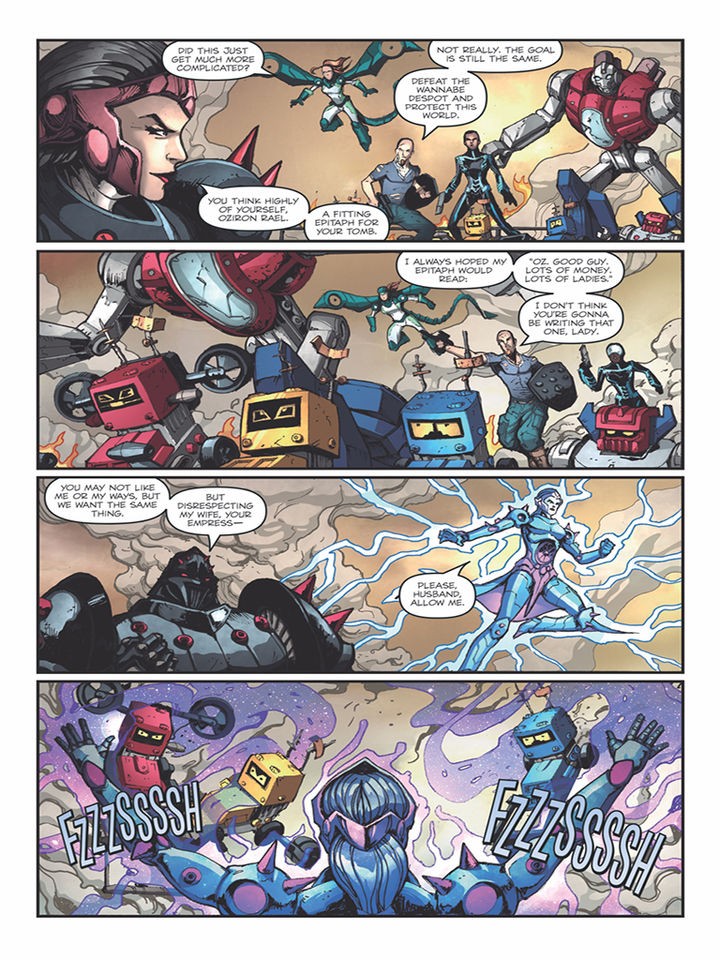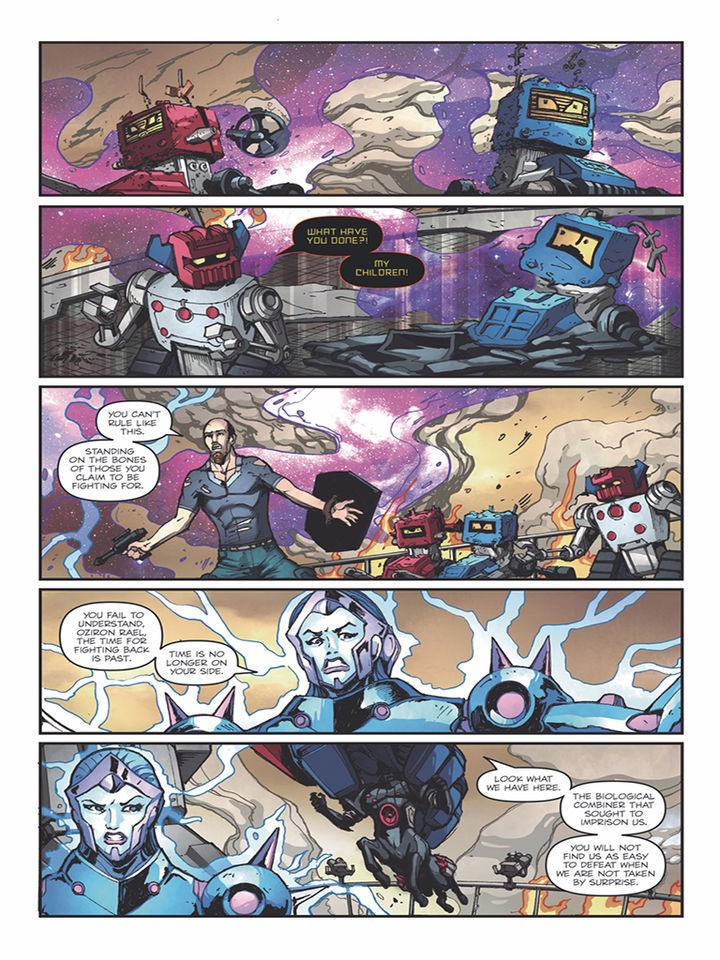 Re: Review of IDW Hasbro Universe's Micronauts: Wrath of Karza #4 (1911739)
Posted by
Daniel Adkins
on September 18th, 2017 @ 8:01pm CDT
Re: Review of IDW Hasbro Universe's Micronauts: Wrath of Karza #4 (1911747)
Posted by
Bounti76
on September 18th, 2017 @ 8:51pm CDT
Thanks to Seibertronians
Daniel Adkins
and
Soundwave902
, we have, courtesy of Multiversity Comics, a full five-page preview for
Micronauts: Wrath of Karza #5
. This does arrive just a touch late, being set before, and leading into, First Strike. With that in mind, what have you thought of the series so far? Are you looking forward to the conclusion of this mini-series? Let us know if you plan on picking it up, and then come back to discuss it once it's been released and reviewed!
The final chapter! Baron Karza has conquered Earth! Only the Micronauts and the Transformers stand against him! Little do they know that a new enemy—a much more dangerous enemy—will rise to challenge friend and foe alike! And one hero makes the ultimate sacrifice!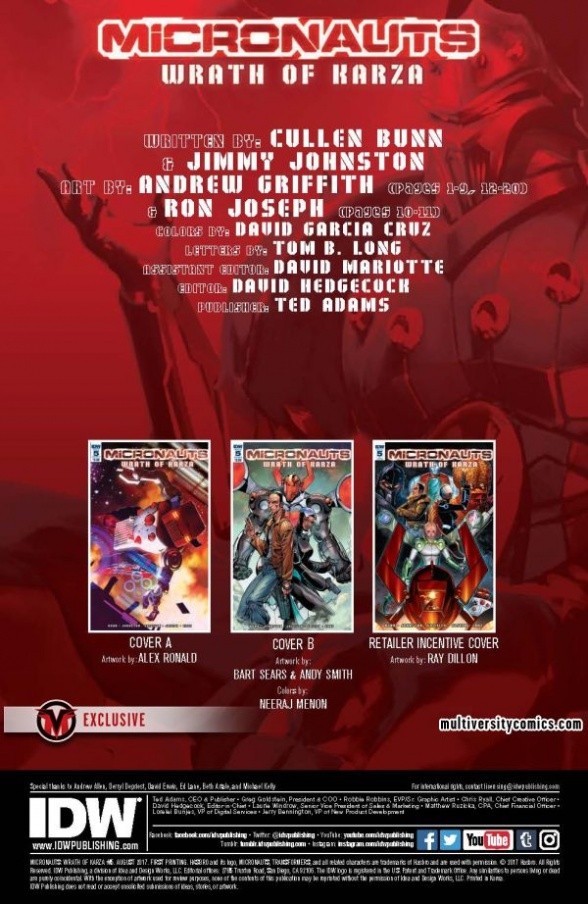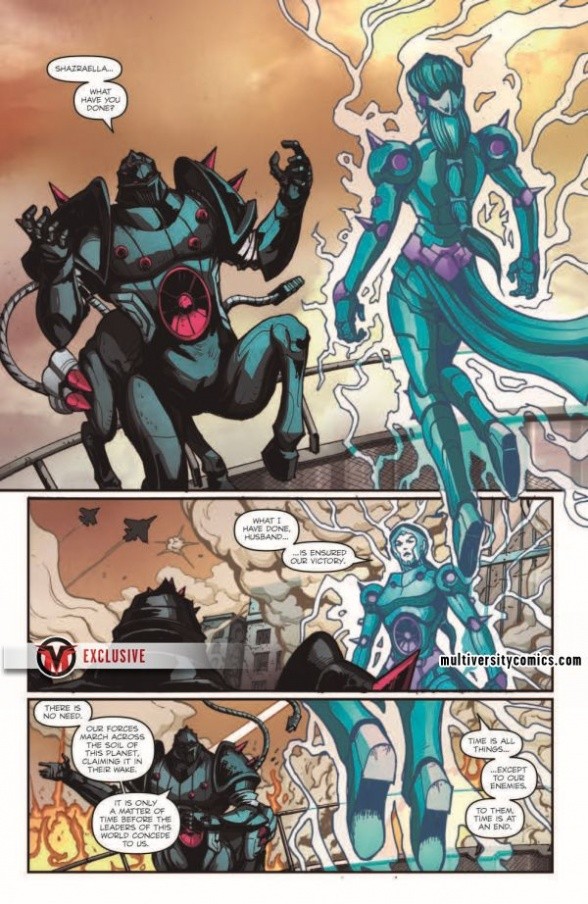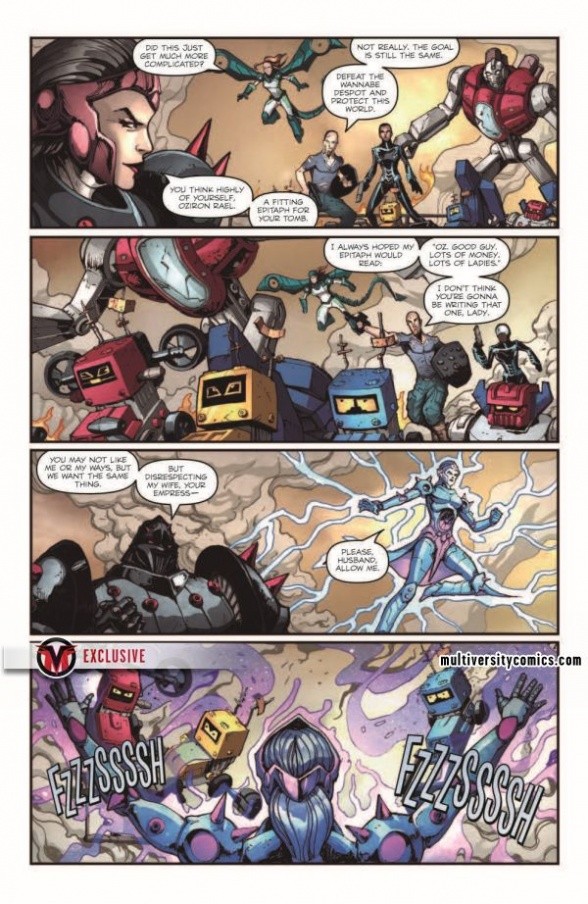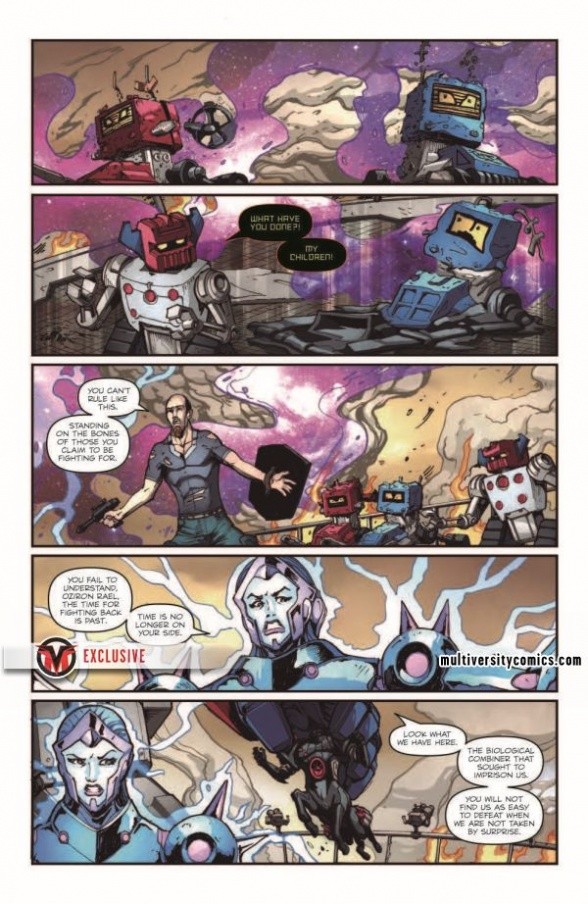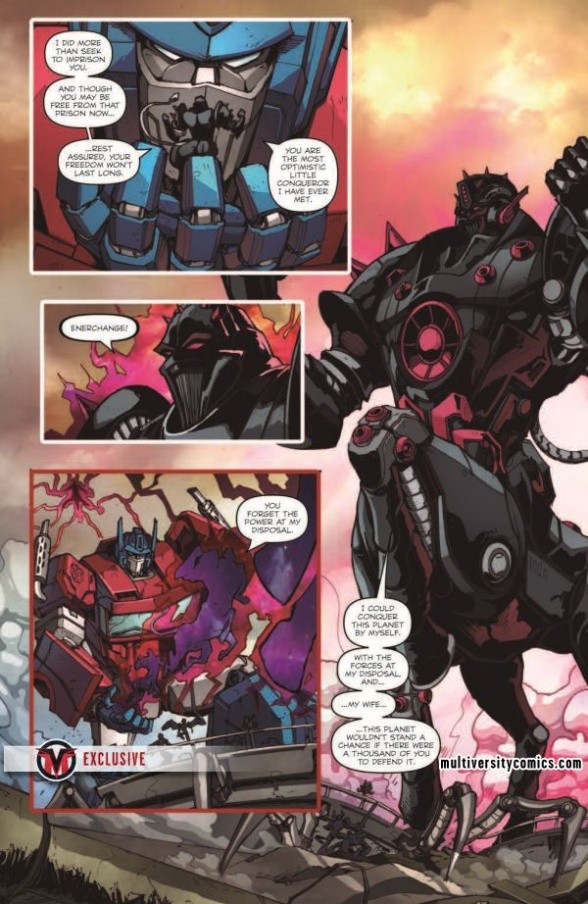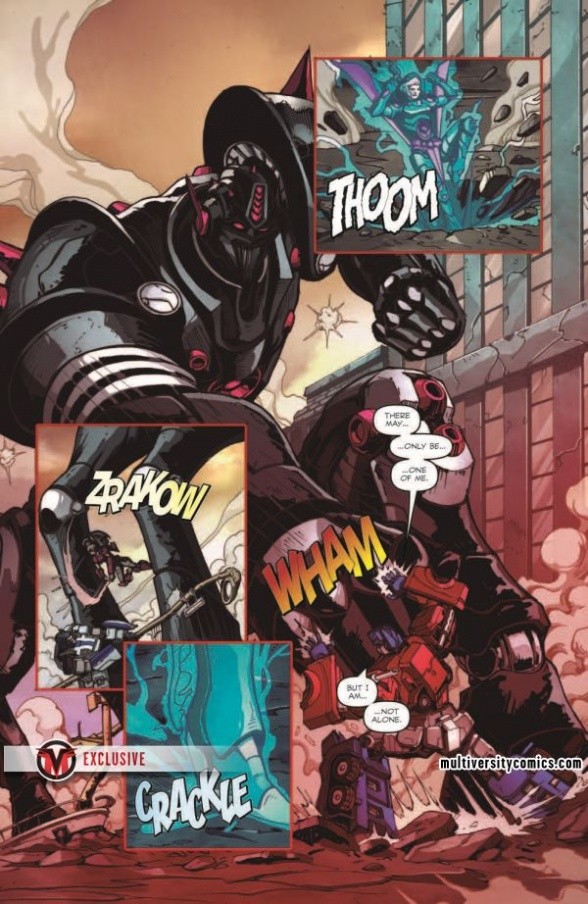 Re: Review of IDW Hasbro Universe's Micronauts: Wrath of Karza #4 (1911759)
Posted by
Nexus Knight
on September 18th, 2017 @ 9:38pm CDT
Oh, Lord... Feelin' cartoon OP here. Have i, like, not been paying attention? Has He always been this snarky?
Re: Review of IDW Hasbro Universe's Micronauts: Wrath of Karza #4 (1911931)
Posted by
Va'al
on September 20th, 2017 @ 3:45am CDT
Wife of Karza
(Spoiler free-ish)
Synopsis
The final chapter! Baron Karza has conquered Earth! Only the Micronauts and the Transformers stand against him! Little do they know that a new enemy—a much more dangerous enemy—will rise to challenge friend and foe alike! And one hero makes the ultimate sacrifice!
Story
We reach the final issue of yet another series (miniseries in this case) which was meant to lead into the First Strike crossover - but as has unfortunately been the record with IDW Publishing in the past year or so, scheduling did not allow this (or Revolutionaries, or Optimus Prime) to reach their full conclusion before the event. Which kind of dampens the book, really.
That said, this fifth chapter is still solid in its story overall, and does well enough to give a conclusion to the miniseries that capped off the Micronauts reintroduction to the Hasbro universe, in the hands of Cullen Bunn and Jimmy Johnston - at least from a plot level. The Transformers cast is well used, and there are some very good uses of time messing tropes throughout.
See, the big issue with the book is not the story, but the script itself: specifically, the way in which the dialogue and narration suddenly decide that all the words written needed to sound like a drawn out movie style Optimus Prime that does not know how to properly use the contractions or any type of speech pattern that does not sound less robotic and droning on than the ones used by the humans in their speech patterns.*
However, even with the bizarre awkwardness of that part of the writing, there's enough to enjoy overall for readers who were following the humour of Oz Rael and the Micronauts in general, and the surprisingly good roundedness of dangerously by-the-numbers villains in Baron Karza, and the real protagonist of the issue: Shazraella.
*credit for this sentence goes to ScottyP
Art
Andrew Griffith, a veteran of Transformers since the complex movie designs, is great to see working on some robots that are not just the Acroyears - but the excellence of switching through an immense number of designs in one long sequence is something truly commendable. I am in awe.
Ron Joseph's interlude in time, much shorter here, looks pretty amazing on wider scale, but one particular close up is quite.. disturbing as an image, and I'm not sure what I make of it. But if the art is what provides the basis for the time shifts and ripples, the colours by David Garcia Cruz are what give it the extra shine that was needed to make the magic work - and boy does it work, with both artists.
Tom B. Long on letters has his hands full with a number of variations of the fonts in the various characters' mouths, along with the tricky balance of the time rips and disturbances, but he does an excellent positioning of it all, as usual. The cover used for the thumbnail is by Ray Dillon, but you can find all of the other variants in our Database entry for the issue, right
here
.
Thoughts
Spoilerish ahead
This was confirmation that Micronauts has always been a series that definitely deserved a lot more attention in the run-up and aftermath to Revolution, and with the general regard of the editors and publishers to allow for it to fit within the scheduling of the various tie-ins and events surrounding it. Bunn and Johnston did good, and it's a shame we couldn't get them to work in sync with the rest of the books.
And when I say this, I do mean both the issue and the miniseries as a whole - it'll be interesting to see the continuation of the various characterisations in other books post First Strike, and the ways in which Shazraella will play her part in the event itself (as you will have seen in FS3 this week already, really) and even Baron Karza's return later on. Also, more light on what was stripped from his Enerchanged form and sent travelling through time. I'd like to know that for sure, given its oddly familiar design..
.
½
out of