Review of IDW Transformers Bumblebee: From Cybertron with Love #1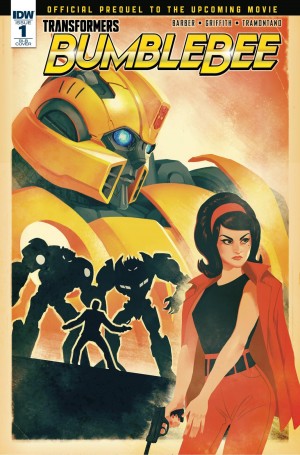 Wednesday, July 11th, 2018 2:03AM CDT
Categories:
Comic Book News
,
Reviews
,
Site Articles
Posted by:
Va'al
Views:
7,376
Topic Options: View Discussion · Sign in or Join to reply
B.U.M.B.L.E.B.E.E
(Spoiler free-ish)
Synopsis
Some call him Goldfender, but the name's Bee... Bumblebee. On loan to MI6 and teamed with a human partner, Bee's trapped in the middle of a Cold War plot to disrupt British Secret Intelligence. But when things go wrong, it's up to Bee to discover if there's a traitor in their midst. In the spy world, allegiances can change just as easily as a Transformer.
Story
It has been a very long time since we saw anything in print or digital as a tie-in or lead-in or even just promotion, for the Paramount live action universe, as directed by Michael Bay. It looks as though, now that the plans are changing - and very much so - we're back in business however, and the old movie comics making team is back for the ride!
John Barber is clearly having fun with this mini-series, even just from the first issue, as the puns are aplenty, the references even more so, and the dynamic between Bumblebee and Omega Zero / David Reeve is hard to shake too far away from Ian Noble-Action Man and Kup, from the pages of Revolutionaries. The action is worthy of something that can be a movie blockbuster for sure, but it's their dialogue (and the acronyms) that sticks the most.
That said, I am a little confused at the pitching of this series - as it's intended to be aimed at a younger audience, yet has very pulp, noir, crime references and context which a younger audience may very well not get at all. Plus, if it is indeed to lead into the upcoming Bumblebee movie, I'm very curious to see what this story established about the current Cybertronian situation on Earth.
Art
As team is back, Andrew Griffith returns next to Barber to work on the visuals for the former's script as the A.R.T.I.S.T., and as we already knew, his mechanical-but-organic, movie designs work amazingly (as does his architecture), and are dynamic without fault in their execution - which cannot otherwise be entirely said about some of the human renditions of the other side of the cast, unfortunately. It may, at this point, just be my personal taste getting in the way, however.
Priscilla Tramontano does some seriously impressive work as the C.O.L.O.R.I.S.T. to go with the excellent base lines, and manages to bring both a fresh coat over some old-style looks, and make it all work as a new perspective on an old visual aesthetic. Partnering that up with some well placed, even spot on, SFX from regular L.E.T.T.E.R.E.R. Tom B Long, and you get an explosive mix that works extremely well with the punchy script for this opening issue.
The covers for this series so far have been a huge selling point for myself and several other fans online, be it the regular Griffith / Tramontano variant, the Fico Ossio, Megatron-cameoing version, or the pulpy Sara Pitre Durocher take on the story - you can view them all in our comics database
here
, with credits!
Thoughts
Spoilerish ahead
Consider my interest very slightly piqued, at least insofar as we're getting some more human-bot interaction from Barber - as well as his usual net weaving, with Sector Seven, various continuity issue jugglings and fun dialogue - along with what this story will say about Bee losing his voice, how the movie version we saw develops from this very different character, and what other cameos might make it in both character and style.
The movie aesthetic may turn off a fair few regular IDW style accustomed readers, but keeping the target in mind, younger fans will probably have grown up with this style and it's a great idea to have something Transformers comics based for them in the hands of Griffith and Tramontano. The covers are definitely also a big draw, and not one to be underestimated.
.
1/2 out of
Credit(s): IDW
Most Popular Transformers News
Most Recent Transformers News
News Categories:
Toy News
,
Movie Related News
,
Comic Book News
,
Cartoon News
,
Site News
,
Rumors
,
Event News
,
Digital Media News
,
Collectables
,
Game News
,
Sponsor News
,
Store News
,
Company News
,
Site Articles
,
People News
,
Press Releases
,
Sightings
,
Reviews
,
Unlicensed Products News
,
Auctions
,
Transtopia
,
Interviews
,
Knock Offs
,
Editorials
,
Collector's Club News
,
Heavy Metal War
,
Podcast
,
Contests
,
Book News
,
Top Lists
Re: Review of IDW Transformers Bumblebee: From Cybertron with Love #1 (1970265)
Posted by
ZeroWolf
on July 11th, 2018 @ 3:50am CDT
This does look pretty fun and doesn't seem to take itself too seriously which is a plus for me. Depending on other reviews I may pick this up when completed.
Re: Review of IDW Transformers Bumblebee: From Cybertron with Love #1 (1970315)
Posted by
Carnivius_Prime
on July 11th, 2018 @ 8:58am CDT
I bought it because I really miss having movie comics and it's the only TF thing from IDW I really used to enjoy. This issue was alright though my main problem with it was I'm really not a James Bond fan and so this whole Bond homage thing doesn't do much for me. Also a bit strange having movie Bee actually talk. I'm so used to his soundbites and such that it feels like too different a character. Still, what I did like were some more movie-style Decepticons with Wild Rider, Runabout and Diabla joining the roster even if just in comic form. Toys would be nice.
Re: Review of IDW Transformers Bumblebee: From Cybertron with Love #1 (1972428)
Posted by
Va'al
on July 19th, 2018 @ 3:08pm CDT
And finally, from the iTunes page for the next issue, we also have a three page preview for the movieverse comic book that will tie in to the upcoming Transformers Bumblebee Movie - written by John Barber with art by Andrew Griffith and Priscilla Tramontano - all mirrored out below for your convenience!

[quote]THE LIVING HEADLIGHTS! In swinging 1960s London, Bumblebee teams with a pair of bickering master spies to unravel a Decepticon conspiracy— but is one of Bee's friends a double agent?

[/quote]