Review of IDW Transformers Valentine's Day Special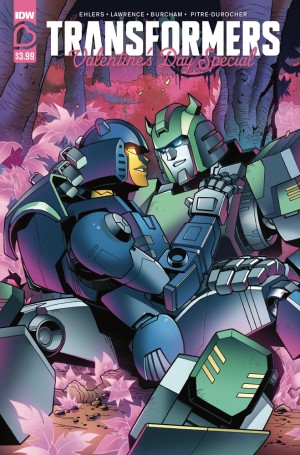 Wednesday, February 12th, 2020 5:59pm CST
Categories:
Comic Book News
,
Reviews
Posted by:
ScottyP
Views:
15,578
Topic Options: View Discussion · Sign in or Join to reply
Like a Box of Chocolate
A Review of
Transformers Valentine's Day Special
Spoiler Free-ish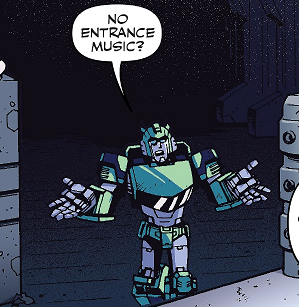 You're not The Rock
Just in time for a bizarre holiday comes an offbeat entry into the newest Transformers comic book continuity in the form of this week's
Transformers Valentine's Day Special
. Historical lovebirds Glyph and Tap-Out make their first impressions in almost two decades while Cosmos and Blast-Off provide a back-up story to round out the issue, with love definitely in the air for the former and Gears definitely in the air for the latter pairing.
Patrick Ehlers writes the first story within this one-shot special, with art by Jack Lawrence and colors by one or both of Josh Burcham and Sara Pitre-Durocher. It's a pretty compressed read that manages to linger for a page or so too long on its exposition, but for a continuity that's been a little light on explaining itself in meaningful ways this could be a welcome adjustment. The setup works pretty well, though this is a romance story and a bit more flirtation in the early dialogue would have been a welcome sight.
While true for every review to some extent, the romance element present for this Special makes this one a bit more difficult to phrase objectively. Romance is a fickle emotion and anyone that's ever felt it towards someone else can tell you what clicks for some doesn't click for others. Speaking for myself and at least one other staff member, we found the execution here bland with scripting that couldn't quite live up to Lawrence's visual storytelling through body language. A little too much punching and kicking is called for though part of the story is trying to get a point across that communication comes in many different forms, so in that regard it succeeds to a degree. While your mileage may vary on how romantic you feel after this one but I can at least say the overall structure of the short narrative here is on fine footing, conveying its message simply but effectively.
A short back-up story rounds out the issue's content, with longtime Transformers comic book artist Sara Pitre-Durocher making her writing debut as well as still handling (presumably, the credits aren't broken up) all of the art duties for a four-page montage featuring Cosmos and Blast-Off. This worked better for me on the romance angle, perhaps because she captures the early, extra exciting and new phase of getting to know someone very well. There's an element of expectation established and just enough content to keep you guessing on exactly what could happen later. Want to ship these ships? Go for it. Want it to all end in tears? You've probably got an argument there as well, but that might just be me thinking about how things went
the last time Blast-Off was "romantically" involved with another character in the previous continuity
.
As previously mentioned, Jack Lawrence makes a triumphant return to Transformers comic books in this issue and puts on a show with smart action sequences as bookends to subtler moments where body language tells quite the tale. He creates quite the swoon-worthy rendition of Tap-Out in one panel as well, at least I think he might have as someone that doesn't swoon over robots in
that
way. Josh Burcham handles the colors for this section, probably, and chooses distinctive palettes for each setting that help give them more character and definition. The block-colored background bots in the opening pages were almost definitely an artistic choice, but they didn't quite work to hook me in - wouldn't Apeface have been that way as well if it's for why I think it was? Pitre-Durocher's output makes the most of its space with sequential work that helps convey the jumping around of a montage scene, aided in part by the lettering work of Jake M. Wood. The editorial group of David Mariotte, Tom Waltz and Riley Farmer round out the interior credits for the issue and I would like to humbly ask them to split the credits for the main and back-up stories in the future.
Jack Lawrence and Priscilla Tramontano deliver the "A" cover for this one that you've probably seen several times by now but it always deserves some repeat use, such as in this review's news story thumbnail. If your local retailer bought 10 copies or more, you may have the option to buy a retailer incentive cover featuring Cosmos, with its art by Sara Pitre-Durocher. As always, you can also find all the cover images, full credits for the issue and a list of all the characters that appear in the book through our
Vector Sigma Database page for

Transformers: Valentine's Day Special
, but do note a great deal of those character appearances are one-panel cameos!
It's tough to be too harsh on this comic because it has a purposefully limited scope and does its job pretty well within the confines of it. While some of the dialogue between Tap-Out and Glyph felt a little stiff, there's still a tidy story to be found with plenty of excellent artwork. Cosmos and Blast-Off steal the show here in four pages that ooze with charm and despite the length it's probably worth picking this up just for the back-up strip itself. Transformers can be used to tell all kinds of stories so more like this would be plenty welcome to me.
Final Score
.
out of
Look out for this issue today, February 12th, where you can pick it up at the
Seibertron.com eBay store
or at your local shop,
check here to find the closest shop to you
.
---
Got Transformers News? Let us know here!
Most Popular Transformers News
Most Recent Transformers News
News Categories:
Toy News
,
Movie Related News
,
Comic Book News
,
Cartoon News
,
Site News
,
Rumors
,
Event News
,
Digital Media News
,
Collectables
,
Game News
,
Sponsor News
,
Site Articles
,
Store News
,
Company News
,
People News
,
Press Releases
,
Sightings
,
Reviews
,
Unlicensed Products News
,
Auctions
,
Transtopia
,
Interviews
,
Knock Offs
,
Editorials
,
Collector's Club News
,
Heavy Metal War
,
Podcast
,
Contests
,
Book News
,
Top Lists
Re: Review of IDW Transformers Valentine's Day Special (2052129)
Posted by
D-Maximal_Primal
on February 12th, 2020 @ 6:58pm CST
While the main story was a bit bland, there was something about the Cosmos/Blastoff short that made me feel for those 2. It was cute and I really enjoyed seeing a little story like this about 2 lonely space bots.

It was fun, that little story, I wish more of this continuity was like this.

Also, I am now starting to like Gears because i find it funny he keeps floating away
Re: Review of IDW Transformers Valentine's Day Special (2052130)
Posted by
Flashwave
on February 12th, 2020 @ 7:31pm CST
I enjoyed the comic. Once again, the Spotlight one offs are better than the main story. I know its not gonna happen, but I want a Selects Tap Out. I do however feel the comic was held down a bit by the Monster Montage, it felt like more telling than showing, even though I'm not sure you could have done that any differently better.

Cosmos and Blast Off felt like a forced ship, but I like what they did with it. Being stuck alone in Space is very much the both of their characters and its cool that they got to bond over it. And it was nice to see the "met online" relationship shown over the traditional old school dating like the first story. Part of me would like to see what happens to the two of them after the fighting starts and they end up on opposite sides