Reviewing IDW's Robot's In Disguise ANNUAL 2012 - The BIG DEAL!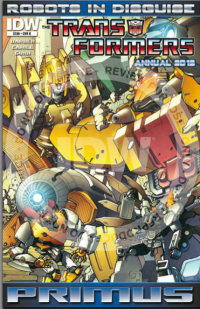 Tuesday, September 25th, 2012 8:43pm CDT
Categories:
Comic Book News
,
Reviews
Posted by:
Tigertrack
Views:
42,677
Topic Options: View Discussion · Sign in or Join to reply
Events in this Annual follow the events of what happened in 'More Than Meets The Eye ANNUAL 2012'. While one particular character and plot point is shared, 'Robots In Disguise ANNUAL 2012' can be enjoyed independently or vice versa, but really would you be reading one and not the other? I thought not.
Expect some spoilers to be shared here, but ultimately, you should still be able to go and enjoy your copy and still have some surprises. Grab it at your comic store this Wednesday.
I don't think that a reader can make much of a case that IDW writers, illustrators, and creative teams are not pushing limits, thinking things through, picking up loose plot points, and honoring what came before. They pick old unfinished references and build on them more than the brain-twisting LOST did with its every episode a few years back (what you don't remember LOST?). The intrigue and details are there for a reader to not only read and enjoy, but pay attention to all the subtle nuances, the dropped hints, and character building.
This issue drops us in with some fantastic retro art courtesy of Guido Guidi. Meant to do more than just remind a reader of 'TRANSFORMERS ISSUE #1 in a 4 Issue Limited Series', Guido actually talks about some of his choices in a section at the end of the annual, and his creative intentions with these 'pages from the past'. The drawings, the shading, and the color choices all harken to early days of comicdom, and yet still differs itself enough from Wildman's work in REGENERATION so as not to be confusing (they are both very noticeably homaging two different styles and periods in MARVEL's original Transformers).
The contrasting styles between the art in the flashbacks, and the art in the present (or flash forwards if you prefer) in this issue makes for a nice eye-catching visual effect. But it's purpose for the story is clear too. One never has to guess, or even wonder if he is currently reading about events in the past or the present, it is very clear thanks to the choices made with the art.
What we have story-wise is what THIS reader has been wanting more of; more information involving Cybertron's history, Nova Prime, and the original Ark's crew. One new interesting piece of plot we did not know until now was that Dai Atlas was amongst those who were closely aligned with Nova Prime before the destined space journey. But how did Dai Atlas end up being where he was with Crystal City when Drift found him and his followers? Why didn't he suffer the same fate as the others from Nova Prime's journey? You'll have to read to find out. What's really fun though is seeing Dai Atlas in all his ZONE glory including facial hair!
But wait good fellows, the Nova Prime story is not all that's going on here. On present day Cybertron, as the Autobots and Decepticons are searching for Ironhide and the Dinobots, Blurr comes across a fantastic discovery, and of course, it's one that Prowl wants to keep covered up to keep everyone safe--and to keep it out of Con hands. But Starscream, being Starscream, won't allow that to happen. And like the teaser already gave away, Starscream ends up the better for his nosy intrusion.
The inclusion of and new history for the city-formers is very welcome as well. Who they are and why becomes more convincing than the previous histories that we had on them. Their size is not their only strength now, their importance, not merely being a base/city. The fact that they are ancient and hold many secrets adds a depth to the under-used Metros: Plex and Titan that previously really only existed in the imaginations of hungry fans.
While the Prowl and Starscream subplot doesn't pay off much in this issue, it's most certainly going to see ramifications in the near future in the RID regular series. One wonders if Megatron were a possibility, if Prowl would somehow coerce him to take Starscream out for good (not that Megs really needs to be coerced). Maybe it's time for Prowl to get Arcee on Starscream's case.
The really exciting piece of this story is the flashback pieces that include so many big players from Simon Furman's run... It's where the action is at as Omega Supreme battles monsters to once again protect Crystal City and its secrets. Nova Prime talks so benignly, and then appears to be less benign and more fanatical. It was quite weird or awkward to see group shots of Galvatron, Nova Prime, Cyclonus, Dai Atlas, and Jhiaxus. It's 'Legion of Doom' like. And I have to say, I still dislike Jhiaxus movie inspired robot mode (although, I almost have my self convinced he modified himself based on seeing visions of another universe).
The fact that this and the previously released MTMTE annual take a big (huge) step in giving us more Transformers history to sink our teeth into really makes them worth owning. The story arc related to the present bots is annoyingly unexciting in the RID annual, and I hope it pays off in a bigger way down the road -- or in the next issue. RID seems a bit stuck right now, although the exploration outside of Iacon has helped to make things a little more interesting, but ultimately, something more needs to happen. The election needs to get under way, and Starscream needs to be 'voted' in. The cons need to use what they know about Prowl, and Prowl needs to spring his trap- or whatever he has planned. While little things have happened, we have not gotten really any large revelations from RID yet, and it needs a bit of a pay off to keep up with MTMTE (in my opinion of course).
I hope you'll find this story to be as enjoyable as I did. The history pieces with Nova Prime, Dai Atlas, and Omega Supreme, and the tie-ins to previous material make it very, very interesting to read. The story happening in the present with the Titan, Prowl, Metalhawk, and Starscream is much less so. It's just more of the same.
Kudos to IDW for not being afraid to out the 'big guns' in a big way. I hope we get to see more Metroplex and Alpha Trion soon to tap into the excitement generated by these two annuals.
"Does anybody else feel like FOC designs are being forced on us...or is it legit?"

Credit(s): tigertracks 24
---
Got Transformers News? Let us know here!
Most Popular Transformers News
Most Recent Transformers News
News Categories:
Toy News
,
Movie Related News
,
Cartoon News
,
Comic Book News
,
Site News
,
Rumors
,
Event News
,
Digital Media News
,
Collectables
,
Sponsor News
,
Game News
,
Site Articles
,
Store News
,
Company News
,
People News
,
Press Releases
,
Reviews
,
Sightings
,
Unlicensed Products News
,
Auctions
,
Transtopia
,
Interviews
,
Knock Offs
,
Collector's Club News
,
Editorials
,
Heavy Metal War
,
Podcast
,
Contests
,
Book News
,
Top Lists
Re: Reviewing IDW's Robot's In Disguise ANNUAL 2012 - The BIG DEAL! (1424101)
Posted by
Novaprimal93
on September 26th, 2012 @ 6:32am CDT
How many pages are these annuals? I can't see how they justify the $7.99 price unless these are double sized issues. Both of these series have been great so far and it sounds like they have the future of the Transformers mapped out for quite awhile.
Re: Reviewing IDW's Robot's In Disguise ANNUAL 2012 - The BIG DEAL! (1424148)
Posted by
Darth Bombshell
on September 26th, 2012 @ 10:03am CDT
Novaprimal93 wrote:How many pages are these annuals? I can't see how they justify the $7.99 price unless these are double sized issues.
They are. Both annuals, along with every other annual IDW has put out, are 48 pages.
tigertracks 24 wrote:

"Does anybody else feel like FOC designs are being forced on us...or is it legit?"
Yeah, I'm starting to ask that, too...