Scans of Takara Legends Blue Big Convoy Manga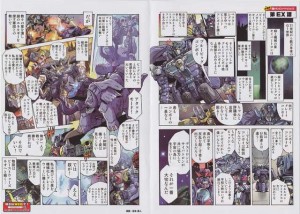 Saturday, March 9th, 2019 2:47PM CST
Categories:
Comic Book News
,
Toy News
Posted by:
william-james88
Views:
27,866
Topic Options: View Discussion · Sign in or Join to reply
We thank Sabrblade for letting us know of the latest Takara Transformers manga that we can read.
Below you will find the Takata Legends Blue Big Convoy comic scan and summary, courtesy of user
Powered Convoy
and TFWiki, respectively:
Click for full size
https://tfwiki.net/wiki/Legends_Comic:_Bonus_Edition_Vol._EX_(Blue_Big_Convoy)
In a future beyond the 21st century, Cybertron is turned into a technorganic world thanks to Optimus Primal's sacrifice, and with its rebirth Vector Sigma becomes an ultra-computer that governs the planet and creates a new generation of Transformers to protect it. Several of these are "Convoy Type" Maximals, named and patterned after Optimus Primal in honor of his memory, and these end up at the top of Cybertron's hierarchy. However, one of their number—Blue Big Convoy—renounces the notion that Convoys are special and refuses to be part of the Convoy Council, who he accuses of overindulging in the power of their Energon Matrixes. He tells his son, Big Junior, that while he believes peace between Maximals and Predacons is the only way forward, said peace will someday end when the special treatment afforded by Convoys will trigger an uprising by those seeking equality.

Blue Big Convoy and Big Junior fight together in many a battle in defense of peace, until one day when Blue Big Convoy is struck down protecting his son from a force of mysterious energy-seekers. When Junior despairingly asks why it came to this, his father responds that it's because he's a Convoy—a Convoy is nothing special, merely someone who fights to protect others. Before passing away, he asks Junior to take his left arm to replace his own destroyed appendage, then dubs him "Big Convoy" in recognition of his son's ability to protect others as well. Witnessing his father's death because of him leads Big Convoy to adopt a lone wolf nature, unwilling to fight alongside others as he doesn't want them to be hurt. Some time later, while an older Big Convoy is skipping out on Survive's instructions, Vector Sigma summons Great Convoy to tell him the mysterious enemies were likely searching for Unicron's energy. Expecting a new Great War to break out, the computer announces it will prepare for the coming chaos by re-mechanizing Cybertron and asks Great Convoy to focus on educating new recruits.
Credit(s): Powered Convoy
Most Popular Transformers News
Most Recent Transformers News
News Categories:
Toy News
,
Movie Related News
,
Comic Book News
,
Cartoon News
,
Site News
,
Rumors
,
Event News
,
Digital Media News
,
Collectables
,
Game News
,
Sponsor News
,
Store News
,
Site Articles
,
Company News
,
People News
,
Press Releases
,
Sightings
,
Reviews
,
Unlicensed Products News
,
Auctions
,
Transtopia
,
Interviews
,
Knock Offs
,
Editorials
,
Collector's Club News
,
Heavy Metal War
,
Podcast
,
Contests
,
Book News
,
Top Lists
Re: Scans of Takara Legends Blue Big Convoy Manga (2014093)
Posted by
Sabrblade
on March 9th, 2019 @ 5:26pm CST
When I first heard about the contents of this chapter, I was initially concerned that it had sounded like Vector Sigma undid the Technorganic reformatting of Cybertron so soon after Beast Machines, as though that show had gone through all the trouble it went through to bring about this revolutionary evolution of the Cybertronian race... only for Vector Sigma to just change its mind afterward.

But now that we have a proper summary, I see now that the undone reformatting instead occurred quite some time later, much closer to Beast Wars Neo, giving it a good number of millennia to take effect before the planet was metalized again.
Re: Scans of Takara Legends Blue Big Convoy Manga (2014193)
Posted by
Ebonyleopard
on March 10th, 2019 @ 9:55pm CDT
There's something to be admired with how they managed to retrofit these new toys/characters into their respective continuities.
Re: Scans of Takara Legends Blue Big Convoy Manga (2014879)
Posted by
Sabrblade
on March 16th, 2019 @ 10:37am CDT
Sabrblade wrote:
Backing up to these two, it appears that we never did get to see the TFWiki summaries for these two here in this thread.
https://tfwiki.net/wiki/Legends_Comic:_Bonus_Edition_Vol._EX_(Repugnus)
With the Monsterbots revived by Beast Power from the Three Wise Ones' gem forms, Repugnus is reunited with Hedgehog and reveals that he can now perform a Get On by placing the Beastformer in his chest. This transforms him into a new Beastformer Mode with the power to spray explosive hedgehog needles at the Decepticons, causing Smokescreen and Dreadwing to recognize Beast Power as a threat that must be destroyed. Rattrap voices his defiance, recognizing their way of thinking as the very same that caused the destruction of his world, and the Decepticon duo respond by combining and launching a barrage of missiles at him. Repugnus saves the day and defeats them with his MVP Weapon, the Double Jungle Swords, but when he turns around he sees that Galvatron II has taken down Doublecross and stolen the Gem of Fire.
https://tfwiki.net/wiki/Legends_Comic:_Bonus_Edition_Vol._EX_(Grotusque)
Using the Gem of Fire's power to manipulate Beast's environment, Galvatron II begins causing a natural disaster, all the while elated that he can unlock a beast mode of his own if he gets his hands on all three gems. There are too many Decepticons for Repugnus to handle, so he asks Grotusque to contact Platinum Tiger in his self-imposed exile within the Holography Mirror, a task the self-loathing Monsterbot reluctantly pulls off. He pleads with Platinum Tiger to come back, telling him they can fight their inner demons together, and the Beastformer accepts and returns to form Grotusque's head. Blocking Galvatron's attacks with Platinum Tiger's trademark barrier, the two perform a Get On and unlock Grotusque's Beastformer Mode, granting them the strength to defeat the Decepticon leader and reclaim the Gem. As the Decepticons retreat, Platinum Tiger returns to worrying about the corruption within him, but after being reminded that

he

was the one who taught Grotusque not to fear himself, he takes his own lesson to heart and agrees to remain on Beast and work on overcoming the curse together with Grotusque.  

All's not well that ends well, however, as now that the Decepticons have learned of the existence of the gems,

someone

is very interested...