Script (W)rap - Transformers: Regeneration One #94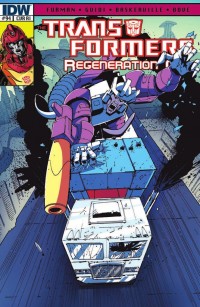 Tuesday, August 27th, 2013 5:57am CDT
Categories:
Comic Book News
,
People News
Posted by:
Va'al
Views:
21,746
Topic Options: View Discussion · Sign in or Join to reply
Transformers writer extraordinaire has updated his
blog
with the Script (W)Rap for issue 94 of ReGeneration One, check it out below and comment on the blog for answers from the Furminator himself. Come back later today for the Seibertron.com review of the issue, too!
I know it's a cliche to call an issue pivotal, but that's what Transformers Regeneration One #94 (out this Wednesday, August 28) is. A whole lot of stuff has been building, pressure cooker-style, to this point, and a whole lot more stuff (including the jaw-dropping issue #0) spins out of these 22-packed-pages. But – before I press on with this habitual discourse on the creative ins and outs of #94 – the usual warning: there be spoilers in what follows, though as always the aim is tantalise and tease rather than reveal huge plot points, so consider yourself warned. Right, so, here it is — the biggest most anticipated rematch in the whole of the core/original Transformers saga… Ultra Magnus versus Galvatron… that never happened before. Well, okay, it has if you're Galvatron. Because, as we know, he's from the alternative timeline established in issue #67′s Rhythms of Darkness, and he has fought UM before (the outcome of which you'll get a flavour of in #0). But if you're Ultra Magnus, this is the first time of asking and you're very much in the dark. Are we sidestepping the UK clash between these two titans in the epochal Target: 2006? Yes we are. And no we're not. I know, confusing right? Well let's just say that anyone who's conversant with that particular clash will see echoes of it here. ripples in what we now know to be a multifaceted prism of TF universes. But if you're expecting a re-run of that clash, think again. Everything old is new again, right? That's kind of RG1′s mantra. And the UM/Galvatron clash takes some very unexpected twists and turns. Are we content with just that? Heck no. There's also an all-out assault on Cybertron by Bludgeon's War World and Blitz Engines, a long-standing grudge match that edges closer to a denouement, and the beginning of a journey for Hot Rod that will have far reaching consequences, both for him and the future of the RG1-verse. Phew. Hope you enjoy this one, I certainly had great fun writing it. And Guido really knocks this one out of park! As usual, I welcome your comments/opinions in this thread.
Credit(s): Simon Furman
---
Got Transformers News? Let us know here!
Most Popular Transformers News
Most Recent Transformers News
News Categories:
Toy News
,
Movie Related News
,
Cartoon News
,
Comic Book News
,
Site News
,
Rumors
,
Event News
,
Digital Media News
,
Collectables
,
Sponsor News
,
Game News
,
Site Articles
,
Store News
,
Company News
,
People News
,
Press Releases
,
Reviews
,
Sightings
,
Unlicensed Products News
,
Auctions
,
Transtopia
,
Interviews
,
Knock Offs
,
Collector's Club News
,
Editorials
,
Heavy Metal War
,
Podcast
,
Contests
,
Book News
,
Top Lists
Re: Script (W)rap - Transformers: Regeneration One #94 (1514234)
Posted by
Va'al
on August 27th, 2013 @ 7:48am CDT
Déjà-vu?
(Spoiler free-ish)
Synopsis
CYBERTRON UNDER SIEGE! As BLUDGEON's Blitz Engines wreak havoc, the AUTOBOTS struggle to muster a response to a threat that feels all too close to home! But their "greatest warrior," ULTRA MAGNUS, has problems of his own… in the shape of a fighting mad GALVATRON. It's the clash of titans you've (almost) never seen before!
Variations on a couple of themes
Story
Readers of the UK iteration of the old Marvel comics might get quite the kick from this issue, as it's Ultra Magnus versus Galvatron all over again on Cybertron's surface! Bludgeon does things in space, or rather, just above Cybertron. Meanwhile, closer to the planet's core, Hot Rod and the Dinobots have encountered a Primus-possessed Grimlock.
Me Grimlock god
And actually, that last part, as much as it's extremely smirk-inducing, is resolved very quickly, setting one of the scenes for next month's ReGeneration One #0. We still have to wait a couple of months for Hot Rod's fate and the Dinobots' reunion. The main story takes place with the Autobots' greatest (reluctant) warrior and the mad reincarnated time-traveller.
Seen it
The Autobot's -ah- reaction plan isn't exactly original, or particularly effective, from both an in-story and storytelling perspective, and is kind of squeezed in at the very end, though it doesn't detract too much from the issue. Same can be said for Bludgeon's own machinations, as most of the exposition is done from the Autobot side.
The protracted fight scene is executed well enough, though, to forgive the other plots being left a bit too much to the side, and the Cybertronian reaction intertwines with Magnus' fight, so it can be worked into the plot too. And the art serves the story well, see below.
Art
Guidi's artwork on the issue is a real knockout, especially with the extremely high number of fight sequences and dynamic poses. Baskerville's inks on Guidi's work are just the cherry on a sundae so good-looking you want to keep it in a frozen glass case.
Look, fan favourites!
As per usual, JP Bove's magical technicolour paintbrush (pen?) makes everything that Guidi and Baskerville shine, sparkle and glitter - unless it has to be dark, moody, and gorey. The skies are always my personal favourite, but
Passed with flying colours
I am also pleasantly impressed by Shawn Lee's newly creative lettering, with some excellent font work mixing well with Furman's onomatopoeias and soundwords. All in all, the issue is absolutely gorgeous, and it's hard to pick out anything that doesn't really work that well from a visual aspect.
Thoughts
Spoilerish ahead
Some fairly clever visual storytelling manages to weave all the threads together, and leaves us with an image that I want to show because it's absolutely stunning and actually spoils nothing. Up to you to figure out the winner of the clash.
HE'S ON FIRE
I really really really enjoyed this issue, the fight sequences weren't too dragged out, it nodded continuously to old material without rehashing it or being too obviously a cliché-fest, it has God Grimlock and some excellent swearing. Book, good - you, read. Next month, some stalling, maybe minor plotting, and we're back on schedule in October!
.
½
out of