Seibertron.com Quick Interview - Andrew Griffith and Livio Ramondelli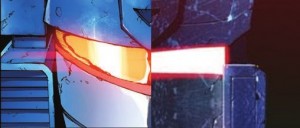 Friday, January 31st, 2014 6:58am CST
Categories:
Comic Book News
,
Event News
,
People News
Posted by:
Va'al
Views:
28,519
Topic Options: View Discussion · Sign in or Join to reply
In the next round of the Seibertron.com series of interviews, we are proud to bring you a special double feature: artists Livio Ramondelli and Andrew Griffith, two men who really need no introduction by now! Andrew, Livio, thank you for agreeing to chat about robots for a bit.

Va'al
- The first question: We saw recently that you'll be attending a Japanese convention together,
TransForMarket
, this summer. How did it all happen? How were you contacted?
Andrew
- Hello, and thanks for having us!
This actually came about out of a conversation we had last summer one evening during Botcon weekend. Livio and I were out having dinner with our editor and common friend John Barber, and this was the first time we really got to socialize together. We got talking about different conventions we had been to, and both expressed interest in attending a convention in Asia.
After researching a few shows and not getting very far, I reached out to a Japanese-American fan I made friends with at the same Botcon who was able to get in touch with some people she knew in Japan who organized fan conventions. It wasn't long after that until we got invited to TransForMarket and had a few fans in Japan excited to help us come over.
Photo by Va'al
Livio
- It's a pleasure to speak with you!
And yep, it's exactly what Andrew said. Both he and I do a decent amount of comic conventions in the United States, as well as both having attended the great Auto Assembly in England. We both really became interested in attending one in Japan and so we set out to gather as much information as possible. It's a pretty amazing time for comic conventions in general, there are more now than ever before and most of them seem to be growing larger every year.
I know both Andrew and I are thrilled to be attending TransForMarket. It's really exciting just to be able to visit Japan, as well as meet the readers over there. We've been in touch with some of them already and they seem like a great group of people.
Photo by Eddy Choi
Va'al
- That's really intriguing, that you set out to find your audience, rather than the other way around! We all know Japan is a big part of the birth of the Transformers toy franchise, but how much do its current fans get from the English comics publications? How much interaction have you had with Japanese fans?
Livio
- We certainly couldn't have done it without our friend that Andrew mentioned, as well as another friend currently living in Tokyo. Once Andrew and I expressed interest, they were the ones who really reached out to the convention runners and made this whole thing possible.
And so far, my experiences with the Japanese readers has been through deviantArt, E-Mail, and Twitter. We're obviously a more connected society than ever before, and it's been a true pleasure chatting with them. They all seem very up to date with what IDW is publishing, I think largely due to online sales and shipments rather than being carried in local stores. But that's definitely something I want to check out further when we arrive.
And yes, it's very exciting to be headed to the place where the toys originally came from!
Andrew
- Once again Livio pretty much said it well. For the most part my interaction with the Japanese fans has pretty much been limited to our friend who is helping to set up some commissions for the convention, along with some back and forth with some fans on twitter.
I remember at Botcon and New York comic con in particular I interacted with a few Japanese fans who couldn't have been any friendlier and were very supportive of the work we've been doing.
And yes the idea of visiting the land where Transformers came from is very exciting!
And it's my understanding as well that the IDW comics don't get imported to shops there, so they have to get them through online sales or order them from overseas. But from everything I hear they're very passionate about it.
Va'al
- From what I've seen on social media and various fansites, passionate is an understatement! I'm sure it'll be extremely exciting and flattering, dealing with an audience which can appear very different from the events you've attended so far. Is this your first time to Japan, then?

Image via TFWiki.net
Livio
- It's my first time, yeah! Japan (Tokyo in particular) has always been one of the places I've most wanted to see. It's really exciting that it's happening, especially under these circumstances where we get to interact with all the readership over there.
I'm really looking forward to making new friends over there the same way I was fortunate enough to make new friends in England and Australia when I attended conventions in those places.
Andrew
- Yeah, first time for me as well. It should be a full trip. Between doing the show and meeting the new fans, seeing the busy streets of Tokyo and just generally soaking in the culture and food I'm sure it will be an eventful and exciting time. So much we both want to see there.
I have to admit I'm even excited to get to some of the stores over there and see what the geek culture is like and what different options Transformers have for collecting.
Va'al
- It does sound like you'll both be hectic and super busy, I'll admit. So if I were to ask you to single out one thing you'd like to do while visiting, what would it be? Any Transformers-related business you'd like to attend to?

Image via TFWiki.net
Livio
- I agree with Andrew- I can't wait to see all the geeky shops and sample the culture. I imagine I will be buying tons of new books and toys, to further weigh down my luggage on the flight back.
As for one Transformers thing- I'd have to say just meeting the readers over there! I really like meeting the people who read these books and talking to them in person, no matter where they live. And Japan is an especially exotic location!
Andrew
- Well the biggest thing will be what Livio said, just getting to meet fans who enjoy what we do and share the same passion makes it all worthwhile.
If I had to pick one "touristy thing," I'd be pretty torn between wanting to take in and fully experience the urban culture of anime shops, arcades and karaoke vs. wanting to take in the more traditional culture of cherry blossoms, Buddhist temples and zen water gardens.
And like Livio, I'd be surprised if my luggage doesn't weigh more on the trip home.
Va'al
- Then I wish you all the best on your trip, and hope you have fun with the experience! Before we close up, is there anything else you'd like to plug to our readers? Any other events you'll be attending in the near future where fans can find you?

Andrew
- Well, we'll both be attending the Emerald City Comic-Con this March in Seattle. I'm sorting out more shows thought the year, but Botcon and TFCon look likely and it's too early to announce but I'll likely have at least one more overseas Con to announce later this year.
Other than that, I hope everyone sticks around post-Dark Cybertron. Starting with issue 28 RID is taking a whole new direction that I hope everyone will enjoy. And if anyone's interested, you can always follow me on
Twitter
or
deviantArt
as glovestudios.
Livio
- Thanks for the kind words! It's been great chatting with you.
Unfortunately I can't share what I'm currently working on- except to say that it involves robots and that news about it will be coming soon from IDW! And I'd like to thank everyone for reading and supporting the books, it means a lot!
Also I really like interacting with readers. If you'd like to get in touch with me or peruse some art follow me on
Twitter
,
Instagram
and
deviantArt
where my handle on all of those is the very original LivioRamondelli.

Thanks again to both Andrew and Livio for the very brief chat. Make sure you check out their work on the IDW comics, and drop by to say hi at any of the events they'll be attending. Stay tuned on Seibertron.com for more interviews with the minds and hands behind the comics soon!
Credit(s): Livio Ramondelli, Andrew Griffith
---
Got Transformers News? Let us know here!
Most Popular Transformers News
Most Recent Transformers News
News Categories:
Toy News
,
Movie Related News
,
Cartoon News
,
Comic Book News
,
Site News
,
Rumors
,
Event News
,
Digital Media News
,
Collectables
,
Game News
,
Sponsor News
,
Site Articles
,
Store News
,
Company News
,
People News
,
Press Releases
,
Sightings
,
Reviews
,
Unlicensed Products News
,
Auctions
,
Transtopia
,
Interviews
,
Knock Offs
,
Collector's Club News
,
Editorials
,
Heavy Metal War
,
Podcast
,
Contests
,
Book News
,
Top Lists